Articles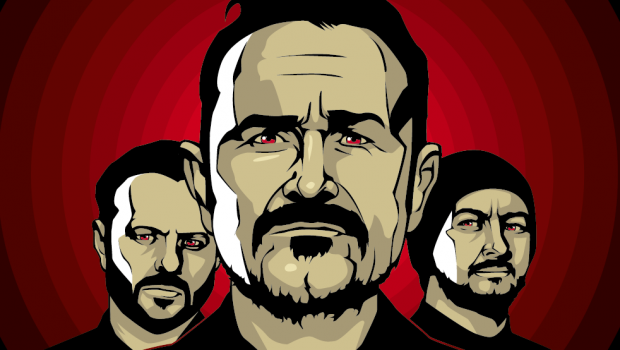 Published on April 1st, 2014 | by Mike McGrath-Bryan
0
The Complete Guide to Therapy?: Part 6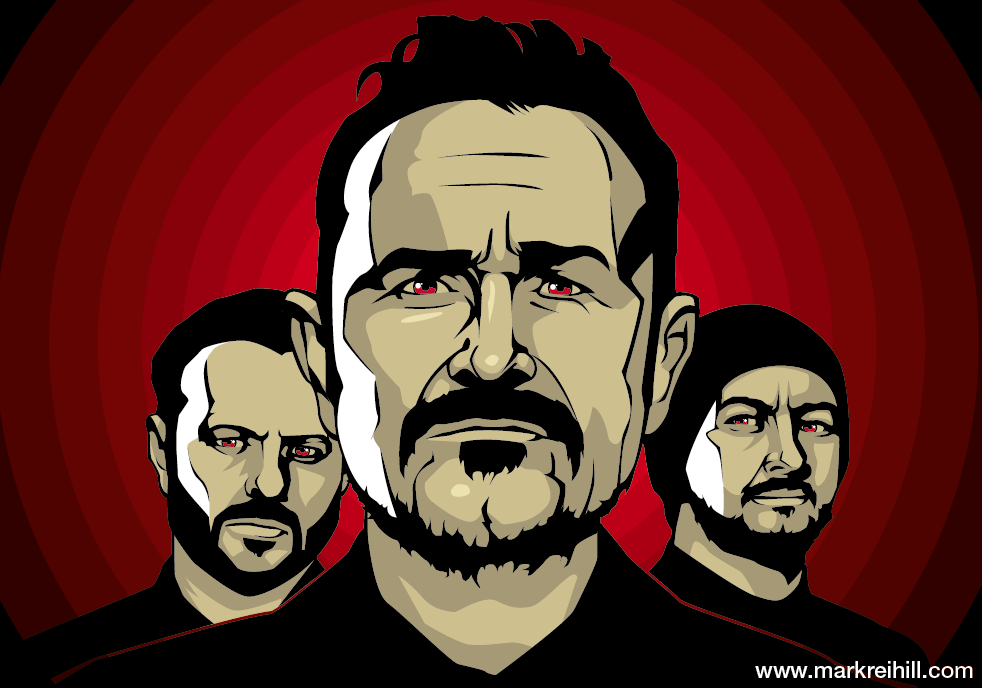 And so we've arrived at the final part of our trawl through the Therapy? discography (which has gone over the allotted week owing to time/work commitments, apologies to all reading/following!). As with any band worth its salt, in delivering fourteen albums, there's bound to be tunes that have slipped through the cracks, been deemed "not right for the album", or been tried out in various embryonic forms throughout the years only to be recorded by someone in the crowd, as well as supplementary live releases, bonus bits, DVDs, radio-taped bootlegs and much more, all kept in trading circles and generally seized upon with gusto by the band's core fan base. To complement The Thin Air's rarities/reissues competition, today we'll look through the hidden depths of the Therapy? catalogue and get into some of the band's most weird and wonderful moments…
Before you get into this, if you haven't, please check out the rest of The Complete Guide to Therapy?, a critical history of the band over twenty-five years: Part 1 | Part 2 | Part 3 | Part 4 | Part 5
B-SIDES: We've covered these extensively over the past few entries, so we won't beat about the bush: the recent remasters of Troublegum and Infernal Love are the easiest way into the extended back catalogue. Some of the band's best B-side material made its way out for the accompanying singles for these albums, and retain a cult popularity that see them maintain a place in live set lists. The best example by a mile is 'Evil Elvis', a jaunty but spiteful number that has its admirers and after being voted on the Webgig setlist in 2007, has reappeared several times live, most notably on We're Here to the End. 'Church of Noise' B-side 'Suing God' also made the Webgig cut, with several fans and even former drummer Graham Hopkins expressing puzzlement at its non-inclusion on Semi-Detached. Other loss-leader highlights include the 'String Version' of 'Lunacy Booth', country jam 'Our Love Must Die', the 1998 'new recordings', the full version of 'I Am the Money', and 2006's 'Hard Work & Hope'. Check the other parts for more info, and get an earful of 'Evil Elvis'…
BONUS TRACKS: Various territorial releases of albums have come bundled with bonus tracks from sessions or B-sides over the years. The Japanese editions of the A&M albums all come with B-sides: Nurse has the Teethgrinder tracks, Troublegum has 'Pantopon Rose', and a David Holmes-less version of Infernal Love came with the acoustic version of 'Misery', and the Consolidated mix of 'Isolation', while Semi-Detached included 'Suing God' and '60 Watt Bulb'. Suicide Pact – You First came with live renditions of 'Little Tongues First' and 'He's Not That Kind of Girl' (curiously moving the hidden track to after the bonuses), while retro comp So Much For the Ten Year Plan featured 'Evil Elvis' and 'Summer of Hate' as Japanese bonuses. Shameless came with two compilation tracks recorded during the album's sessions: covers of Turbonegro's 'Denim Demon' and Rudi's 'Big Time' feature, and are fantastic in their own right. The iTunes release of One Cure Fits All came with rough-and-tumble outtake Freeze the Remains, an impatient, tumbling social commentary. Meanwhile, the Gold Edition of Crooked Timber is practically a bonus disc all its own, featuring alternate mixes from the initial album release, intended samples included, and the B-sides of the 'Crooked Timber' singles, as well as new remixes of 'Exiles' and 'Magic Mountain'. For fans, it's the go-to version of the album. Meanwhile, in among all the bonus material on the Troublegum reissue are previously unreleased (and in places unfinished) demos of 'Turn', 'Knives', 'Unbeliever' and 'Totally Random Man'…
DVDs: The videography of the band comes to two physical DVD releases: the wonderful Scopophobia exists in one-disc and two-disc format. As touched upon earlier in the guide, Scopophobia is a compendium of a Mandela Hall gig from 2003, several promo videos, and a Q&A, as well as a hidden Easter egg: a full tour documentary from the 2003 High Anxiety tour of Germany's club circuit, and the European festival loop. It's an essential pickup for fans of the band… Gold, on the other hand, is a relatively lifeless compilation of A&M-era promos, perfect for completists, but not really essential. A bonus DVD comes with The Gemil Box of live "official bootlegs", with footage of early-'90s outings and the 2010 Sonisphere Troublegum set (more on this in the review below)…
COMPILATION & TRIBUTE APPEARANCES: The immediate highlight your writer thinks of is a wonderful version of The Police's Invisible Sun from the 'Peace Together' compilation album. A wholly original and, well, Therapy? take on the tune, it's something special and really deserves another airing at some stage… 1996 saw the band pay tribute to The Smiths ('Vicar in a Tutu') and The Misfits ('Where Eagles Dare') for respective tribute albums released that year… The 'Innocent X' remix has appeared on a few compilations, as well as a split 7″ with Orbital… A live 'Potato Junkie' is on the EBU's Rock 'n' Europe '92 comp… A live 'Knives' appeared on a Select magazine covermount tape in 1994… A live 'Isolation' appeared on a Vox mag comp tape in 1994… Recordings from Therapy?'s 1998 return appearance at the Astoria in London show up on Kerrang! and NME cover CDs from that year… Live versions of 'Die Laughing' and 'Little Tongues First' appear on the Forestglade Festival's tenth anniversary comp…
COLLABS, REMIXES & GUEST APPEARANCES: The "big" one here, is the version of 'Iron Man' the band did with Ozzy Osbourne for his self-produced tribute album Nativity in Black Vol. 2. It's a little bit leaden and almost workmanlike, and Osbourne's vocals are bored and apathetic to say the least, but at least the band sound like they were having fun… Appearances from Cairns on other peoples' records have been aplenty over the years, most notably on Northern Irish big-beat troupe Manchild's single, Rehab, as well as Throat's 'Gleason', The Almighty's 'Jonestown Mind' (of which a Therapy? remix exists on the B-side to the single), The Wildhearts' 'Get Your Groove On' Brit-metal supergroup This is Menace's 'F8' and Italian "sci-fi grind 'n' roll" lads Inferno's album tune 'The Second Triumvirate of Livonia', a synth-laden smasher in its own right before Cairns reprises 'Stop It You're Killing Me' with a futuristic twist… Therapy?, Pitchshifter and Biohazard engaged in Remix Wars in 1995, with the band's volley in the battle being a remix of Pitchshifter's 'Diable'… The soundtrack to action film Judgement Night heavily features rap/rock crossovers, with Therapy? collaborating with Fatal. The result, 'Come and Die', is a nice, pre-numetal, bit of rap-rock silliness… Wizard & Ivory do a dubstep/rap/pop job on 'Get Your Dead Hand Off My Shoulder' on their Bombs & Bass Vol. 2 mixtape… Cashier No.9 remixed 'Crazy Cocaine Eyes' for the band's site, while the Vandal remix of 'Exiles' was given away through the site as an end-of-year free download to mark the success of Crooked Timber…
LIVE ALBUMS & BOOTLEGS: There is, by Therapy? discography canon, one live album, 2010's We're Here to the End, recorded in London's Water Rats during a three-day residency. A muddy, rough-and-ready affair, it's an accurate document of the band's raw and raucous live experience, laden with singles, fan faves, and some dead-on renditions of newer tunes. Though not the full live document they wanted ('Lonely Cryin' Only' was apparently out of tune and 'I Am the Money' suffered from vocoder issues), it's an expansive overview of the band's body of work, and features the band's favourite recording of 'Fantasy Bag', as well as a cracking 'Crooked Timber'. That's not where it ends, though. The Gemil Box (more on which further down this article), features a cassette/download of their show from The White Horse in Dublin from 1990, a document of the band in a near-embryonic state, cleaned up and remastered, notable for being a favorite desk tape of the band's… After Therapy? departed Spitfire in 2006, its parent company Eagle Rock reissued Scopophobia in 2-disc "deluxe edition", with the second disc being a CD of the audio of the Mandela Hall 2003 gig from the DVD. Edits for Metallica riffs aside (left on the DVD, too, oddly enough), it's a whopper of a High Anxiety-era show: a bulletproof setlist with crisp recording quality, in front of an enthusiastic audience. An excellent find if you can manage it… The 1994 & 1996 Fan Club tapes are covered elsewhere in this article…
Of course, down through the years, boatloads of crowd/desk recordings and second-hand radio broadcasts have surfaced. Among the manifold highlights are the band's Ulster Hall gig in December of 1995 (Fyfe Ewing's last gig and a lasher at that, including 'Again & Again', a teen-punk derivative of 'Stay Happy'); accompanying Thin Lizzy in 1996 on a rendition of 'Bad Reputation'; the version of Deep Purple's 'Black Night' featuring Iron Maiden's Bruce Dickinson (who flew in on Ed Force One to appear!) from Mandela Hall in 2004, a riotous gig in its own right, taped for BBC Northern Ireland; the tremendous Paradiso, Amsterdam gig from 2006  (streamed on Fabchannel), as well as the various punk covers played live while on tour in Holland with the Apers and Die Heideroosjes on said tour. These among countless others are available as full gigs, many of which were pressed up on professional CDs for bootleg retail under various titles ('I Want My Money Back' and 'Dead Laughing' stand out) in the '90s, as well as compiled/curated and configured in endless combinations of bootleg/fan-made compilations, with a bit of digging around trader circles…
RADIO SESSIONS: This could be an essay by itself, but of course over the years, the band has had its share of visits to the BBC's studios for live session performances. Most of the band's BBC sessions from the A&M era are found on compilation Music Though a Cheap Transistor, initially released digitally before getting a CD release in 2008. These were quick and dirty affairs, necessitated by time constraints, and provided a number of great one-offs: The 1991 Peel session saw the band unleash a mighty 'Innocent X'/'Meat Abstract' medley that still leaves a bruise, while the '92 Peel jam includes the only recorded airing of 'Pile of Bricks', a manic, magic few minutes of contrasting feedback and demented showtune crooning. Funnily enough, over four sessions on disc one is the constant of B-side 'Totally Random Man', appearing no less than three times. An interesting Evening Session from 1995 includes 'Bad Mother', a hastily-improvised jam called 'The Sweeney', and a Hank Williams cover, 'Lost Highway', in psychobilly fashion; and '98 Evening Session includes a rare live airing of the band's cover of DJ Shadow's 'High Noon'.
Aside from official releases, a 1995 Evening Session mysteriously excluded from the A&M BBC comp includes another, less abrasive 'Bad Mother', a quick blast of 'Our Love Must Die', and a jam on 'Loose' that pokes fun at Motorhead at the very beginning. Numerous concert outings have aired across BBC services at various points, and a 2004 Rock Show session yielded feral versions of NANE material, while a BBC Northern Ireland sesh for Across the Line in 2009 yielded a live outing for 'Don't Try' and an early version of 'Living in the Shadow of the Terrible Thing' entitled 'Treacle Feet', found below. Loads of RTE, XFM and other sessions have happened throughout the years, and are for the most part available around the band's tape-trading community. Of particular interest is a bootleg of a guest appearance on French AM radio sometime in 1995, where the band, in a horrendously drunken state, answer call-in fan questions with complete bullshit, fail to finish any of the acoustic tunes they break into, and gradually irritate the DJ more as time goes on, with hilarious results…
WEBGIG: As mentioned in the last part, mid-2007 saw the band take a vote on the fans' favourite, with the top twelve going on to be re-recorded in a live, studio-session at The Hive, Derby for release online. Tunes like 'Dancin' With Manson' (this writer's fave version, btw.), 'Screamager' and 'Teethgrinder' of course factored in, joined by fan faves like 'Evil Elvis', 'Suing God', as well as rarely-found IL-era ballad 'A Moment of Clarity'. Production is knowingly rough-and-ready, and it all sounds quite similar tone-wise to Nurse's precision and coldness. It was released as a limited-run download in .mp3 and .wmv, though it's no longer available from the band's own site. Not quite session, not quite "live album" in the gig-documentary sense, it nonetheless is an interesting look at a band revisiting its early work with a (in relation to the tunes therein) new line-up…
THE GEMIL BOX: December of last year saw the release of the Gemil Box, a band-curated, band-financed, band-released box set of outtakes, demos, reworks, remasters, live bits and other material. It's a must-have box of fan-service for sure, with pre-order units shipping with autographed pics as thanks for early supports. Assisting with a review is Belfast DJ and Therapy? super-fan David Lowry…
At £120, the cost of this box set was going to be hard on an already-stretched wallet however, as I have been a long time fan of the band (since a friend gave me a copy of the band's demo tapes, some time prior to the release of Babyteeth) I knew this was something that I had to get my hands on. With Christmas around the corner I dropped the hint to my other half.  After a long wait for Christmas morning (seemed as long as waiting for my BMX in 1985!) I finally had it in my hands.
The biggest draw for me was the opportunity to hear those initial demo tapes re-mastered (my 2nd/3rd generation copy had been well rinsed over the years).  Not only were the original demos re-mastered, but they were also pressed onto my favourite format of 12" vinyl, housed in a nice sleeve with some of the original artwork.  Side B of the vinyl features various demos from 1998-2002.  The High Anxiety tracks sound quite different to the album cuts and demonstrate the enhanced dynamic rhythm which returned to the band with the addition of Neil Cooper. 'Hey Satan You Rock' also has a different feel with a slight Hank Williams style to the vocal. 'Mama, You Can Call The Ambulance Now' sounds like the Northern Irish punk bands which were a big influence on a young Andy Cairns.
The cassette is derived from a tape which Andy found hidden away at the bottom of his sock drawer recorded at an early gig in Dublin Circa 1990. The sound quality is as can be expected from such a find/recording however, it provides a certain intimacy. The particular highlight being 'Reality Fuck' which later morphed into the epic 'Die Laughing' on Troublegum.
Other than the old school formats of vinyl and cassette there are seven CDs and one DVD.  Enough has already been written about the albums thus far, so I am not going to say any more other than that Nurse benefits most from the re-master.  It is more defined and Michael's bass is more prominent/dynamic than the original version.  The rest of the A&M albums didn't really need a re-master IMO and the differences are subtle.  I would have preferred that the Babyteeth & Pleasure Death re-masters had been included in this set as the TG & IL re-masters are to be made available separately through Universal.
Disc five features some stark re-works which strip things back to the bare bass, drums & vocals. 'Prison Breaker' takes on a Kode 9/Hyperdub style with deep sinusoidal bass tones. With 'Animal Bones' the drums roll slower with an off-beat groove.  Andy's vocals are given more space to breath and sound more relevant than ever with the current unrest in certain places in the World.  Also included are demos from Nurse and SP-YF.  The SP-YF demos are very raw/lo-fi and sound great to these ears.  There is great slide guitar play/overdubs which didn't really come through as strong on the album and Cairns' vocal delivery is as fired up as I have heard from him.  'Sister' is also included and has distinct Joy Division tones which I didn't feel from the album version.
Disc six starts off with the ABCOL out-takes.  All of these tracks are very strong with the particular highlights being 'Pitiless Void' & 'Muckamore Abbey'.  How these tracks were omitted from the album puzzles me however this band have always been keen to experiment so I guess these tracks were omitted in favour of some of the more adventurous tracks which made the final cut?  'Pitiless Void' – A monotone electronic note interjects between a skanking bass line and tight resonating snare drum.  The song then enters a breakdown with delayed guitar followed by a one note staccato guitar riff and Cairns relenting the line "A brief crack of light".  'Muckamore Abbey' (A psychiatric hospital not far from Ballyclare) continues the sound and feel of the ABCOL album with vocoded vocals stating "We cannot know, and we cannot be known. There's a place, nothing will hurt you".
There are many other ditties included which are great to hear but were not fully developed to warrant an appearance on the albums.  Disc six finishes with 'Returns' which sounds like a late night jam with Cairns strumming on his guitar alongside a cello singing about the woes of business and being in a band.
Disc seven continues with various outtakes from different recording sessions.  The highlight of this disc is the IL outtakes.  It has been well documented that there was a lot of pressure on the band to produce another hit album soon after TG.  Personally love what T? did with IL (bar a couple of tracks) but these outtakes prove that despite the pressure of trying to write an album in a recording studio the creativity was hanging out of them.  'Stay Awhile' – A Slint style instrumental.  'Live Without This' – A melancholic number with hypnotic swaying strings, clean guitar notes, and an emerging steady beat which all builds into the perfect T? track. Go where you go sounds very much of its time with its 90's Trip Hop style beat underpinning a simple repetitive guitar & bass line.
The DVD features three shows, two of which are early performances captured from the side of the stage.  It is great to see this early footage of the original line-up and especially to watch the legendary Fyfe Ewing behind the kit.  The band are like three heavy gauge coiled springs being let off.  The audiences also provide an entertaining show with their relentless stage diving (remember that?).  There are some classic dives in here!   There is a constant flow of stage invaders pouring onto the stage throughout both these sets and Michael "Tapps Aff" McKeegan politely attempts to fend them off as he grooves around relentlessly while the monitors slide around the front of the stage.  The Mean Fiddler set draws to a climax with 'Dancing with Manson' and Michael's bass packs in prompting him to try and break the stage open with it. Thankfully no one gets caught in the wrong place and Fyfe jumps out from behind the drum kit and piles on top of McKeegan. The Sonisphere show is a contrasting polished production complete with safety barrier and full/very receptive audience as the band rip effortlessly through TG.
Oh yes, the book.  A nice collection of magazine and personal Polaroids from throughout the years featuring many notable celebs such as Ozzy, Sting, and Bjork with personal notes from the band.  
I must point out that this is by no means an exhaustive review of this box set.  I have written about the material that has stood out to me the most and there is still a wealth of material which I have not mentioned that will appeal to many T? aficionados. Get it while you still can!

#RETROPOSTS: In the run-up to the Troublegum and Infernal Love remasters, the band have been posting a number of bits and pieces from the 1993-1995 era in advance of its release on social media. Drawing on the band's archives of TV and side-stage footage, as well as various pieces of desk tape audio, the band has pieced together an interesting compilation of miscellaneous audio and video in its own right, and a perfect accompaniment to the new remasters. Found on Therapy?'s Facebook page for the last few weeks, we've also placed a few below.
SOLO ALBUMS: Although we decided against including Therapy?'s old bands/post-T? bands and the Casey Jones Reaction sideproject in the Guide for the sake of clarity, 53 Minutes Under Byker warrants a mention for its proximity to the Therapy? discography. Going on solo tour in May 2013, Cairns released a companion debut solo record, with six new tunes, twelve renditions of Therapy? songs, and a Love cover, 'Signed DC'. The new songs exhibit a lot more simplistic, bubblegum pop sensibility, well-suited to the stripped-back format. 'Lost in Care' is the standout here, the song within a song from 'The Buzzing' given room to breathe, poignant in its chirpy, immediate nature; 'Mean' is a childish ditty, 'Bedridden', a slice of teenage punk that never grew up, 'Self-Help Books', 'Jesus Doesn't Live Here Anymore' and 'Bootstraps' completing the new content with their own respective pop-punk-folk nous…
MISCELLANEOUS:  The band's 1992 Belfast gig saw a giveaway at the door: Have a Merry Fucking Christmas was a 7″ limited to a thousand copies (one of which is a giveaway in our competition!), and features industrial covers of 'Teenage Kicks' and 'With or Without You'. Apparently, as well as the remasters, Universal is releasing a generic "best-of" compilation covering 1992-1998 entitled Stories. The only thing of interest here is that it features 'Summer of Hate' for some odd reason; the rest are just the big singles. The US radio promo for 'Knives' was censored for obvious reasons. This version is the 'Kiddie Version'. The band's fan club, The Funny Farm, ran until 1998, giving away various newsletters, as well as cards, badges, and two limited live releases: Live in Japan (Fan Club Edition), an E.P. of live tunes recorded in 1993 in Tokyo, and Official Fan Club 1996, an eight-track mini-album with live cuts from touring around Infernal Love. A bootleg 7″ exists of two tracks involving The Police. Their live appearance covering 'Next to You' with Sting on French telly is one of the A-sides, while the flip is 'Invisible Sun'. Two compilations of early E.P.s on A&M exist, Hats Off to the Insane and Born in a Crash. Comprised completely of 1993-1994 B-sides, they're strictly for completists, though they mark the sole North American release of much of the material. For reasons best known to themselves, the band put down a compilation track under the name MONDO PADDY, that included an early 'Bowels of Love' performance. Anyone with any further info is encouraged to come forward. The band's cover of 'C.C. Rider' provides a silly background to the below excerpt from this mockumentary, wherein Cairns' love of Elvis Presley leads him to testify to a sighting of the King himself in London. In an attempt to invoke his name and lure him into the open, the band decide to 'play' 'C.C. Rider', allegedly on repeat all day, in a pub in Streatham, to no joy, and some bemused-looking old folks.

THANKS & ACKNOWLEDGEMENTS: To Therapy?, first and foremost, for providing us with a body of art that has been long overdue this kind of study/analysis/retrospective. Every time the topic of great Irish bands is raised in Irish media, and those rancid lists of "great albums" ignore a band so many of us grew up with and hold dear, the idea to do something like this has crept up and developed, and I hope this series of features has done you and your music justice. On a personal note, thank you for providing a miserable culchie punk teenager with something to identify with, get into, and proving that you could escape the small-town condition, get out there and do "it" (whatever "it" was), and succeed, as long as you stuck at it, and kept going on your own terms. David Lowry for his great overview of The Gemil Box, and his time, effort and revisions. John O'Brien of the Irish Metal Archive for selling me a load of T? bootlegs while still in secondary school (and accepting cash in the post), as well as helping with this part of the Guide nearly ten years later. George H. Smyth (the artist behind the covers of Babyteeth & Pleasure Death), for getting in touch, sending pics and art and his feedback/encouragement. The Wall of Mouths forum, and commenters on the band's Facebook, for providing a gigantic reference point and corrections respectively.

'Til next time…