Articles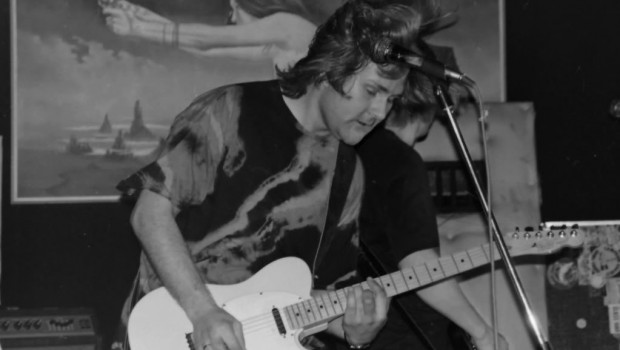 Published on March 24th, 2014 | by Mike McGrath-Bryan
0
The Complete Guide To Therapy?: Part 1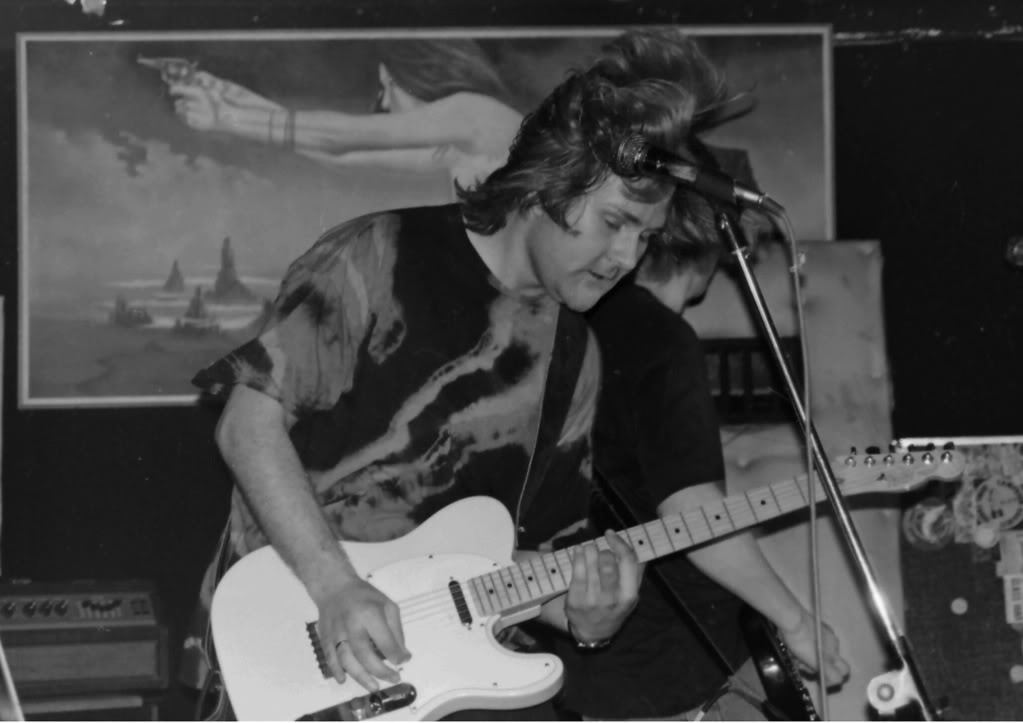 Your writer would have been six years old when, at the end of The Den, the video for Nowhere came on. It was unlike anything. From the kaleidoscopic visual onslaught, to the menace of frontman Andy Cairns and his bob 'n' goatee combo behind his black Gibson SG, to the wailing police-siren lead that overlays its rollicking chorus. There are times when you can't explain what makes sense, but it just does, especially at that age. And it stayed with me, lying dormant through childish flights of fancy through Britpop, nu-metal, assorted electronic pop and whatever else was handy to escape the monotony of the radio and family tastes, but always etched in the back of my mind, ready for revisiting in teenage odysseys of record-collecting, mixtape-curating and constant jocking in conversation with other nascent musical minds…
The recent passing of the twentieth anniversary of Therapy?'s seminal punk-metal opus Troublegum this past month marked a moment of pause and reflection for the boys in black before continuing to album number fourteen this year. And with the upcoming remastered and expanded editions of the aforementioned and the following year's Infernal Love releasing this week, it is the perfect time to channel a generation's geekdom for all things Gemil with this, a (hopefully) complete guide to the first twenty-five years or so of Therapy?. From demo tapes and hitting the road hard, to setting the standard, to leaving a legacy for the Irish underground, the importance of the boys from Ballyclare and Larne (via Belfast, Cambridge and now Derby) is up there with their forefathers, any of them, from Thin Lizzy to The Undertones, in terms of reach, and artistic influence on the band's peers and successors.
While it might be a handy angle to simply run through the work of a legendary band in retrospect, the fact is that the trio of Andy Cairns (guitar and vocals), Michael McKeegan (bass) and Neil Cooper (drums) is still one of the most relevant and unrelenting bands in this country, still vital and still, at the heart of it all, music fans themselves, letting their influences and their muses continue to guide and inform them as musicians and composers. It's nigh-on impossible to acknowledge this band's past without marvelling at this fact. Over two decades since their formation with original drummer Fyfe Ewing after a Battle of the Bands at Jordanstown Polytechnic, the band remains as humble and approachable as ever, beloved by their insanely loyal core of fans, both old and new.
But as important as any of this is the fact that they have done it all, and, as Ash's Tim Wheeler has opined, shown us all that it can be done. That you can get out, do what you want to do, and on your terms, when you work hard and make things work for you. The fragments of small-town paranoia that littered their early music, Troublegum in particular, over time became clarion calls to other wayward culchie rockers, that lived for the weekend to get up to the city to get their fix of new music, explore their outer mental limits (whether through, er, assistance, or simple contemplation of other themes in their tunes), or just make noisy jams with their mates. In Therapy?'s wake, came Ash, Kerbdog, Turn, Wilt and many more bands who put down yardsticks in their own right. As the 2000s rolled in, Cairns deigned to put his seal of approval on bands like Throat and Manchild, and even after the fickle affections of big music had gone on to the next shiny thing, Therapy? pulled through hard times, and went to on wreck heads another day, remaining vigilant of complacency and moving ever forward, influencing and informing bands half their age, as well as running as hard as any of them on stage, still.
Therapy? have prevailed, and continue to do so. Thank fuck for that, eh?
30 SECONDS OF SILENCE (Demo, 1989):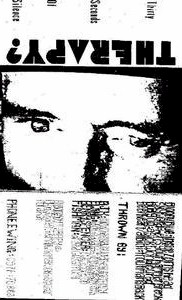 A red-raw yet varied portent of things to come for the fledgling duo of Cairns and Ewing, here demoing songs written in Ewing's bedroom while he played with brushes to keep the noise down and Cairns filling in on bass, 30 Seconds of Silence showcases a lot of the band's trademark influences, from the dance-influenced obfuscation and general silliness of 'Bloody Blue' to the proto-Troublegum pop of 'Body O.D.' (later known as 'Stop It, You're Killing Me'). A fully-formed 'Skyward' makes an appearance here, replete with a wah-laden version of the solo Andy has expounded on in interviews as being his first experience with the effect, but the real curio here is stuttering noise jam 'Beefheart/Albini', a wigout par excellence that was likely a bit mad to be duplicated in more polished production conditions. Long doing the rounds among hardcore fans as either a huge investment or various watery tape-rips, this, like the next demo release, has finally seen official release in last year's The Gemil Box, and holds up surprisingly well…
MEAT ABSTRACT (Demo, 1990):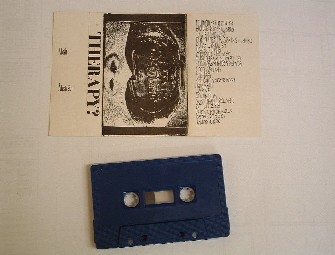 Opening with a screech, 'Multifuck' was as sure a sign as any of Therapy?'s sharpening pop sensibilities and sense of humour, discussing murder and mortality with a shit-eating grin, and a scrambling punk-rock salvo underpinning it all, replete with cheeky basslines from new addition McKeegan, recruited through school-friends. It wouldn't be the first time mortality would be at the centre of Therapy?'s artistic eye, but in the relatively innocent hails of "takes two seconds to kill!", a certain anarchic joy is to be found. Likewise, 'Here Is' is as melodic as a lark, with a relatively relaxed pace tipping the wink to their Ulster punk forebears. Whilst 'Punishment Kiss' was the first of these songs to see the light of day, being B-sided with the 'Meat Abstract' single release later that year, the real standout is pop-punk rager 'S.W.T.'. Standing for Spide With 'Tache, the three-minute gem was thrashed out after an encounter with a, shall we say, less-than-cultured gentleman that took offence to Cairns' appearance at the time. The primal frustration is palpable and instantly relatable, from the wall-of-sound tones that immediately kick it off, to lyrical broadsides like "I'm gonna rise above where I don't belong", accurately summing up the small-town rock'n'roll psychosis. Though it would take a few years to polish to perfection, the diamond in Therapy?'s crown was immediately apparent, when it re-emerged as Screamager…
BABYTEETH (1991, Wiiija/Southern):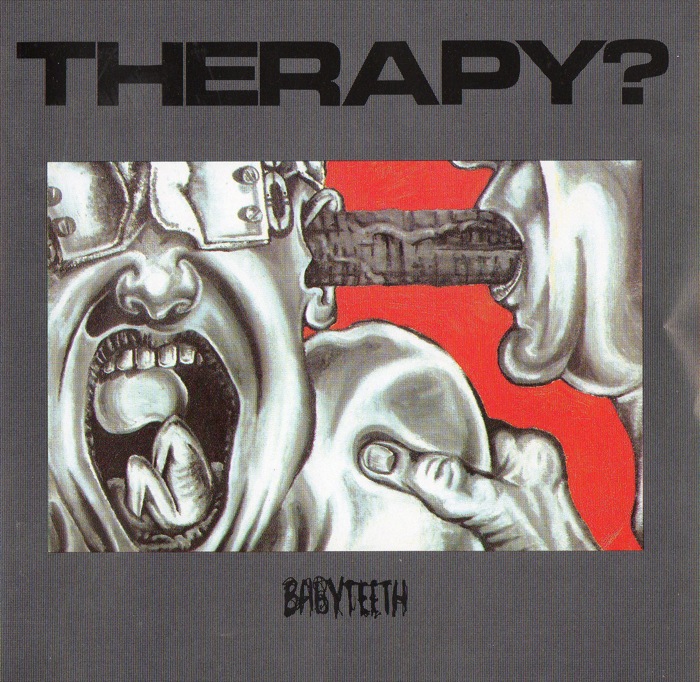 Insane touring that saw them criss-cross Ireland every weekend paid off when our heroes were offered a support slot on a UK tour with The Beyond, featuring young sticksman Neil Cooper. Thinking on their feet, the boys brought copies of their 7" Meat Abstract/Punishment Kiss single with them, thinking to drop one straight to the front desk of the BBC studios in London in the hair-brained hope it would reach radio legend John Peel. It did, and the single's airplay (along with Peel reciting the postal address for anyone interested in ordering a copy direct from the band) helped kick their touring schedule up a notch, now fully including the UK on their pinballing live loop, supporting for Fugazi, Teenage Fanclub, Tad, and Loop among others. Catching the eye of indie-label mainstay Wiiija, an imprint of the legendary Southern Records, via Lesley Rankine of Silverfish, the band finished four more songs in Homestead Studio, Randalstown, where they'd put down the single, in late 1990 and these sessions became the band's first album (or E.P.: the debate continues, but in official canon, the first two are "mini-albums"), Babyteeth.
To this day, 'Meat Abstract' is the staple Therapy? song, seldom if ever disappearing from the band's live set, and surviving every line-up change. Led vocally by Ewing, squalling from behind the kit, the song is a post-punk laden locomotive, and sets the tone for the rest of the record, leading into 'Punishment Kiss', here far more fleshed out and all the more menacing for it, with a lean production that lends to its weighty subject matter and almost-mournful hooks. 'Skyward' re-appears in its final form, leaner and meaner, downplaying its melodics and putting emphasis on obfuscated, washed-out vocals and mechanical, almost synthy guitar tone. As if neatly dividing bodies of work, the second half of the record is completely fresh kill, leading with the panic of 'Animal Bones', a bruising, chunky hardcore sprawl dealing with war and genocide. Where the impact of this album is felt most clearly, however, is in the intimidating first few seconds of trance/big-beat-influenced maelstrom 'Innocent X'. As a distorted voice exhales in desperation, its ominous bassline approaches, and ultra-compressed kickdrums add to the oppressive air to devastating effect, a metallic statement wielded to the grim mechanical precision of dance. 'Dancin' With Manson' careens out of control from the off, a rocketing lead laid under an unseemingly spirited rhythm section and a near-perfect pop structure at gleeful odds with its subject matter, the Manson Family murders ("The foetus/the stains dripping down her dress/and her life/now means to me even less"). Finishing the album is 'Loser Cop', a free-jazz influenced spree that plays with police-siren wailing (another omen for Troublegum) that doubles down in the last few bars and sprints to a conclusion.
Listening back today, the album stands up to its successors and remains a worthwhile listen, but the overly sanitary feel and low mastering volume do hinder enjoyment somewhat. These issues could be addressed in a reissue, such as the remaster engineer Harvey Birrell completed in 2010 of both this and the next mini-album, unearthed and touched-up for reissue at some stage in the future (along with notes, photography and expanded artwork).
Babyteeth set the tone for a far tighter, leaner Therapy?, more serious and benefiting from the endless road-miles while fine-honing their pop sensibilities. It was the first step of the band's journey, and set the stage for the next act…
PLEASURE DEATH (Wiiija, 1992)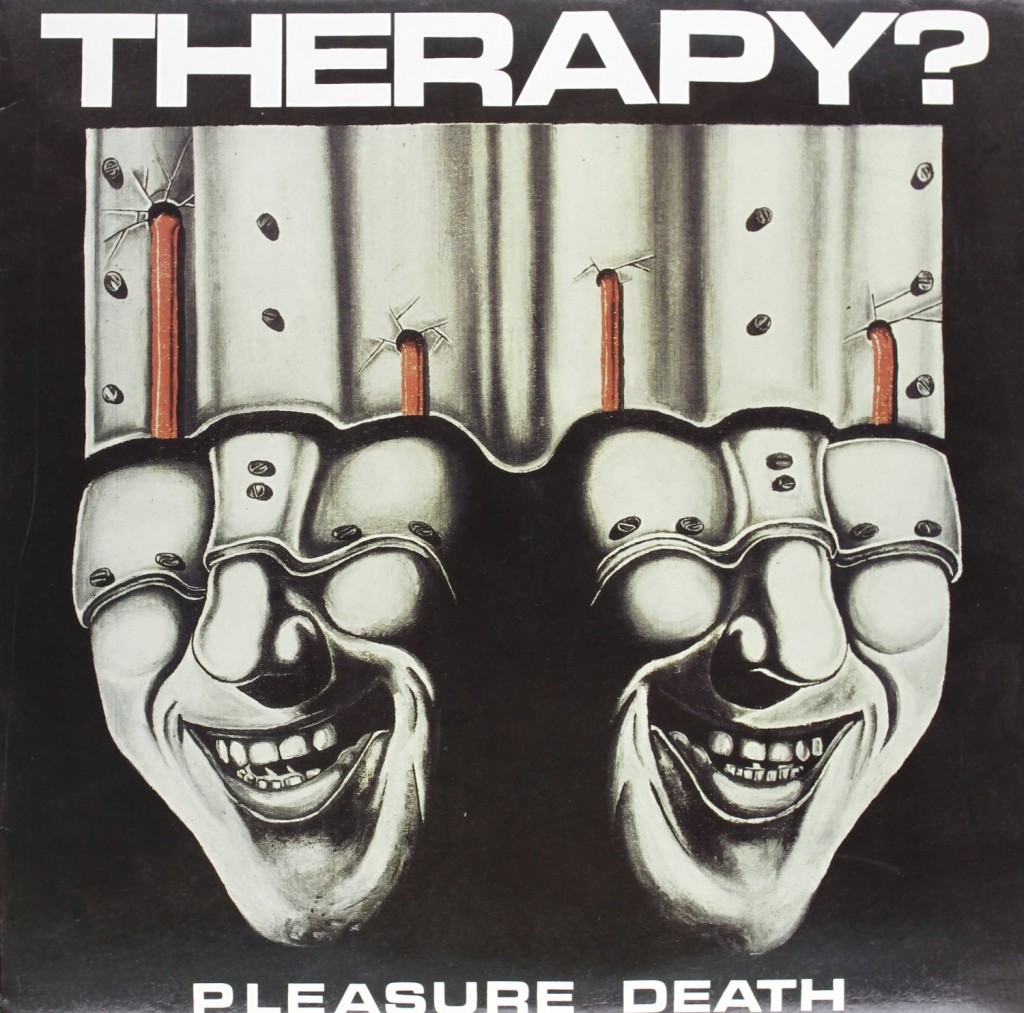 After the release of Babyteeth, the band stepped their efforts up another notch again, hitting the road in headline and support slots for Babes in Toyland, and topping the Indie charts in the UK again. Late 1991, however, saw them head for Southern Studios with Birrell to put down their second mini-album. Releasing in January 1992 to capitalise on their building momentum, the gamble of going back in so quickly paid off with a number one in the UK indie charts, and an American release through Southern affiliate Quarterstick as part of the Caucasian Psychosis compilation (both mini-albums in a single volume). Festivals beckoned, and the boys in black hit Reading and Feile for the first time, among others, beginning a run of form on the festival circuit that continues to this day…
The robotic, cold production values of the first mini-album aren't so present here, but a metronomic and almost industrial drum sound punctuates opener 'Skinning Pit', a skipping, moving tune with a clucking riff that drives home the band's dance inflections. 'Fantasy Bag', by comparison, is a sulking, shifty work that broods densely and confronts mental illness and escapism, and though the version here is by any means the definitive, it's a different beast live, and the version on live double-LP We're Here To the End is the band's favourite. 'Shitkicker' reprises the band's sense of humour, taking it in a blacker direction, dealing with machismo and redundancy while careering along on a sped-up breakbeat. 'Prison Breaker' slows the pace down again, soberly (?) discussing altered states and their effect on emotions, while going along on its own shifting course. 'D.L.C.' follows on from 'Loser Cop', another skewed, jagged look at big-band jazz inspired by an incident with a policeman at a house party, featuring some stunning drum work from Ewing. Finishing the record is live fave Potato Junkie', a raucous punk jag immortalised by a call-and-response refrain that remains a staple of the Therapy? live experience: "I'm bitter/I'm twisted/James Joyce is fucking my sister". Half-rumination on history, half-freakout, it's a grinning reminder of the irreverence that helped define the band and endear them so quickly to everyone from gig-goers to journalists looking to get behind the chaos.
Another step on the journey, Pleasure Death has aged the better of the two mini-albums, with warmer, slightly more organic sounds that don't detract from colder, more pensive moments all the same. In terms of importance to the band, the reaction the new material received from fans and new adopters alike helped them land an even more hectic schedule, culminating in a Belfast support slot for Seattle alt-rockers Hole, where the band was spotted by A&R folks for then-major label A&M, and the next chapter for the band began… Mike McGrath-Bryan
NEXT: We take a look at the band's major-label years, including a look at the remastered versions of Troublegum and Infernal Love, released this Friday through Universal.