Articles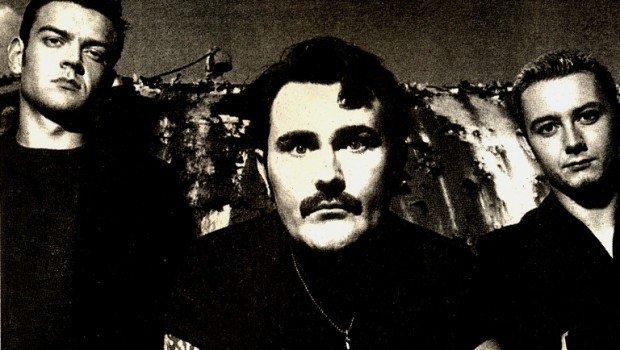 Published on March 25th, 2014 | by Mike McGrath-Bryan
0
The Complete Guide to Therapy?: Part 2
PREVIOUSLY: Guitarist Andy Cairns and drummer Fyfe Ewing meet at a Battle of the Bands and start jamming after talking about bands they like in common. First demo tape 30 Seconds of Silence showcases a wide variety of ideas, and soon they're joined by Ewing's classmate Michael McKeegan, for the recording of second demo tape Meat Abstract. The intrepid trio set off on tour around Ireland, and with the release of their debut single, also entitled Meat Abstract, the UK. While in London, the band gets airplay from John Peel, and begins to garner label interest. Signing with Wiiija, Therapy? begin adding high-profile support slots to a breakneck touring schedule, and release Babyteeth in 1991, with tracks from two sessions in Homestead Studios in Randalstown. Hitting number one in indie charts in the UK and Ireland, the band begin to parlay their momentum into festivals, touring Europe and putting down their second mini-album Pleasure Death for release in 1992, and shortly after, supporting Hole on a UK tour. While on this particular jaunt, the band catches the attention of major label A&M, who sign the trio…
NURSE (1992, A&M)
With the ink drying on a contract with A&M, as labels worldwide scanned frantically for their own Nirvana or Pearl Jam, Therapy? again teamed with engineer Harvey Birrell, going to Loco Studios in Wales to put down their first "LP-length" record. As if to differentiate themselves from the world's growing obsession with all things punk, dirty and noisy, Nurse displays a hard turn for the industrial, hinted at in the production and mix of the mini-albums, fitting more comfortably with then-nascent contemporaries like Nine Inch Nails than any of the bands their power-trio format earned them comparisons to. It wouldn't be the last time the band shook off industry expectations…
As brutish as anything the mini-albums spewed forth, yet a more concise and no-nonsense beast, 'Nausea' starts the record off strong, and sinks its hooks in quickly. It also marks a much stronger and more commanding vocal contribution from Cairns, who, from this album, became lead singer after Ewing seemingly dialled back on his vox. Lead-off single 'Teethgrinder' clangs its way into existence with a dead-string, almost percussive opening riff, before reeling along some very slinky post-punk hooks, pockmarked with samples from old propaganda films and the tight, top-heavy snare drum that would become one of the band's defining features. 'Disgracelands" sorrowful yet oddly sonorous melodies sweeten a bitter dose of social commentary regarding the spread of American culture and its influence: "reality is living your life/to fulfill your dreams". 'Accelerator' punches above its weight, careening about wildly in one of the album's few allusions to the band's punk leanings. Proposed single 'Neck Freak' was apparently too big or ambitious to release as a non-album single for Wiiija, but makes for a centrepiece for the album, winding along a purposeful, yet jagged riff before building to a gradually more intense finish. A mini-epic in its own right.
'Perversonality' explores mental illness and love in the same uneasy breath, quietly staring the duelling forces down and observing them, aided by some blistering post-punk riffage. The standout track of Nurse, however is 'Gone', a poignant and tender letter to an ex-girlfriend of Cairns' that garnered tears from audience members when aired on the road. With good reason: bristling with intensity, yet warm with humanity's inherent good, it was a quietly violent clash of Therapy?'s opposing worlds of noise & hatred and pop nous. A near-lullaby, the stakes raise as said intensity builds, adding luxuriant cellos from guest Martin McCarrick across a sprawling finale. 'Zipless' takes the endeavour back into noise territory, a wailing lead guitar adding to the intimidation of examining love/hate relationships. 'Deep Sleep' on the other hand, brings things firmly into dub territory, a nodding, shiftless, thick bassline and prayer-bell harmonics driving the trudging pace of a twisted take on reggae. The album finishes on a lightweight, more frivolous note with punk zipper 'Hypermania', rifling through psychological and philosophical conundra before the listener can take them in, like a stimulant-addled Socrates.
A concise but layered affair, Nurse set the tone for the next few years of sonic exploration. Dark, cold but asking universally relatable questions and touching on important themes, it could likely have begun to ring alarm bells in high places at A&M, but is undoubtedly the moment in the band's development where its central themes and outer limits were established and explored. Polished but muscular production, especially on bass tones and vocals, set Nurse apart from its predecessors, improved again in the band's self-released 2013 Harvey Birrell remaster, found in The Gemil Box. Though many of the songs' arrangements were comparatively barebones and would be revisited in B-sides and live reimaginings, Nurse remains vital to the Therapy? discography and the band.
SINGLES & B-SIDES: Just the one, with 'Teethgrinder' hitting the mainstream singles charts at number nineteen in Ireland and producing three B-sides: 'Summer of Hate', 'Human Mechanism' 'Sky High McKaye'. Interesting industrial/punk ditties, but with the exception of early '30 Seconds' draft 'Human Mechanism', no real gems. A remix of a previously-unreleased tune called 'Sister' exists on the 12" single…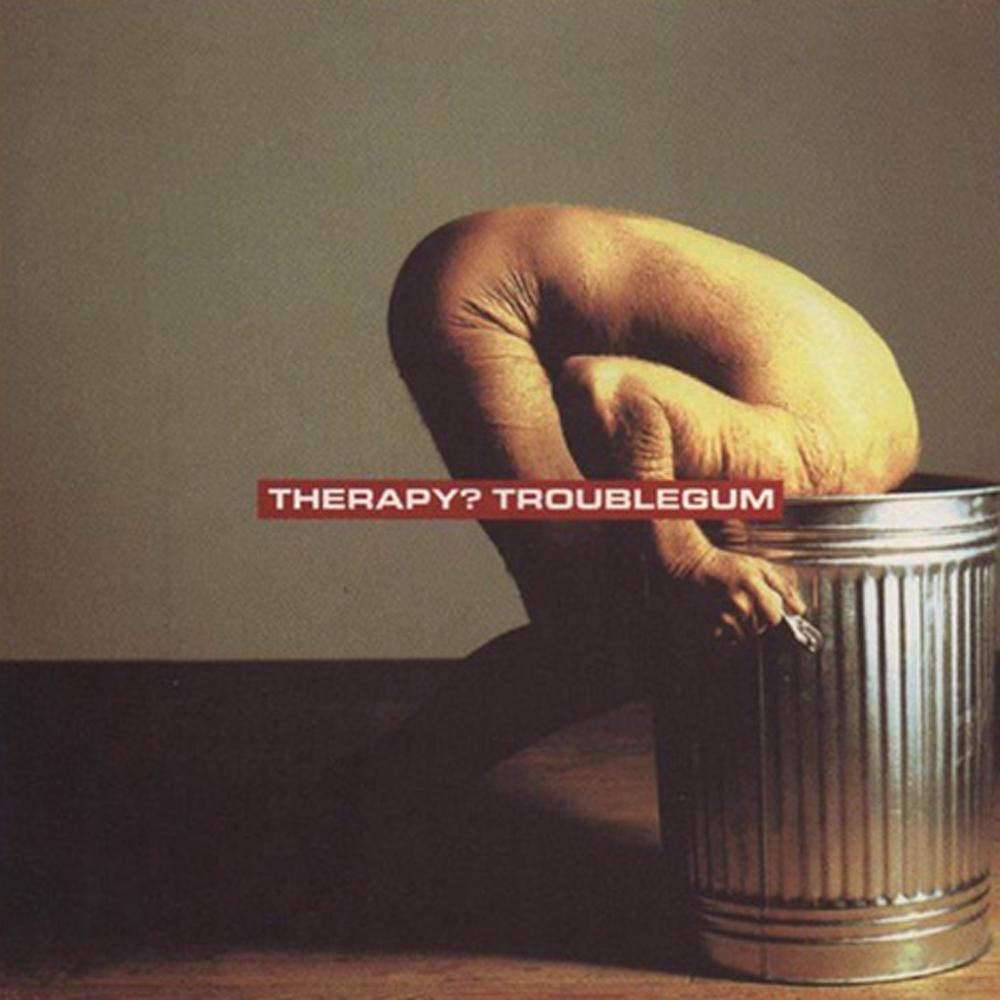 TROUBLEGUM (1994, A&M)
After a 1993 full of single and E.P. releases in various formats and configurations, including top-ten hit, the Shortsharpshock E.P., and its blistering lead-off 'Screamager', as well as non-album single 'Opal Mantra', and top-20 entry Face the Strange E.P. (leading with 'Turn'), the band's profile rocketed. A complete 180-degree turn from the critical acclaim of Nurse, these new bursts of material both paid loving and grateful homage to Therapy?'s Ulster punk influences in reaction to label pressure to hop on the grunge bandwagon, and solidified the trio as a prolific and confident 'singles band', catapulting them into a public consciousness better able to receive new bands and ideas then than now, all over the front of mainstream 'metal' mags like Kerrang! and to the U.S., supporting Helmet and the Jesus Lizard on a two-month excursion. After the hubbub of the summer festivals that year, the band went back to the North to write and demo, before finishing the basis of their second full-length in various studios around London, aided by producer Chris Sheldon. Although two of Troublegum's strongest tracks had been months old by the time it emerged in February of 1994, they were no less fresh, and the album was a titanic kick in the face of rock in the UK and Ireland: vested with the knack for pop-punk diamonds, thoroughly bulked up with metallic aggression and possessed of an indie-friendly nature in its choruses and glorious hooks, it remains perfect to this day, from grotty beginning, to scratchy, tetchy end. Clever and funny without being smart-ass, defiant and disregarding without resorting to petulance.
Odds on that if you're reading this, every second of Troublegum's 45 minutes are seared onto your brain. You know what to expect. It was part of your early musical upbringing, maybe even the first band you chose to listen and get into by yourself, and you brace yourself upon hitting play, waiting with undying dread for the stabbing riffage and howling of 'Knives' to impact, short and brutal, before sparing no time and beating into 'Screamager"s immortal hooks and verses, its impeccable structure, the very embodiment of rural alienation, the search for identity and teenage malaise, like 'Teenage Kicks' and 'The Rocker' before it. 'Hellbelly"s sour indictment of suits and corporate culture still rankles, despite the tinge of dare in its adolescent incitements, invoking suffering, fire and hell with a gleeful cackle. 'Stop It, You're Killing Me"s angst-filled pop and gleaming, sparkling middle-eight. The chugging glory of pop-metal bijou 'Nowhere', peppered with crunching, siren leads and the tale of a wasted life in the backwoods acting as caution to those listening. 'Die Laughing' and its grinning yet hopeless vista of nihilism; 'Unbeliever' and its dismissal of confidence, shot in the arm with a scintillating solo from Helmet's Page Hamilton; 'Trigger Inside' and its unrelenting chug, its sneering moments of lyrical genius and parodies youthful self-absorption ('Here comes a girl with perfect teeth/I bet she won't be smiling at me/I know how Jeffrey Dahmer feels'). 'Lunacy Booth' arriving and impacting with its platinum-plated riffage and smiling vocal contribution from band friend Lesley Rankine. The simpering notes that burn out before the oppression of a particularly fraught cover of Joy Division's 'Isolation' hits home hard. The B-movie shock and awe of 'Turn' and its horror-soundtrack up-picking in the bridge. The gender-bending commentary of 'Femtex' and its study of distance, of feminism, sexual repression and release, hammered home with a smile, a tongue in its cheek and bulletproof, chainsaw riffing. The McCarrick-supplied strings that at once provide the metronome and the dagger in the heart of 'Unrequited', and the snarling, crying final broadside of 'Brainsaw' and its demented conclusion. It's all there for everyone to hear, as fresh as it was twenty years ago, yet embedded deeply in Ireland's shared musical DNA, still surfacing in the work of the bands that followed Therapy? to centre-stage and every wave of noisemakers across genre lines that has showed up since, its influence inextricable.
Twenty years ago, Troublegum landed the top spot in critics' year-end lists everywhere. Dripping with the magic of a band at the height of its powers, and, to this day, the production job your writer compares all punk/noise/otherwise spiky records to for critical purposes, there's no doubt of its worth and place in rock history. Like the first Ramones record, or Nevermind shortly before it, it packs a lot into a little, and the end result is undeniably thrilling. The upcoming remaster may cause some longtime fans to cluck tongues – it definitely is a bit more toppy and louder than its source material – but it remains essential, especially with the wealth of bonuses alongside. The album that secured Therapy?'s legacy, and placed them on the precipice of world domination.
SINGLES & B-SIDES: With numerous singles, E.P.s, etc. surrounding the album's release, a brief rifle will have to suffice until we revisit the rarities and extras properly on Friday, in time for the remaster, which will include all of these tracks… Shortsharpshock came bolstered with some crackers, including the pressure-cooker, rhythm-led 'Auto Surgery', the indie-happy confusion of 'Totally Random Man', and an unhinged filling-out of 'Accelerator'… Face the Strange saw an airing for whipsmart punk number 'Speedball', a long-overdue final version of '89 demo cut 'Bloody Blue', and an astonishingly intense and layered new version of 'Neck Freak'… Non-album single 'Opal Mantra' shipped as a studio recording with 'Turn' as a B-side, and as a live version, on clear 7" – with live cuts of 'Innocent X', 'Potato Junkie' and 'Nausea' hitting hard – 'Nowhere' did big business and was multi-formatted, with three CD editions. The UK release came with the twisting, psyched-up rush of 'Pantopon Rose', and covers of 'Breaking the Law' and 'CC Rider', the latter in particular laying on the cheese. A remix single came with alternate mixes from Sabres of Paradise and a 'Therapeutic Distortion Mix', while the Euro release (as well as the subsequent 'Trigger Inside' CD single) boasts covers of 'Tatty Seaside Town', 'Nice 'n' Sleazy' and a particularly sedate version of Wire's 'Reuters'… The 'Trigger Inside' 12" is very definitely DJ-centric, with two mixes of the A-side and the 'Nowhere' remixes on the B… 'Die Laughing' boasts the hidden gem of the Troublegum sessions, 'Evil Elvis', as well as punishing live versions of 'Stop It…' and 'Trigger Inside', while the 12" comes with two David Holmes remixes. It wouldn't be his last time working with the boys in black… The German-only 'Isolation' CD single comes with one of the great surprises of the Therapy? catalogue: a striking chamber-music arrangement for strings of 'Lunacy Booth'. It's a thought-provoking piece that wrests beauty from the carnage. Also, Consolidated get their hands on a remix of the A-side…
INFERNAL LOVE (A&M, 1995)
In the wake of Troublegum's critical and commercial success (out of over two million albums sold, around 750,000 are Troublegum) came a new pressure. With Nirvana gone and the grunge bandwagon firmly out of town, all major-label eyes were on the boys from Ballyclare to lash out another platinum-plated pop banger to cash in on the nascent shift toward pop-punk. But with under a year to write, demo and record a new album inbetween a manic touring schedule that saw them take in the American touring circuit with Henry Rollins, Tad and Swervedriver, and a titanic European loop that included Donington's Monsters of Rock, the inspiration that fueled Troublegum's adolescent furor was miles away. The result of the band's busiest and most head-wrecking year yet was Infernal Love, an unholy concoction of swarthy balladry, pop dementia and subject matter ranging from schoolboy nightmares and turbulent relationship trouble, to almost cinematic visions of indulgence and road-borne debauchery. The screams of horror from A&M offices must have been audible for miles, as the quick cash-in they surely expected gave way to an expansive, if obfuscated, vision for what the band wanted for themselves: a complete and dedicated aversion to pigeonholing. Though conflicted and strange on first listen, what unveils itself inbetween David Holmes' bookend electronic pieces is a lost classic in its own right, finally getting the attention it deserves with the remaster on Friday…
The mindfuck begins with irradiating, chainsaw synth at the beginning of 'Epilepsy', giving way to a rollicking, uneasy, buzzing guitar and jazzy, bouncing bass, down to a cheeky improv break. 'Stories', the album standout, grabs you by your lapels and pulls you into the underbelly of the excesses of the touring life, grinning slyly at the pace of it all ('I get by on what I have/less than Jesus, more than Dad/enough to keep me in this state/to get through to the next escape') while ethereal cello makes nicks across the whole thing, punctuated by parping sax for divilment's sake. Live fan fave 'A Moment of Clarity' errs heavily on the side of fraught and tortured love-sickness, a sleazy, burnt-out paean to romance and tumult that lays on the honey, a little thickly in retrospect ('Your lips like bruised vulva/and your ass like Jesus' feet/Worth kissing'). The ghost of a distant childhood friend haunts the pop simplicity and regret of 'Jude the Obscene', here far different from its initial incarnation of a demo for Andy's previous band, Catweazle. A gem of a tune, accentuated by washed-out backing vocal and a lingering, chiming guitar-pop hook that almost steals the whole record. Doomed romance rears its ugly head again in the tremolo-and-strings shamble of 'Bowels of Love', a rueful dance down Desperation Lane, smirking all the while. 'Misery' makes with ack-ack fire, wielding a machine-gun riff that sends the listener reeling and bouncing while an impassioned fight between lovers rages on in the background.
'Bad Mother"s string-shredding, thinking man's skank reflects on purpose and dissatisfaction, an obvious jab at the reality of touring life against the dream of success and stardom, before segueing into a nightmare about being consumed by one's passions, set against the noise and uncertainty of neon lights. The final part of a trilogy of wrought, Gothic balladry plays its embittered course out in 'Me vs. You'., and though the excesses of it all can wear, there are moments of tension and a lovely, plaintive guitar solo that add to the tumult. 'Loose' is immediately playful, a joyful, cackling ode to gender-bending, addled and demented friendships that throws a cheeky nod to the Stooges before treading later Husker Du territory, a necessary portent for the next track, a string arrangement of the Minneapolis trailblazers' murder ballad 'Diane', here imagined as inviting, yet insanely enthusiastic chamber music, with Cairns' soaring performance indicative of a man enjoying himself a little too much for comfort in the face of the song's inherent morbidity. The album sprints to a finish with the traditional Therapy? hardcore broadside, the Cheshire Cat-smiley ditty '30 Seconds' that ties up all the loose thematic strands, whizzing past abuse, The Troubles, paranoia, guilt, and fame before running headlong into its own abrupt end.
It wasn't the album anyone expected, but having built up a well of goodwill in the mainstream and the underground alike, ears were open. Opinion was divided: while more devout punks and metallers were put off by all the strings and caterwauling, 'Diane' helped propel the band to a wider audience in Europe, while 'Stories' remains an effervescent reminder of the band's pop genius. It's a quality record that leaves you better off for taking you to its own personal asylum and dragging you around the corridors, and while benefiting from a more subtle production than its predecessor, the remaster brightens up the whole tone of the record, investing it with a little aggression. It may have been a blindside to expectations, but it set them apart as a band that was motivated primarily by thinking forward, following its muses and surroundings, and adapting. Fake mustaches aside, it's a cracker of a record.
B-SIDES & SINGLES: Released at the height of singles formatting, Infernal Love's loss-leaders came bundled with a number of indicators of experimentation and play. 'Diane' and the much-sought-after Belgian release of 'Bad Mother' are comprehensively plastered with live acoustic renditions of tunes from Infernal Love and the preceding few albums. The real fresh material is on the b-sides of 'Loose', with the highlight being country/skiffle jam 'Our Love Must Die', raising a titter while showcasing a genuine reverance for troubadours like Hank Williams. 'Nice Guys' is a likeable pop nugget, while live action is all over the second disc of the 'Loose' CD single and the US 'Misery' radio promo. Rounding off curios of the era is a bizarre compacting/reconfiguration of 'Innocent X', taken from a split with Orbital released at the time, and 'Loose' is subjected to a subdued, jungly remix. All of these tracks are available, remastered also, on the new reissue of the album.
The fallout from the album was unprecedented for the band, and a turning point: the successes of the past two years, the resulting touring schedule in Europe to sate demand after the success of the 'Diane' single, the relative difficulty of marketing an album of gothic pop in a post-Green Day climate, and the prospect of an American tour sent Ewing over the edge and prompted his departure from the band in January of 1995, immediately after a massive run of UK and Irish dates that saw them fill out the Point in Dublin and headline Ulster Hall with a career live performance that remains a favourite among traders and bootleggers. Tired, worn and on the verge of destruction, Cairns and McKeegan moved quickly to regroup, adding My Little Funhouse's Graham Hopkins on drums and adding Martin McCarrick permanently to the line-up on live cello and second guitar, before hitting the road in the U.S. for their biggest tour yet, supporting Ozzy Osbourne. Using the time on the road to acclimatise to their new line-out, Therapy? Mark II came to life at a strange time, winding down, fulfilling commitments and planning their next move. That next chapter would be a while unfolding… Mike McGrath-Bryan
NEXT: We look at Therapy?'s wait to release Semi-Detached, departure from the majors, and their grand reinvention as returning underground gatekeepers, with ARK21…