Articles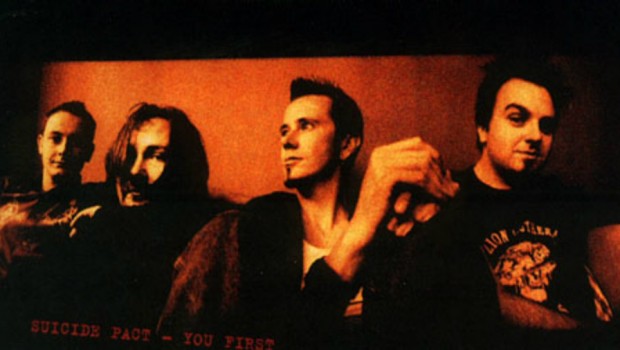 Published on March 26th, 2014 | by Mike McGrath-Bryan
0
The Complete Guide to Therapy?: Part 3
PREVIOUSLY: Signing with A&M (now part of Universal's maze of industry-quashing acquisitions), Therapy? begin setting about making debut full-length Nurse, a mongrel of industrial production, noise turbulence and well-honed pop that immediately makes an impact, from charting to making a cameo in Seinfeld. 'Teethgrinder' charts in Ireland, and touring continues apace. The grunge bandwagon comes calling, however, and Therapy? do the right and appropriate thing: fuck off and write a punk album for themselves. Troublegum and the slew of singles that precede it transform the boys in black into chart-bothering, festival-headlining titans, with 'Screamager' leading the Shortsharpshock E.P. into the UK Top Ten and 'Nowhere' driving the album up the charts upon its release. America and the festivals come calling, and touring continues apace. Under eleven months later, the pressure to produce another pop masterwork while also staying on the road gives turbulent rise to Infernal Love, a rictus grin of an album that bashes square pegs into round holes from start to finish, laughing throughout. 'Diane', a chamber-music cover of a Husker Du murder ballad, enraptures the continent but bitterly divides fans, while 'Misery' becomes a cult radio fave in the States, and touring continues apace. That is, until drummer Fyfe Ewing, citing the schedule's impact on his continued sanity, makes the decision to leave. Deciding to wrap up touring commitments as a means of breaking newbies Graham Hopkins and Martin McCarrick into the band, the lads head away with Ozzy Osbourne in the States and finish up European touring for Infernal Love…
SEMI-DETACHED (A&M, 1998)
1997 would be a quiet one by Therapy? standards. Having banged out at least one record annually from 1990 to 1995, a change in line-up and resultant adjustment in dynamic, as well as an expansion from a trio to a four-piece, necessitated major changes across the board, including a more patient approach to songwriting, after the post-Infernal Love hangover. With a fuller sound, and time away from the spotlight to figure out how to use it, the band took the uncharacteristic step of carefully considering its next move, taking in the odd festival and MTV appearance to break up the demoing/writing process. It was a big risk: division in the ranks of fans or not, Therapy?'s momentum was a phenomenon, and to stop it in its tracks seemed to many to be asking for a death knell, with some even speculating that Cairns' recent marriage resulted in a subsequent lack of interest in the band. Re-emerging from hibernation to a changing mainstream climate in early 1998, supporting Deftones in London and debuting 'Tightrope Walker', Therapy? found themselves in a world of label conglomeration, the rise of nu-metal changing the focus of casual fans, and of bands they influenced themselves taking off on their own merits. Change was inevitable, and Semi-Detached, released in March of that year, is at once a mature, fully-developed statement in the face of all this, and a mad clearing-house of ideas, frustrations, and motivations…
'Church of Noise' wails to life before tumbling along on a demented psychobilly/punk sensibility, intended to encapsulate the chaos and bluster of parade season. 'Tightrope Walker' awkwardly lurches from breaky, jagged, uncertain verse to soaring chorus and twin-guitar harmonies, bursting with ideas but not letting any outstay their welcome. 'Black Eye, Purple Sky' is a sharp, strident bit of alt-rock, and a rarity at that; a overly positive and contented proposition, in answer to the circumstances that birthed the album ("it's a well-scarred part of the road/but at least we know every pitfall, failure/secret and saviour"). 'Lonely, Cryin', Only', though somewhat derided by the band in subsequent interviews, is a really very likeable mover of a tune, a simultaneous tip of the hat to Cairns' own punk-rock beginnings, and Roy Orbison and the parentally-inherited crooners of his childhood, wrapped up nicely in a nigh-on perfect two-minute nugget. A sedate alt-rock number, 'Born Too Soon' commiserates with hard times while not losing sight of the light at the end of the tunnel, while 'Stay Happy' bounces along frivolously as if to lighten the mood, a grinning commentary on happy pills and short attention spans. Though the album is a mixed bag to this point, focus is restored in the second half, with stark, simple keys bringing the fraught, ennui-laden struggle of 'Safe' into being, a post-rehab rumination on dependency and city-street uniformity. 'Straight Life' taps in to classic Therapy? disregard and dissatisfaction, welding it to a testosterone-injected, stadium-ready slice of rock, while 'Heaven's Gate', a pop-rock gem in its own right and an underrated part of Therapy?'s catalogue, jams together the inertia & demotivation of life in a rut and the resulting questions with oddly soaring hooks and riffs. 'Don't Expect Roses' wrangles a bit of grinning punk rock onto the album. 'Tramline' and its mad meld of trance, dance distraction and wailing gothic guitars come off like an MTV cheese-dream, while end-of-night, off-the-road anthem 'The Boy's Asleep' draws it all to a quiet and considered close…
B-SIDES & SINGLES: 'Church of Noise' comes, across CD and cassette formats, with a washy/washed-out Messenger remix, while new tracks came in '60 Watt Bulb', a punkish rock jam on the cassette and 7″ releases, and fan favourite 'Suing God', a shoegaze-inflected piece of alt-rock with a strong existentialist streak, appearing on both CD versions. 'Lonely, Cryin', Only' by far has the more interesting menagerie of bonus material across a number of formats. Blackly melodic alt-rock chirper 'Kids' Stuff' is a joyous dichotomy of exhaustion and that well-established pop knack. A DJ Shadow cover, 'High Noon' makes for an interesting post-rockish footnote on the main CD release. The real bones, however, are the four new versions of classic Therapy? tunes, fleshed out and rearranged for the new line-up. 'Diane' is given a monotone vocal and a single, droning electric cello, 'Teethgrinder' is bulked up with beefier tones and a layer of cello, 'Disgracelands' is slowed down, and 'Skyward' is revisited in relatively straightforward fashion, albeit a little more attuned to the alt-rock direction of the album…
Received fan sentiment is of even deeper divisions than were caused by Infernal Love: many fans (your writer among them) continue to be delighted by the many twists and diversions on offer, and while some feel the record is unfocused, others still insist the whole thing is far too slick. The variation of ideas that abound do attest to a skittish, varying creative atmosphere during writing and recording, with each song heading off in its own direction, but most of them meriting doing so. Those pesky external influences, however, played a hand in the album's commercial performance: with A&M in the midst of a takeover by PolyGram, itself riding high on manufactured acts, the band seemingly got lost in the label shuffle, and without an easily marketable record that conveniently ticked either the alt-rock, punk or metal boxes for the increasingly casual marketplace that resulted from the mass conglomeration of labels, what was a promising comeback seemed to be deprioritised. 'Church of Noise' picked up pre-album traction for being banned from radio over the Ian Paisley sample that prefaced the initial radio edit, but barely scratched the charts, while 'Lonely, Cryin', Only', seemingly the most apt candidate for a barnstorming singles run, received scant label attention. Promo singles exist for 'Stay Happy', hinting at a cancelled retail single release in A&M's dying days as an autonomous major label…
The picture overall, was a frustrating one: though Therapy? retained huge popularity live, hitting the clubs and rebuilding their core fanbase, as well as subbing for KoRn that year at Donington & supporting Metallica in the process, the fickle attentions of label suits were elsewhere, a situation that seemed like lifting when it was announced that the band would be reshuffled to PolyGram imprint Mercury Records, with the band even recording video messages greeting their new staff. The deal, however, was never quite sealed, and in late 1998, Therapy? found themselves without a label, to the shock of many. Remaining touring commitments were paid for out of the band's own pocket, promoting an awkward album on a label that dropped them, while a contingency plan was formulated…
SUICIDE PACT – YOU FIRST (1999, Ark21)
Kicking off 1999 on the bum note of Hopkins breaking his arm, the remaining members holed themselves up in London with a drum machine and began giving voice to the frustrations that had been building in the previous year or so. Fucked around by the music industry, contending with broader changes in the artistic climate, and desirous of creative freedom, the band made the decision to go back underground: signing with American indie Ark21, run by former IRS Records staffers, and hunkering down in a mansion in the English countryside to set the whole world to rights. In doing so, they issued forth the screed that took them from brash contenders to a long-term fixture. Stripping away the laboured production processes and bloated budgets of life on a major label, the band simply took to studio by themselves, accompanied by producer Head, with a handful of ideas, and enough loathing & repercussions for lads twice their age. The result was Suicide Pact-You First, an urgent rejoinder to naysayers, a fuck-you to their former bosses, and the kick up the arse that set the tone for the band's second decade.
NOTE: Rather than cover old critical territory and recycle old opinions, your writer would like to paraphrase a previous piece, reprinting from Molten Magazine's January 2012 issue, with the kind permission of the editors.
'He's Not That Kind of Girl' is a strange but overawingly joyous dichotomy, a titanically rhythmic, jazzy broadside designed to inspire dancing and destruction in equal measure, flicking the switch between the two with a shit-eating grin, alluding to androgyny and all manner of wired-awake obfuscation. 'Wall of Mouths' drags proceedings into more turbulent territory, squalling strings and riffing at once dour and urgent, yet invested with remembered, renewed teenage bile ("You don't like my attitude/or my tack/But I don't care/'Cause I don't like your soundtrack."). 'Jam Jar Jail', then, halts the anger in its tracks, favouring heads-down, fuzzy rock 'n' roll, and all the better for it, dirty bass underpinning a paean to teenage rural existentialist crises and the role of music in the aforementioned, right before we reapply our devilish grins for 'Hate Kill Destroy', a gloriously wretched tune, about as harmonic as intended, and wracked with all the discord Cairns can wrench from the depths of his throat. Being that awkwardness was the watchword, it fits that the first half of the album be suddenly thrown into instrumental territory, with 'Big Cave In' eschewing the soundscapes associated with instrumentals at the time in favour of riffs and more riffs. It works. However, all this is prelude to where the album really comes into its own, and transcends noise for its own sake. Sparse, haunting, and burdened with a regretful narrative recalling Troubles-era punk and Northern Irish society's cultural divisions of the age, 'Six Mile Water' is an affecting, breath-taking work that pays homage to the then-emergent post-rock movement. The utmost care exists in the band's performance, aware of the subtleties of the song and how best to manipulate them and build them, before letting Cairns' love for Thin Lizzy shine with soulful, bluesy slide soloing, augmented in unlikeliest fashion by McCarrick's otherworldly high-end strings. It's an experience that will stay with you the rest of your life.
Of course, jarring left turns are par for the course with Therapy?, and 'Little Tongues First' veers sharply into punk territory, a fierce and vitrolic barrage. It's there, right from the opening salvo ("This is my vision/And this my way/And I won't back down"). Defensive, full of fire and overlaid with frantic urgency and the fine line between melody and mayhem to match, it was the band's essence, taken to an entirely different plane in four minutes and 25 seconds. 'Ten Year Plan"s heavy blues and complete derailment of the process and procedure of corporate rock and the fads of the age ought to have left industry suits spitting out teeth. 'God Kicks', on the other hand, recorded in the woods near Great Linford Manor, is spine-chilling, using background noise to desterilise the listening experience. A surfacely simple acoustic ditty, albeit invested with sparse strings, Cairns' shambolic monotone masks a terrible sense of dread, piecing together memories of the Troubles at almost stream-of-consciousness level. Blacker than coal, but able to leave you speechless. And then, as if to shake you from your trance, 'Other People's Misery' snaps the listener into the front-row of the best hardcore gig you care to remember. Short, sour and just for the hell of it, showing the pretenders and kiddies how it's done. Sending 'em home sweating, 'Sister' proceeds to indulge fully in the glimpses of rock 'n' roll glee betrayed earlier in the record, a sprightly classic rock anthem distorted somewhat by delayed backing vocals that at once confound new listeners and make sense to those in on Therapy?'s M.O. And let's not forget those riffs – there's a reason it's a live favourite. But when they say it's all over, it's not over completely – a long silence might lull the unattentive into reckoning the CD has stopped and going about their business, but the hidden track commonly known among fans as 'Whilst I Pursue My Way Unharmed', 666 seconds of Therapy? casting off the shackles of traditional composition, is bound to give anyone a jolt from their concentration. A freeform jam recorded in a shopping centre and marked by Cairns' unsettling screaming and rambling over the string-heavy, post-rock-referencing proceedings, its twists and turns summarise those of an album that wastes not one second in dragging the listener around them, and in turn, all the places and situations that led to its creation…
B-SIDES and SINGLES: There wasn't a single, bar a promo for 'Six Mile Water' when Universal got their hands on Ark21 the following year, by dint of hitting the indies, it neither hit the radio or charts. What few copies exist come bundled with a radio edit, as well as a nice live recording from Ancienne Belgique in Brussels…
But such things didn't matter. What is important about SP-YF, and why it is possibly the most important record of their discography, is it reaffirmed everything the band loved about what they did, and the result was a vital and inspired, yet relatable, album. It was art for art's sake, and it's glorious listening to this day. The fire that was lit under the band kept going in subsequent touring, and the band's efforts to regain their creative mojo paid off: the album was critically acclaimed, even going on to be one of Vision Magazine's top albums of the 20th Century, coming in just before deadline. Therapy? were here, and here to the end…
SO MUCH FOR THE TEN YEAR PLAN: A RETROSPECTIVE (2000, Ark21/Universal)
In the midst of all the excitement, 2000 saw the release on Ark21 of So Much for the Ten Year Plan, a greatest-hits album to mark the tenth anniversary of the band's first record. By the band's own admission, it was a handy way of getting out of some major-label commitments and an excuse to have a laugh with some older material on the road, hitting up festivals around Europe, as well as playing the only sell-out show of SXSW in Austin, Texas. It wouldn't be a Therapy? compilation, though, without at least some effort at including new tunes to make the comp worth the investment. The selection of existing tracks is concise: one track each from the mini-albums, two from the full-lengths, and no 'Opal Mantra'. The story here is in the exclusive songs, 'Bad Karma Follows You Around' and 'Fat Camp', and the direction they pointed in for the band's next album.
'Fat Camp' is a chunky punk 'n' roll entry, restoring a little of the band's humour after the band's arch seriousness in the last album, but 'Bad Karma', a muscular, pure-bred rocking beast, channelled Thin Lizzy in its badass street-poetry and bluesy assault. It would prove to be an omen for a band beginning to enjoy themselves again, and the heads-down, no-nonsense rock'n'roll trifled with in these two tracks would go on to play a major part in the following year's shenanigans…
B-SIDES & SINGLES: The two new tracks were double A-sided for promo CD purposes. A limited edition of the comp also came with bonus tracks, a six-track second disc featuring the 1990 demo of 'Bloody Blue', the string version of 'Lunacy Booth', 'Summer of Hate', the band's cover of the Misfits' Where Eagles Dare', the 'Isolation' Consolidated mix, and 'Evil Elvis', providing an easier point of entry for new fans to the band's extended back catalogue…
As the anniversary celebrations began to wind down, Therapy?'s second decade was set to kick off in typically unpredictable fashion. Jams back in studio in London followed in the rollicking rock direction of their Ten Year Plan sessions, and early 2001 saw the band up sticks and move to Seattle for two months to record Shameless. Avoiding the alt-rock/grunge wave for the decade previous allowed them to evade the tiresome stereotypes that surrounded the city, and Sub Pop production legend Jack Endino was entrusted with putting down a classic-rock session with a Therapy? twist…
NEXT: Shameless brings the party atmosphere, but more label and line-up issues mean another raft of changes and new directions.