Live Reviews
Published on November 25th, 2014 | by Justin McDaid
0
Robert Plant w/ The Last Internacionale @ Olympia Theatre, Dublin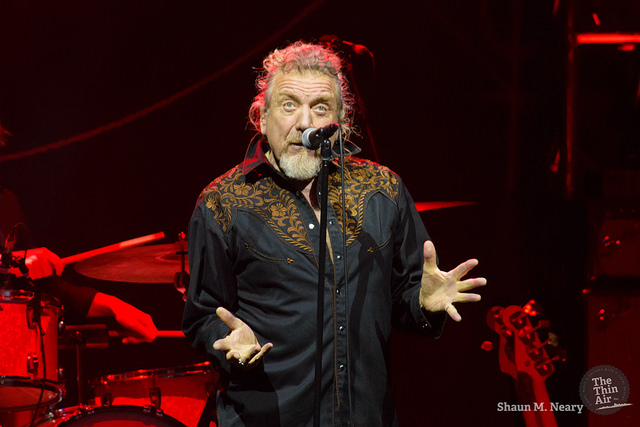 It's funny to think that Led Zeppelin spawned practically every rock'n'roll trope that elicits either an eye roll or a "fuck yeah!" (depending one's state of inebriation). The old clichés have gone from birth through acceptance, weathering punk's dismissal into irony and meta-referencing, and all the way around again until it's hard to decipher what point on the rotation things currently fall.
New Yorkers The Last Internationale are somewhere on that loop, a band that could comfortably populate the background scenery in Almost Famous, such is the posturing and rock-by-numbers shenanigans that are in progress onstage. The guitarist even gives us the classic guitar-as-phallus move, and seems put-out when a particularly well-executed power chord doesn't get the cheer it seems to deserve; damned if it isn't enjoyable, though, as Edgey Pires tries in vain to match Delila Paz's presence. It's just a shame the set doesn't live up to the expectation of her striking, tremulous vocal on 'Workers of the World – Unite!' as the Neil Young and Elmore James covers join the ranks of the rest of the Joan Jett-tinged selection.
Robert Plant, on the other hand – here's a man who knows how to keep things ticking along. It's a testament to his output in recent years that he has largely shrugged off the cloak of Led Zeppelin frontman in a way that Daltrey or Jagger, or Jimmy Page for that matter, never could. After a lifetime steeped in the blues, Plant is adept at putting song through its paces, and tonight's sold-out Olympia Theatre is a thick molasses of Delta lore, psychedelia, folk, trad and rumbling, polyrhythmic percussive excursions.
If the overall effect is of a shamanic ceremony, then the band's attempt of induction into a trance-like state begins with the African drumming and intonations at the intro. Plant saunters onstage, clapping in rhythm, leading the assembled into the first of many acts of tempo-swinging, time-signature shifting reinterpretations of the blues, of old standards, and of his most famous band's songs. Whether on Howlin' Wolf's 'Spoonful' or Zeppelin's 'Going To California', the band frequently segue into rhythmic tribal interludes that seem to spring from nowhere. Dips in momentum – plodding blues like grandpa used to make – flourish into astonishing freeform hybrids; as the band revert to the shave-and-a-haircut rhythm once again, the contrasts suddenly make sense. Juldeh Camara, and guitarists Justin Adams and Liam 'Skin' Tyson ("the king of psychedelia", according to Plant), frequently eschew their standard instruments, taking on banjo, ukulele, badhran, kologo and ritti, with these instrumental breaks the sinew that holds this lurching beast together.
Plant and Adams go it alone as 'I Just Want To Make Love to You' meanders into the familiar phrase of "You need coolin'…" The band bolster a faithful rendering, before knocking it back to the walking blues of 'Mona' via a folk stomp, and revving back into 'Whole Lotta Love' as it should be played. Tyson takes his turn in the spotlight for 'Babe, I'm Gonna Leave You', interspersing the song's full-on attack with intricate picking.
The intro to a "little folk song we knocked up in the back for you" belies what becomes 'Rock and Roll'. Even through their playful reinterpretations it is the Zeppelin songs that receive the most love, but it's the more experimental asides that stand out in tonight's selection. 'Embrace The Fall' sees Plant ruminate in swathes of eastern drones, Delta blues, and electronic sampling until the lyric "My summer's almost gone" becomes erroneous; Plant's sonic experimentations with The Sensational Space Shifters have only started to blossom. Justin McDaid
Check out Shaun Neary's full photo set from the show here.