Events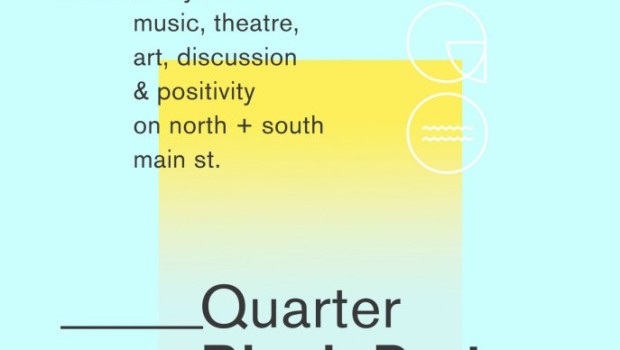 Published on January 4th, 2016 | by Brian Coney
0
Quarter Block Party 2016

Having made their first announcement back in December, Cork's Quarter Block Party have revealed a slew of new acts and events set for their 2016 outing from February 5-7.
Amongst the new additions is Cathy Walsh's Running Up That Hill, a celebration of feminism equality and solidarity. Provoked by the #wakingthefeminists movement and inspired by Kate Bush's 'Running Up That Hill', the people of Cork City will march through the streets and dance together in celebration on North Main Street, the historic spine of the city.
Elsewhere, Abigail Conway's participatory installation Time Lab will ask visitors to "dismantle a wristwatch or clock and reconstruct it to form an item of jewellery of sculpture in order to reflect on time as they dismantle the very tools of measuring the passing of time" and Emilie Combet will present Poupée Russe, a poetic recital marked by an artistic posture of a nomadic queer feminist identity.
Amongst the new acts announced are Dublin experimental maestros Meltybrains?, guitarist/songwriter Patrick Freeman, Cork four-piece The Great Balloon Race and QBP alum Jet Setter. The music line-up in full is:
SPOOK OF THE THIRTEENTH LOCK present LOCKOUT | ROZI PLAIN | MELTYBRAINS? | BITCH FALCON | DANIEL KNOX | HORSE | SOMERVILLE | LAURIE SHAW | JÓFRIỖUR ÁKADÓTTIR | THE GREAT BALLOON RACE | LOWLEK | TALOS | PADDY HANNA | JONI | BASCIVILLE | DUENDE DOGS | PATRICK FREEMAN | LAKERAMA | ALEX PETCU | STEVEN SHARPE & THE BROKE STRAIGHT BOYS | JET SETTER | RADIE, COSIE, BRIAN | SILLK | THE BONK | DAMSEL | CHRIS POWER | YOUNG PHANTOM | ROISIN KELLY | CLAIRE O' BRIEN | ABBA SING ALONG SOCIAL | VINYL LOVE J DILLA SPECIAL | FESTIVAL CLUB WITH DONAL DINEEN.
Presented by Makeshift Ensemble and Southern Hospitality Board, you can get involved with QBP and buy tickets here. Check out our review of the 2015 installment here.