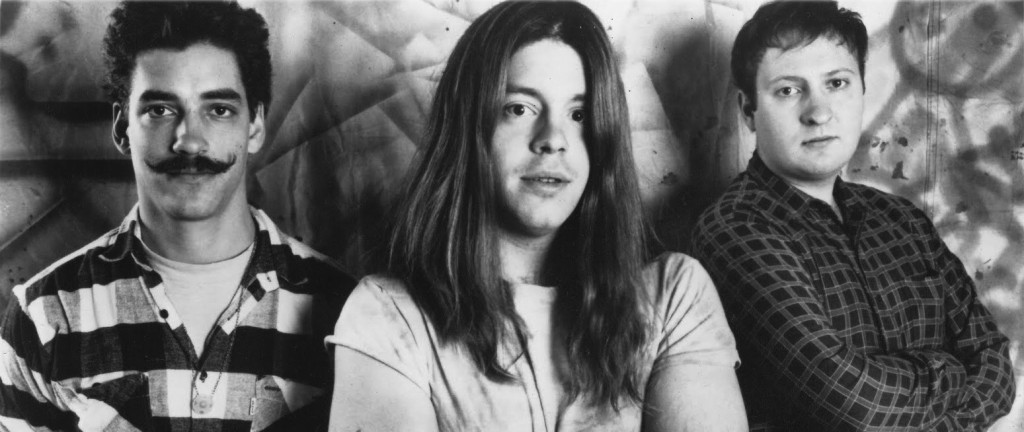 With Husker Du's drive and aspiration was going to come into conflict with the orthodoxy of hardcore,  for the world at large, their meteoric development was continuing to deliver the goods, and their second album of 1985 would somehow manage to raise the bar even further. Flip Your Wig boasted improved production values, giving the band a sparkling and clean sound for the first time, as well as highlighting the intensely creative and rewarding songwriting rivalry that existed between Bob Mould and Grant Hart. The two men had been peppering the albums with gem after gem, but Flip You Wig almost reads as a 'call and response', with one man issuing a challenge to the other in terms of who could write the most perfect song. Hart's 'Green Eyes' and 'Keep Hanging On' are masterpieces, songs that could have been huge hits, given the right circumstances, whilst Mould's 'Divide and Conquer' and 'Games' showcased just how far his craft had developed, yielding more surprises with every listen.


Perhaps dwarfing all these songs, however, was 'Makes No Sense At All', a glistening pop song written by Mould. Whilst the band previously written pop songs that could have easily sat comfortably on the radio if they were re-worked to be less abrasive, 'Makes No Sense At All' was an honest to goodness pop song that managed to tame Mould's buzzsaw guitar howl into something that was pleasant and melodic, whilst Norton and Hart ably provided an enticing backing that almost screamed, "COME ON! GIVE US A TRY!" For the faithful who'd been following the band since the beginning, their days of standing on the fringes seemed to be over.
Little did most observers know, but Flip Your Wig was already predestined to be the band's last indie album. The band had been secretly courting the major labels, and unbeknownst to the hardcore world, had signed an unprecedented deal with Warner Brothers that guaranteed them creative control over their output. Flip Your Wig was released on SST, almost as a 'farewell' to the underground, and the band were hard at work on their major label debut, a record that would bear an incredible amount of expectation, becoming the first record from a band from the underground to be released by a major label. The line was being drawn in the sand.
And with all this pressure to deliver the goods, it initially looked like Hüsker Dü had dropped the ball with 1986's Candy Apple Grey. After producing themselves to great effect on Flip Your Wig, the band had opted to a harsh, thin sound on then major label debut, creating a record that clearly had absorbed more money in its creation, but still sounded quite a ways away from making the leap to mainstream radio. Aside from the uneven production, the record itself sounded confused, unsure of what it was supposed to be, and who it was supposed to appeal to; for the first time, Hüsker Dü no longer seemed to be leading the way, but were instead second guessing themselves.


'Crystal' opened the record, unleashing metallic blasts of angular noise, over which Mould sounded as though he was frothing at the mouth, having difficulty keeping up with the song. As far as introducing the band to a new audience, 'Crystal' seemed to be saying, "Think we've sold out? TAKE THIS." Other songs displayed a more developed pop sensibility, but were still hampered by thin production. And amongst all the other surprises, for the first time, a Hüsker Dü album appeared to have a dominant personality. Whilst Hart still managed to squeeze in a few gems, the centrepiece of the record was two acoustic songs written and sung by Mould. 'Too Far Down' was a harrowingly personal ballad, the likes of which Mould had only hinted at before. Against a stark backdrop of acoustic guitar, he poured every ounce of emotion he had into the song, at times sounding bruised and emotionally raw, as well as completely over the top. 'Hardly Getting Over It' continued this exploration of Mould's emotional centre, allowing him to provide a sensitive and thoughtful rumination on death and the aging process.  It was an audacious move, owing nothing to punk, and being some considerable distance away from what acoustic singer songwriters were expected to do. Mould uses no metaphor, no imagery, just plain, hard facts to articulate his misery, and in doing so, created the template for grunge's self-pitying introspection, as well as the histrionics of emo.
The record didn't set the world on fire, leaving Hüsker Dü in an unenviable position. Having left the underground behind, they had alienated many of their more puritan fans by going to the mainstream, whilst they had also failed to cross over to a new audience in a significant way. By no means a failure, Candy Apple Grey had proved to be an experiment without any conclusive results. In a sense, the band's next album was even more pivotal than their major label debut, needing to secure an audience in order to allow the band to survive.


In typical Hüsker Dü fashion, the band refused to bow to compromise, releasing their second double album, 1987's Warehouse: Songs and Stories. Unlike Zen Arcade, Warehouse had no unifying concept, and it also lacked the sense of experimentation that had been one of the highlights of the record that had quickly become the albatross around the band's neck. But whilst it didn't possess the same visionary sense of purpose, it had tunes in spades. Mould's 'Ice Cold Ice' is one of the finest songs the band ever recorded, whilst on songs like 'These Important Years' and 'Could You Be The One' he proved that he had finally mastered the blend of punk anger and pop melody, creating s seamless hybrid that would go on to reap great rewards – for other people.
For his part, Hart had become somewhat detached from Mould's songwriting, increasingly viewing it as straight-laced, and his own compositions were more ragged, giving the album much needed light and shade. But for all the greatness of the individual songs, something about Warehouse doesn't gel, and the album fails to find the kind of rhythm and drive that categorised Zen Arcade. Rather than sounding like a band firing on all cylinders, Warehouse was the sound of two gifted songwriters drifting apart. And whilst another artist from Minneapolis had released one of the defining records of the 80s (a double as well) in the shape of Prince's Sign 'O' the Times, Hüsker Dü seemed to have slipped behind, floundering in the face of the future, rather than embracing it. Warehouse was a good album, but it needed to be a great one.
What happened next was nothing short of a tragedy. After years of creating the most vital music of the underground, and blazing a trail that others would soon follow, the ties that bound Hüsker Dü together began to come apart. It had been a closely guarded secret that a member of Hüsker Dü was gay. Whilst the underground was a place for outcasts and misfits, it still had a lingering problem with homophobia. Greg Norton, who had proudly modelled an extravagant handlebar moustache for years, was widely believed to be the gay member of the band, but the reality was that both Grant Hart and Bob Mould were gay. And whilst the band had long been associated with amphetamines, Hart had begun using heroin, driving a wedge between him and his bandmates.
The band was further thrown into jeopardy by the suicide of their manager, David Savoy. Having originally worked in the band's office, Savoy was promoted to manager at Warner Bros insistence. Being caught between the demands of the record label, as well as having to deal with the fractured personalities of Hart, Mould, and Norton, Savoy cracked under the pressure, and jumped off a bridge to his death. In the face of this tragedy, Hüsker Dü opted to plough ahead with their forthcoming tour, Mould assuming a managerial role in the band. Without taking a break to reflect, the band seemed committed to hurtling forth into the unknown, and it wasn't long before the breaks began to come off.
Before a show in Missouri, Hart's stash of methadone was destroyed, leaving the drummer to face the prospect of withdrawl. Unbeknownst to the rest of the band, Hart had recently tested HIV positive, and had been using the drug to withdraw from the pressures of his life, as well as his bandmates. Faced with the prospect of going into withdrawl or cancelling the shows, Hart opted to play the gigs, before discovering that Mould had already gone ahead and cancelled them. Hart quit the band several days later, signalling the end of Hüsker Dü. Several months later, he discovered that he had been mistakenly diagnosed as HIV positive.
Greg Norton played music intermittently, before moving into the catering industry. Grant Hart formed The Nova Mob, before eventually releasing a few albums under his own name. Bob Mould remained the most visible of the trio, releasing a series of solo albums, as well as forming Sugar, who briefly burned brightly in the UK indie scene of the 90s, releasing the fine Copper Blue album to rapturous acclaim. Whilst Hart occasionally feels like the forgotten man of American music, Mould has in recent years achieved a kind of 'elder statesman' role, one which he seems all too willing to play, finally seeming at ease with his own legacy.
And what a legacy! As the first band to cross over to a major label, Hüsker Dü showed that it was possible to exist in a bigger world, without sacrificing your integrity. Whilst they never achieved the kind of sales that many thought they should (indeed, their records still sound kind of weird even now), they proved that it was possible to create great art within the major label system, and they paved the way for Nirvana, REM, The Flaming Lips, and many others.
As well as this, Hüsker Dü broke down the barriers of punk, opening it up to its own beating heart. Hüsker Dü could be angry, they could be aggressive, and they could be nihilistic, but they could also be open armed and wide eyed, caught up in rapture at the beauty and wonder of the world. Hüsker Dü taught a whole generation of people that they weren't the only ones feeling sad, alienated, or alone, and that there were plenty of people out there going through the same things. They provided that light at the end of the tunnel, whilst refusing to sugar-coat the message; emotional salvation was at hand, but it could be a difficult road to follow.
Most importantly, Hüsker Dü laid down a body of work that captured that moment where ideas meet reality, where freedom meets boundaries, and were anything can happen. After embarking on such a spiritual quest, it seems fitting that the last song on the last Hüsker Dü album is entitled 'You Can Live at Home'. It was a lesson they learnt the hard way, but that doesn't mean it wasn't worth learning.


Read part I of The Story Behind: Hüsker Dü here.