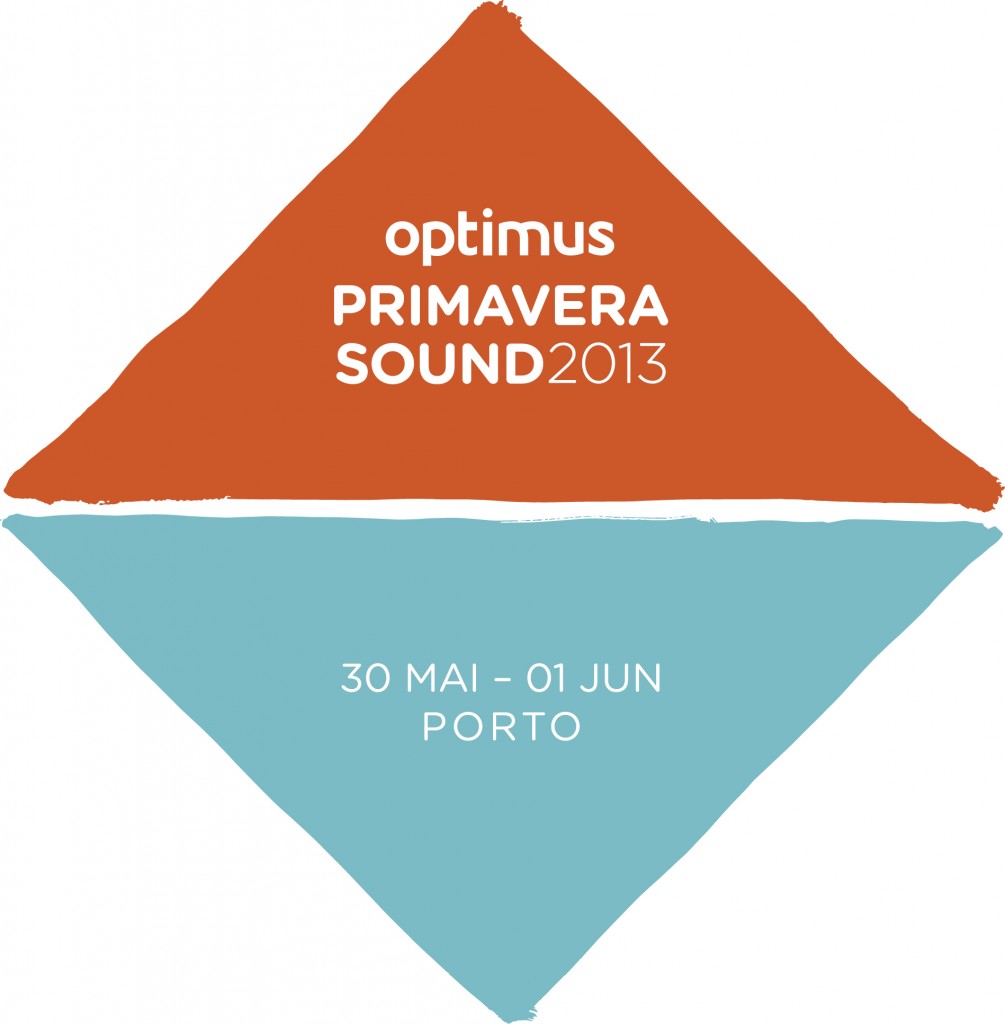 The sun continues to bless Optimus Primavera Sound on the festival's second day. Arriving on site in the late afternoon there's ample time to have a cocktail from one of the stalls dotted around the Parque da Cicade before the day's schedule begins, and with a nice strong caipirinha costing a mere €4 it would be rude not to. People-watching whilst sipping on a drink and strolling around is an oddly compelling pastime, but it's best to conserve energy for the moment as today sees a further two stage areas opened up to the public – the ATP Stage and the Pitchfork Stage. A glance at the timetable reveals that the number of bands has almost trebled as a result. Unfortunately, it's also apparent that there will be several clashes, which can only mean two things: disappointment at not being able to stay and watch a great set from start to finish, and running. Lots of running.
On the Optimus Stage, Portuguese duo Memória de Peixe are warming-up the crowd with their instrumental alt-rock maschinations. There's a distinctive math rock element to their sound, which is created by piecing together a series of short loops on the fly to add meat to the bones of numbers like 'Estrela Morena' and 'Indie Anna Jones'. Having never encountered their music before, Memória de Peixe (which means 'Fish Memory' in English) make a positive first impression.
Over at the ATP Stage, meanwhile, Om are almost finished unleashing their distinctive brand of experimental stoner rock in a full-on, raucous set which includes 'Meditation Is the Practice of Death' and 'Sinai'. They're soon followed by something of a juxtaposition in Daniel Johnston, whose simple lo-fi tunes and introspective lyrics quickly win over the audience, who are soon singing along to the likes of 'Walking the Cow', 'Speeding Motorcycle' and 'Love In Vain'. And though his songs often broach the subject of being an outsider, the Texan singer-songwriter is very much welcomed into the fold here in Porto.
There's then a quick dash back to the main stage area to catch Local Natives, who are already well into their set. Arriving as the band begins to play 'Heavy Feet', it immediately feels like The Thin Air has walked straight into something special. And so it proves to be, with fans hanging on evey note as the group navigates its way through songs like 'Columbia' and 'Who Know, Who Cares' until their performance culiminates in a rousing, grooving rendition of 'Sun Hands'. It's a moment that won't soon be forgotten.
After one of those all-important breaks to stock up on food and drink, it's time to check out Grizzly Bear. The crowds are growing larger now and The Thin Air has to be content with a spot on the hill for this one. Opening with 'Speak In Rounds', the Brooklyn four-piece carries the crowd along with them through a setlist which also includes 'Knife' and 'Sleeping Ute'. Somewhat predictably, 'Two Weeks' draws the biggest reaction of the night, but their last song, 'Sun In Your Eyes', is definitely another highpoint.
Back on the ATP Stage, Steve Albini is leading his perpetual battle against pop with Shellac, who take no prisoners as they storm through a set where 'Squirrel Song', 'Canada', 'Prayer to God' and 'Spoke' are all aired. It's a good old-fashioned hardcore gig, which leaves some in the front rows with self-inflicted bruises.
Tonight's main attraction on the Super Bock Stage is Four Tet, with Kieran Hebdon chugging through a performance which has drawn a sizeable crowd but ultimately fails to ignite. The Thin Air cuts its losses and heads over to see the second half of the Meat Puppets' slot, which actually turns out to be similarly uninspiring.
It's now up to Blur to save the day, and they do exactly that.
Announcing their arrival on stage with 'Girls and Boys', Blur start off with gusto and fire out salvo upon salvo of hits. An army of hoarse voices joins in whenever Damon Albarn sings a chorus and there's a sea of pogoing bodies stretching back some distance from the stage. 'Country House', 'There's No Other Way' and 'Coffee and TV' all find their way into the set, as does 'Song 2' and 'The Universal' – each greeted by cheers, joyful screams, and even the odd teary eye. Quite fittingly for the 20th anniversary of Modern Life Is Rubbish's release, the Londoners bring the curtain down on their performance with one of that album's highlights, 'For Tomorrow'. In short, Blur have done it the right way.
Despite The Thin Air's best efforts, it takes several minutes to get through the crowd filing away from the Optimus Stage. The intent is to catch the end of Glass Candy's set, but by the time the Pitchfork Stage is reached they've already departed. Julio Bashmore has yet to set up and there's also the option of an after party in the city centre, but tiredness strikes again and so it will be tomorrow before a proper taste is had of the festival in the early hours. There's just been so much else to see, damnit. Patrick Conboy
Read part one of Patrick's review of Optimus Primavera 2013 here.