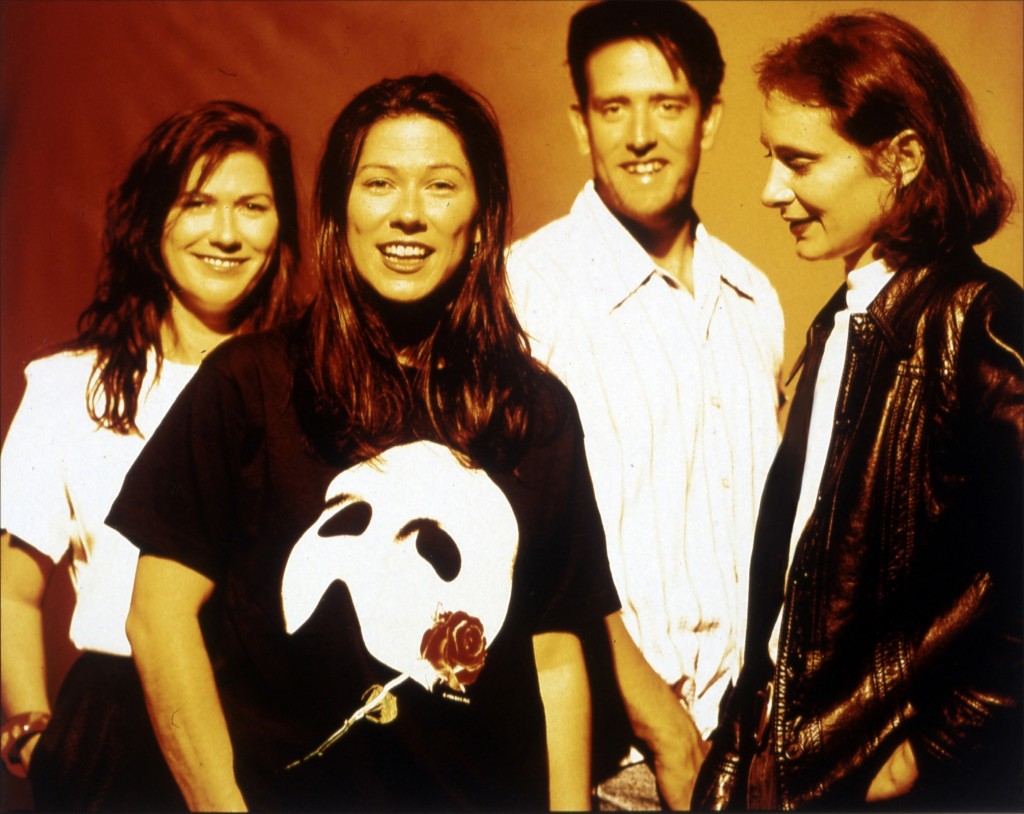 Yesterday, it was announced that indie songstress par excellence Kim Deal had left boundlessly influential Boston band Pixies nine years into their reformation. This evening, she's in town with her very own Breeders to celebrate the 20th anniversary of their breakthrough album, Last Splash. Nothing short of an alt-rock masterstroke, all but spanning every shade of sub-genre and sentiment, the record crystallised a supremely accomplished brand of sonic slackerdom effectively forged by Deal, her twin sister Kelley, bassist Josphine Wiggs and drummer Jim MacPhearson. As to which fact will warrant the most interest and acknowledgement from tonight's crowd, only time will reveal.
A few minutes shy of half past eight, the Breeders totter out onto the recently expanded Limelight 1 stage all coy waves and big-cheeked smiles. "Hello, we're the Breeders and we're going to play Last Splash" whispers Kim Deal, peering happily into a burgeoning mass of bodies eagerly awaiting to express their simmering adulation. Following its trademark teasing intro, 'New Year' takes off, MacPhearson's thumping verse beat propelling the entire band into glorious synchronicity for a short burst before 'Cannonball' – easily the band's "hit" and a bona fide alt-rock anthem to boot – segues in via its genre-defining "ooohs". With Wiggs' steady bassline transporting the crowd back twenty years, Kim blows a whistle loud into the mic and the first chorus explodes into vivid, Nineties-inducing technicolour. Close your eyes – or at least ignore the smartphones in the air – and everything is okay. The Breeders play their biggest song as if for the very first time.
Whether due to recent developments or otherwise, Kim isn't in a talkative mood this evening. Minus minor exchanges with the crowd and each other – all of which suggests a strong, positive atmosphere in the camp – the band are happy to work their way through their set. 'Invisible Man' sees the Deal sisters share vocal duties – its cruising, shimmering swoon providing an early highlight in spite of (Last Splash keyboardist/violnist) Carrie Bradley's strings sounding muffled in the mix tonight. With Wiggs having kindly asked for "less light interrogation" so the band can see the crowd, the exuberant 'No Aloha' quickly follows. Distilling the Breeders musical mantra to a snappy two minutes of vaguely melancholic, guitar-led rapture, it sees Kim command up front and Kelley summon subtle slide guitar lines dripping with exquisite, altogether ineffable power.
Of course, as is often an issue with performing albums in their entirety, some songs usually tend to come off better than others and tonight is no exception. Where the likes of surf instrumental 'Flipside' and the major-chorder 'Divine Hammer' conjure the biggest crowd responses since 'Cannonball' (Wiggs on drums and MacPhearson on bass, as per the record) the incomparably slow-burning 'Mad Lucas' and 'Do You Love Me Now?' sees the blankest of blank faces from many newcomers in tonight's audience – and even some of the otherwise hardened Breeders aficionados pocketed throughout the room. That said, with a first-rate rendering of 'I Just Want To Get Along' ending with a resolute repetition of its title by Kelley receiving rapturous applause in the process and the truly terrific 'Saints' providing an outright set peak with its stupendous refrain "Summer is ready when you are", restlessness and chit-chat-inducing misfires feel few and far between.
Whilst Kim's very recent departure from the Pixies occasionally feels like the indie rock equivalent of the (baby) elephant in the room, there is no question that the vast majority of attendees are thoroughly engrossed in witnessed an album replicated from start to finish, its creators visibly enjoying the task despite the occasional bum note and sound issue. While there is a lot to be said for the actual desire or willingness of tonight's crowd to physically submit to the moment – a definite moot point at Belfast shows, generally –  the nanosecond each song concludes, the crowd are at hand to declare their appreciation. With the country croon of 'Driving on 9' having inexplicably seen much cavorting amongst couples in attendance – not to mention Bradley's superb violin solo receiving a round of applause mid-song – a brief reprise of 'Roi' concludes Last Splash.
Returning, as was only expected, to an encore of non-Last Splash material, the Breeders appear genuinely, hand-on-heart happy with their performance tonight and the fully-deserved deferential reception from tonight's crowd. Kicking straight into their cover of Guided By Voices scuzzy vignette 'Shocker In Gloomtown', the rampant punk 'Head To Toe' preceedes a handful of tracks from the band's Steve Albini-produced debut album, Pod; the bobbing grunge pop of 'Glorious' (receiving its fire ever live performance) and the insatiable 'Iris' proving peaks. Finishing off via 'Don't Call Home' – a wonderfully wonky, acoustic-led Safari EP effort from Kim – the Breeders wrap up a set that, whilst far from faultess, delivers a momentous, altogether unforgettable trip into the recent past.