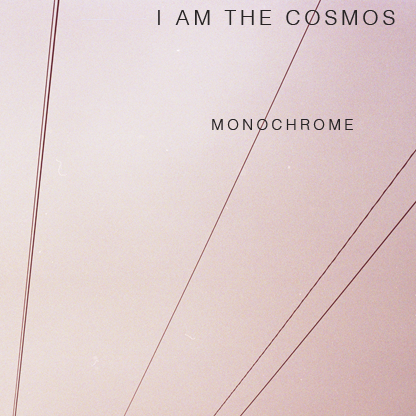 In this week's Under Cover, Loreana Rushe talks to Dorje de Burgh, the photographer behind I am the Cosmos debut album cover for Monochrome. He discusses his vast influences, along with writer and curator Padraic E. Moore's involvement and how positive it is to be part of a thriving artistic community in Dublin.
Hi Dorje. Tell us a little bit about yourself. 
I take photographs, live and work in Dublin and despite having talked about moving away since I was 19 am currently enjoying it very much. Failed musician. Big reader.
How did you create this album cover?
I'm lucky enough to have known Cian since I was about 14. Through him and the beginnings of the Cosmos I met Ross and we've become close friends in the two years. Regardless of this I was still pretty amazingly flattered when the guys asked me if I'd like to do the artwork, particularly as I'd never produced anything like this before. Given that I was present first-hand throughout the album's creation I was aware of how much work had gone in, how important it was – when you make something, any work, for so long and with so much care and attention, it becomes pretty huge in your life. It was a really cool show of faith. I was also terrified of fucking it up.
Can you describe the process?
I've never studied design outside of my own interest, so when the guys asked me to do it I began to sift through my archive looking for images that I felt might sit with the work. From there I began to play around with the basic elements – band name & title – using about 10 or 12 background photographs, to try to feel out what was working or not. Then I started experimenting with crops – more abstract details of images as opposed to the full frame. The album is an elusive thing – I feel that it works on quite an indirect, emotional level – and while I initially imagined that it might be interesting to contrast this with a visually direct, descriptive photograph as the cover's basis, the more I worked, listened and talked with the guys the more the opposite seemed to feel right. I've also been through phases of obsession with Rodchenko and László Maholy-Nagy, which I believe can probably account for a certain degree of the finished visual product.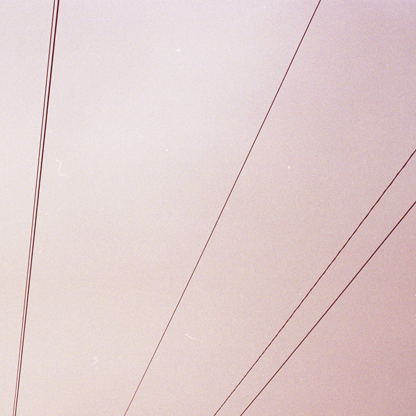 Dorje's original photograph for the album sleeve
Did the band have much creative input with the artwork?
Absolutely. I've worked with them previously on other things and in that regard they're a pleasure – they possess a really strong sense of their own aesthetic sensibility, which means there's never a grey area, they know what they're looking for. Once we had settled on that image as the cover's basis it was pretty much a collaborative process.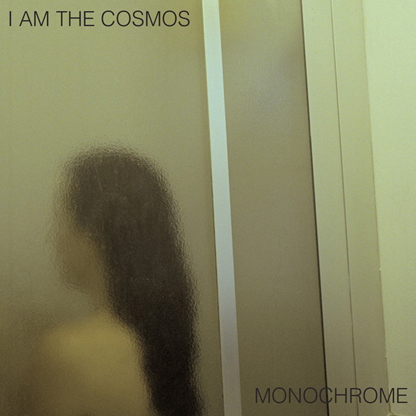 A mock album cover using one of Dorje's photographs
Do you feel it relates to the music?
I hope so. The album's title comes from Ross' experience with the work of Yves Klein. Which, funnily enough, I had also had a version of before I met him, in the same place, the Pompidou in Paris. For a year after seeing it I insisted that I was going to name my child Yves, much to my girlfriend's consternation for some reason. The combination of a singular palette with strong lines was certainly a direct reference to and/or attempt at this logic, Klein's ability to achieve a powerful effect via minimal means, or elements. Minimum-Maximum, as Kraftwerk put it. The album however, despite being highly danceable, is certainly not without vulnerability, so it felt fitting to lean towards a soft or even muted feel. The base image is actually of a pylon, power lines and sky, with a weird pink cast. The crop almost reduces it to white noise. Someone has since made the observation of electricity being a strong connotive presence but to be honest this was unintentional, though I like the connection.
Can you tell me how Padraic E. Moore got involved?
Padraic was in the year ahead of me in secondary school. We reconnected through a mutual friend at my grad show two years ago, and have been best friends and frequent collaborators since then. Through this friendship Padraic in turn met Ross & Cian, and since then we all hang out together & work together as much as is possible. Added to this through Cian was John & Rian from Solar Bears. It's been great, a lot of opportunity for cross-pollination of ideas, sharing of music, cinema, art. Small cities like Dublin can be so positive in this regard – it allows for a very real sense of community.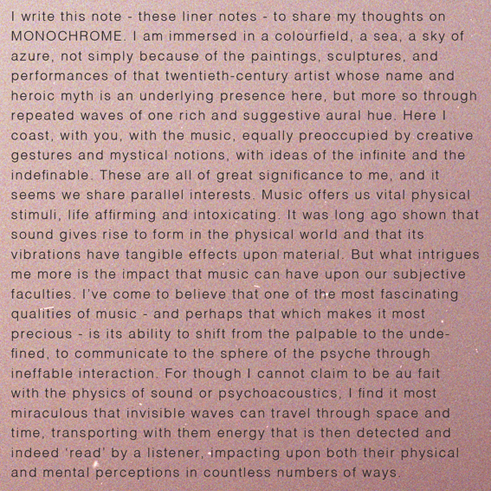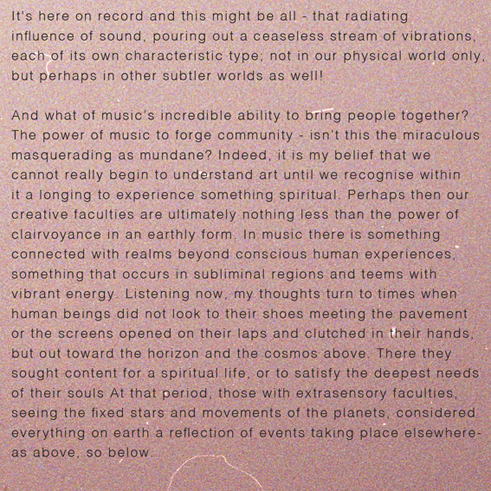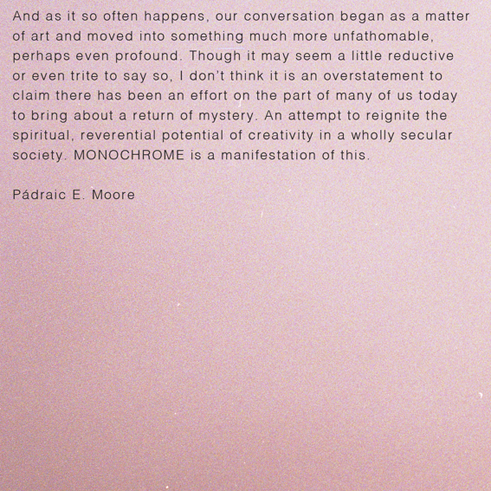 Padraic E. Moore's inlay text
What inspired his piece of writing?
Padraic is without doubt the most well read individual I've ever come across. You can discuss anything from 70s Italian cinema to Neolithic Ireland with him, and the depth of his knowledge is always astounding. Within this, disco and synthpop hold a particular position of reverence. You can tell when you read it that music is something he's thought about in a serious way.
Who are  your favourite artists and biggest influences?
For me, JH Engstrom and Paul Graham are without doubt the key photographic artists working today. Both make tough, beautiful work that is at once about nothing, and everything. There's a Paul Graham article available online called 'The Unreasonable Apple' that pretty much nails my feelings about photography.
Are there any bands/artists you'd love to create work for?
Kraftwerk. If I could photograph anyone through history I've always said it would be Highway 61/Blonde On Blonde era Dylan. Too cool.
What are your favourite album covers?
Power, Corruption & Lies by Peter Saville for New Order, or Unknown Pleasures. I always love the stuff that Richard Fearless does for Death in Vegas.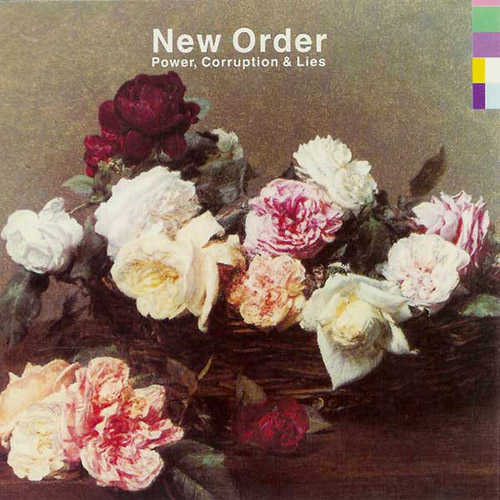 Any highlights so far in terms of your own work?
The Temple of Psychic Youth in Kevin Kavanagh Gallery last year, which Padraic put together. A powerfully cohesive, multi-disciplinary group show in a beautiful space. Showing in Berlin last summer for the European Month of Photography was pretty cool too.
What are you both you and Padraic currently working on?
I'm co-curating an open submission called Uncertain Futures with Maeve O'Neill and Lynn Rothwell for the Gallery of Photography that will be screened on the 28th June during the launch of their new Summer School series of shows, talks and workshops. After that is New Irish Works in the National Photographic Archive that opens on the 4th July as part of the PhotoIreland main show.
Padraic and myself are also collaborating on the production of a book over the course of the next year, which I'm pretty exited about. There's also an ongoing project called Aufheben that I've been working on the past year, which I hope to self-publish, eventually.
For more work and information about Dorje check out
I am the Cosmos- 'Monochrome' is available through Elastic Witch Records