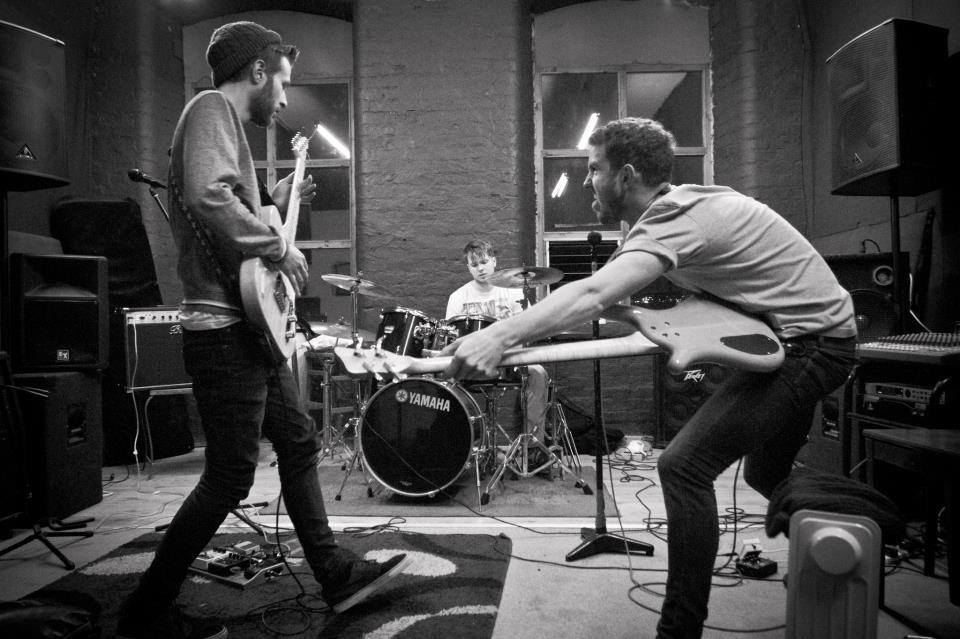 In the third installment of the Inbound, we chat to Luke Bowen, frontman with Belfast-based alternative three-piece Bellos to discuss the band's early beginnings, influences and the band's plans for the next few months.
___
You formed last year. How did the band come about? Where you all friends beforehand and what motivated you to get the band together?
"Aidan and I had just moved into our first house together. There was a deal in the off license for a bottle of Buckfast and six cans of beer for a tenner, so we obliged, got messed up and started listening to our favourite bands and watching This Is Spinal Tap. We (drunkenly) thought to ourselves, hey, this looks and sounds easy enough so we picked up our guitars and had a jam, wrote something (the second song on our EP) and it all just branched out from there."
Which artists are you primarily influenced by and how do you think that influence is represented in your music?
"We are heavily influenced by the grunge scene of the early 90s, but there isn't a lot of music that we don't enjoy so depending on what we are listening to at the time this will have an input and add a different slant on to a song that has a grunge core."
You've just released your self-titled debut EP. Please tell us about both the songwriting and recording process: was it straightforward and how would you view it as a learning curve?
"The songwriting was already completed we just had to pick the songs that we wanted on the EP and we all wanted different things, so being the democratic band we are (Jonny's vote counted as half), we put it to a vote and we were all pretty happy with the songs we chose.
"It was our first time recording as a band, it was pretty straightforward, but I think that is mostly down to Clark Phillips (who was recording us) being an all round pro and the fact that we had practiced the songs so much we could pretty much get it all down in one or two takes. From a learning aspect I think you have to know what you want before going to record and try not to be too picky, after all we recorded in Jonny's bedroom in a mattress fortress and not sound city studios!"
What are you thoughts on the state of Northern Irish music at the minute? From where you are standing, is there a scene (or scenes) and which bands are grabbing your ear?
"I think it is great! I would say the main scene is very rock orientated and that suits me fine, it's great that at least once a week you can head down to a bar and see some great acts instead of some acne-ridden teenager doing a cover of his favourite Coldplay cover. With regards to bands grabbing my ear, I have been an avid fan of PigsAsPeople since the first time I saw them, really cool guys with some raw, head-bangable riffs. I also recently seen The (or now thee) Penny Dreadfuls live for the first time and they really kicked ass – straight up rock and roll with some blood curdling screams from their frontman Benny, who has a ridiculous amount of charisma."
Your drummer recently departed the band. How are things in that department – have you found a replacement?
"We've been taking it easy and getting our other affairs in order but are getting together in the next few weeks to practice with different drummers to see if we can get into the groove with someone. It's funny, before Jonny (our recent drummer) came into the band, we really struggled to find a drummer for a long time, but now that we have been around for a year and need a new drummer, we have had about eight different offers for new drummers, we are still waiting to hear back from Jimmy Chamberlain's people! We don't know how to pick, but one thing is for sure Jonny has left a big gap to fill, he is incredibly talented and one of our best mates."
Looking towards the forseeable future, what would you quantify as success for the band?
We really want to start playing gigs outside Belfast, so a successful Irish and UK tour would be a really big thing for us. We also really want to play some local festivals this summer but are still waiting to hear back from a few people, but if we could get to play some of those that would be a big thing for us too! And as always Aidan main dream is to be married to Carly Rae Jepsen with a fashionable smack addiction…
Finally, what are the band's plans for the next few months in terms of gigging, future releases, etc.?
We have recently come to an agreement with a couple of local lads who are looking to set up a new label and we are going to be doing a double A side release with a video in September . Hopefully an Irish tour should follow after that so check our Facebook for details of that!