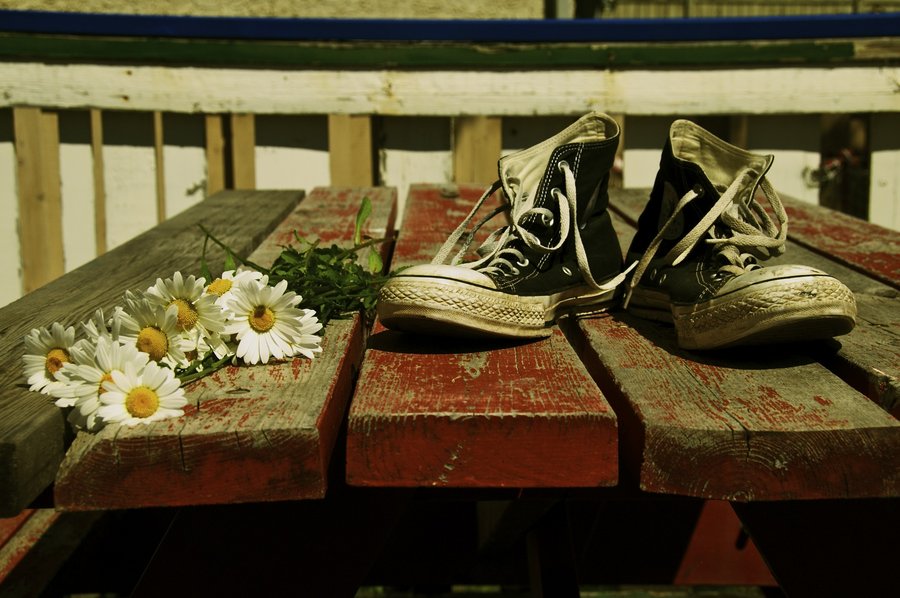 The world is melting! The seas will boil, and the sky will become as one great fireball! We're doomed!
Well, that's what they tell us anyway, but we know better. So allow us to take you by the hand, offer you a delicious ice cold lolly, and give you ten incredible summer songs that are never, ever going to trouble the likes of NOW THAT'S WHAT I CALL SUMMER, VOL 2,856. And are all the better for it.
10. The Cure – 'If Only Tonight We Could Sleep'


Hazy, sweaty, uncomfortable … but enough about Robert Smith's underpants, this song is a hidden gem in the back catalogue of the Cure, ably conjuring up those balmy summer nights where sleep proves elusive. From the Cure's most experimental pop period, this showed that whilst they were racking up the hits, they still knew how to create a fine sense of gothic atmosphere.
9. Slowdive – 'When the Sun Hits'


It's that classic Slowdive trick of making something beautiful sound threatening.  If a video were to exist for this song, it should consist of slow-motion surfers in the 60s, their boards slashing through the crest of a wave, whilst the sun streams through every bead of water. That would be sweet, dude.
8. XTC – 'Grass'


If there were any justice in this world, XTC would be rightly hailed as the greatest pop band of all time, and would be celebrated on the 13th of August which would be re-named 'St Partridge's Day', whilst the evening would feature the Grand Feast of Moulding. And we would all rejoice. But there isn't any justice, so all you're left with is a grainy clip of Andy Partridge and Colin Moulding miming to this summer anthem. Enjoy.
7. The Beach Boys – 'Feel Flows'


Everyone knows the Beach Boys are the sound of summer. EVERYONE KNOWS THIS. But what a lot of us forget is that, away from the stripey shirts and surfboards, the Beach Boys could be as trippy and weird as the rest of them. This little ditty is from their far out seventies period, before they became a nostalgia act, and is the perfect soundtrack to that moment you experience just before you pass out from heatstroke.
6. Van Halen – 'Runnin' With the Devil'


This song is sweaty. It might even be greasy. No matter – it positively rules. Somewhere out there, David Lee Roth is currently sitting on a beach, wearing Bermuda shorts, like a motherflippin' SUMMER GURU. Dude was a shaman, no mistake.
5. The Wildhearts – 'I Wanna Go Where the People Go'


Ah, poor oul Wildhearts. To most, they're naught but a dusty, musty, stinky memory, rotting in the corner under a mountain of tie-dye t-shirts and stonewashed denim. But rock and roll never dies, and this pure nugget of summer rock hasn't aged a day. Go for a walk in the park. Check out the people. Hum this. You'll feel better, it's a guarantee.
4. The Teardrop Explodes – 'Sleeping Gas'


For many people, it's a simple equation. 'Summer Heat = Summer Booze'. So, if you're sitting outside yer favourite boozer, supping pints of sweet, sweet cider, literally crawling with wasps, don't forget that the woozy, tipsy walk home awaits you. And when you get to that point, let The Teardrop Explodes be your guide. Your feet will find their rhythm, and you'll be home in no time.
3. The Cocteau Twins – 'Sugar Hiccup'


Have you ever swam with the dolphins? Splashed in the sea spray, and felt their powerful intelligence? Well, thanks to the Cocteaus, you don't have to! Splashy, aqueous, and inviting, this prime slice of ethereal magic has summer written all over it, albeit in a language that no-one but Liz Fraser can translate.
2. Big Star – 'The Ballad of El Goodo'


The only thing better than summer days are summer nights. After a day spent at the summer barbecue, this is the soundtrack to that magical twilight, when you decide to make your move, and seal the deal with your summer love. Of course it doesn't end well, but then again, literally nothing does.
1. Red House Painters – 'Summer Dress'


And if you're hating life, resenting the heat, and praying for a return to the misery of winter, thank heavens for the Red House Painters! This ode to summer is one of their most miserable, and proves that there's big mileage in going for the bummer in the summer. Happy trails!