Features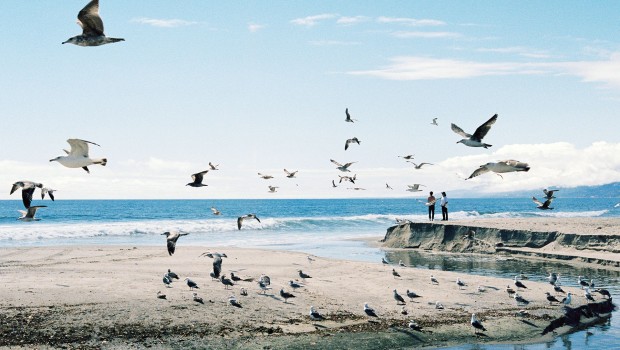 Published on July 26th, 2013 | by Brian Coney
0
Mustang Margaritas: Alex Trimble and Jamie William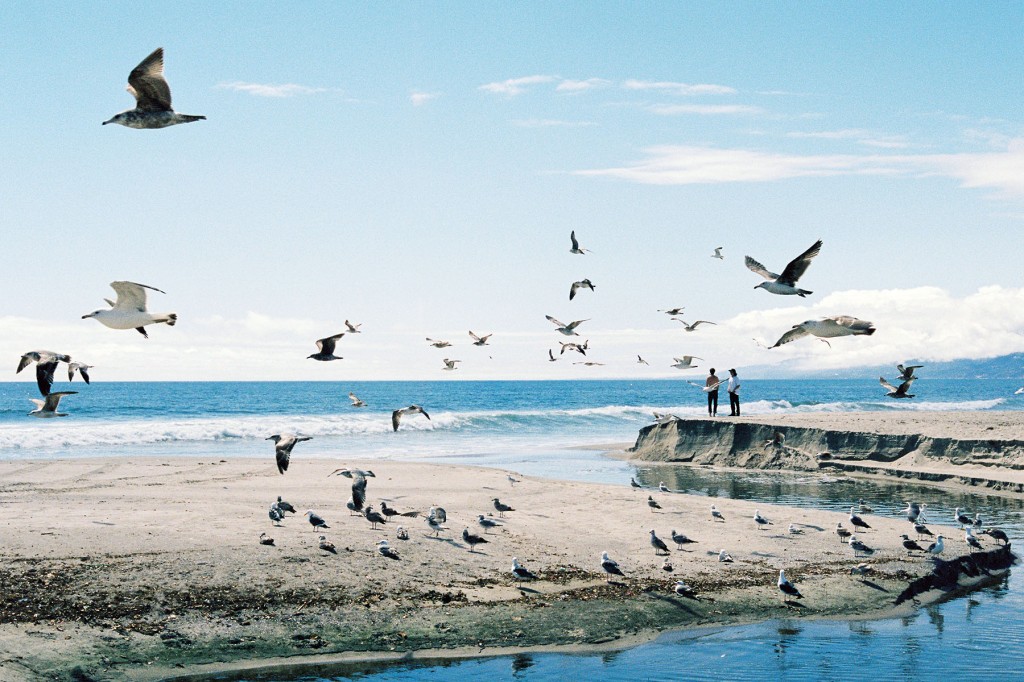 Last summer Two Door Cinema Club frontman Alex Trimble and his best friend Belfast photographer Jamie William embarked on road trip down the West coast of America in a classic car, taking in everything from the scorching Nevada desert and seedy sights of Las Vegas. Armed with a pair of Contax G2 cameras and literary notions like On The Road for company and Fear and Loathing In Las Vegas for company, the duo set about capturing their journey, the result of which is Mustang Margaritas, a collection of postcards hand-picked to tell the story of one special trip in a Mustang across America. Brian Coney talks to the pair about the trip and the visual collection that it spawned.
____
Hi guys. First off: outside a literary or cinematic context, what spurred on your decision to embark on the road trip from a psychic or even spiritual point of view? Restlessness? Cosmic thirst? The need to get away from overly familiar faces and/or places?
Alex: All of the above. I lived life for a long time feeling like I never took enough chances. That, in any case, leads to a feeling of missing out on something, anything. So a drunken idea became a chance. I took that chance.
Jamie: Restlessness for me would be key, but also the desire to explore a new place and get lost in it. Right from that drunken conversation excitement kicked in.
Was the decision to visually document the trip made before or during your journey? And, regarding the 30 photographs chosen, did it turn out how you hoped it would?
A: It was obvious. We both take photos, we're both good at it and we were going somewhere we'd never been before. However, I wouldn't say we documented anything. Not in a typical sense anyway. We shot what was interesting to us.
J: I guess it was a decision made beforehand, but like Alex said it was going to happen anyway. The photographs we choose cover pretty much all we did on the trip, but they are definitely based on how they look as to what they document.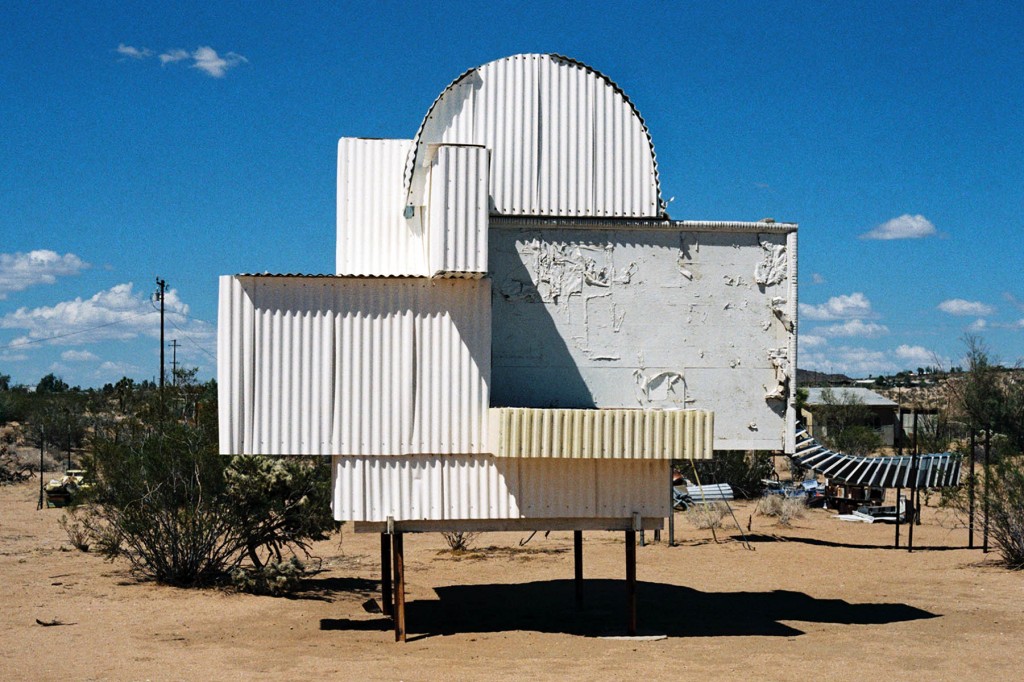 You had a copy of Kerouac's On The Road with you, something that has inspired innumerable others to embark on generally unplanned journeys across the States. Many artists, writers and musicians have seen it as a rite of passage of sorts – akin to dandering around Manchester with the Smiths in your ears or arsing about Dublin with a copy of Ulysses dangling out of your back pocket. What images or ideals from the novel did you seek – and indeed happen – to encounter yourselves?
A: We didn't have that book with us. I would say that it did influence our trip in some way though. I first read it traveling through the US with Two Door which was a great time. Since then, I've associated it with traveling, adventure and excitement on a personal level along with the same themes that exist within the novel.

J: We had talked about the book one time before. That freedom of travelling with a friend was a big inspiration for our trip, and did seem like something you have to do at one point. All the ideals in the book are very individual in a sense, so we just tried to do what we wanted and see where it took us.
On the same note, who was Sal Paradise and who was Dean Moriarty?
A: I saw a bit of both in each of us. I was writing a lot at the time so I'll play the part of Sal for now.

J: The two characters both have traits we have in us. I'd like to think I was more Sal, but maybe that's wishful thinking and not wanting to accept i'm as reckless as Dean.
Did you encounter any difficulties with the car or driving itself? How was it navigating your way across such a huge country, many places in which you had yet to experience first-hand?
A: The car was great. It was powerful and it looked fantastic! I had driven in America a lot before the trip so I was used to how it works over there. In the desert, though, we were following the path that came to us. We didn't much care where it led. And following quickly and messily scrawled directions to Noah Purifoy's patch was an adventure in itself. "Turn right at the cactus that looks a bit like a man waving," isn't the kind of direction you get every day.
J: The car was the perfect accompaniment, it seemed like a symbol for America and the trip. Although I was a passenger for it all, I got to sit back and take in the scenery. A lot of the time we did just drive and see where the road lead us, being in the LA sun then driving up a snow covered mountain road an hour or so later was a wonderful feeling. That's what I love most about America, it varies so much, and you never know what to expect.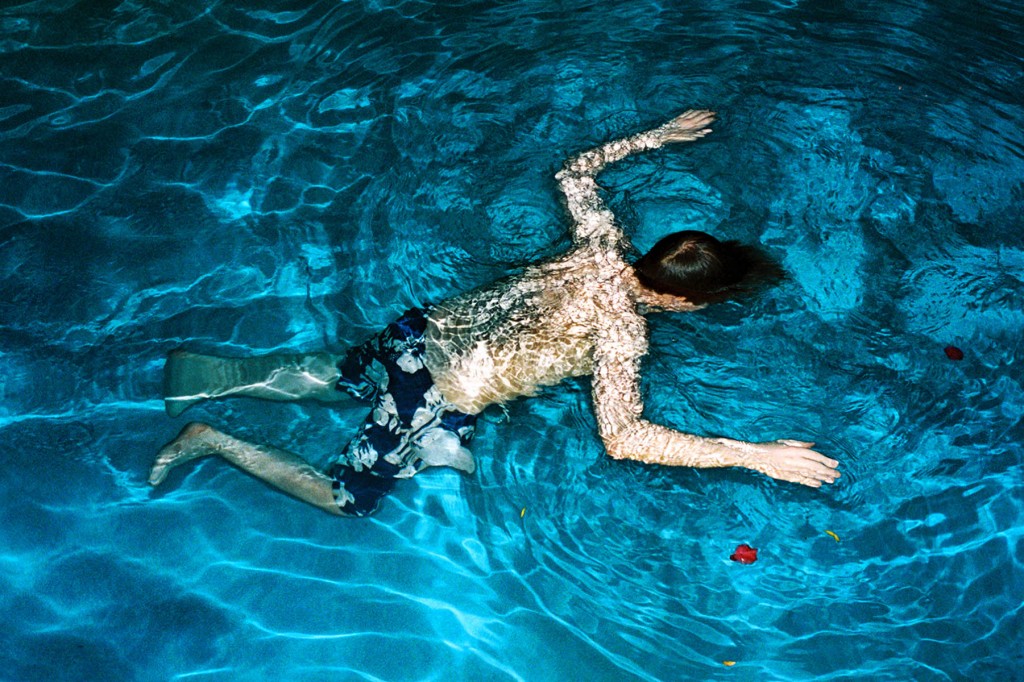 To what extent do you believe the photos that you've selected from the journey represent genuine experiences in the trip itself, i.e. are all the "moment-in-time" realities rather than embellishments of "what actually happened"?
A: Everything was shot there and then. We didn't pose or set situations up. Bar one. We were in Vegas when Jamie said to me, "I've had this image in my head for a long time where I'm in a bath of ice with a beer". So ten trips to the hotel ice machine later, we had ourselves a bath of ice. It only felt right to take a picture.
J: They are all genuine experiences, and I think it comes across like that. Some are very "moment-in-time", post drunken blackjack or sneaky photos of each other or passersby. Ha, we used all the ice from the ice machine for that, so apologies to anyone who had to have a warm drink in the Vegas heat.
The title, Mustang Margaritas, calls to mind Bulgakov's Master and Magarita. Did it or any other novels (or indeed movies) contribute to your specific desires for experience on the road?
A: Hunter S. Thompson's Fear and Loathing in Las Vegas had a lot to do with the trip. In fact, most of his books did. I've always loved his ability to focus on what interests him, completely forgetting about what anyone else might want to know, and executing it perfectly. With my photos, I've always thought that way.
J: We talked about Fear and Loathing in Las Vegas a lot during the trip, and certain scenes from it. Although ours were not as 'eventful'.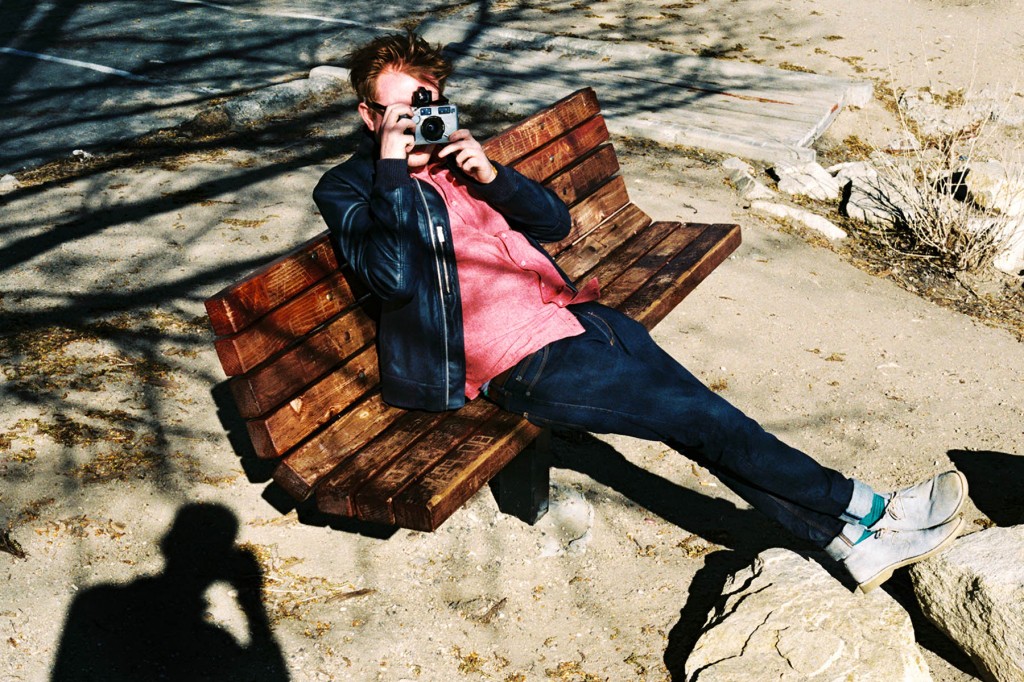 The final product is very lovingly assembled. How imperative was it for you to deliver an item as physically pleasing as the visual content itself?
A: We love design, we love fashion, we love art. It was just a way of adding more of what we love to this project.

J: Oh without question. Right from the start I knew that it had to be well presented and assembled. Especially visually, the box had to compliment the images and I had this idea of it being a prop from a Wes Anderson film. We worked with Polite on the set, a wonderful company based in Manchester. Who I discovered after a friend give me the Joy Division set they do as a gift. The quality and style of it really stood out so they seemed the perfect company to work with. It's also a huge honour to have our product selling along side a Joy Division one. The box is all hand made and I feel it represents our style very well. I think I like the box more than what's inside it!
Two Door are quite a popular band these days. Was your journey ever inhibited by the odd screaming fan or queue for autographs?
A: Not many Two Door fans in the Californian desert as far as I remember. People don't know who I am most of the time anyway. I like it that way.
J: We were in the middle of nowhere a lot of the time, from the desert to small towns up mountains. A girl in a small cafe at side of some random road complemented his shoes, but I think it was because he just had nice shoes.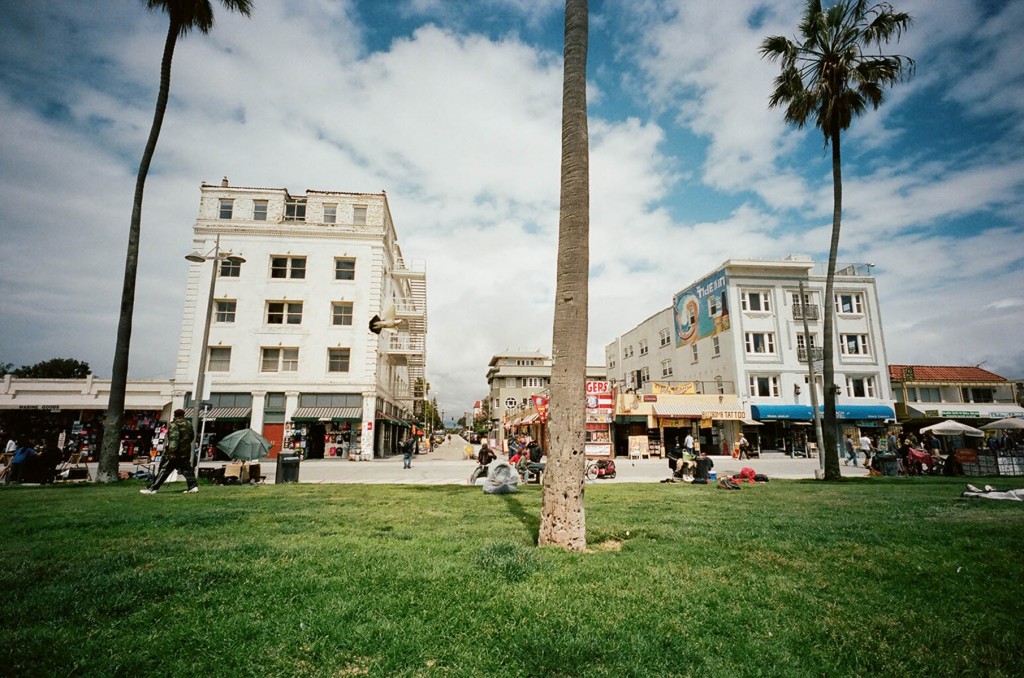 Finally, of all the experiences that you encountered – much of which I'm sure cannot be briefly regurgitated via e-mail – which stand out for each of you? Namely, experiences captured in or related to the chosen photos in the set.
A: One of my photographs is of street signs and buildings in Las Vegas. Taken from the street, looking up to the sky. Since coming to America for the first time a few years ago, I've been fascinated by all the differences between there and where I grew up. The street signs, the traffic lights, the vehicles, everything. They are the things I only knew from movies for most of my life so they still hold a lot of wonder for me.
J: There are two photos that we took of each other at big bear lake. It was such a beautiful place, so calm and seemed a world away from downtown LA. The drive up to it was a long and winding road the likes of which you would imagine to be in the swiss alps. We sat and had a beer in a small bar, which brewed it's own beer. Just us and one other person in the bar. Brian Coney
____
We have a signed promo set of Mustand and Margaritas to give away to one lucky entrant. To be with a chance of winning the set, simply send an e-mail to info@mustangmargaritas.com stating The Thin Air in your message, your names and contact details. Good luck!
Purchase a set of Mustang Margaritas for £25.00 right here.