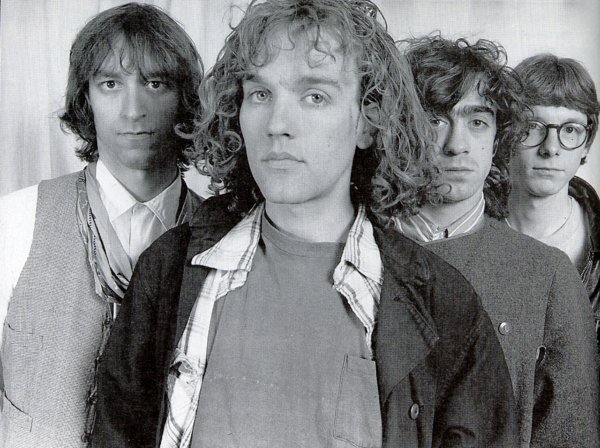 I have always had the theory that one doesn't always just 'discover' bands. Often it can be a two-way street, that a band can come along and 'get' you at the right time and place and it is such a seismic event, that one will never recover or forget about it. The Smiths came to me shortly after my father died. A family friend took me to see them in concert and that was 'IT'. I dedicated my teen years to them and in return, their musical output was, in a weird way, a comfort. Some of the subtleties of Morrissey's lyrics were lost on me until later life but the message I got was, it was okay to feel alone and okay to feel sad about it. Also they were often funny, looked extremely cool and Johnny Marr was a guitar god.
Prince and The Beastie Boys came along a bit later, when I was ready to have fun and was going out to clubs. Public Enemy were like a cannonball to the chest, the most sonically-challenging band I had encountered; up until that point at least.
REM were a bit of a mystery. I remember hearing an album of theirs at a party, but wasn't aware it was them. You have to realise, this was pre-internet and Shazam apps, of course. Anyway, it was a really great party; one of those 'Free House' nights, when absent parents meant descending on a house with a carry-out, with a cassette tape and every intention of copping off with someone. We all used to go clubbing in the Plaza on Donegal Street, a club that played the widest and weirdest selection of music I have ever heard, or will probably ever hear. The party was similar in its approach. Different music in different rooms, where the B-Boys would gather in one room, the psycho-billies in another and the Goths invariably in the kitchen or bathroom. Wandering room to room (I had a penchant for goth girls, even if I was regarded as a bit of a b-boy), there was a record playing that I had never heard before. The 'alternative' crowd were playing it. It was a song called 'Exhuming McCarthy'. At this stage in life I had heard of McCarthyism but wasn't 100% sure who the hell McCarthy was, really.
But in short, I loved the record. The rest of that side played, it was turned over (an actual vinyl record, kids, people played them and didn't frame them!) and then I was hit with a song that completely floored me. On the surface it was a love song. I found out after buying it and listening endlessly to it, it really wasn't. It was called 'The One I Love'. The album was Document. Every band I love(d), the first record I ever hear(d) of theirs is the one that always remains my favourite.


After hearing and obsessing over Document, I made my way backwards, getting the back catalogue and artists connected to the band. Through the spiky guitars of Buck, I discovered The Byrds; with Stipe, it was Patti Smith. His creative epiphany came with Horses and his lifelong love of Smith had started. Like me with Document. The back catalogue amazed me. REM veered from poppy hooks to drop-dead ballads. I mean, Jesus, how many bands can boast a song like 'Perfect Circle' on their debut record.
Add Stipe's often obtuse interviews, his often even more obtuse delivery on record, and it was the perfect band for a teenager to include on mixtapes for girls who were way out of his league (sob). I was concerned that Document was a fluke and the next record would burst my bubble and it would be as fleeting as a summer romance. Thankfully the next record was Green. You really don't need me to tell you how great it is, do you?


Anyway, here I am 25 years later, one of my favourite bands of all time are no more and how do I feel about it? Well, for a while it was easy being an REM fan. They were the band, after all, who broke through college radio into the mainstream, whilst still retaining critical kudos and helped paved the way for other bands I came to adore, like The Pixies and Jane's Addiction. It got tricky when REM had huge albums. Out Of Time and Automatic for the People propelled them from indie to stadium, gathering accountants and teachers as fans as they went. If that sounds snobbish, I apologise, but that is how I felt. How dare millions of people love a band that were mine. Yup, I was a bit of a dick about it. Plus, hardcore REM fans felt the band sold them out by crafting obvious radio-friendly hits like 'Man On the Moon' and 'Shiny Happy People', the latter being the stick that REM haters used to beat us with.
As the years went on, the output peaked and troughed, but even at their worst (Around the Sun), there was still at least one song on there that kept my love strong ('Leaving New York'). Their decision to stop being REM wasn't a great shock. It was on the cards for a few tours at least. I do miss the thrill of an REM album release. Will it be great, or will it be a massive disappointment that I will begrudgedly defend regardless? But we had a great run. Saw a few relationships
come and go, a niece being born and a marriage. That's me I'm talking about, REM had loads more shit happen to them over the years.


To conclude, I wanted to pick a track that was never released as a single, but a track I fell in love with at first listen and played about five times in a row before I moved on to the rest of the album. 1996 saw the release of New Adventures in Hi-Fi. Recorded on tour, it had a strange feel to it. It wasn't the most successful REM record of all time and tends to be forgotten in a lot of 'Best Of the 90s Albums' round-ups, but I loved it. It felt like a stand-alone album in their own catalogue. The 'Wrong Child' as it were. And it contained one of my top three REM songs of all time. A slice of pure beauty called 'Be Mine'. Penned by Mike Mills. He of bass guitar, west-coast-pop harmonies and Paul Brady looky-likey.
It slayed me. A song laying out how deep and vast a love can be, from the Hallmark Card shmaltz with biblical weight and universal breadth. All-consuming, intoxicating, ever-lasting love. A love that makes you want to be everything. And with probably the most basic, yet arresting, chorus they ever recorded. Very few bands could pull it off. And I still miss them. Joe Lindsay