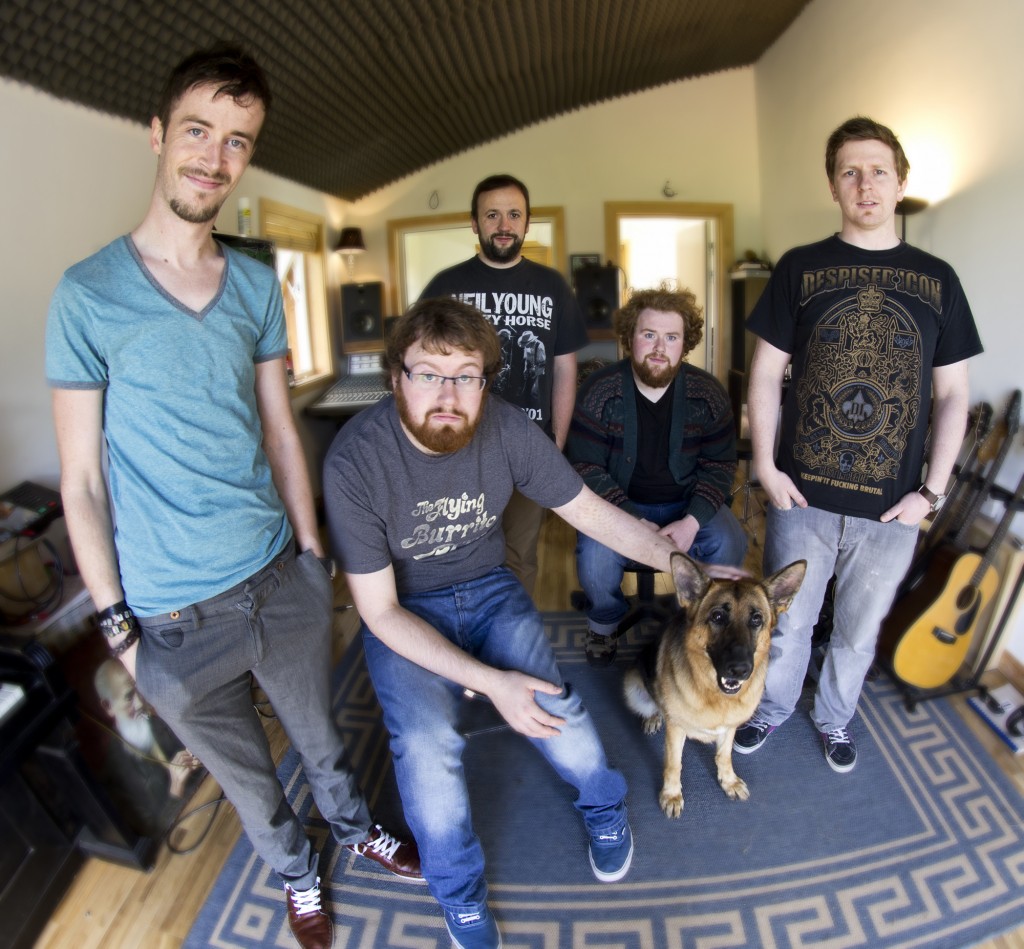 Out on a Limb Records is ten years old this year. A testament to the staying power and DIY spirit of the Limerick indie, its roster reads like a who's who of independent music in Ireland since its foundation, with survivors like Rest and Elk sharing room with staples like Jogging, Windings (above) etc. and a heritage with names like Giveamanakick, Waiting Room and other bands important to the development and proliferation of Irish DIY culture. Without OOAL, who knows what the scene would be like south of the border? It doesn't bear thinking about.
It was ten years ago, on a weekend ramble to the city from the relative safety of the countryside, that your writer happened upon the first Giveamanakick album in the racks at Virgin Megastore while on the hunt for Soundgarden albums. I was vaguely aware of what DIY was and of bands who'd made their way that way, names that seemed untouchable and off in the distance to 15-year-old Mike. Names in a teeny rock magazine's stock "punk is rebellion" articles as footnotes to Green Day, et al. This wasn't some name in a mag. These were lads in Ireland someplace, Limerick, as I found out a week later on school internet, playing music as raw and as loud and as vital as anything I'd ever heard, and on their own terms. I become obsessed. It seemed to me like this was the logical conclusion of punk's ethics, a label for Irish bands that didn't get taken up by Infectious or A&M or whoever. A distant sense of something I could somehow get into properly was there, something amiss among the storms of band merch, baggy jeans and major-label rock 'n' roll that engulfed a lot of us in the early '00s.
Ten years, seems like a nice, neat little number to tie up memories of those times. Being in the countryside, things were quiet. It seemed sometimes that your mind moved quicker than the pace of life. School, family, part-time work and the faint fear of talking to girls, if you were lucky, over and over. And I can appreciate why people still buy into frauds like Avenged Sevenfold, etc. more so at that age or in country towns. It's escapist entertainment. But that's all that is. Like the hair-metallers and nu-metal before them, just an act, some major's tax write-off. Bands like Nirvana, Soundgarden and so forth, provided an important emotional crutch, somewhere between teenage self-absorption and just being bummed out, and proved that you could maintain your vision to create and make a life for yourself, but again, that was off somewhere in the distance, with a lot of sucking to do in a garage downtown inbetween. Holding that CD in my hand, with that odd but kindly elderly face staring up, was like a ticket. It could be done. I didn't understand the amount of work a life in creativity would be, or even what I would wind up doing, I just knew I could do it. Whatever "it" was.

Whenever I see that CD on my racks, I think of the promise of those times, the long, idle summers hanging around North Cork with a discman (or Walkman after Sugrue's in Mallow cleared out its tapes and I found Therapy?'s Semi-Detached for a fiver – yes!), pound-shop batteries and whatever CD caught my fancy at that time. I remember when music was the only thing that mattered, and it meant everything to me then, everything. I garnered a love for bands in that time that I don't think I'll ever shake, a respect for influencers and progenitors across the genre lines garnered by fervent browsing of interviews and making lists of names and songs, and an excitement for new music that ultimately propelled me into promoting gigs for the past seven years.
I think of those times and I get misty-eyed as I write, because personally and as a music fan, all that promise and the shock of the new in your teens can't be got back, no matter how evasive of responsibility your post-adolescent fug is. The catharsis, the discovery, the feeling of belonging to something bigger than yourself. But then, I look around at how far indie labels and the DIY model have come since that bus ride home ten years ago, staring at that album cover, and trying to reconcile everything I was hearing for the very first time, and I realise I'm a fool to think that promise and that feeling could ever disappear. Mike McGrath-Bryan