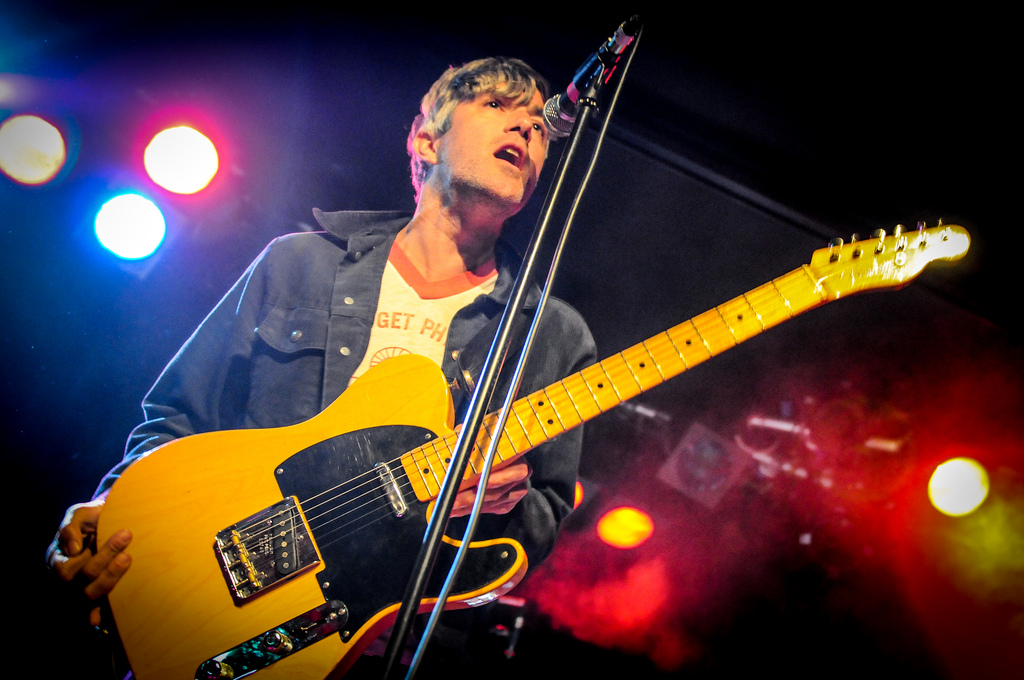 Tonight, the Limelight 2 has had the pleasure of welcoming back the effortlessly dapper We Are Scientists for a gig that is a touch earlier in the evening than usual. By 7.20pm the room is filling up nicely with some familiar patrons of the adjacent Katy's bar and folks stream in from haunts further afield, all of whom seem to be eagerly anticipating what is looking to be a slightly more intimate experience compared to the bands' previous appearances in venues like the Mandela Hall and The Spring and Airbrake (now Limelight 1).
With the bar area starting to look like an excitable menagerie, the warm up act More Than Conquerors take to the stage to provide a solid, engaging listening experience; keeping the crowd suitably whetted for an evening of extremely danceable indie-rock. The Belfast act do well to kick things off and with an album launch scheduled for next month, this opportune supporting appearance is putting them on the right track to bigger things; a few "Yeeeeoooos!" from the crowd conveying optimistic approval.
It isn't too long after More Than Conquerors finish that we hear the opening bars of Cutting Crew's 'I Just Died In Your Arms Tonight,' an appropriate introduction for We Are Scientists given their always irreverent comic sentimentalities and it's this 'signature' that sends the crowd into an uproar. Past appearances have included intro tracks like Phil Collins's 'Against All Odds' and Belinda Carlisle's 'Heaven Is a Place on Earth.'  "Pure, unadulterated magic," someone nearby proclaims. The band introduce themselves as The We Are Scientists Project, before proceeding to thrash out 'Dinosaurs'. It's a fast paced, energy filled number and people are moving accordingly, reacting with vigour to the breakdown and build up of the song's ending.   Following on with 'This Scene is Dead,' people start to sing along and a few smooth moves with the microphone from Keith Murray ensure a lively response.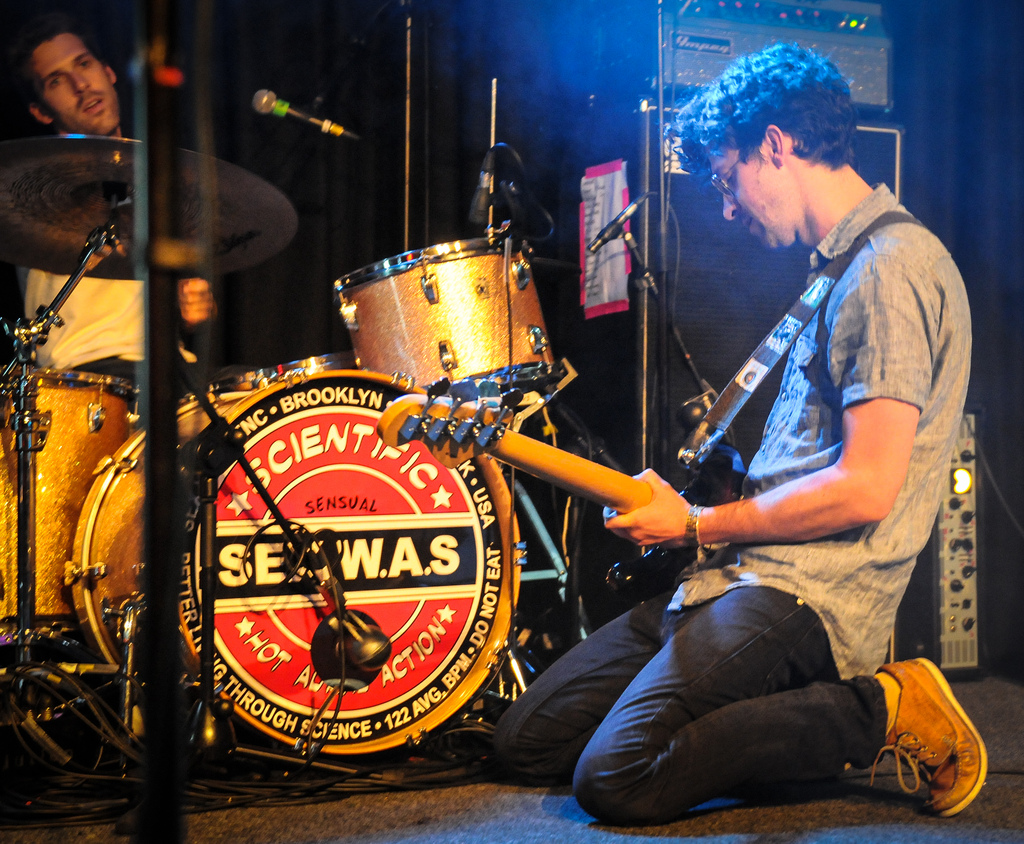 With the track finished, Keith and Chris give the crowd a taste of the off-beat humour that always goes down well, and after stating "We have a man down! I don't know what happened, I don't know that person but I know they'd want us to keep on playing!" they generously dedicate their next song, 'Rules Don't Stop' to the fallen victim of the unknown cause. Thankfully, the band showcase an emotive, harmony driven new track from their forthcoming full-length – 'Make it Easy' – before moving on to well-known favourite 'Nobody Move, Nobody Get Hurt.' The opening riff demands the attention of the crowd, as fans and newcomers alike begin to jump in tandem and shout wildly along with the infectious chorus.
Just like their previous shows, there is much more dead-pan craic to be had with each other and the audience, as Keith joyfully berates Chris, as well as making sure the crowd realise that "Belfast are a bunch of fucking enablers!"  This slice of humour from them provides a nice segueway into 'Nice Guys,' and with things getting a bit louder and a bit sweatier, Chris responds with opening his shirt ever more to give us a glimpse of where the magic comes from, probably. 'It's a Hit' begins to a rapturous reception; the atmosphere at this stage of the show is an ecstatic one.  Grinning faces are so glad to be here and with good reason.  The band's touring drummer (Ex-Razorlight drummer Andy Burrows is nowhere to be seen) soon gets plenty of exercise, exquisitely beating the drums on recent limited release 'Something About You' and classic body-mover 'The Great Escape.'  The band sound so fluid, like a well-oiled machine and their enthusiasm spills over into the crowd, with most if not all joining in with the celebratory "fuck that!" of the song, fists punching the air with each syllable.
Their last song of the evening is a bittersweet moment for many; a poignant rendition of 'After Hours' seeing art imitating life imitating art as the chorus of "this night is winding down, time means nothing" rings true.  The crowd's calls for  "ONE MORE TUNE!" are unfortunately lost on the band, who thank us and take their leave. This was a short and sweet show from We Are Scientists and although there were a few disappointed faces with the lack of an encore, the quality and enthusiasm of the band more than made up for the want of a longer set. Aaron Drain
Photos by Stephen Lynn. View the rest of his photos from the night in the gallery.