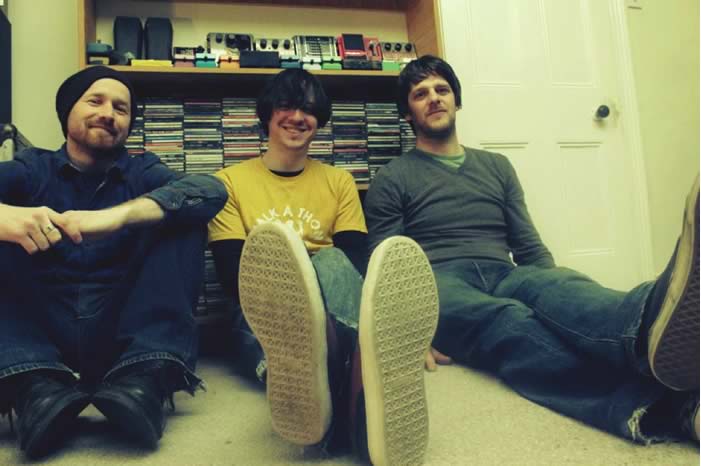 "We promise that this show will be something special."
Amicably bowing out after ten years and two stellar albums, Derry three-piece Fighting With Wire have more than left their imprint on Northern Irish music and modern alternative rock as a whole. A must-see swansong like few others, headlined by none other than Frank Turner and the Sleeping Souls, the band will play for one final time and curate Cut The Transmission at the Venue, Derry on Saturday, September 28 as part of the City of Culture celebrations. We catch up with the band's frontman Cahir O'Doherty to learn more about what is surely set to be one unforgettable day.
When they released their utterly top-drawer – criminally overdue – second album Colonel Blood last year, Fighting With Wire once more re-affirmed their status in the ever-developing pantheon of urgent, hook-filled guitar rock four years on from their acclaimed debut, Man Vs Monster. Five months later, in February this year, the band announced that they were calling it a day, posting on their Facebook page: "It has been an amazing journey and we are greatful [sic] for every opportunity we got along the way. We worked hard and tried our best and we're proud of FWW, we achieved more than we ever thought we could and we enjoyed every minute. Thank you for coming to our shows, buying our records and believing in our band. "
Seven months on from that initial suckerpunch, the mood is a markedly more celebratory one. With the band's drummer Craig McKean and O'Doherty currently on tour with a revitalised Jetplane Landing, the curtain call for Fighting With Wire sits on the horizon as an occasion to be embraced and enjoyed – a riff-fuelled bookend to ten years of life-changing songs and innumerable sweaty shows. So, one assumes the idea of Cut The Transmission originate stemmed directly from the band's decision to bring things to an end? "Yeah, the idea came together when FWW decided to call it a day", says Cahir. "We thought what a better send off than a big show in our home town as part of the City of Culture celebrations and invite all our friends in bands that we've played with over the years to come and play."
And invite they have. Aside from a final performance from themselves and the appearance of the aforementioned headliners, Cardiff-based alt-rock champions Future Of The Left stand out in a line-up also featuring three of our finest homegrown acts: And So I Watch You From Afar, LaFaro and More Than Conquerors. "This started out as just a show and has kind of morphed into a mini festival – the list of bands just kept growing," reveals O'Doherty. "We feel it's important people get more value for their money and this line up is pretty special, from Frank Turner and The Sleeping Souls to the best local bands and everything in between, this is a rock n roll party, everyone should get involved."
From a more general perspective, Cut The Transmission feels like a celebration of a certain mentality – never mind brand – of music. How important is it to make these events happen in Northern ireland – to have these acts, both international and regional, together? "I would say that all the acts on the bill come from a DIY background in music, and this is definitely a celebration of that," agrees O'Doherty. "The fact that all these bands are together on the same bill is pretty amazing considering their touring schedules and its a real treat that they are playing in Derry. I feel that sometimes Northern Ireland and especially Derry misses out on a lot of touring bands, so to see acts like Frank Turner, Future of the Left and Jim Lockey playing alongside local acts like And So I Watch You From Afar, LaFaro and More Than Conquerors shows a real solidarity and sets a great example for our up-and-coming talent."
And that it does. With the eleven-act bill also featuring fast-rising Derry bands Little Hooks, Making Monsters, The Wood Burning Savages and the especially thrilling Droids, the line-up for Cut The Transmission strikes a keen balance between showcasing the best in promising talent from the maiden city, seeing off easily one of the country's greatest ever rock bands, assembling some our most vital current talent and putting on world-class acts close to Fighting With Wire, both as friends, artists and touring musicians. Was it imperative for the line-up to reflect well on the Derry itself? "I thought it was very important that some of our local acts get to rock out on this big stage before it gets taken down," says O'Doherty. And I think that out of all the gigs scheduled for the City of Culture celebrations this is the one to showcase more of the great rock bands in the city."
Just over three weeks until hundreds of people from every corner of the country giddily congregate in the Venue, one wonders: is there any room for compromise on the whole "last ever show" front? As happy as we are to wave off the good ship FWW, is this really and truly the end? "Fighting With Wire have been together for 10 years," says O'Doherty. "In that time we put out two albums, toured like crazy and achieved more than we ever expected. We're happy to call it a day and move on to other projects." And so are we. Okay then, what are the chances of Cut The Transmission becoming a regular thing? Maybe an annual festival curated by a different act? "That's not a bad idea!" says Cahir. "But lets see how this one goes first." Brian Coney
We have a pair of tickets to give away to Cut The Transmission festival. To be in with a chance of winning them, pop over to the competition page.
Tickets for the festival – priced at £20.00 – are available to purchase here.
Check out the poster for Cut The Transmission below.