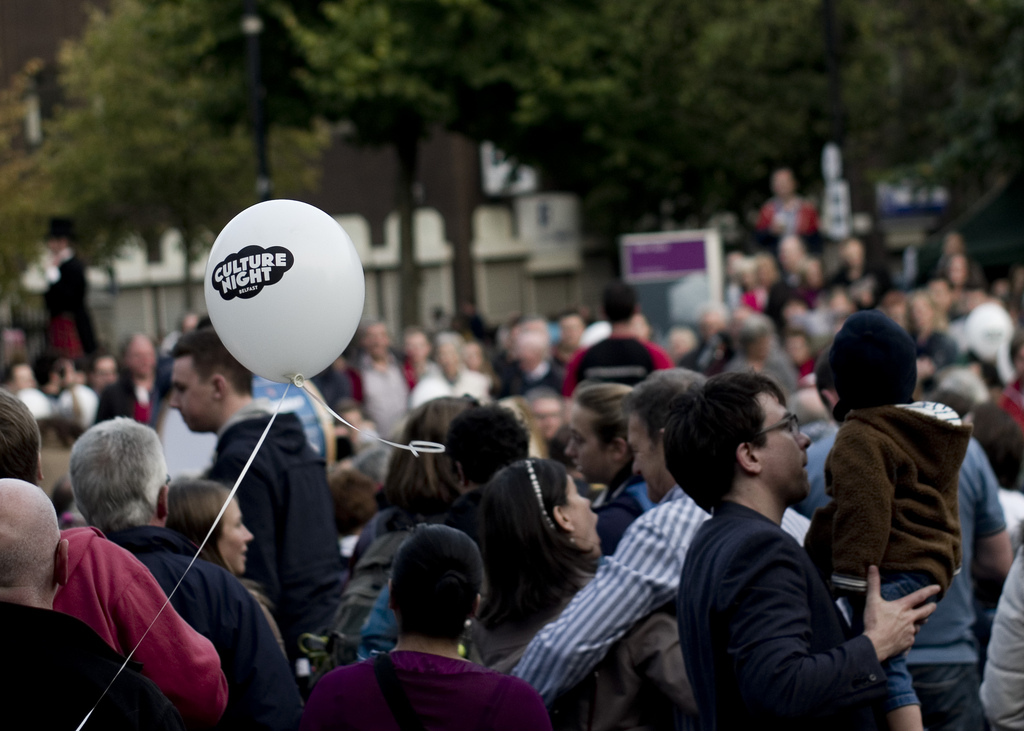 With the dust having settled on just about one of the most absorbing nights of art, culture and music that Belfast has ever seen, we gather the thoughts and verdicts of various people who experienced Culture Night Belfast 2013. If the following short selection impressions and opinions isn't a glowing testament to the power and need for such an annual event, what is? Congratulations to all the participants, organisers and volunteers. We can't wait for next year already.
Andrew Lemon, The Thin Air reviews editor and freelance music writer:
"The official attendance figure for this year's Culture Night stands at 42,000. It's impressive – but not nearly as impressive as the radical transformation that swept over a portion of the city for one night. Streets and bars which are regular haunts for many of us were briefly morphed into cultural hubbubs as legions of punters swarmed around the Cathedral Quarter.
It was genuinely heartening to see – comment pieces on the growing tendency for people to stay in rather than go out to a gig may be in vogue at the moment, but the simple fact is that lots of people have not a lot of money these days, and seeing people of various ages and cultural backgrounds turn out to throw one almighty shindig (particularly a day before 3,000 protestors turned out to march) was brilliant.
Of those 42,000, there were only about 10 with me on the roof of the Oh Yeah Centre to see Blue Whale, whose improvisational math-rock appears all the more mind-bending whilst taking in a sunset over Belfast. Street Countdown was also a highlight (if only to hear a sizeable crowd chirp "Doo doo, doo doo, doodooloodoo, doooooooooo" in unison), but Sea Pinks in the Oh Yeah was the highlight of the evening; Neil Brogan et al.'s jangly surf-rock capping off an at times hit and miss evening of cultural tapas. The queue for Bounce in the Black Box was too long for this writer, but it was not alone in being a venue that was completely packed to the rafters – that, at least, has to be a success."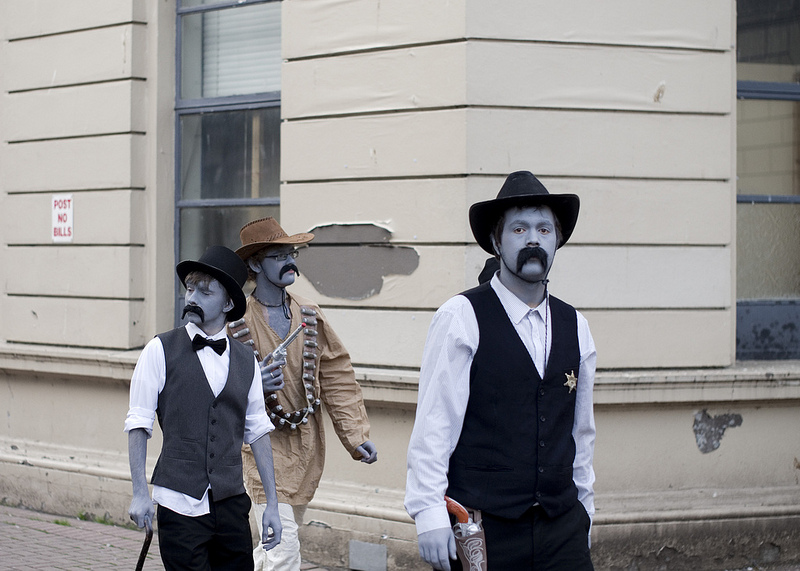 Stuart Bailie, music writer, broadcaster and CEO of Oh Yeah Music Centre:
"When people talk about "culture" around Belfast these days, it tends to get thrown into a situation like a nail bomb. All wrong and mean. That's why I cherish Culture Night. It is lush and funny and contrary. Culture enough for the Lord Mayor and for Baroness Titti Von Tramp also. Aerosol fumes from the graffiti bombers and the rumble of roller skates. An opportunity to see VerseChorusVerse (below) rattle it over Buoy Park with a crimson wash of light. At St Anne's Cathedral, Isobel Anderson is singing about horrendous, unrequited love and the old building grants her compassion.
David C. Clements does a weird version of the Mary Black fave 'Sonny's Dream' and his parish are liking it. Over at Aether & Echo, The Salt Flats are singing from the Strawberry Switchblade songbook. Laudable, for sure. Back to the Oh Yeah manor and  September Girls are bringing an arch beauty to the memory of Alex Chilton while Sea Pinks are in commanding form. The night finally sucks you to the Sunflower, where Terri Hooley's soiree is perfectly untidy and you decamp to a house party with two astonishing girls who will only converse using Van Morrison lyrics. Real, real gone. A fierce one."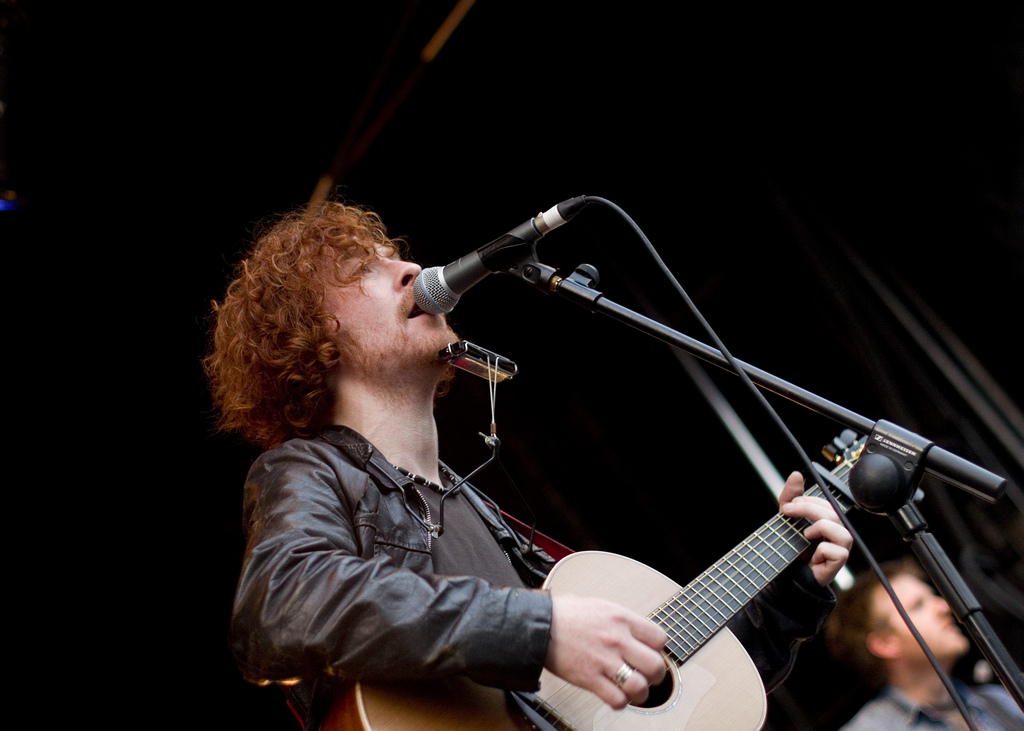 Andrew Scott, Culture Night Event Assistant
"This was my first time working on Culture Night Belfast, although I would normally go every year. The thing that stood out for me was not only the camaraderie and good-will amongst the crowd, but the fact that that same feeling translates across all of the venues, participants and other staff involved in piecing it all together. Everyone buys into it, and that's what makes the atmosphere and the evening so special for me, possibly even more so than the events themselves.
42,000 people on the streets of Belfast and not a hint of trouble to be seen: that was my highlight."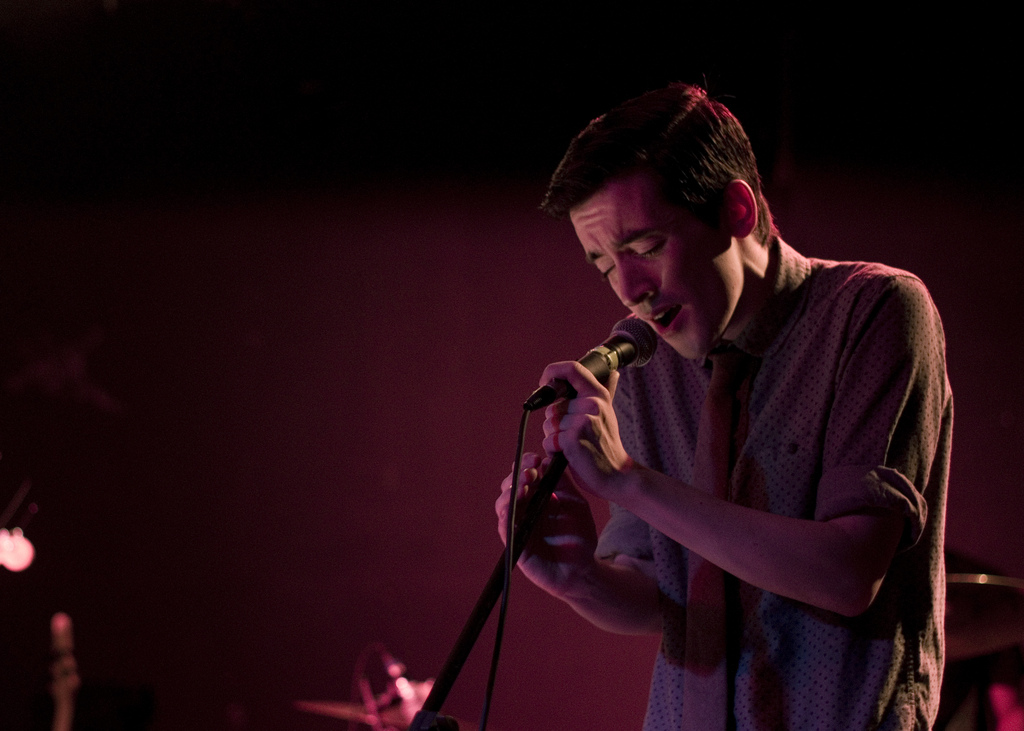 Aidan Kelly of Affleck

Chris Jones, Belfast-based freelance music writer:
"Culture Night represents everything I love about Belfast, and none of what I don't. Those of us who live here know that it's a vibrant, creative, fun-loving and unpretentious city when it wants to be – or at least that it has the potential to live up to that billing. Every year, Culture Night sees it fulfil that potential.
Although 'Culture Night' as a brand goes beyond Belfast, the term has a little extra piquancy here, since the C word is used and abused in the name of tribal differences, where for too many people one 'culture' negates; even lords it over another. Culture Night's vision of culture includes everyone – young and old, Catholic, Protestant and neither, all colours, all backgrounds. It's a cliché to say so, but with 250 events in the space of one evening, how can there not be something for everyone?
Around every corner, there was something different. The Assembly Rooms at the corner of Waring Street, Bridge Street and North Street is a beautiful, underused space, and here it was housing a spectacular video mapping installation soundtracked by some deep, dark techno music. Hats off to Oisin and the DSNT crew. On Writers' Square you had everything from roller derby, to hula hoop lessons for kids, to fire poi. Across Donegall Street, St Anne's Cathedral provided space for respite and repose. Elsewhere you had swing dancing, indie rock, salsa, poetry readings, theatre, art installations and so on and so forth.
I could select a particular highlight, but for me Culture Night isn't about choosing one event over another. It's about a city coming together as one community, feeling happy and confident in itself, and going out of its way to enjoy itself for the sake of enjoyment, rather than to antagonise others. I just wish the lessons of Culture Night could be learned and put into practice throughout the rest of the year."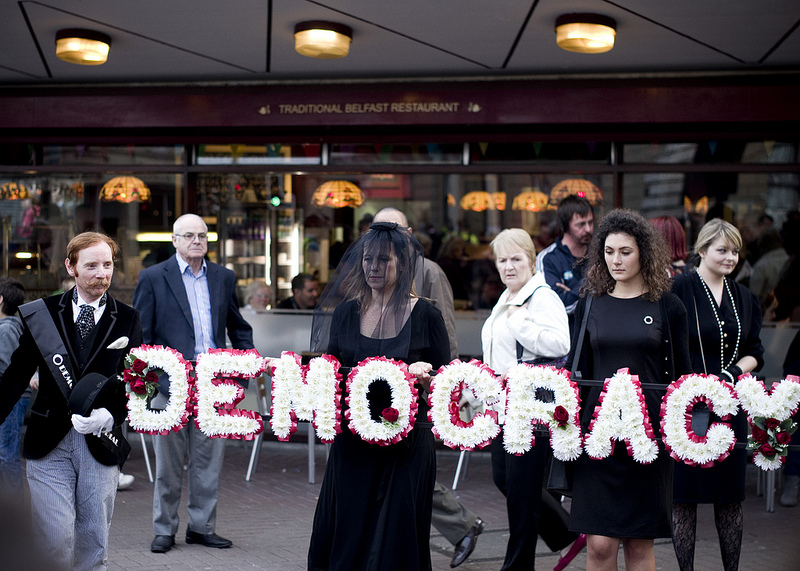 Brian Coney, The Thin Air editor
"Out of everything that went down and all the things that were on offer, what struck me most about this year's Culture Night was the sheer implicit sense of excitement and wonder on the streets. An unmistakably soul-enhancing sense of occasion commanded from the moment night fell, as scattered pockets and steady streams of giddy and inquisitive faces formed into one large, unchanging mass sampling literally hundreds of happenings taking place in countless nooks and crannies of the city.
(Many aimlessly) digging in their thousands, it was very "beat".
With streets, walkways, churches and car parks otherwise culturally dormant at night brought to life by the stupidly talented and wonderfully eccentric, the people of Belfast wandered freely and happily to sample, question and participate in every shade and colour of event. From the funeral of democracy and fevered chess battles on the street to the spectral electronica of Affleck at the Oh Yeah Centre and the phenomenal culmination of a series of rooftop concerts by Blue Whale (below), you felt like you were in a different city completely and yet – at the very same time – unmistakably in Belfast. Roll on next year."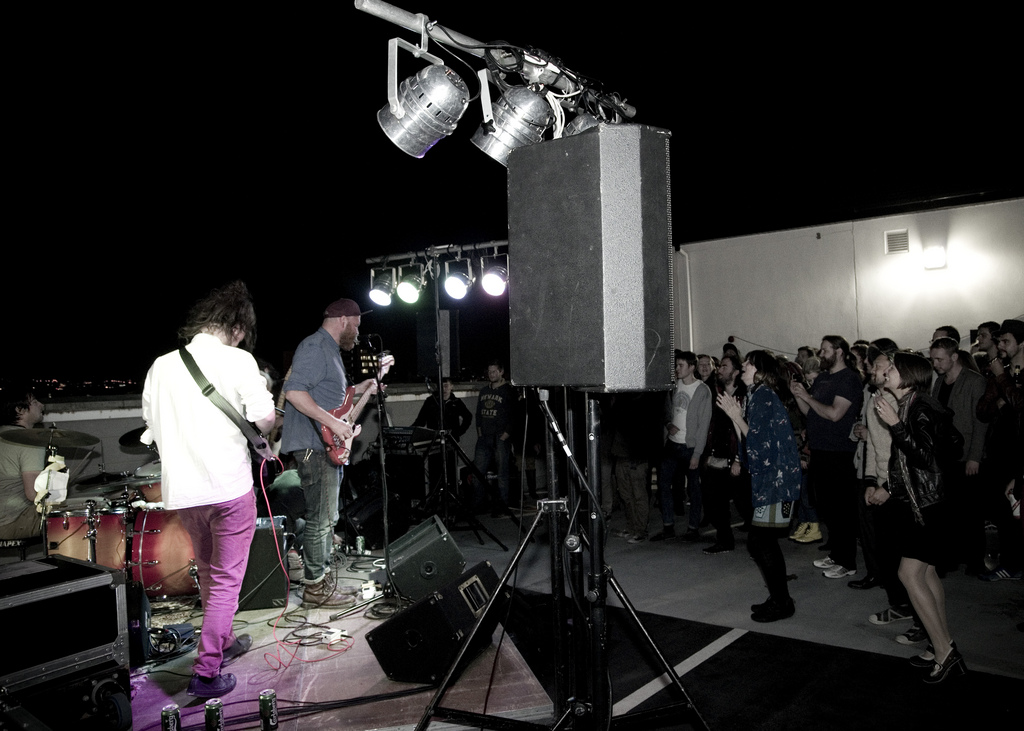 Aaron Hamilton, Belfast-based freelance music writer
"Blue Whale, having played three shows on various rooftops around the city prior to this one, put out a set of genuinely heartwarming music on top of St Annes Square car park at the end of the night – heartwarming because it truly embodied the spirit of the night. Camaraderie and jest, passion and racket, and most of all a feeling that this kind of thing is not just for the artists, but for all of us – the intimate gathering of fans looking out at the skyline, and those down below where the sound of dozens of creative outlets spill out into the bustling streets."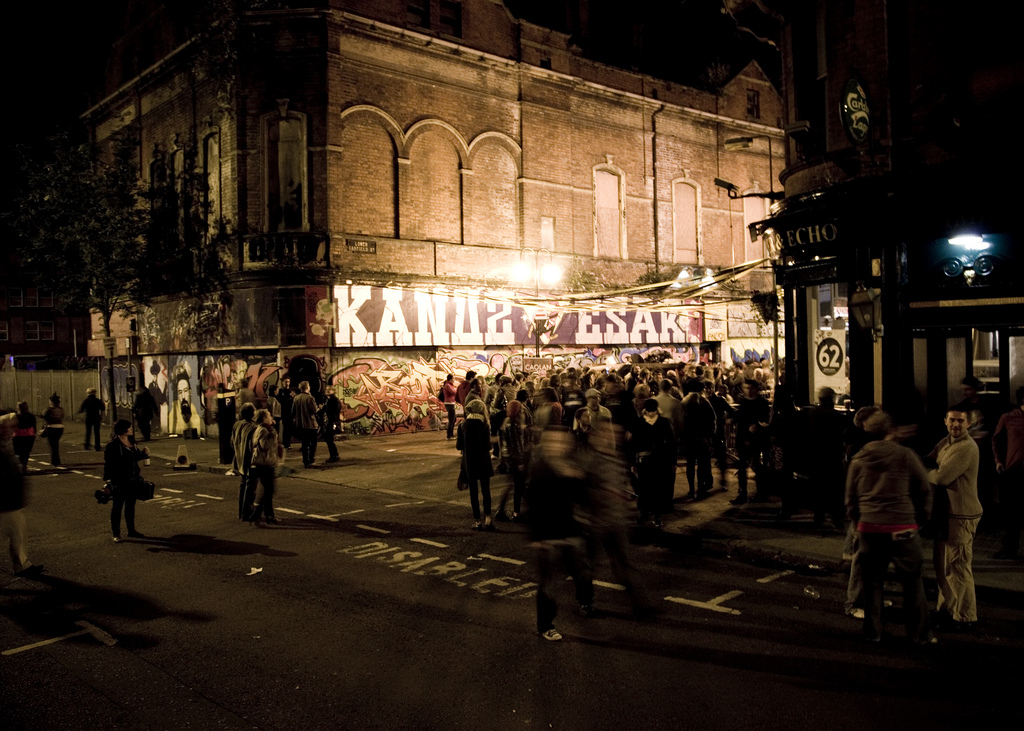 Check our Joe Laverty's full selection of photos from the night over in the gallery.