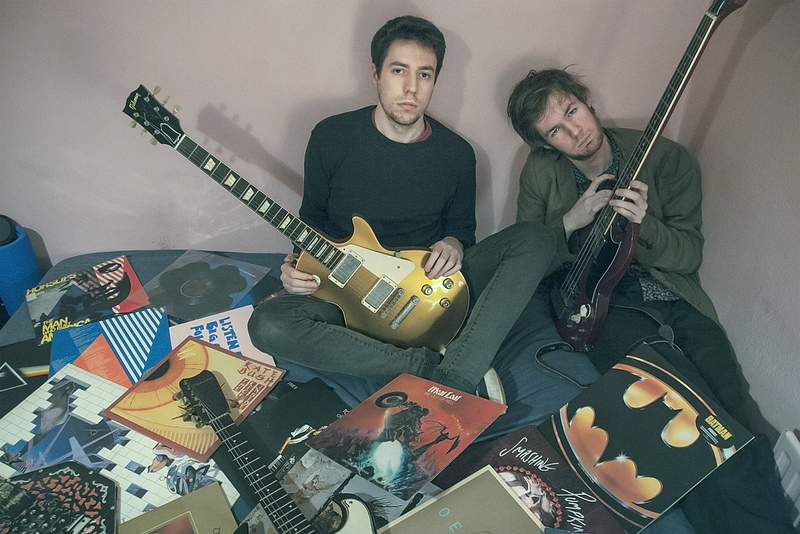 In the latest installment of Track Record, photographer Brid O'Donovan captures Chris Somers and Ruairi Dale from Cork-based dream-pop band Elastic Sleep choosing and talking about a selection of their favourite records – everything from Kate Bush to Steely Dan.
The band launch their new single 'You Only Live Twice' at Cork's The Pavilion on Saturday, 23. Steam the song and watch the video for the track at the bottom of the feature.
Chris | O Emperor – Vitreous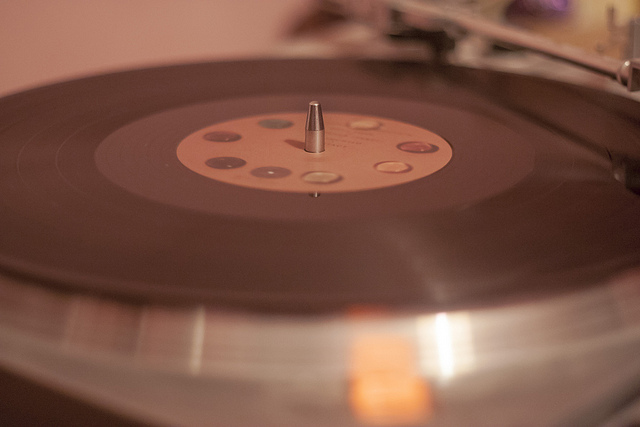 "I bought this record at the secret listening party they had in Coughlans during the summer. I stayed up all night listening to this. I remember very distinctly seeing the sun come up while I was listening to Minuet and I couldn't get over the sound. Everything about it. It's my favourite Irish release since their last record. It's a very strange thing to feel that and see these people just walk down the street. They have so much humility and so much talent. Where I'm coming from in terms of recording and mixing Elastic Sleep, the work Christian Best did with this album is insane. I didn't realise an album could sound like this. He opened up a whole new world for me in terms of what stereo is. That's very important to someone with two ears. A cheeky twenty nine minutes, but still, every one packs a punch."
Ruairi | Smashing Pumpkins – Gish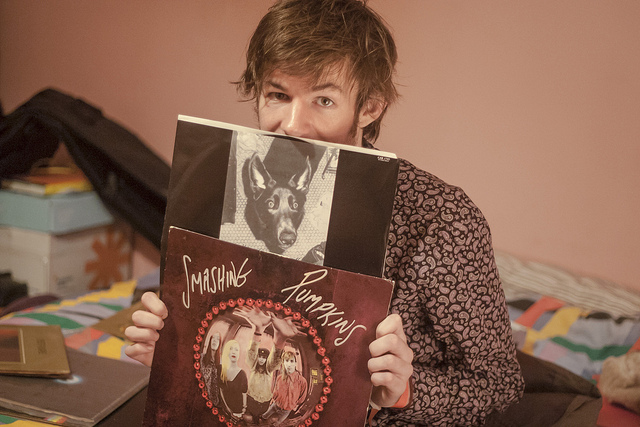 "This is the one I chose to represent my youth. I remember coming home and finding this record on my doorstep on New Years Eve 2004. I think it came from France. The album cover is my shirt inspiration today. This record has stood the test of time compared to the other ones, It reminds me of being really mopey and teenagey. It's really good psych/rock album and it's an album I keep coming back to at the moment because of the buzz I guess. It's their first album, they're really naive and there's cool guitar sounds." (Chris – "That sounds familiar".)


Chris | Deep Purple – Made in Japan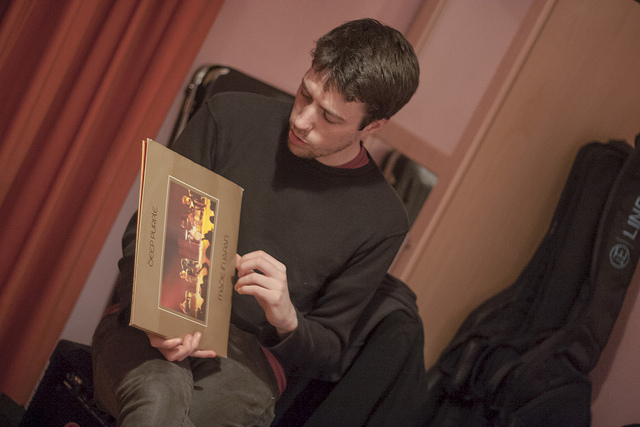 "As far as I'm concerned it's one of the best live rock albums of all time. Thin Lizzy's Live and Dangerous gets Number One in so many of those lists but it's infamous at this stage for being the least live album of all time. The only thing that's live on that album is the drumming and some of the crowd. They overdubbed everything afterwards. It's legendary at this stage. I remember listening to this record as a kid, 'Highway Star' and 'Lazy' and all these insane 14 minute rock jams and thinking there's no way a live band could sound that tight together. It was a benchmark. I always wanted to play music that has that kind of energy and spontaneity as well. It probably has one of the worst album covers that I have seen. Back in the 70s if something was Made in Japan it was shit. This was before Sony or Panasonic. There's a lot of self-indulgent bullshit on this as well. Everyone who plays in this band is a master of what they are doing and I always thought it would be cool to be in a band like that. Records for me remind me of Sunday. They remind me of doing my homework. It was the only thing that got me through it.
"There was a marshall engineer strictly for the kind of amps they were using. They were one of the loudest bands in the world. Before health and safety came along of course and stopped everybody from going deaf."


Ruairi | Kate Bush – Never Forever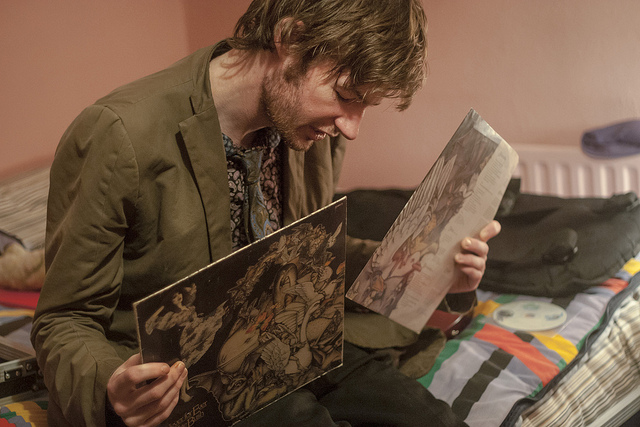 "This is one of the albums that only entered my life this year. It a really great front cover and a really absurd back cover. Her music is just so creative and so amazing. I don't really know where she has been all of my life and I still have a lot of her discography to go through. 'Babooshka' is the first track and it reminds me of dancing on my birthday, that was pretty fun. I nearly bought this in Dublin and I was so desperate to buy it but I thought, "I can either go home on the bus and afford that or buy this album". When I got home I went to visit my mother. Turns out she actually had this hidden away and she had forgotten about it so there's the lesson: always visit your parents.
"On one track called 'Violin' her brother, Paddy Bush, is credited as Banshee. Brian Bath, Max Middleton, Larry Fast, Morris Pert. Who are these people? She had some hell of a band it seems. Gary Hurst. There's a lot of sampling on this too. On the chorus of 'Babooshka' the smashing glass sounds came from a CS80."


Chris | Danny Elfman – Batman Original Motion Picture Score by the London Symphony Orchestra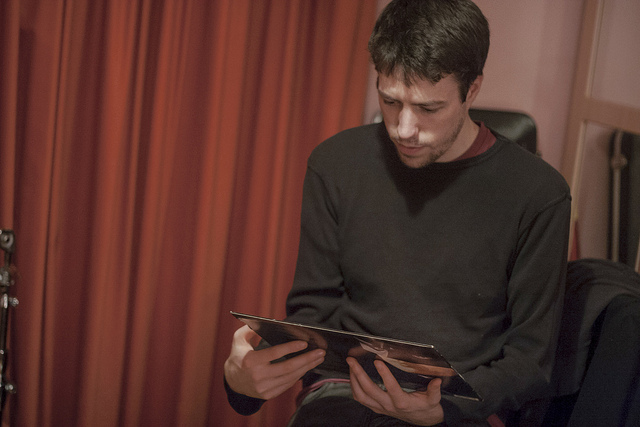 "The first time I heard this I was probably four because my parents got me the tape. It was a bit ill-advised really because it had an 18 rating. But they got me the tape of the 1989 Tim Burton Batman movie which is probably my favourite film still. Not the best film now. I was thirteen when I first saw the CD in Vibes and Scribes in Cork and I absolutely lost my shit. I didn't realise you could get it on CD. From the age of ten I was trying to figure out ways which I could get the sound off of the video and on to a casette tape. I spent ages trying to do it and the one day I was in Vibes and Scribes and I saw this. I ran all over town looking for my mother and I begged her to give me money to buy it. She was happy to.
"There was something about the score from this. This is kind of like ground zero for me, in terms of music. This is the first piece of music I remember. I have listened to it thousands of times. I remember a lot of my friends were into classical music and I'd bring this to them and say "I only want to listen to classical music that sounds like this". It sounded like a band even though it wasn't. Well it was a band I suppose, a band of fifty people. Any of the darker motifs that come out musically would definitely be influenced by this record. It's an amazing album in it's own right. You don't need the context of the film to enjoy it's brilliance. The themes are just incredible. Danny Elfman played with Oingo Boingo, they are almost like a spoof rock band. They were really weird, off the wall, like Mr Bungle almost."


Ruairi | Steely Dan – Aja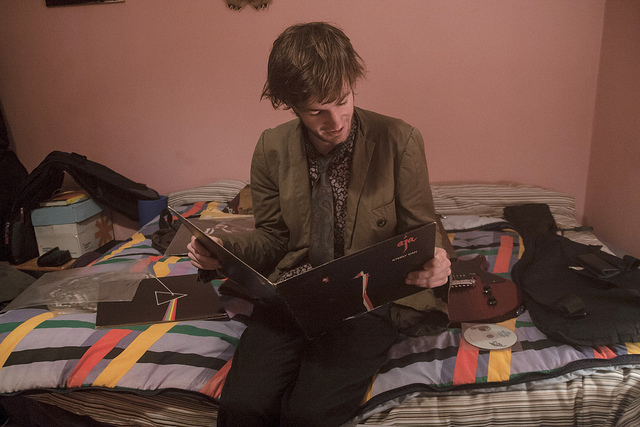 "As we see on the back it was bought in Pat Egan's, 120 Patrick Street, Cork. It's one of those albums that almost every house has a copy of it. This one is really popular in my house. We have two School of Music students, a classical pianist, a cellist, a keyboard player in a eminent soul and funk band in Cork city, Mr. K, myself and a sound engineer. We are all in awe of Aja. (Reading from the back cover) "There's a catchy disco funk number, latin teenage pop songs, 'Peg', featuring the one and only Michael MacDonald and 'Home At Last', on first listening an unpretenious roadhouse shuffle. And then the last song exemplifies Steely Dan's immortal versatility, 'Josie'. A house favourite. Loads of people, if not every person should own this record. It's danceable. It's relaxable. It's pretty darn good."


Chris | Pink Floyd – Dark Side of the Moon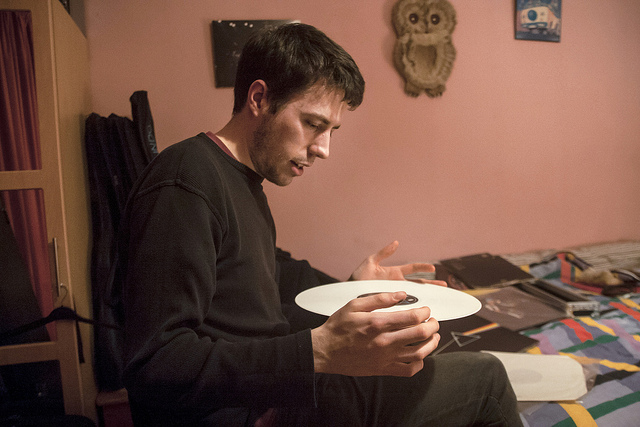 "Bit of a cliche but still, one of the greatest rock records of all time. It feels a little conceited to say but it is. There are so many other genres that I will never take into account, purely down to taste. When I listen to this record I am a different person. I got an iPod for the Christmas of my Junior Cert year in 2005. The great thing about iPods is that they keep count of how many plays you have. I literally had played this 360 times from December til June. I listened to it everyday. It's almost like a sedative of some kind. Everything is there. It's got everything in spades. It's the ultimate hi-fi test record. If you want to know if you have a good stereo, you put this on. It will sound good anyway. The lyrics spoke to me as a troubled teenager, looking for a reason to strive. Not.
The lyrical themes are huge. The issues they tackle are just so massive and personal in the same breath. My friend Dan O' Connell says that something just happens when you hear the first chord in 'Breathe'. It's almost like you are falling through the floor. I think they get tacked on being a prog band or something like that but what they did was progressive but it wasn't indulgent. This record is so close to perfection. Who doesn't recoginise the album cover? Either from your Junior Cert Science or from a rock record collection. I'd love to have an album cover like that. Something so striking. You can interpret their cover a million different ways. I remember being very proud in learning all of the bass, drum and guitar parts for this album. Coming full circle then for my Leaving Cert, I used to pretend I was studying a lot. But in the drawer of my desk I had the drummer's autobiography. I thought that once my Leaving Cert passed I could reveal to my father that every time he thought I was studying I was reading the book cover to cover again and again and again. He was devastated. Even when I was in my second year of college he was devastated that I had deceived everyone and made them think I was quite studious but no, forever the underacheiver. Thank you, Pink Floyd.


Ruairi | Bob Marley and The Wailers – Exodus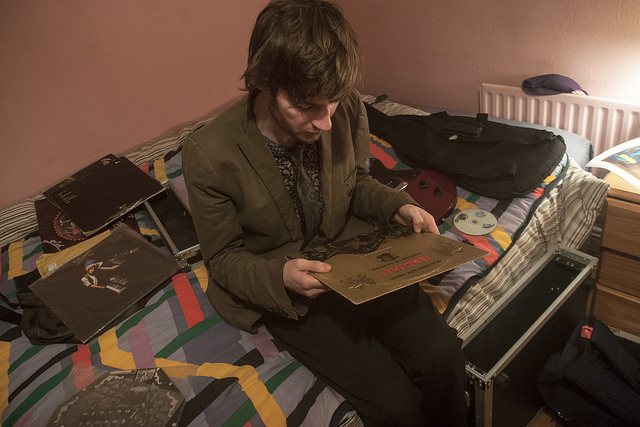 "The first striking thing about this is that it is so minimal – just gold and red. I grew up with this record. Coming from Myrtleville and all that, there's always gonna be some bit of reggae (laughs). (Chris – "It's the Kingston of Cork"). A very good family friend, Jackie is her name, she's Canadian and she is a bit reggae fan. Her partner, Norbert introduced me to a lot of records when I was young, including, I think, Iron Butterfly. He had rooms and rooms of CDs and this was when I was getting into rock music. I had picked it up from my mother and then just made the connection there. Side two to this is absolutely unreal. Four of the songs from the record are massive hits. It's another popular record in our home. It brings people together. 'One Love' if you will."


Chris | Horslips – Happy to Meet Sorry to Part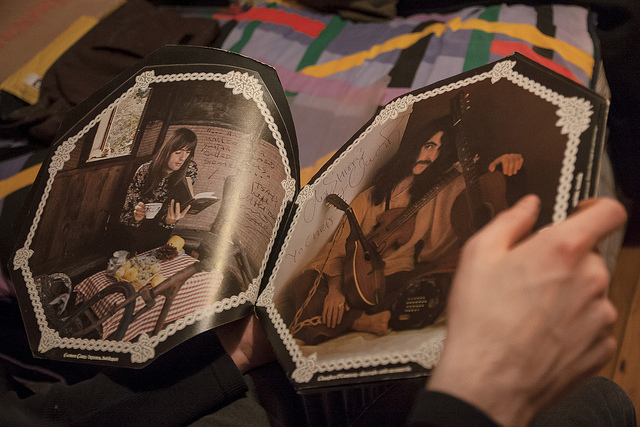 The debut album of Irish band Horslips. If it wasn't Horslips I wouldn't be talking to anyone in this room right now. I can guaranntee that. Literally hearing the track An Dearg Doom changed everything I wanted to do with my life. It's frightening to think that three minutes of pop music can do that. My dad was really into Horslips and left a lot of their albums lying around and initially I thought it was queers with fiddles. I was so deep in Nirvana at that stage I was undealable with. I could not be spoken to about anything. This album symbolises everything I want from music. They started their own label so they could have complete creative control over what they were doing. The sleeve itself is just pure artwork. It was die-cut by hand and printed using silkscreen tecnique. The detail that went into it was phenonomenal. Generally, it was ten pence to manufacture the record sleeve for every vinyl and this was fifty pence. The cost it incurred was just to make something particularly special that meant something to them. They didn't compromise anything. They were the first band to do this I think – record their own album and then Alan O' Doherty later went on to record Wings and a lot of other bands.
I've got about four or five copies of this album. I remember my Dad showing me his copy and it was immaculate. The band had signed it in 1976 and I wanted one. So I got four. This is the one I bought and it's in rough enough shape. I got it four forty pounds on a French website when I was fifteen. I couldn't find any in Ireland. The people I knew who had a copy would not give it to me. The guitar player Johnny Fean is the be all and end all for me as far as guitar playing was concerned. I'm very lucky to have met him and played with him a number of times. It changed everything I wanted to do with my life which is a bizarre thought.


Ruairi | Tom Waits – Closing Time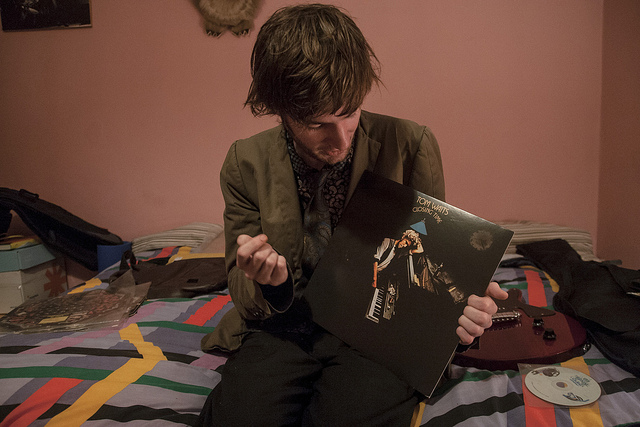 The Grand Weeper. Look at the cover, I mean, it's him in a nutshell. Piano, the clock says twenty past three, it's well after closing time, ashtray, whiskey and coke, bottle. With the Kate Bush album, these are the two big albums for me this year. Life-encompassing artists for this year. There was a time for four or five months where ninty percent of the time the music I listened to was either Kate Bush or Tom Waits. Completely obsessed. It's great date music actually. It reminds me of the most romantic evenings of my life and also, Tara Hegarty. First, I had the date with the young lady in question and got onto this record and then myself and Tara were both bummed out and listened to this record loads. It's a romantic one and it's a weeper. It's one of my favourite albums that I've heard this year. It's forty years old this year and it's hard to find the words but it reminds me of two or three people in particular. It has a really strong connection with those people, all for different reasons. It really spoke to me. It's not the best Tom Waits record but it's my favourite.