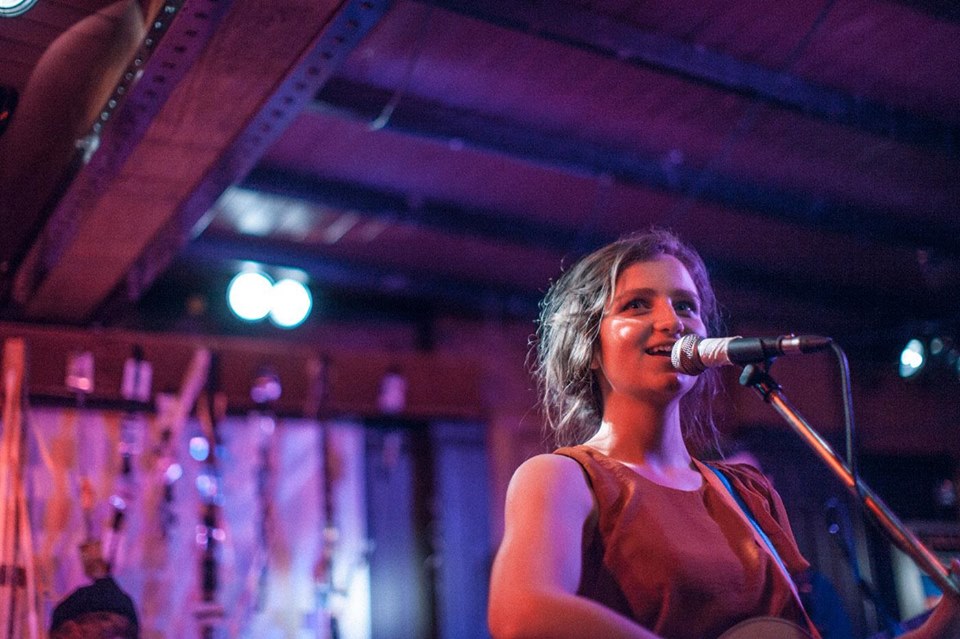 Belfast Music Week has been host to many an interesting gig this year, from bookstores to bars, from balconies to boats, there doesn't seem to be a shortage of quirky or fascinating venues, and now Hannah McPhillimy finds herself playing at The Crumlin Road Gaol. In conjunction with No More Traffik, 'Freedom Songs' is less of a traditional performance for the Belfast based singer/songwriter and more of an interactive journey through history. Tonight's show is down in the depths of the now renovated and rejuvenated jail where Hannah uses all three corners of the triangular room to tell a capella stories of slavery and freedom.
In 'You're Everything I Want, But Nothing I Need' Hannah channels her "Inner Aretha Franklin", and laments the feeling of being unable to do what you want and being trapped underneath someone's thumb. As far as opening numbers go we're off to a blistering start and witnessing a uncharacteristic show of fire and temper from the typically gracious and humble Hannah. This is no bad thing though, as she grabs the whole rooms attention within seconds using nothing but her voice, showing perhaps there's even more strings to this artist's bow than we thought.
Whilst kit is moved from one side of the room to the other Pete Kernoghan from 'No More Traffik' tells us of the sad reality that is human traffiking and that there is an estimated figure of 29.8 million people in slavery today, which if you compare to Northern Ireland's population of 1.6 million is truly mind boggling. This gives an added weight and sense of importance to tonight's material and sets the tone for the next portion of the show.
As the crowd shuffle over to another side of the former dungeon Hannah beings to perform a medley of traditional African-American slave songs which take on a more sombre and hopeful guise than the previous segment, and as her voice soars around the room you begin to understand why this gig was put on in such a venue, that feeling of helplessness becoming even more poignant. If there's one thing this girl knows how to do, it's create an atmosphere.
Finally the audience are invited to have a little sing along in the form of 'Swing Low, Sweet Chariot', whilst asking people to sing a song off a sheet in dim lighting after a couple of drinks is probably not the best or easiest thing to do, people are more than happy to join in with our performer tonight even if it does include the occasional mumbling realisation that they probably haven't sang this song in years.
While this will most likely be a one off for Hannah it was pulled off with confidence and showcases the sheer multifaceted nature of her talents, it doesn't matter if you place a ukelele or just a harmonica in her hands, she just seems to be able to create that unmissable experience. Another night, another sell out gig for Hannah McPhillimy. James J Magill