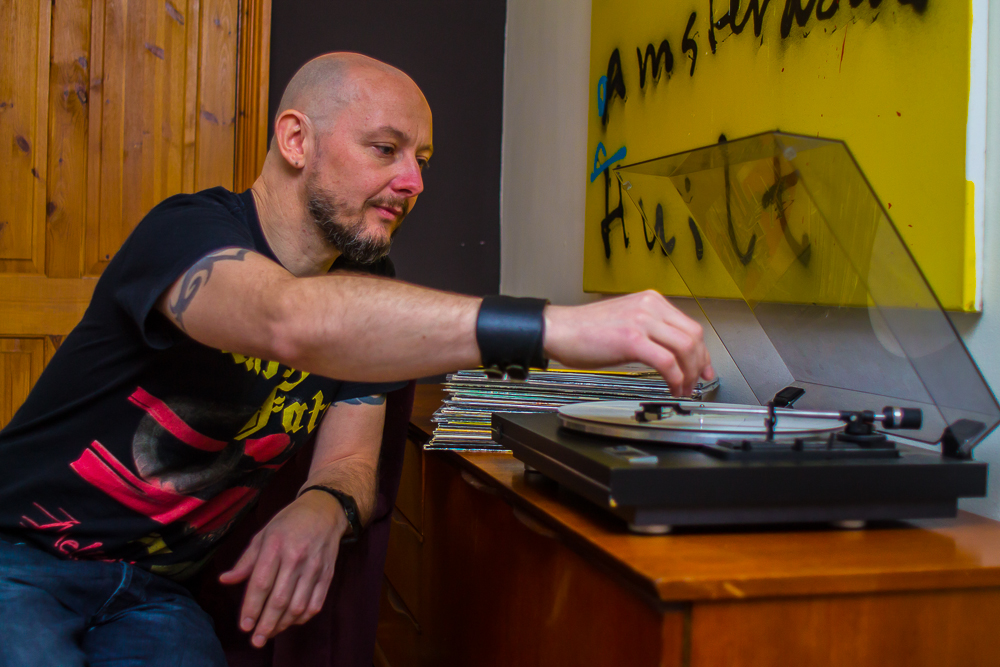 Ahead of our Belfast Music Week listening party with him on Wednesday, November 13, Therapy? bassist Michael 'The Evil Priest' McKeegan gave photographer Liam Kielt exclusive access to his enviable record collection for the latest installment of Track Record. Featuring  acts as diverse Kraftwerk to Iron Maiden, McKeegan talks Liam through some of his most prized records from down the years ahead of the release of his own band's Gemil Boxset (which you can check out/buy right here).
Bad Brains – I Against I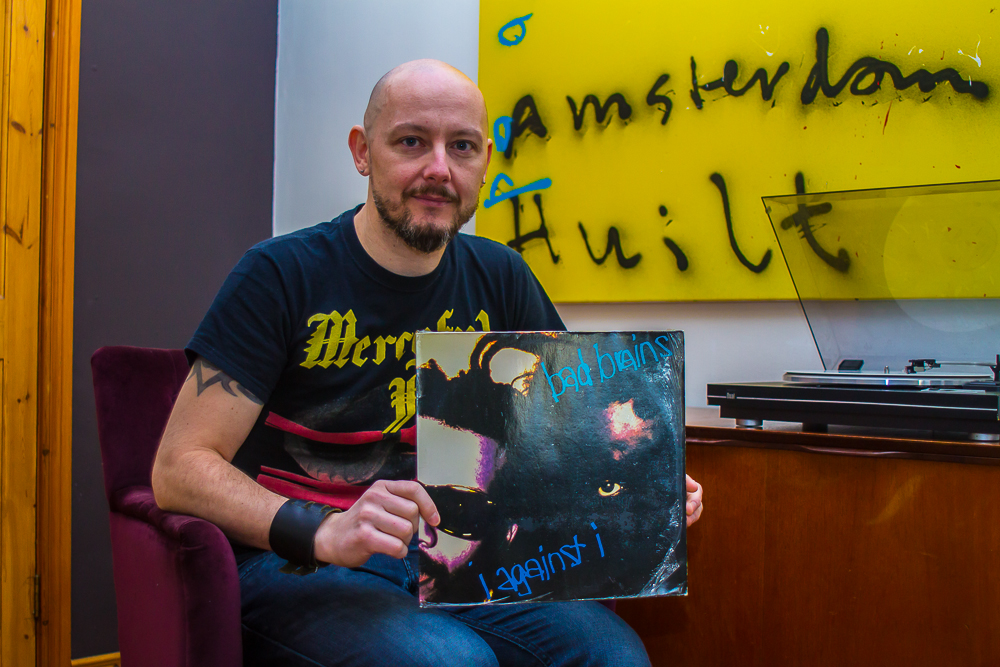 It was one of the first punky harcore records I got into. I'd never heard anything like it – there's a bit of reggae, fusion, a metal vibe. I heard it on the Friday Rock Show, which was good. I remember Tommy Vance had a euphemism, he'd call stuff interesting if he didn't 100% get it, and he called Bad Brains interesting. And that was good cos at that time I was probably listening to Slayer and stuff like that. This had that kind of energy but was a bit more musically developed. With this you can hear where Faith No More got a load of stuff. It's just a good album, lots of energy. And it's on white vinyl, ya gotta love that!


Black Sabbath – Master Of Reality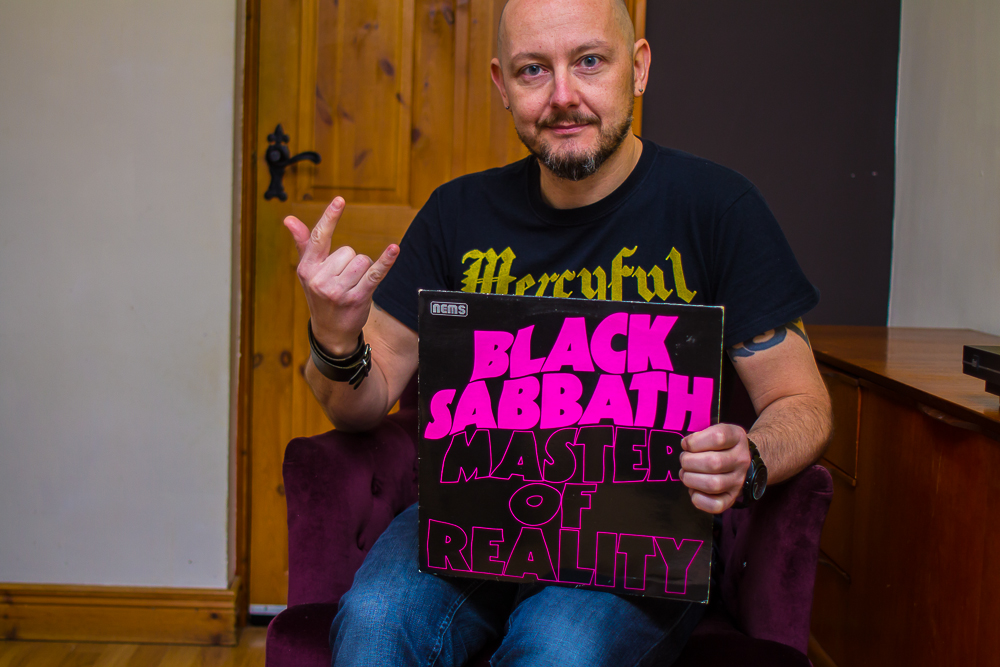 It's nice to grow up through a golden age for vinyl, and music as well. When I first started getting into music around '81/'82 so you had AC/DC, then Metallica and the whole thrash, death into black metal scenes. Then you had like hip-hop, Run DMC, Public Enemy up into NWA. And then obviously acid house and stuff, then grunge came along and you had that big explosion of electronic music. So there were quite a lot of exciting scenes I was around for to buy the records. But I wasn't around for the Black Sabbath Master Of Reality album!
I'm not that old. It came out in '76 and I'm not that hip that I was listening to Black Sabbath when I was 5! But I love Sabbath and this is my favourite album. Dio was in the band when I got into them and I just assumed it was him when I heard Paranoid on the radio. So I worked backwards and this is my absolute favourite because the atmosphere is really evil and it just sounds a bit otherworldly. I like records where you listen and you can't comprehend the life those people lead or what they're into or where they're from. There's a vibe and it's really hard to fake it.
What I also like about it is that there's only 6 songs on it. It's like this is a statement, no padding out, this is it! Two of my favourite Sabbath songs are on it – 'Children Of The Grave', which is a classic and 'Into The Void' which is probably my favourite cos it just sounds evil and has that swing to it. Every band I've ever heard do a cover always play it a tiny bit too fast. Sabbath played stuff really held back and Bill Ward is a legend like that. There's an underplayed menace to his playing and a swagger to it that a lot of metal bands miss out on. People that have a perception of metal don't really get that there's a groove to all really great metal.


Various Artists – Turn Up The Bass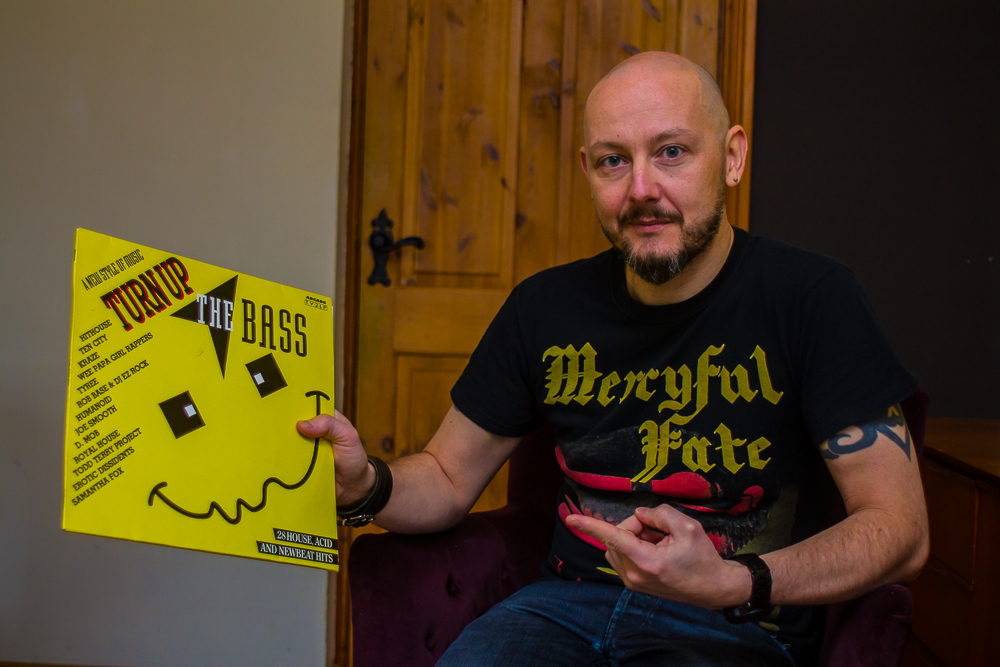 I think everyone has an idea of what I like so this is the wildcard. It's actually my wife's record but it's really cool cos we've always been really into electronic music. The Humanoid track is really quite heavy. If you imagined it played on guitars it's like a Helmet riff. Godflesh sampled it for the song 'Slavestate' and if it's good enough for Godflesh it's gonna be a banger. The drum beat to 'Meat Abstract' comes from one of the bands on here, Erotic Dissidents. There's also a track on here called 'Ibiza' by Amnesia and it's just a filthy dirty riff but played on synths and things like that. A lot of bands narrow their boundaries and that's not really for me. Stuff like this is exciting cos it's a bit wrong and it's a bit rough and it's a bit ready. Bizarrely, there's a Samantha Fox acid remix on it which is … bloody awful! The heavy metal police will be after me now!


Kraftwerk – Radio-Activity
This is following on from the more electronic side of things cos it can't all be metal. Like a lot of people, hearing 'The Model' by Kraftwerk was a big moment cos it's just such a great pop tune, but very otherworldly and bizarre. I was 10 when I heard it and I'd never heard anything like it before. Number 1 Records in Larne didn't have The Man-Machine so I bought this instead. I didn't really like it when I got it because there's not really tunes on it. It's quite melodic and stuff but it's quite weird. They were just finding their feet I guess. I suppose some people would call it retro-futuristic but I love it now. It's my favourite Kraftwerk album by a long stretch because it's so naïve. Some of the melodies are really really simple. And obviously the sense of humour – 'Ohm Sweet Ohm'. Brilliant. Robots aren't known for their sense of humour. And I only found out recently that 'Uranium' is the sample at the start of 'Blue Monday'.


Fleetwood Mac – Rumours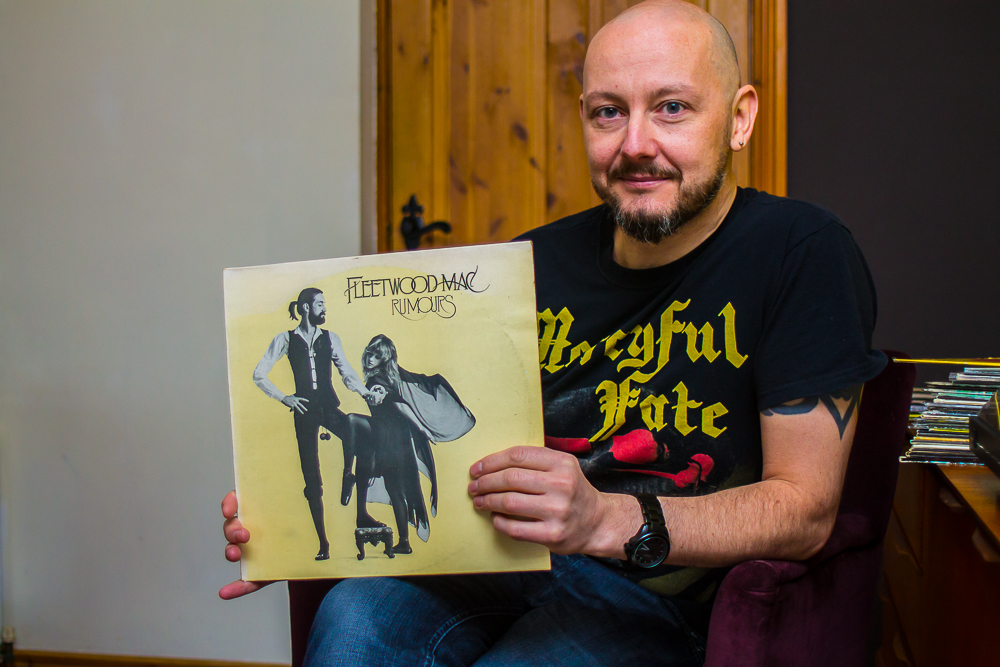 This is just a classic album. It was everywhere. I just remember growing up it was this, Simon & Garfunkel and The Dubliners in our house. It was just in the ether. It was such a massive album. When you're listening to it you're not really aware of all the insane drama that went into making it. But then when you get a bit older and read the lyrics and stuff you catch on. Obviously 'Go Your Own Way' is a fantastic song but when you set it in the context of the band at the time it becomes so much more fascinating.
And yet again it's not a particularly long record. I like that. There's something to be said for saying your piece. 'Songbird' is a great song, 'The Chain' obviously. You can't be banging loud guitar music all the time, especially on tour. This would get a lot of spins in the back lounge. Well, not the vinyl but when the iPods are out and you're having an iPod war this wins. And it's another great album sleeve. It's so wrong but it works. (check between Mick's legs!)


Various Artists – Sub Pop: Fuck Me I'm Rich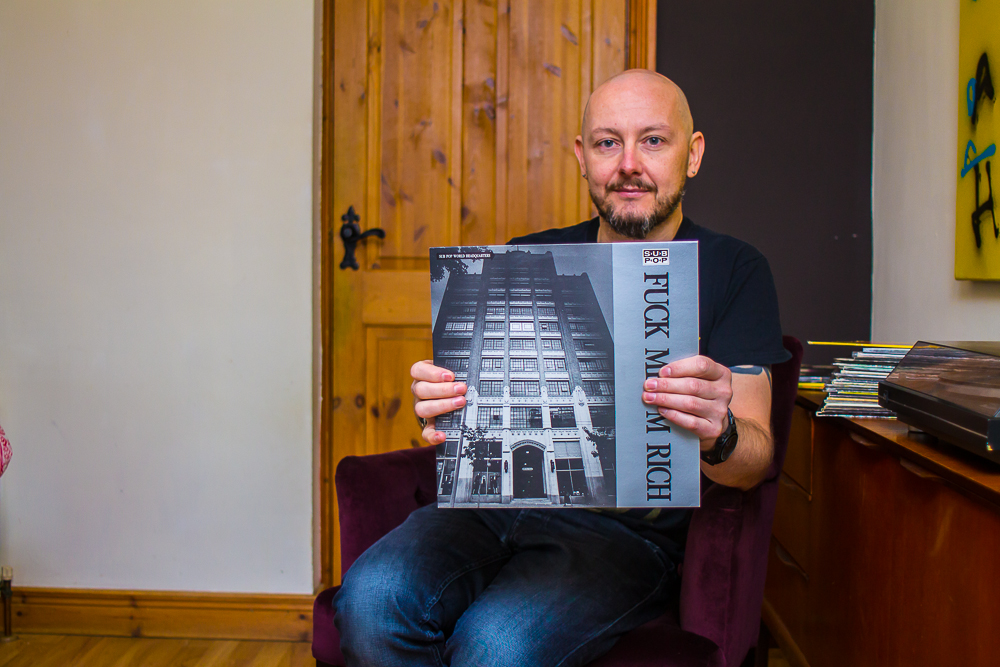 This is maybe a bit of a cop out, I should have maybe picked Tad or Screaming Trees or something, but I just thought this was good because it has that combination of all these great bands and it made me want to buy all their records. When it came out in '88/'89, you had your thrash on the rise, the whole glam hangover and guitar music was a bit lame. This was good cos myself and my friends were listening to Dead Kennedys and Slayer and this combined those two worlds. T
he attitude seemed more punky than Slayer, there was a sense of humour and sarcasm. It was really exciting. Out of everyone on here I'd say Tad are my favourite. Unfortunately because Tad Doyle wasn't skinny with nice long blonde hair they were never as big as they should have been. It was really exciting with Mudhoney, the early Soundgarden stuff, Screaming Trees. It was great, a bit garagey, it was the opposite of the likes of Sabbath and Kraftwerk. It wasn't a mystery. At the age I was then it was very much a case of I can do that.
Venom – Black Metal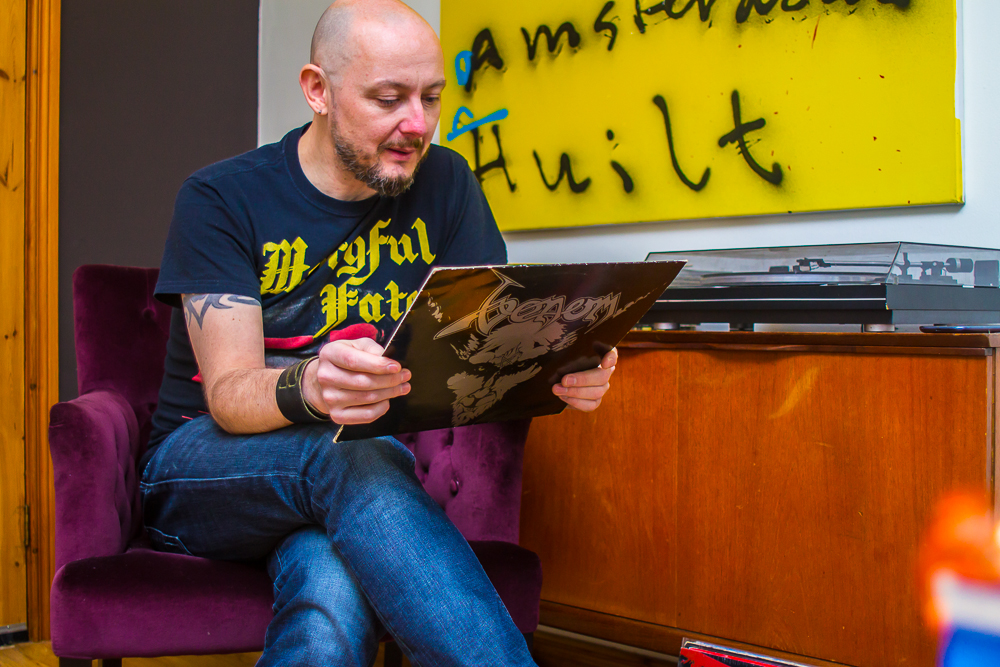 Now I don't have a lot of black metal on vinyl – it's all on CD. What can you say about this record? It's not often you can start a whole sub-genre, or genre as it is now. There is again something otherworldly about it. There's also a great sense of humour to it. The drummer's credit is Barbaric Guardian To The Seven Gates Of Hell. Proper pisstake and it's great. This was the epitome of evil. It all started here. What I love about it is it's actually really quite catchy. A lot of it is sonically very raw sounding but it's bluesy heavy metal just sped up.
'Buried Alive' one of my favourite Venom songs, 'Countess Bathory' too. I really don't think they knew what they were doing. It was more let's get the beers out and make a racket. That unself-conscious naivety is what makes it work. A lot of bands picked up on that and ran with it in a more structured, better played, more thoughtful & progressive way and there's black metal now that sounds like trip hop, a lot of it sounds like modern classical. Unfortunately there's a lot of right wing idiots involved in it that gives the good stuff a bad name.


Melvins – The Trilogy (The Maggot/The Bootlicker/The Crybaby)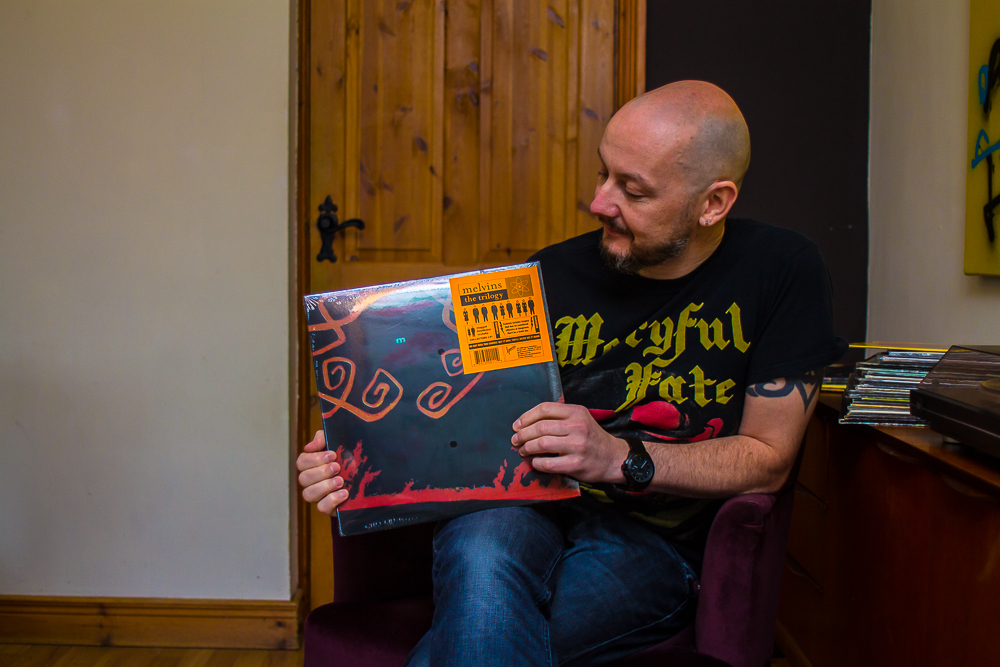 I bought this as an early Christmas present to myself a few years ago and I do have them all on CD which is why this still has the wrapper on it! Big Melvins fan. I'll always buy their records regardless of what the song I hear on YouTube is like or what the reviews say. It's classic Melvins. It can be really serious but there's a wacky element too. I quite like that. They're aware of the positives of rock but they're also aware of the ridiculous absurdity of rock.
They do a cover of 'Smells Like Teen Spirit' with Leif Garrett. It's kind of sacrilegious until you realise Kurt Cobain was best friends with these guys when they grew up and they were a massive influence so if anyone's gonna do a cover of Teen Spirit with Leif Garrett on lead vocals then The Melvins get a pass in my book. Half of it's classic Melvins riff rock, some of it's ambient soundscapes, a few covers and guest vocalists.


Queens Of The Stone Age – Rated R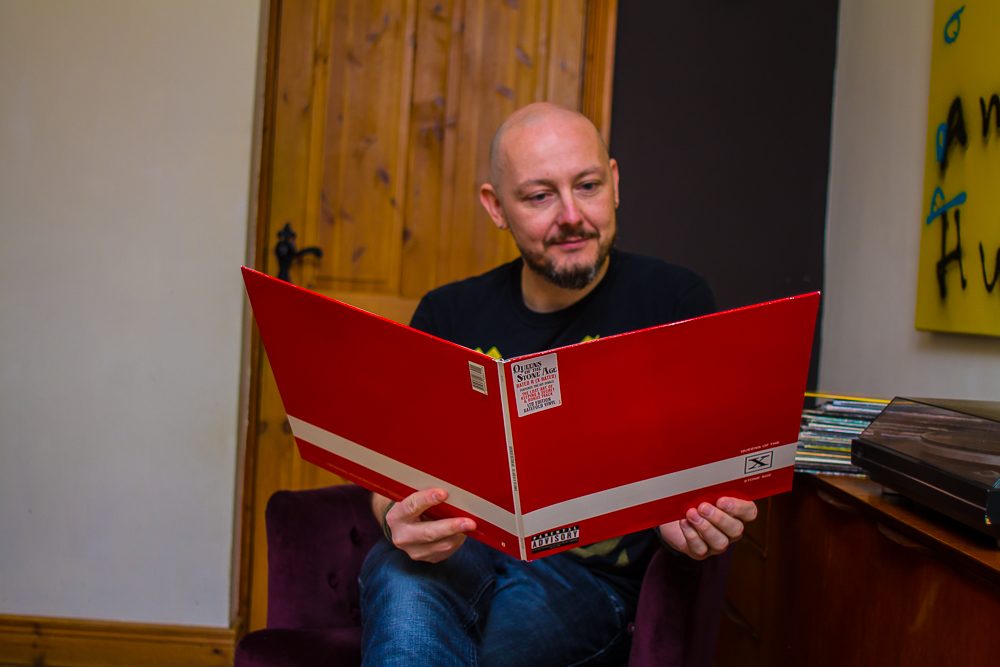 Obviously QOTSA are a brilliant band. One of those bands that comes along and just puts a really good spin on rock music, respects the past but puts their own twist on it. I remember Andy buying the debut album when we were recording Suicide Pact – You First and we got really into it. But when Rated R came out that's when I realised they were leagues about the generic stoner bands that were just tuning down to C and doing their thing. I know they've probably made better recorded and better crafted records but this is still my favourite. It's the one where they brought in different instrumentation and Rob Halford sings on it! I was into the whole Desert Sessions thing and there's a couple of songs from there on here – 'Tension Head' and 'Monsters In The Parasol'. And it's produced by Chris Goss and I'm a massive Masters Of Reality fan. One of the most underrated bands about.


Iron Maiden – Killers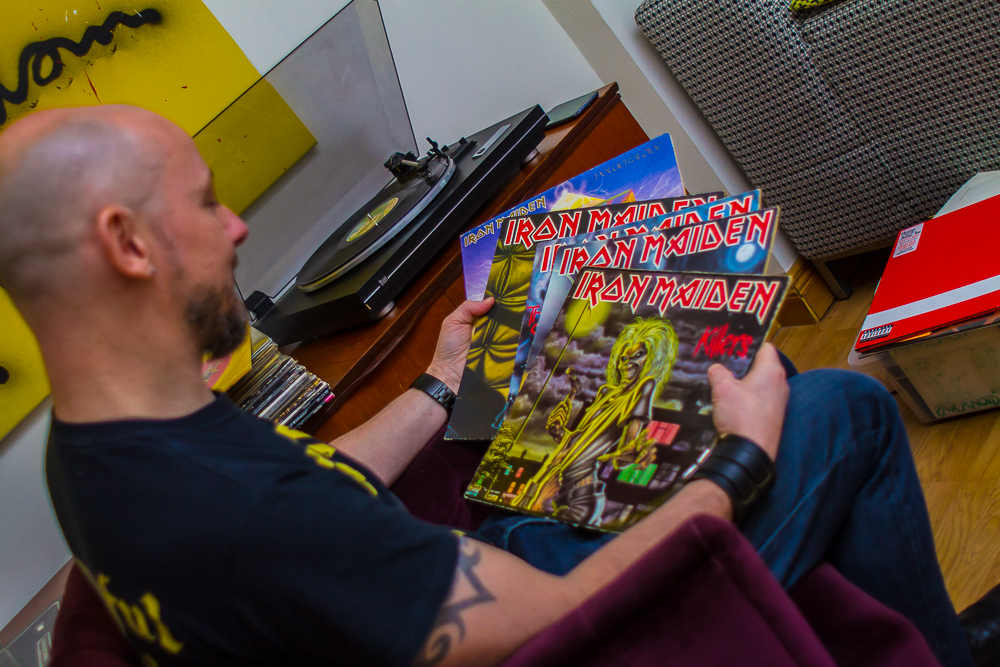 This was the first Maiden album I bought and I always associate them with Paul DiAnno. Pity he's … lost his way shall we say! It's great right from the start. 'Ides Of March', the bass intro to 'Wrathchild' is killer. Songs like 'Drifter' and 'Genghis Khan' have a really great vibe to them. It sounds like a band that are really just tight and into playing. There's no fucking about. It has the right balance between production and vibe and the guitar playing is amazing on it. The first album is a bit primitive and you can hear them finding their feet but Killers is just one of those records that struck a chord. It is what it is. Right out of the box all their albums sound sonically great. And obviously if we're talking about the format of vinyl, no-one does record sleeves better than Maiden! It's just heavy metal and evil and all the cool stuff! It's not necessarily tasteful but they look great.