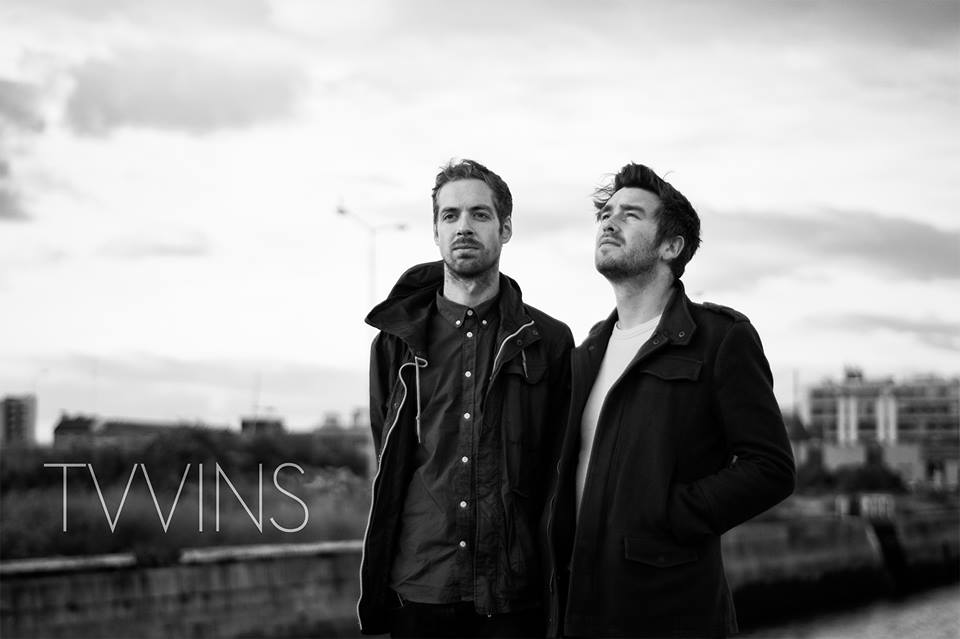 Made up of Conor Adams of The Cast Of Cheers and Lar Kaye of Adebisi Shank (who between the two of them also produce music as No Spill Blood and Charmers) to say Dublin synth newbies TVVINS have local street cred is something of an understatement. It's that very indie credibility that perhaps makes the nature of the 'TVVINS' pairing something of a surprise. Gone are the pulsating guitars through which Adams and Kaye made their names; in their place lashing synths, vocoder-heavy lyrics and fuzzy dance-party angles.
Things weren't always that way. When Kaye and Adams first met, Kaye describes their output as "heavy guitar tunes, very much Adebisi meets Cheers", which – awesome as it sounds – defeated the point of the team up. Instead, the synthetic alternative emerged: "We quickly realised that there was no point in doing something similar as we got together to challenge ourselves. We toyed around with a lot of different ideas and equipment and found that a more pop based sound with vocoder vocals and various synths challenged us and brought us out of our comfort zone…. It made writing Tvvins tunes really fun. We both write quite a lot of music and like to keep active, which usually means a six or seven day recording schedule between bands, but that's what we love to do. TVVINS is quite a U-turn from the music we'd normally be involved in, which makes it fresh."
With a musical schedule that's as hectic 'every day', it's no surprise that TVVINS have taken off fast. While debut single 'Two Worlds' is their only readily available output at present, Kaye explains "We have more than an album's worth written. We'll write some more and get the perfect balance for an EP, an album or both. 'Two Worlds' would be one end of the spectrum and upcoming single 'You Better' would be the other. I suppose the overall sound would lie somewhere in the alternative pop bracket."
Of course, there are benefits to having a hefty background on the local scene, not least in terms of PR. There are also negatives to be found in the expectations that sometimes ride the coattails of successes like TVVINS other incarnations. "It helps to have built something already. We've learned what not to do and hopefully what to do. We're not doing this to please fans of our other bands. Those bands still exist and will continue to make more music. This is something different, something to experiment with in a different genre. So no, we don't feel the weight of expectation. Nobody should expect that we'll cover any of the same musical ground that we have done in the past in our other bands. We hope people will be surprised. 'Two Worlds' might not be in a million miles from The Cast Of Cheers or Adebisi, but out other songs probably are."
What that background does help vastly with is live outings. Previous experience casts stuttering live debuts aside, giving a more settled feeling from the first on-stage note. "It's both easier and harder in different ways", Kaye argues. "Having a lot of live experience makes it easier because we can get straight into it, we've found our feet before stepping on to a stage. It being a brand new band makes it harder because we have to start at the beginning and re-establish ourselves as artists. You'll always get people who may like our other bands and not like this… But that's the way of the world… And that's the way it should be. We're still working on the live setup. We have a bunch of synths and effects to toy with and trigger a plethora of sounds. We have a live drummer and play guitar and bass so it feels pretty similar to what we're used to… With additional bells and whistles of course."
While those bells and whistles will stand tall live, some of the on-record effects will come from some pretty special sources picked up along the way. Not least amongst them is Rob Kirwan, super-producer who's had a hand in anything from The Field to Humanzi, U2 to …Trail Of Dead. Unsurprisingly, Kaye is a fan: "Rob has the ability to take some good ideas, songs or recordings and make them great. Working with him was easy because he's got so much experience and an amazingly developed ear. We never got bogged down with any technical stuff, we just went with what felt or sounded right. He had the same vision as us of what the songs should be but he had the technical prowess to make it a reality." The unusual step of sending the mastering of early work to Germany was for heady reasons, too: Robin Schmidt, who worked on The Cast Of Cheers' second album 'Family' added that final polish. Not at all bad as a debut single team.
Google friendly name TVVINS, incidentally, is simply a way around a Japanese band of actual Twins already in possession of the more obvious spelling. For us, the Vs are a natural fit when stepping into a scene not a million miles from the likes of similarly name-twisting act Chvrches. Considering its protagonists, TVVINS is completely out of leftfield, and where the longer-term sits compared to the pair's more established output remains to be seen. Early suggestions, however, are that they're here to stay; a quick glance at up and coming shows and Kayes assurances that "this feels like a long term project, who knows where it will end up" are promising to say the least. What's suddenly a whole lot more obvious, though, is for Kaye and Adams, a pair with obvious musical depth, genre is no barrier. That bodes well for one monstrous future. James Hendicott