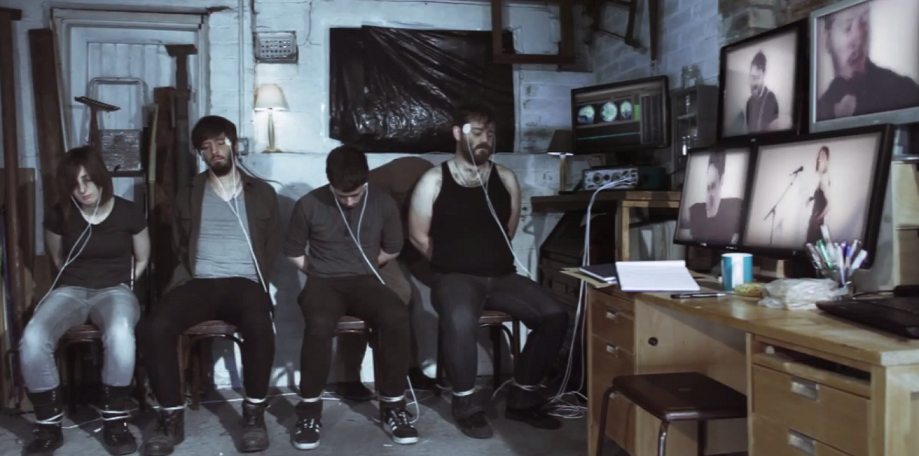 Four months on from their most recent breathtaking performance in Belfast, Edinburgh alt-rock four-piece A Fight You Can't Win return to Voodoo this weekend to plays alongside Hornets and riffmasters general LaFaro. Having just released the brilliantly accomplished video for their latest single 'Jerusalem Crickets', we talk to the band about its creation, the obstacles they face performing in their own city and what the next few months hold in store for the band.
Hi guys. You've just unveiled the ridiculously impressive video for your new single, 'Jerusalem Crickets'. Firstly, how did the idea for the video come about?
Thank you! The idea for the video emerged very gradually after a load of brainstorming sessions with Ciaran Lyons, the incredibly talented director and editor of this video, as well as our previous one for 'Burning Sky'. With that video, Ciaran brought his own concept to the table, which was a far quicker process, and this time around, again, he was played a big part in solidifying our many scattered ideas and sketches.
It's very professionally filmed and acted out. Who produced the video and, looking back, how difficult was it trying to get it together?
In addition to Ciaran, the venerable Stuart Condy of Arpeggio Pictures also weighed-in on the production front, which was a big help in getting things together.  Stuart is great for keeping things organized and professional, and he wasted no time in tracking down Robert Williamson to star in the video after we'd finished discussing the concept.


You seem to really value visual accompaniments to your music. How important do you think a good video is to emphasising the quality of a song, namely your own?
Very important. Ideally, in a good video, the two should complement each other. With 'Burning Sky', the visual content was inspired by the lyrics, and served as a more direct extension of the song. This time around, things were a little looser: we wanted to make something quirky and dark to fit the song in a broader sense, something a little more fun without being superficial. Hopefully we succeeded.
You certainly did. Moving on to your music in itself, you released your excellent four-track self-titled EP back in July. Is there any prevailing sentiment or theme running throughout the release?
To an extent. In a more direct sense, the subject matter of the lyrics is certainly pretty dark across the board. But for the most part the songs were chosen to represent a snapshot of what AFYCW represented as a band at that point.
Twisted and incredibly infectious melodies always shine through your music despite (wonderfully concocted) abrasion and heaviness. Is that intentionally a focal point for you?
Definitely. We love pop music, we love abrasive music, and we could easily just do one or the other. But we tend to find that searching for a middle ground between the two is far more rewarding.
What musical influences – collective or individual – do you think shine through on the release?
That's a tricky one, as collectively our influences are pretty diverse– anything from The Chariot to Justin Timberlake. In that sense, when it comes to ramming heaviness down the throats of pop songs, you could say our influences shine through, but that's probably the extent of it.
How have you found promoting the EP in regards to both playing shows in Scotland and elsewhere, as well as generally getting your music out to new listeners?
It's been a very gradual process, but it always is. So far, the record has received some really awesome feedback, which always means a lot, and we'll never get tired of playing shows.
You've expressed before how tricky it can be to flaunt your sonic wares in Edinburgh. Does the live music scene there seem to be in any way improving?
It's still a pretty slow and difficult process we're afraid. Touring bands who come through are treated to about 10 people looking like they're reading the fucking yellow pages whilst the local bands have to spread their gigs thinly across the year to ensure their local fan-base don't get bored of them playing every three weeks. That said, this is only from our perspective; we might just be missing alternative scenes that are thriving but if they are they haven't shown up on our radar. Also, there are some venues coming up that could potentially change it all, as long as they don't fold or get shut down by the council…
Your last show here in Belfast was pretty unforgettable and your set has lingered long in the memory. How did you find touring Ireland and the aforementioned show in particular?
All three Irish shows were among the best we've ever played. The Belfast show was a particular highlight, glad you enjoyed it as much as we did! It was a great experience, and a hugely necessary challenge for us. We met a whole load of great people, and it felt like we'd really grown as a band by the end of it.
You're set to play with LaFaro and Hornets at the weekend in same venue – Voodoo on Fountain St. One assumes you're feeling pretty excited about the show? Is there anything up your collective sleeve this time around?
Absolutely, we can't wait. Voodoo is a brilliant wee place, and it's an incredible privilege for a band of LaFaro's calibre to be having us over. We're really looking forward to catching Hornets too, it's one hell of a line-up.  Set-wise, things will likely be pretty similar. We had a couple new ones we were hoping to have ready, but they're not quite there: so we'll just be going extra hard to compensate!
Finally, what are the plans for the next few months – say the first quarter of 2014 – in terms of promoting, gigging and recording?
We have a lot of plans, but most of it isn't set in stone yet. We've been getting asked about a full-length release quite a lot since the EP came out, and that's definitely happening next year. The new material is shaping up nicely. The pop elements are even poppier, and the heavy elements are even heavier. We're going to just keep tugging at the extremes 'til it all gets ridiculous.  Can't wait to get it out.
A Fight You Can't Win play Belfast's Voodoo Bar on Saturday, December 13.
Go here for the Facebook event page.