Ahead of the release of their forthcoming new EP, No Faith, we chat to Sib, vocalist/bassist from Belfast punk metal band Hornets about the writing and recording of the release, recently expanding to a four-piece and what the next few months hold in store for the band.
Photos by David Timlin.
You're set to release your latest EP in the coming weeks. How was the song writing process for these songs and what can we expect to hear?
Yes, our new EP, No Faith, is to be released on the 31st March. The song writing process for the EP was much more casual this time round. During the writing process for the 'Truth EP' we were still figuring out who we were as a band sonically, there was a lot more experimentation with demos and midi drums in an attempt to develop the songs. However this time around with, I feel we were a bit more confident in ourselves and totally jammed out on this one, we wrote a lot of it with all 3 of us (at the time) out in our rehearsal room. As for what you can expect to hear, I guess a sharper, tighter, darker version of our last stuff, we're excited about it and cheekily enough we're already writing again.
You recorded the material at Start Together Studios. Did you have everything set in stone before you went into the studio?
Yeah, very much so. We were involved in a lot of pre-production out in our rehearsal room in an attempt to save time in the studio with Rocky and more importantly to save money! Once we had the songs written we put mics on everyone's gear and blasted through the tracks. Listening back to these demos allowed us to refine the tunes in terms of structure and helped us to see what was working and what we'd need to change. It was an extremely valuable approach not only for the songs but for Andy (Shields, guitarist) as he's an aspiring engineer and it's always good for him to be working in that environment.


Did you experiment with any new ideas or have to adapt in any way?
The height of our experimentation was really just with tones on the bass and guitars, things like blending various guitar/bass heads together or experimenting with different parameters on our effects pedals to find that sweet spot. We couldn't believe how quickly it all came together though; we had booked five days in the studio and only used four. Rocky tells us it was the easiest recording he can remember having to work on but maybe that's what he says to all of them! We're stoked either way.
A very significant development for the band has been the addition of Craig on bass. How has his inclusion affected both your sound and dynamics (including live)?
Craig joining the band has had so many positive effects. Sonically we're not quite sure yet as all of the tunes thus far have been written as a three piece but as from tonight, we're back to writing so we'll soon find out. Live however, he's so locked in and focused on keeping it tight. It frees me up to cut loose live and allows me more time to focus on engaging with people at the shows, I think it also allows me to be a lot more consistent with my vocals. We're having the best time since we've changed up so it was definitely a very worthwhile move.
Your sound, overall, is one that very much goes for the juggler. Fierce riffs, pummeling rhythms and all the rest. What, if anything, do you think sets you apart from other bands of your ilk?
I'm not sure of that at all. I feel that's something for other people to consider or think about. I don't think there's anything particularly original about how we make songs but I know that we love it, we invest our hearts into our endeavors and we do it as hard as we can every time.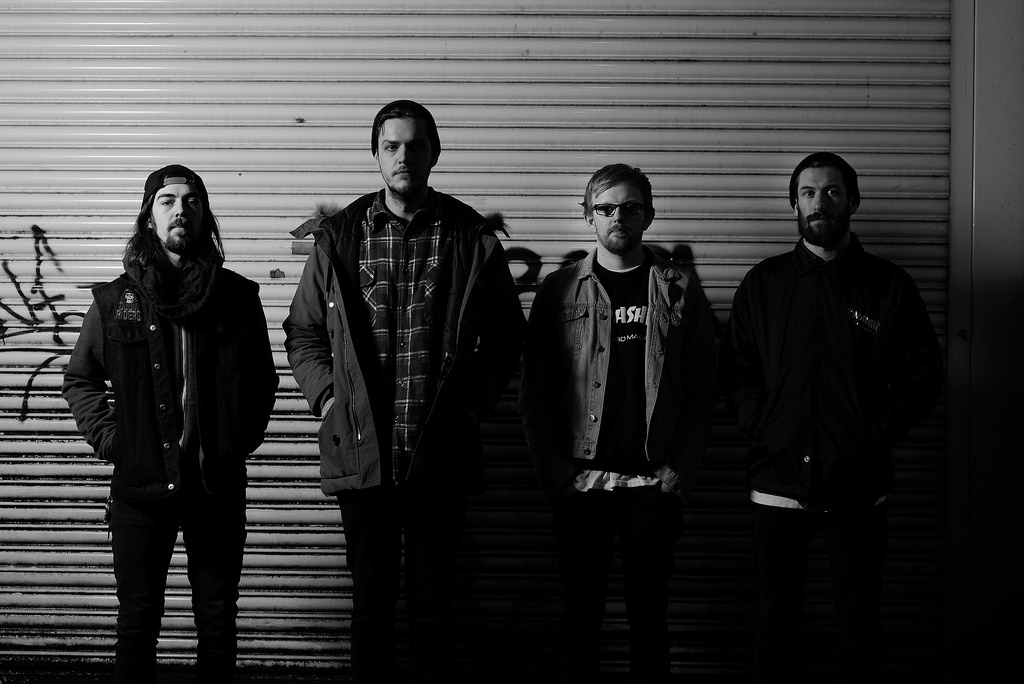 In terms of Northern Irish music generally, do you think it's in a healthy state?
I think it's in a pretty quiet and calm state at the moment.
There are a couple of bands that you have played with more than others, locally. Do you consider yourselves to be part of any kind of scene?
I think we would appeal to folks inclined to be into their heavy metal, hardcore punk and other such heavy sub-genres. I don't really think there's a scene as such in Belfast, everyone's making fairly diverse and different music, which is sweet of course. We play our fair share of heavy gigs but we've always made a conscious effort to play shows that aren't exclusively hardcore / punk / metal lineups. I think it's always a good challenge to try and win over people that wouldn't usually listen to the heavier end of the musical spectrum.
Finally, in terms of both performing and potential new material aside from the EP, what can we expect from Hornets throughout the course of 2014?

We're currently involved in booking a UK tour for the end of March to promote the release of the No Faith EP. It'll be the first time we've played shows across the water so it's pretty exciting to get over there and see how we're received. As far as new material is concerned, we're always jamming new ideas at practice but as soon as we get back from tour the plan is to knuckle down and write as much as possible. It will be interesting and refreshing to see how we can take full advantage of the four piece dynamic when experimenting with new material – stay tuned for more filth.
Stream the band's debut EP below.