Articles
Published on February 27th, 2014 | by Colm Laverty
0
Frame by Frame #004: VerseChorusVerse – No More Years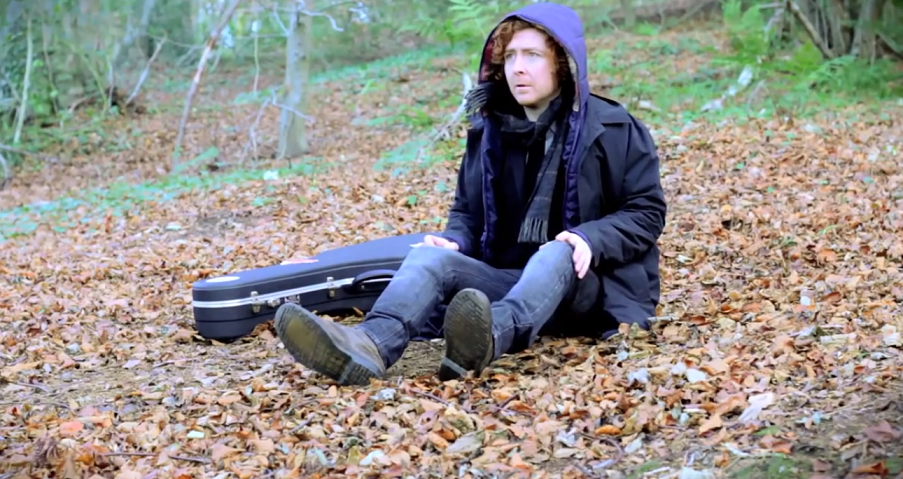 In the fourth installment of Frame by Frame – a feature looking at the production of Irish music videos from the perspective of their creators – Colm Laverty catches up with Adrian Rowe and Emma Louise Dodds from Industrious Dark about their recent video for 'No More Years' by singer-songwriter Tony Wright AKA VerseChorusVerse.
First off, tell us a little bit about each of your roles on this music video.
We are Industrious Dark – Adrian Rowe and Emma Louise Dodds. We were the creators/directors of the video.
In a sentence, what sets 'No More Years' apart from other Northern Irish music videos?
You get to see Mr Tony "Dutch" Wright performing his Predator tribute on a mountain overlooking Belfast.
This isn't your first collaboration – in what ways did the previous experience working together shape the way you approached this video?
With Nothing is Easy we presented this crazy script to Tony. He went for it. When it was cut together, we all suddenly became apprehensive about how people would respond to it – if they'd get the humour – but the reception was very positive and I think Tony trusted us a little more afterwards.
So when we decided to keep 'No More Years' more of a rough idea rather than tightly scripting it, Tony was open to it. Thus we ended up a mountain. Having worked before also gave us more of an insight into what he wants from a video which I think made the post process a bit easier.
Is this perhaps the beginning of a long-ongoing creative partnership?
Maybe – that depends upon Mr. Tony. Its always a pleasure to work with someone that trusts you and can act. We've always got loads of ideas.
How large was the team working with you on the 'No More Years' shoot?
Just us and two cameras.

When and where did the shoot take place?
Redburn Country Park, overlooking Belfast on a very cold December morning. It was a bit of a climb, but turned out to be a beautiful day. The weather was great. Tony did a bit of whittling and even drank from a stream (he's all method).
We scared some dog walkers, intrigued their dogs and got some good exercise in the process. Sadly it wasn't all fun though – we lost a lens cap up there. It took a while, but we're over it now. Wherever he is, we hope he's having fun.
What were your major influences coming into this project?
Some seventies sci-fi, The Road, Bear Grylls and a bit of Lost – an eclectic mix.
Are there any hidden references or homages to a piece of art that we may have missed?
As you've probably guessed: Predator. Maybe some others – intentional or not.
How did the threatening shadowy figure come about?
He was kind of a throwback to the old Doctor Who and Star Trek villains. As to his meaning, well…
How was Tony's experience acting on camera?
We have to add – we like to think of this more as his Die Hard. He took some spills and kept on going.
Tell us a little bit about the editing process.
Fairly straightforward. We wanted something quick and snappy with a lot of energy to match the pace of the song. Our biggest concern was something we termed the "Bryan Adams factor". You can have a man carrying a guitar case in a forest fine, but having him play guitar in a forest and you start to get nervous. One has to tread carefully. Of course, we mean this as no insult to Bryan Adams – just simply it was not the look or association we were going for.
To what extent was everyone involved in the post-production?
Tony was great and allowed us pretty much full creative control.
How well were you able to find the right balance between artistic freedom and compromise?
Since we all have quite similar tastes and the fact that Tony trusted us there really hasn't been too much compromise.
From working on the previous video I think we understood better what Tony wanted, which made it easier to self-edit our own ideas earlier on. We just wanted to make a video that keeps people intrigued and watching to the end. Something that's a bit of fun, isn't vacant and suits the track.
Do you have a favourite local music video?
It's not too local, but right now we are quite freaked out by that Rubberbandits' 'Dad's Best Friend' video.

What would be your nomination for the greatest music video of all time?

Ahh, there are so many but think we have to go with Nirvana's 'In Bloom' (above). It just gets across the band, works for the song and is perfectly executed. Genius.
VerseChorusVerse supports Nine Black Alps on their forthcoming UK tour, starting in April. See below for the tour dates.
April 22: Hull – Fruit
April 23: Nottinham – Rock City
April 24: Chester – Live Rooms
April 25: Stoke – The Underground
April 26: Wakefield – The Hop
April 28: Milton Keynes – Craufurd Arms
April 29: Reading – The Bowery District
April 30: Bristol – The Fleece
May 1: Birmingham – The Flapper
May 2: Hebden Bridge – Trades Club
May 3: Glasgow – Audio