Live Reviews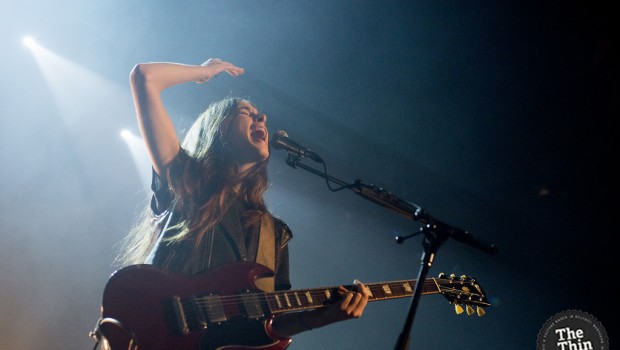 Published on March 13th, 2014 | by Laura Carland
0
Haim @ The Olympia, Dublin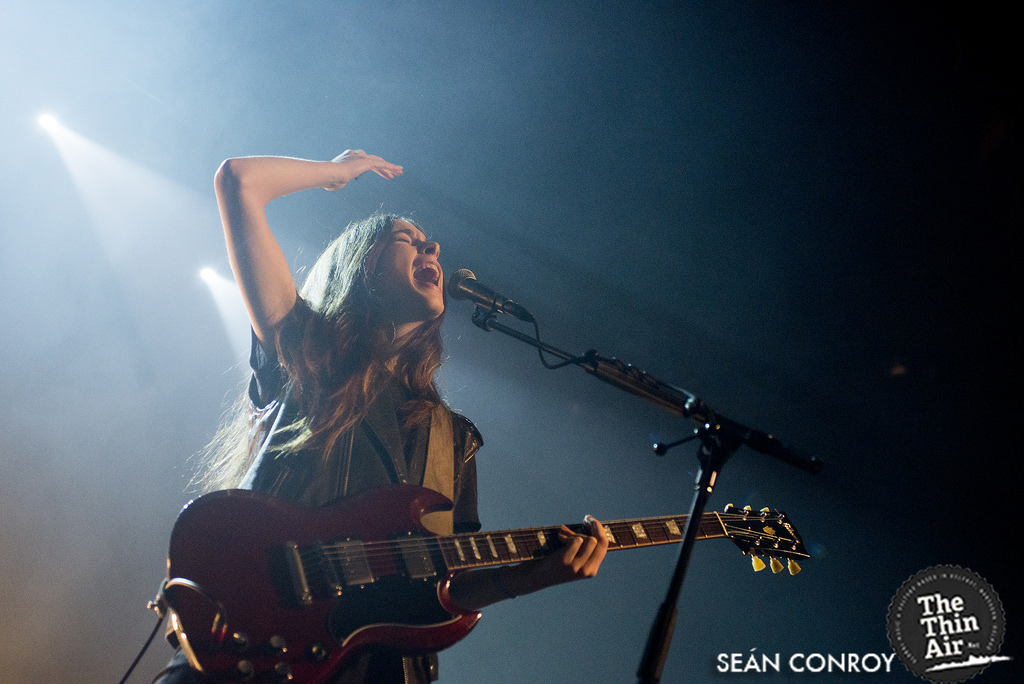 The Thin Air is packed into the standing section of Haim's sold-out show in Dublin and we are very excited. For the best part of the last year, the music of the Californian sororal trio has dominated our music library; stubbornly refusing to let us tire of debut album Days Are Gone.
Any niggling concerns that the live experience will disappoint disappear instantly as the coltish Haim sisters march on stage to an enormous Irish roar. They jump straight in, starting with 'Falling', and thus begins a show which does not ask for but rather grips your full attention.  Delivering an energetic, ferocious, straight-to-the-point set full of crowd favourites like 'Don't Save Me', the summery 'Forever' and 'The Wire', there is no lull or break in the momentum of entertainment.
Haim know exactly how to work a crowd. They swear with gusto. They command the Olympia stage with blistering confidence and heaps of charm. They really don't care what ridiculous facial expressions they pull when performing (Este in particular suffers from the worst case of 'bass face' ever seen) and they allow themselves to indulge in face-melting guitar solos as though they were jamming inside the Haim living room, leaving the door partially ajar for everyone else to join them. Crowd banter comes almost exclusively from Este Haim who, after commenting on the beauty of the Olympia theatre and praising the vocal abilities of the Irish crowd, drapes herself in an Irish flag and leads a chorus of the mandatory 'Olé'. The crowd are eating from the palms of their hands and clap, sing and dance enthusiastically and obediently. Haim manage to mix classic 70s style Americana rock and contemporary RnB with relative grace and give us a short but sweet back catalogue guaranteed to have even the shyest audience member dancing.
It becomes immediately clear that Haim can sound better live than they do on record. For those of us who wore out the Days Are Gone album, slight tweaks can be heard that ultimately offer improved versions of well-loved tracks like 'Go Slow' and 'Running If You Call My Name'. The cherry on the cake of their set list was a repeat rendition of Beyoncé's 'XO', fresh from BBC's The Live Lounge and no doubt inspired by the trio's trip to see said diva the night before.
Having graduated from the Rockinhaim family band started by their equally musical parents, the Haim sisters show Dublin just how much music is deep in their blood. Este Haim graduated from UCLA with a degree in Ethnomusicology in just two years instead of the average five. Danielle was a professional musician touring with the likes of Jenny Lewis, Cee-Lo Green and Julian Casablancas all before the age of 25. Alana bounces between several instruments across the stage like an excited pin ball. They are incredibly musically versatile, often swapping instruments and sharing vocals. It's clear to everyone in the room just how much they love making and performing their music.
With relatable lyrics, approachable attitudes and legs that seem to reach their armpits, Haim are curious mix of awkward and cool. They pepper their set with throwaway moments to hype up the crowd including a boisterous cover of Fleetwood Mac's 'Oh Well' and polishing off finale song 'Let It Go' with all three sisters beating the living crap out of drums to delighted crowd chanting. Skipping merrily off the stage as though they barely broke a sweat, the multi-talented Haim leave their Dublin audience tired, satisfied and more than a little bit in love in love. Laura Carland
Check out Sean Conroy's full photo set from the show below.