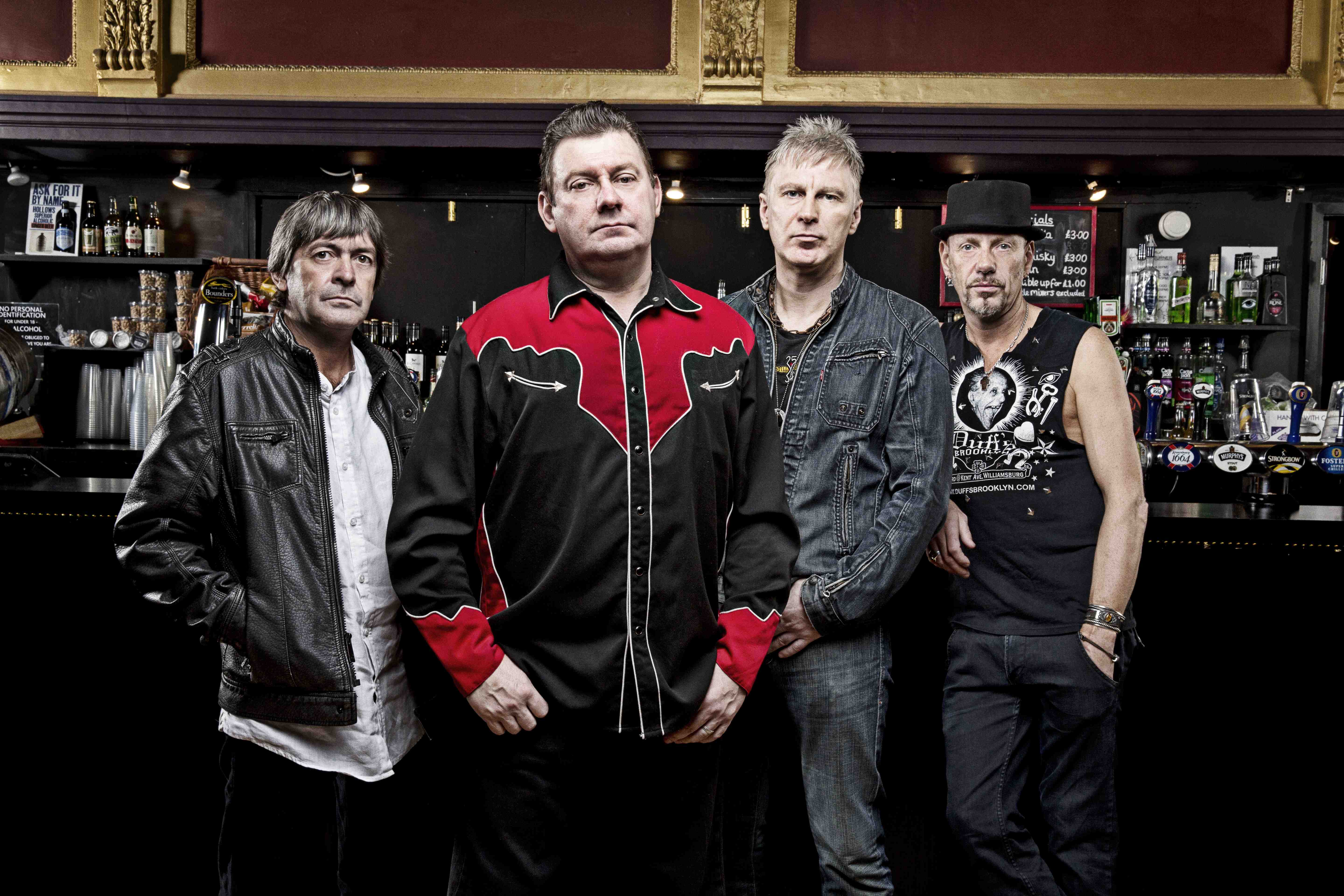 Jake Burns must surely hold the record for longest gestation period for a song in modern rock history. Back in 1983 when Stiff Little Fingers broke up, Burns met up with another singer from an Irish band who was in the same situation and they lamented their respective losses over a pint, or many. Burns went home and wrote the lyrics to 'When We Were Young', but it took him another thirty-five years to get around to the music. Phil Lynott was the man he shared his commiserations with back in that long-ago boozer, Burns tells the crowd in The Academy tonight, but the song that follows certainly doesn't sound like the reminiscences of a bunch of old geezers.
The Stiffs are back with their first record in ten years since 2003's Guitar & Drum. No Going Back doesn't mess with that album's illustrative title as far as content goes, and the band seem as energised as ever, particularly after the response they received from the Pledge fund that raised money from fans to bankroll the record.
Their popularity shows no signs of waning, with yet another full house in the Dublin venue as the 'Go For It' intro blares over the PA. The vigorous opening trio are gapless, as Burns pings back and forth centre stage between Ali McMordie and Ian McCallum, the latter nonchalantly pulling on a beer whenever a hand is free from doling out barre chords. Burns gets a break from vocal duties when McCallum steps up for his own 'Throwing It All Away', releasing the frontman from the restraints of the mic for a time.
The early section goes over to the new tracks, with 'My Dark Places' story of Burns' battle with depression receiving a vote of vocal support from the crowd. Then, of course, it's back to business. The classic covers are highlights, The Specials' 'Doesn't Make It Alright' and their own inimitable, extended take on Marley's 'Johnny Was' that rises from Steve Grantley's solitary drum intro. As ever, the crowd is split between those who remember the first time around and the new generation – there are ways of telling them apart, of course, but if you're ever unsure, the former camp seem content to leave the crowdsurfing to the young'uns.
'Strummerville', with its 'Clash City Rockers' coda, is a heartfelt tribute to the man who inspired Burns back in the day, and the singer is in chatty form tonight, both about days past and the new album's reception ("Too late…you've already bought it"). The one-two sock of 'Suspect Device' and 'Alternative Ulster' sees the beer spray and the moshpit sway as the set rolls to a conclusion, and of course, they're raucously received. It's the mid-set 'Barb Wire', though, that stands apart on this particular visit – the entire band come alive, McCallum and McMordie's feet leave the ground, and a couple of lighters even go up in the crowd to general amusement onstage and off. A new record, a renewed vigour, a faithful fanbase old and new – let's face it, a home defeat is barely conceivable for an SLF gig. Justin McDaid