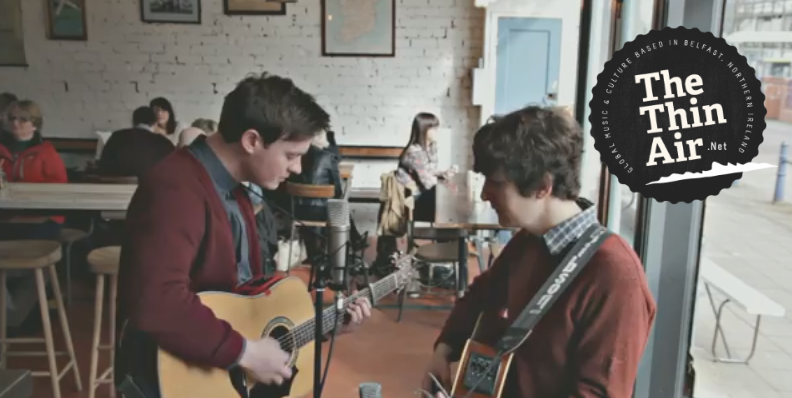 In the ninth installment of Frame by Frame, Belfast-based photographer and filmmaker Colm Laverty talks to Ben Robinson from Derry acoustic duo Sullivan & Gold and director Michael Barwise about the former's recent, rather lovely video for their single 'Glory'.
Hi guys. First off, tell us a little bit about each of your roles on this music video.
Michael: I was director and editor on the video.
In a sentence, what sets 'Glory' apart from other Northern Irish music videos?
Ben: We've wanted to keep Sullivan & Gold something quite organic and homely. Forget Myself was one of the 'poppier' sounding tracks on the album so it had seemed like a single but we changed late on to 'Glory'. Initially I was a little unsure, as 'Forget Myself' was a track with a strong lyric. For first time in my life I had an exact video in mind – storyline, storyboard etc, so it was hard to let it go.
Michael: I honestly couldn't say exactly. You'd probably be able to tell me better than I could tell you!
How was the idea conceived?
Ben: When we got to work on 'Glory' we decided to post on an excellent site called Radar Music videos which we had used to find a Polish director who created the video for our first single 'Run Faster'. Although we found and were given some really cool ideas – none of them quite worked for us and the Smalltown America team. Andrew Ferris (STA founder) recommended a friend of his called Michael Barwise and he sent us a few images that portrayed his ideas.
Michael: As Ben said, it was a back and forth conversation between myself, the band and Smalltown America. We all felt that the best approach was a non-narrative video, and I was keen for the images to supplement the song and not distract or detract from it. We wanted to try and create a sense of universality through the video too, as opposed to following just one couple, which is why we opted to use multiple people.


What were your major influences coming into this project?
Ben: It's important at this point to note that Adam and I had collaborated on all the lyrics for the album with Andrew Ferris, In 'Glory' we each were projecting a slightly different spin on a relationship – Adam and I were keen that it was a relationship in it's later stages – married couples with kids etc. – were as for Andrew, his lyrics portrayed a couple at the starting point of a relationship.
Michael: Lisa and I looked mostly at photography to help generate ideas and a visual look book. Wolfgang Tillmans was probably the one who we went back to most. Lisa's a professional photographer first and foremost and my instinct to researching visuals for a film is always to start with photographs, so it worked out quite well and the nature of the film was always going to be very static and almost portraiture.
How large was the team working with you on the shoot?
Michael: The core team was essential Lisa Byrne (D.O.P.) and myself (director & editor). On top of that was everyone who was actually in the video and helped out.
Where and when did the shoot take place?
Michael: The shoot was mostly around Derry, with a few excursions to Donegal and Castlerock.


Was it always a conscious decision to stray away from a performance video?
Ben: It meant we found it difficult to create a literal storyline – but Michael seemed to have a perfect understanding and came in with a, sort of, cinematic approach – subtle camera shots of couples interactions – and various peoples heads, shoulders. I've never been inspired by literal or performance videos so it sat nicely.
Michael: Yes. I did actually suggest an alternative video outline, which would have been more performance based, but Ben and Adam were certain that that wasn't something they wanted to do. I think they were absolutely right to go down the route we did as it really suits the track and Sullivan & Gold as artists.
One of the video's key motifs is the obscuring, or subtle framing, of faces – to what extent does this imagery reflect the themes present in the song?
Michael: For me this comes back to wanting the video to be universal, of wanting to keep it open for the viewer to put themselves into it. Plus the lyrics focus on the kinds of physical details you only really get to know about if you're quite close to someone, so we wanted to get the camera in nice and close too. We wanted a level of intimacy there.
Take us through the process of directing each of the actors. Was it difficult capturing such pensive performances?
Michael: No! I think the trick was taking really long takes, where I basically just told the actors to sit and relax and think about whatever came into their heads. So we'd roll for about two or three minutes and there would be maybe twenty seconds in each of those takes of what we were after. I think once you start telling people, especially non-actors, which a lot of the people were, what to think and feel you can lose that natural essence which attracted you to them in the first place. So the trick is do nothing, and do it for a long time!
Are there any references or homages to a piece of art that we may have missed?
Michael: Not consciously, but I guess because Lisa and I were looking at the same photographers etc that you can't really escape that research filtering in on some level.
How well were you able to find the right balance between artistic freedom and compromise?
Ben: Michael worked with Lisa Byrne – and from what they explained to us – they had a few folks in mind to shoot. Michael was keen that Adam and I featured in the video so we went on a 2 hour long trek one Saturday afternoon to find a forest somewhere in Donegal. It rained very heavily and we had cold feet but it was well worth it.
Michael: I think the working relationship between Lisa and I and Adam and Ben was quite a healthy one. If there was something the band really weren't keen on then we would take that into account and discuss an alternative. I wouldn't call it compromise though, I'd call it development.
Tell us a little bit about the editing process.
Michael: Because of the structure and style of the video the edit was relatively simple. The hardest thing was just getting the timings right and making sure that although there was no narrative that the video created the right emotion and feeling to suit the song.
Has producing videos affected the way you now perceive (your own) music?
Ben: Making videos definitely alters how you perceive your songs – Adam, Andrew and I spent well over a year writing the lyrics for this album. I'm genuinely proud of all the lyrics on the album and it means that when we create a video we all have ideas for what it could be. I believe Sullivan & Gold are a writing project not really a 'live rock band' so we want our videos to portray that – the videos should be more like little movies of abstract goodness than a promo for a live band.
Do you have a favourite local music video?
Ben: Since leaving Belfast to move back home in some ways I feel I've fallen out of touch with the local live scene, but I still spend time on blogs and band's sites to see videos. I'd love to have been able to say a Fast Emperors video was my favourite, as for me they were the best band in Belfast. I'll never forget my first night at uni I went to Auntie Annies to Sixstarhotel with two friends and we actually had shivers up our spines during 'Electric Me'. Sadly they never released a video! So… as I'm pretty biased, I've got to mention Chris McConaghy (AKA Our Krypton Son) who has been helping us out on guitar. This video and tune are beautiful.
Michael: I'll have to second Ben there and go for Our Krypton Son, Chris has an awesome voice!


What would be your nomination for the greatest music video of all time?
Ben: I'm addicted to Lord Huron at the minute and I went to see him at Open House Festival when we were mixing our album with Tre Sheppard. Tre had said to me – you've got to hear this guy and it turned out he was over that month in Bangor. Anyway I play this track over and over again and the video is typical Lord Huron – adventure madness! This video and track are perfect.


Michael: That's a tricky one and I couldn't give a definite answer! The Knife have a few pretty good ones and this video for 'Tooth For An Eye' is just one example. Colm Laverty