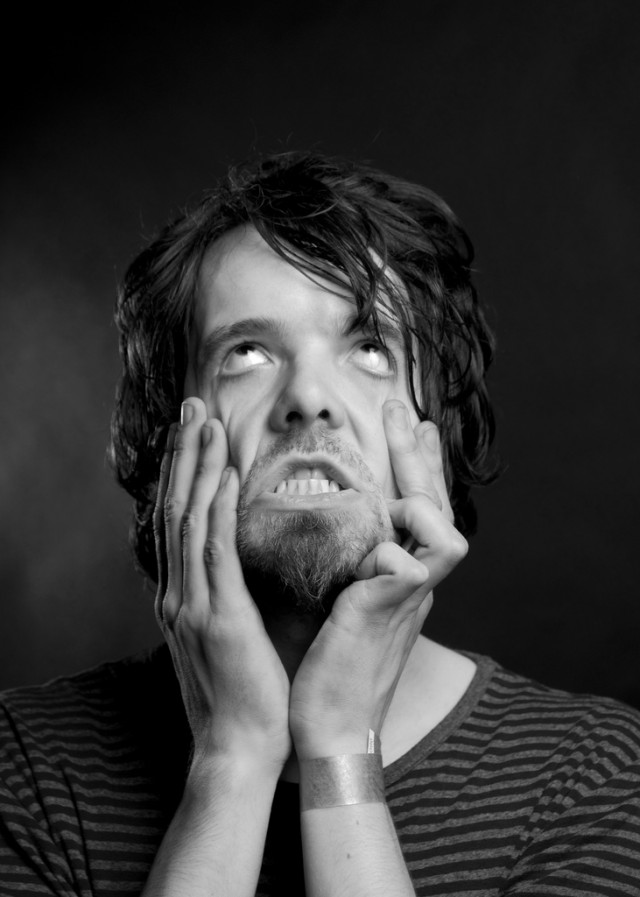 Not for the last time, it's the The First Time time. Belfast-based photographer Joe Laverty delivers yet another wonderful portrait shot, this time of Johno Leader from Co. Cavan acoustic indie-rock band The Radioactive Grandma, and gets the musician's music-buying, making and loving firsts, traversing everyone from Moby, Val Normal, R Kelly and the Prodigy.
First album you bought?
The very first album I ever bought was purchased with vouchers that I got for my birthday. I was about 15 or 16 years old and that album was 1977 by Ash. It got played about five times before I was introduced to the world of progressive metal by a friend (cheers Rob!), my musical tastes then shifted and that album never got seen again. After this I wished I had spent my ten bucks HMV voucher on Metropolis Part 2 by Dream Theater instead.
First live concert/gig?
Ahh, sooner or later I knew someone would for some reason decide to ask me this question.  The very first proper gig I went to is way too embarrassing to tell you so I'm gonna tell you the second. I saw Moby at Wembley Arena and I must have had the furthest seat from the stage in the whole place. All I could see was Moby's shining head moving about the stage as the lights came around. Also, I wasn't sure if the elderly people sat around us had any idea they were probably at the wrong concert.


First album you properly loved?

Sheer Heart Attack by Queen
First artist/band to change your music-listening/making life?
The aforementioned Dream Theater.
First local band you got really into?
Local for me at the time would have been my home town of Peterborough, UK and there was a band called Fox Force Five, an ironically titled three-piece band. But really, nothing compares to the bands we've seen over here, not even close. Bands like The Jigsaw Murders, The Cold Draw, Rufus Coates & The Blackened Trees, Run From The Cure, Val Normal, She's A Beauty … the list goes on. Every one of these bands here could kick the faces off anything I could remember seeing at my local music and booze parlours.
First festival experience?
Reading Festival 04′. It was awesome… I think. I drank a lot that weekend.
First favourite film soundtrack?

The first would have been the Forrest Gump soundtrack. There's no second favourite – it doesn't get much better than that.
First band t-shirt/jumper?

The first band tee I ever owned was for my band when I was sixteen or seventeen called Absent. The shirt looked totally awful. Other than that I haven't ever owned a band t-shirt. In fact the only one I do own, I made myself for a band called 'Run From The Cure'.
First song to make you cry?

Without a doubt it has to be R Kelly's Trapped in the Closet series. A heartbreaking tear-jerking series of gut-wrenching songs designed specifically to show you just how bad things can get.
First time you knew you wanted to make music?
I was about five or six years old and my dad had a Commadore 64 with a cardboard keyboard thing to go on the keys. That was the first time I ever made a musical noise, even though it was pure garbage being hammered out by a six-year old. From there I went on to learn how to program music on my new Commadore Amiga (special high five to all you C64 and Amiga lovers out there) and I've been making music ever since.
First instrument you learnt to play?
The first of the instrument that I learned to play was keys. My first instrument was one of those tiny cheap catalogue Casio keyboards with tiny keys and a demo button that plays 'Wake Me Up Before You Go-Go'. This was bought for me so that my dad could regain the use of the aforementioned C64, which I had become quite attached to . Today, I still play keys, but nowadays I use 'big boys' keyboards just like all the other big boys.
First riff/song/piece you leant from start to finish?

'Wake Me Up Before You Go-Go' – the demo button on the tiny cheap catalogue Casio keyboard with tiny keys that plays  'Wake Me Up Before You Go-Go'.
First original song you wrote?
Not sure I can answer this one, other than the childish atonal sonic mashup I created on the C64 in a delirium of dribbling uselessness as a child. Does that count? Does a random swipe of aimless key hammerings count?
First gig or performance of your own?
My first ever 'real' performance was at secondary school in front of the whole year. I wasn't a talkative person at all at school, which is why I think my performance as Keith Flint from The Prodigy went down so well. It was a talent show and me and two of my friends (I say two 'of' my friends… I only had two friends) danced around like lobotomised gimps to Prodigy's 'Breathe' for the full length of the song.
You asked!


First musical hero/idol you ever met?
John Petrucci – Dream Theater. At a guitarist clinic at a London music shop
First music magazine you ever bought?

Playstation Magazine. I never really got into buying music mags really, where there was money to be spent on magazines it would go on gamer's mags. That's where its at. You all know this makes sense.
'First Of The Gang To Die' by Morrissey – great song,Right?
OK! OK! IT WAS A BRITNEY SPEARS CONCERT, BUT MY MATE BOUGHT ME A TICKET TO GO WITH HIM BECAUSE NO-ONE ELSE WOULD DO IT! I was just being a good friend… DON'T JUDGE ME!
Ahead of playing this year's Sunflowerfest (taking place from August 22-25), The Radioactive Grandma play the following dates in May:
May 8 – Boyles, Slane
May 11 – Roisin Dubh, Galway
May 15 – McKennas, Monaghan
May 17 Lynchs Motor Bar, Trim
May 21 – Crane Lane, Cork
May 24 – Kavanaghs, Portloaise
May 25 – Life Festival, Mullingar