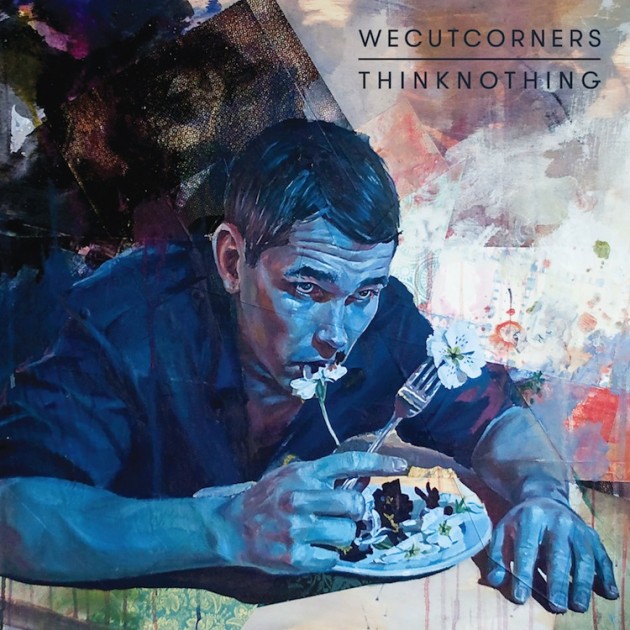 We Cut Corners debut, Today I Realised I Can Go Home Backwards, was one of the great under-heralded Irish debuts. At just thirty two minutes, it flits almost flippantly between heart-on-sleeve confessional pop melodies full of wonderfully oblique imagery in 'Go Easy' and 'A Pirate's Life', and the White Stripes-inspired tuneful thrashings of 'The Leopard' and 'Say Yes To Everything'. The album's charm fell in its balance: its thoughtful, oblique lyrics, soaring vocals and ability to be scorchingly angry and pointedly self deprecating in the same three minute period. It sounds like it would take four people to play, yet the duo reproduce it perfectly live. In fact, the sheer quality of the We Cut Corners debut makes follow up Think Nothing something of a pressure album.
They key components here borrow from the same recipe, albeit a version condensed into a more consistent form. Conall Ó Breacháin continues his unlikely fusion of drummer/lead vocalist with the same balance of delicate falsetto musings and vociferous power. John Duignan's oral input and nuanced guitar still delivers a pulsing backdrop, too, though Think Nothing has kissed goodbye to the debut's humour in the most part, serving up a platter of anger and subtle social commentary in its place.
'Wallflowers' is a charmingly plodding intro, a borderline orchestral minor key anthem that acts as an intro in hinting at the album's developing weight. The shadowy imagery of 'Blue' introduces those bitter angles, painting a picture of desolation in lines like "I'm not a loner, I'm just alone", before single 'Best Friends' punks up the atmosphere with a screeching vocal duet and punchy chorus. It's down the rabbit hole stuff, blessed with earworm melodies that dominate the lyrics for just long enough to allow those dingy plot lines to work their way in. And they cut, both personal and critical; poetic and abrupt.
Admittedly, the immediacy of the debut isn't quite here. While 'Dumb Blonde' and 'A Pirate's Life' endowed early We Cut Corners with an easy, witty intelligence, they've twisted into a band based slightly less heavily on Ó Breacháin's high-pitched headline grabbing vocal. Instead loud and quiet butt up against each other; darkness and light flicker through the lyrics and the album clings to a gravity that begs to be understood, but doesn't want to give away its depths too easily. 'Maybe In The Future', for example, seems to owe a debt to the minor key explorations of Villagers' Becoming A Jackal and oozes possible meanings.
'This In Then' and 'YKK' – both of which have graced the band's live set up for a couple of years – are more straight forward, ramping up The White Stripes edge, a nice bridge between the albums that packs enough punch to require a bounce or two live. Elsewhere we find abrupt tempo changes, heartfelt outpourings of sentiment and at times a gentle pace that belies the quickfire nature of a second album that could (at a push) fuse right into the first.
Sure, closer 'Hunger' appears a bit of a plodding afterthought and nothing here stands out quite the way 'Go Easy' did last time out, but this is one of those times when to criticise it to nit-pick: Think Nothing is everything we'd hoped for and more. There are few acts of this ability still plying their trade as comparatively under the radar as We Cut Corners have been over the past few years. At twenty-seven sharp minutes, this still manages to be poetry blended into smartly written melodies, and backed up with an enviably dead-on vocal that only confirms what early efforts suggested: they'd be good if only for the lyrics, but We Cut Corners are about so much more. James Hendicott