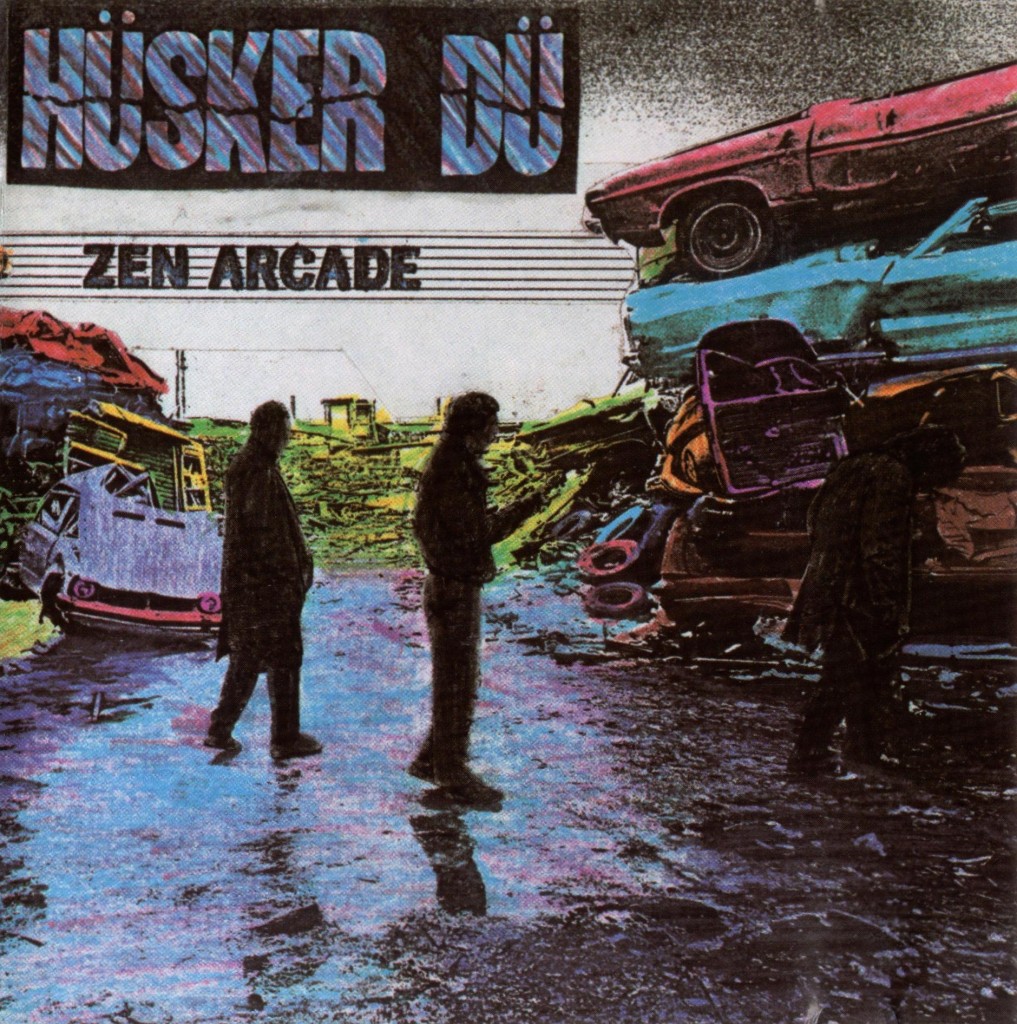 From the moment you press play, you know that you're in for something special. Those drums, militaristic and intensely precise, ushers you into this false sense of rigidity and form. Then that bass comes in with its thick tone and fuzzy edges, blurring the sound and removing focus while never losing time. We have a second to breathe and adapt before that guitar comes in. Phasered and distorted to all hell with a piercing shrill undertone, its presence is pushing this carefully constructed structure to brink collapse. This wall of sound is finally scaled by an almost nonsensical barking vocal that seems to be screaming something about alienation and rage with the vehemence of a YouTube atheist. It is at this point that everything becomes clear; underneath this unrelenting blast of chaotic noise that rigid, military drum still beats on and on, chaining this behemoth down. In spite of its fiery introduction, this creature obeys the same laws as every other punk song. Except it's not every other punk song. This is 'Something I Learned Today'. This is Hüsker Dü. This is Zen Arcade. This is punk at its peak.


Hüsker Dü were an American hardcore band which existed from 1979 to 1987. A three piece made up of guitarist/vocalist Bob Mould, drummer/vocalist Grant Hart and bassist Greg Norton, with Hart and Mould splitting the songwriting in a Lennon/McCartney sort of manner. Known for their aggressive live shows and incredibly fast playing speed the band developed a reputation for being one of the fiercest hardcore groups going. However, in spite of this reputation, the band did have a softer side. Littered throughout their first release, the gut punch of an album that is Everything Falls Apart, are hints of melody and vulnerability. In 1983 the group released their Metal Circus EP for legendary underground label SST. It's on this EP that these softer moments were given more time to breathe and the release has earned its own reputation thanks to songs such as 'Real World', 'It's Not Funny Anymore' and the classic 'Diane'. Mould and Hart's relationship was never all that healthy and both seemed to try and one up each other in terms of songwriting. Both being incredibly formidable songwriters, this led to much of the fuel which drives Zen Arcade. In 1983, the band entered the studio with SST's primary producer, Spot, to record their second album. Recorded in a forty-hour blitzkreig and made up almost entirely of first takes, Zen Arcade was released to an unsuspecting public in July of 1984.


Often cited as punk's first rock opera, in spite of the existence of Sham 69's That's Life, Zen Arcade arguably owes its largest thematic debt to The Who's Quadrophenia. Both share the story of a young isolated male drenched in alienation with a troubled home life who upon leaving home experiences his first taste of love and other drugs. The stories do ultimately deviate in their climax. While Quadrophenia concludes with the absolutely showstopping celebration of life that is 'Love Reign O'er Me', Zen Arcade opts for the more nihilistic and cerebral route. It opts to conclude with the band's most challenging song, the fourteen minute jazz inspired instrumental, 'Dreams Reoccurring', a nightmarish romp that makes Lou Reed's Metal Machine Music sound like 'Eight Days A Week' and implies that our central character has ultimate lost his mind. It's an ambitious and incredibly difficult song that acts as a microcosm for what this album ultimately represents.
By 1984, the year of the album's release, hardcore punk's steadfast refusal to adapt or grow up had forced the genre to begin eating itself. There has been a lot written about this era but in a grossly oversimplified nutshell, any song longer than two minutes was prog and should be ignored, any solo was basically treated as 'Free Bird' as should be ignored and any real attempt at introducing melody was considered to be selling out and, you guessed it, should be ignored. Zen Arcade acts a giant middle finger to that mindset, offering up its own brand of rebellion based on the idea that circumventing expectations is much more potent than stabbing metal through your nose and saying fuck a lot, although it does help. Musically, this idea runs throughout the entire record. It's a hardcore punk double album that runs over seventy minutes and features two instrumental piano ballads, acoustic folk, psychedelic and even pop songs. None of this would matter if the songs were rubbish though, thankfully they're not. In fact, they're the exact opposite.


The piano ballads are ethereal, beautiful and haunting, particularly 'Monday Will Never Be The Same'. Grant Hart's 'Never Talking to You Again' is a sweet bile-driven track which Dave Grohl has tried and failed to make his own and Bob Mould's 'The Tooth Fairy and the Princess' may be one of the most unnerving rock songs ever written. While the experiments do work, when the band needs to be a four to the floor punk band they do so in an unparalleled manner. 'The Biggest Lie', 'Pride' and 'Broken Home, Broken Heart' are unstoppable forces that just beat you into submission. There are twenty-three tracks here and the band absolutely kill on every single one of them. With so many fantastic songs, it is really hard to say where the album truly shines. In this writer's opinion it is the one-two punch or 'Whatever' and 'Turn on the News' that take that honour as both showcase the emotion and intensity that make Hüsker Dü so important. The whole album is an inspiring feat to behold and it is very clear why this album has become as influential as it has.
Now, it would be easy to point to the entire 90s alternative rock scene and say "basically that" when talking about the influence Zen Arcade, but I'll go in a bit deeper. There is an often said Brian Eno quote about everyone who bought a Velvet Underground record started their own band, the same honour can be applied to the likes of Hüsker Dü. You can immediately point to the likes of Green Day, Nirvana, Weezer, Foo Fighters and Therapy? and hear their spirits clearly. The Pixies found bassist Kim Deal based on an advert which asked for a bassist who liked Peter, Paul and Mary and Husker Du. They're a band who, like Miles Davis before them, influenced people's influences.


When it was released in 1984, Zen Arcade was a critical smash and was one of SST's best selling LPs. Unfortunately, due to SST underestimating the demand for the album and not pressing enough copies, the album didn't sell as well as it could have and the band was forced to remain in the underground. Over the next three years they would release four more LPs. In 1985, they released the equally good New Day Rising along with the brilliant Flip Your Wig. Both of these albums move away from the hardcore side of the band and explored a more melodic sound which we would now call alternative rock. In 1986, they were one of the first hardcore groups to sign to a major label and they released the painfully average Candy Apple Grey. By this point, the relationship between Mould and Hart had almost entirely disintegrated and the group would only release one more album, 1987's Warehouse: Songs and Stories, before calling it a day.
Mould and Hart have spent the last twenty years releasing solo albums and group projects to varying degrees of success but with a relatively consistent level of quality. However, everything the duo do will always pale in comparison to Zen Arcade. It's a special album that in many ways may never be bested. While the Quadrophenia comparison is fair, I prefer to think of this album as being closer to Revolver; ambitious, advantageous and really showcases what can be achieved when conventional wisdom is shunned. Within its seventy minute run time there is something magical, which if you've never heard before you're doing yourself a disservice. Get it, turn it on and play it as it was intended to be played: fucking loud. Will Murphy