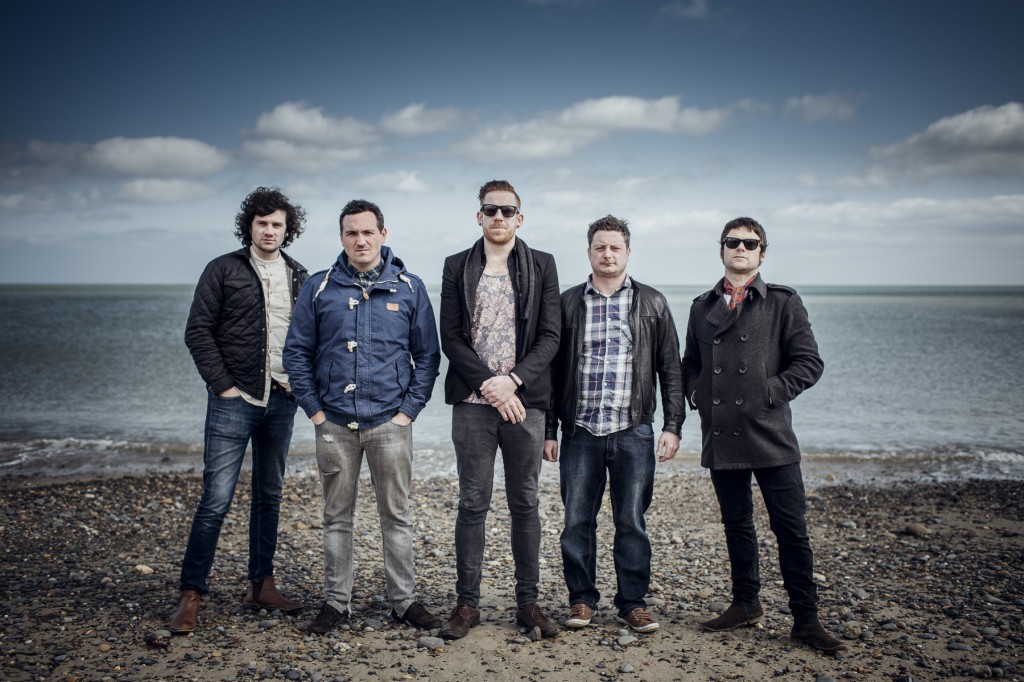 Featuring original photography by Alessio Michelini, we catch up with Wicklow indie rock five-piece Big September to talk about the recording and release of their debut album, the escapism inherent in their music and the band's ahwe abundance of self-confidence looking towards the next few months.
Hi guys. You released your debut album a month ago to a great response. How does it feel having it out there?
It feels amazing. We had such a laugh making it and it makes it so much better that it did so well. We're really thankful to everyone who bought it – it means so much to us. It's brilliant being able to hold something like that in your hand especially because we're so proud of it. Also having an album to sell after gigs is really good for getting our music heard and makes the gigs a little more worthwhile.
As your first full-length, how well do you think it captures how Big September have progressed since you formed?
The album is literally a progression as we wrote it and recorded it simultaneously. We originally went into the studio with the intention of doing an EP, but the songs were being recorded so well and we were getting along so well with Ger McDonell that we decided it would be a shame not to continue. So after the first session we went back home and wrote, gigged and saved up enough money for a second session and recorded a few more tracks. We did that until we had the album finished. We've all improved since the first recordings as players, songwriters, singers etc. – even Kingston, our roadie who made a documentary of the whole thing, has learned so much from the experience and it shows on part three of that documentary.


In terms of writing the material and constructing it as a unit, how much creedence and importance do you place on the craft of each single song?
We think its really important! The way we write is simple enough, usually Naylor comes up to practice with  a tune, we all learn how to play it, then we all try to improve whats already there with bridges, vocal harmonies, guitar parts and drums. Sometimes it takes ages and sometimes it takes a bit longer. 'Paper Love' is an example of one that took ages and 'The Preacher' is an example of instant chemistry.
As was only expected, it's quite a joyous, upbeat release. What bands or artists do you think can be heard throughout the album?
A lot. We're a mixed bag of tastes to be honest. But from my point of view I can hear bits of Blur, Oasis, Eric Clapton, Neil Young, Bruce Springsteen. The list is endless! But to be honest we didn't write any of the songs to sound like any of these artists. I think if you start trying to write the next 'Wonderwall', 'Layla' or 'Sex on Fire' you've already failed. Music should be honest and from the heart and that's what we think our album is.
What sort of themes and ideas run through the breadth of the album? And was there a conscious decision to have stories tying in from one track to another?
There is a lot of escapism in our tunes. We really want people to listen to them and go through a journey and forget about their lives for a few moments. We want to lift people's spirits and get them singing along, tapping their feet or going absolutely buck wild at a gig! There wasn't a conscious decision to have the songs interlinked lyrically – it's just what came out during those months. Naylor was going through a real purple patch and the tunes were just pouring out. Maybe because they were written around the same time they might have some similarities but that's as far as it goes.
As a Wicklow band, how healthy do you think the scene is in the country at the minute, and which acts do you rate to go far?

The scene is brilliant at the moment. If we were to tip any band for success in the near future it would be Columbia Mills. They have a great sound! I'd love to be in their position with a debut album to come out, its exciting times for them, we've heard the album and its absolutely amazing so look out for them. Other than that, The Hot Sprockets, Raglans, Ham Sandwich and Tupelo are all bands we like to watch.
You've established a very strong fanbase in Dublin over the last while. How you have you found getting your music out to new ears beyond Wicklow and the Pale?
We have a great core following – honestly, the best fans! They knew every single word to the tunes at our launch party, which was unbelievable. Getting your music out there is the fun part, travelling around the country in a van with your mates and playing music and partying after the gig is great craic. The internet has a big part to play but you can really connect with people by playing live for them in a way that the internet just can't match so we try get around as much as possible.
In terms of ambitions for the band are confident of achieving international success – following in the footsteps of the likes of Kodaline and, increasingly, Hozier – or are you more content to work hard in the long haul, "waiting to see what happens"?

Of course, we're extremely confident in our ability and we don't get intimidated very easily. Confidence and determination is something you need in this industry. Anyone who works in the music industry will tell you that it's more setbacks than steps forward! We won't be content with just doing the rounds for years – we're aiming high. We're paying our dues at the moment and have been for a good while but its all part of the journey and we're moving in the right direction. It's only a matter of time for us – everything else is sorted.
Finally looking towards the remainder of 2014, what can we expect from you guys in terms of promoting the album, in Ireland and/or beyond?
Festivals and more festivals! We're doing the festival circuit this summer and releasing another single in July hopefully. You can catch us at Craic in the Brack, Cabin Fever, Groove Festival, Bray Summerfest and Indiependence.