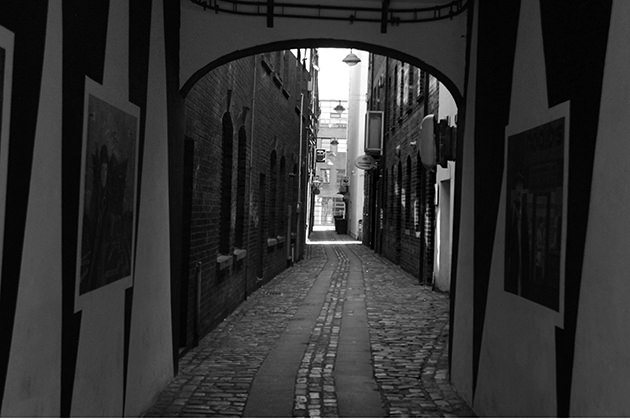 Photo by Nicholas McCloskey
Ask anyone in Belfast: the Cathedral Quarter is the artistic home of Belfast where culture parties and never rests. The energy of the area is contagious judging by the thousands that walk the cobbled streets every week, viewing the murals featuring iconic figures of Northern Ireland or just sampling the buzz. Its approach to art is diverse, giving a platform for various art forms as well as music that maybe aren't as accessible to the masses including spoken word, dance and visual art forms. This acceptance of the arts is so influential that it even has its own arts festival.
The Cathedral Quarter Arts Festival began in May 2000 with a respectable audience of 5,000.  Fifteen years later, the festival is still going strong reaching out to 60,000 with over 100 events. What perhaps gives it the edge is how it focuses on young and less traditional acts from all around the world appealing to all fan bases. Shows are often held in unorthodox but accessible venues within the Cathedral Quarter giving the area it's chance to shine. Last year, the festival played host to some of the biggest acts in the art world such as De La Soul, Simon Amstell and The Rubberbandits.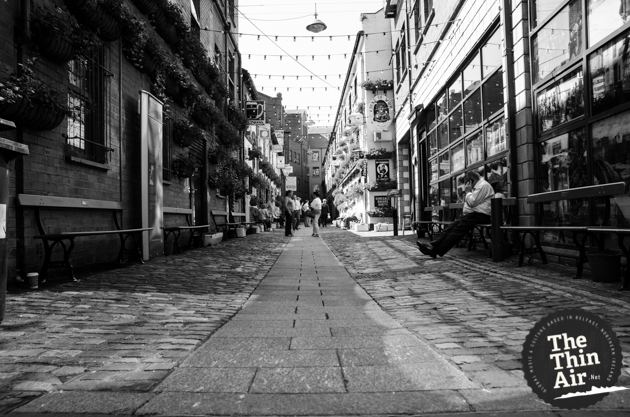 Cobbled street outside the Duke of York. Photo by Sam Stronge.
Branching out from CQAF, the Out To Lunch Festival, launched in 2006 is designed to encourage the public to view art during January. A time where the cold naturally holds us in, the festival offers a hot meal during performances. What other festival combines the two?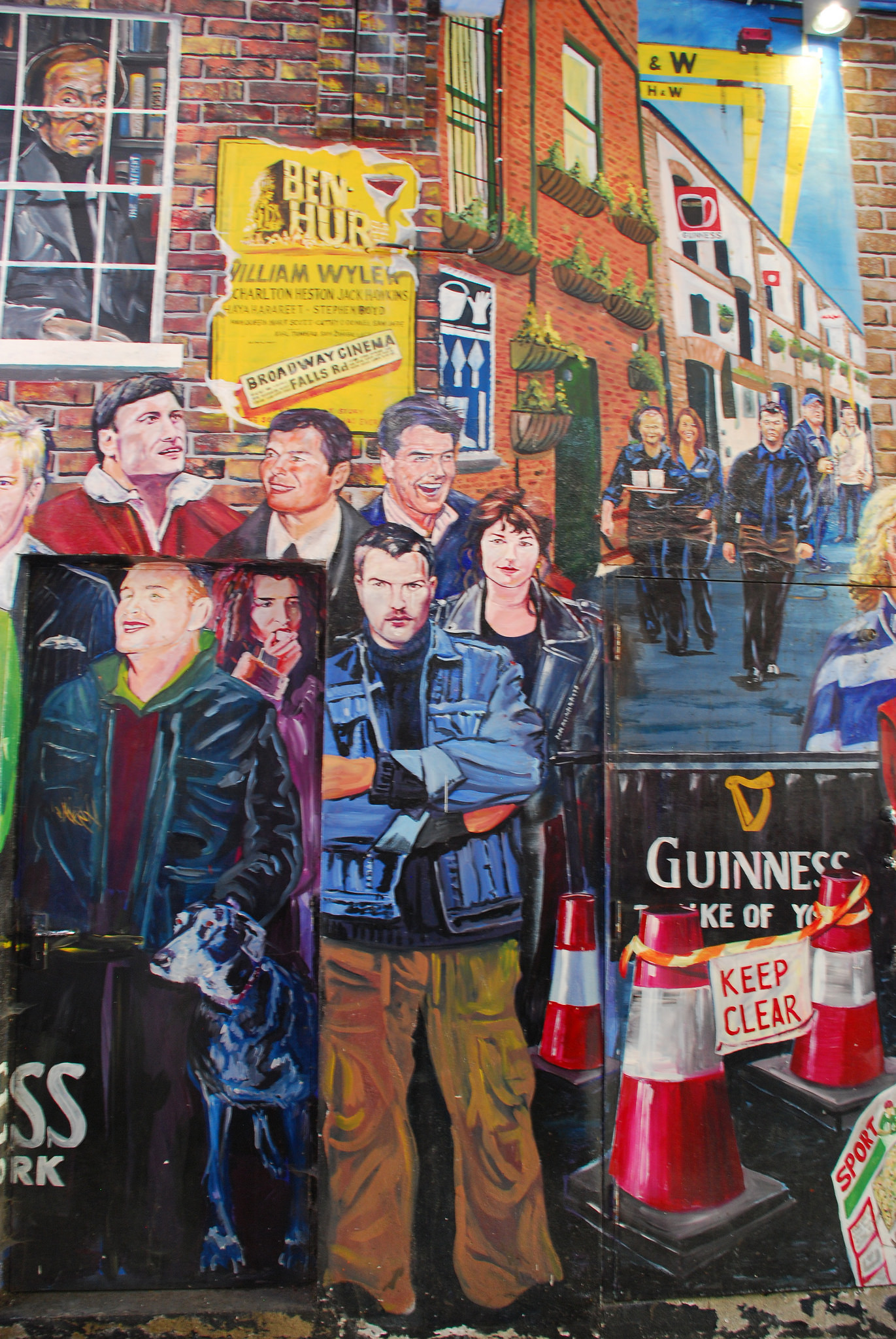 One the Cathedral Quarter's many murals. Photo by Sam Stronge
The Quarter holds some of Belfast's best kept secrets; Belfast Exposed was the city's first dedicated photographic gallery founded in 1983 by local photographers with an aim of challenging the negative representation in the media of conflict. Since then, the gallery has made a significant impact on Belfast's art scene. Speaking to Jill of Belfast Exposed, she says: "It's a great resource for photographers. I've just finished a course in photography so it's really good for me to have a place I can still come to after education. There's a lot of good exhibitions on."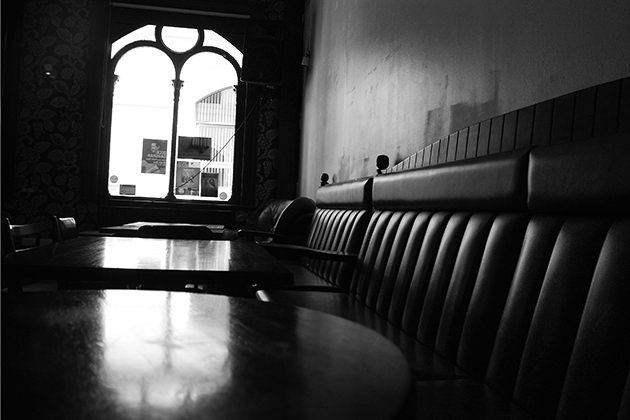 The Green Room at Black Box. Photo by Nicholas McCloskey
The Black Box is another of the many homes of the arts in Belfast. The historic venue is a grade II listed building constructed in 1850 and was converted into a venue in 2006. It's played a huge part in opening it's doors to acts that wouldn't usually have a chance to perform in Belfast and Sara, who works in the Black Box, believes the variety of shows adds to it's appeal: "The Black Box has been really good for bringing in unusual, different events to Northern Ireland. We do a lot of comedy here and album launches. What I like about the Black Box is that it's very good for local upcoming musicians and artists."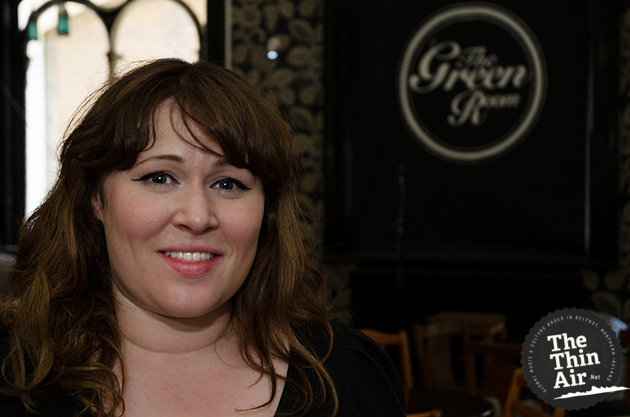 Sara Morrison, Black Box. Photo by Sam Stronge
As well as playing the role of entertainer, the Black Box helps the wider Belfast community through outreach projects: "There's two main outreach projects we do: Black Moon disco which is for adults of any age to come along and have a night out. It's really good craic and is aimed at adults with learning disabilities. You can come in, have a drink and not feel you are being patronised."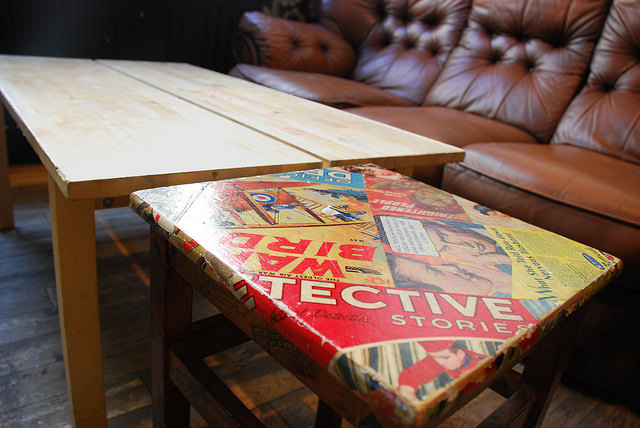 The Green Room at Black Box. Photo by Nicholas McCloskey.
Even the most obscure of performance art is catered for in the Cathedral Quarter. Established in 1985, the Belfast Community Circus School has been instrumental in providing equal opportunities to perform for people from all walks of life. It's known for its annual Festival of Fools which runs every bank holiday in May livening up the streets of Belfast with free street theatre. "We have performers coming in from all over the world performing and people coming specifically to see the festival from all over Northern Ireland. It's had a huge impact on culture."

Oh Yeah Centre reception. Photo by Nicholas McCloskey
Helping the ever expanding local music scene, the Oh Yeah Music Centre is where many Belfast-based musicians begin their careers. A former whiskey warehouse, the centre was launched in 2007 and provides rehearsal rooms, a recording studio and an exhibition which Charlotte Dryden, Creative Development Manager, believes adds something special to Belfast: "We have definitely made an impact in terms of showcasing our musical heritage and the past, present and future of music. We have an exhibition which is unique in that it's about music in Northern Ireland here in the heart of the Cathedral Quarter." Oh Yeah is a registered charity and provides outreach projects for all ages through Volume Control and the Over The Hill Collective.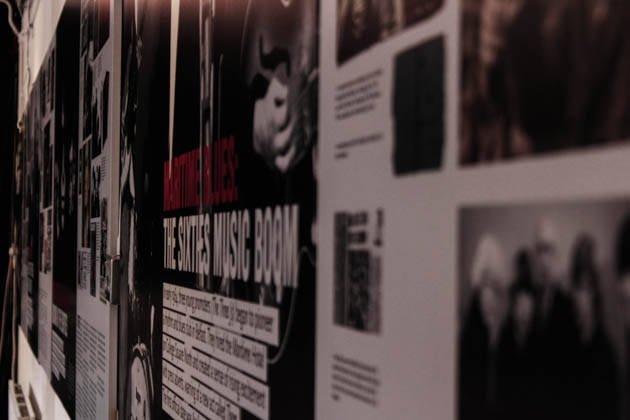 Photo by Sam Stronge
The Cathedral Quarter has been transformed from being a no-go area during the Troubles to the vibrant area it is today. With arts venues, new bars and restaurants more people have experienced the atmosphere and will continue to come back for more. Michelle Harris
Michelle Harris. Photo by Sam Stronge.