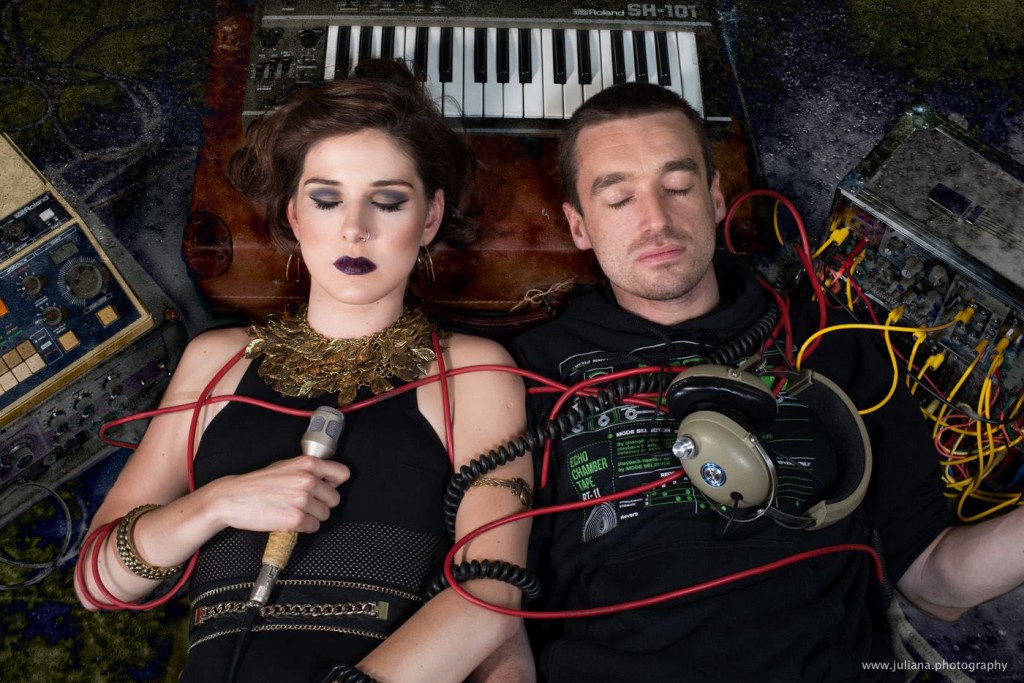 Having signed to Belfast-based imprint Champion Sound just last week, Dublin electronic duo Conan Wynne and Anna Doran AKA Contour have hit the ground running since forming in November last year. With the release of their glitchy debut EP, Chaos Theories, we talks to Conan about the formation of Contour, the direction of the project and the current state of Irish electronic music.
Hey Conan. Can you give us some background on Contour and how yourself and Anna met?
I met Anna while teaching a production course with Realsound Dublin. She was looking to put a mix together using Ableton and had some really good tracks and we had a great chat about music and out of that i sent her some music and she sent me back some vocal stems which I arranged around a new track I was making which became 'Change Your Ways'. Anna has an amazing way with harmonies and the track worked so well we decided we had to make more and a whole load of material has been produced since then, including our debut E.P. Chaos Theories.
You describe the EP as being "made with the juxtaposition of the use of hardware analogue machines like old synthesizers and tape, alongside modern digital production and editing processes which give the tracks their edge" Can you give some detail on this?
I like to use a lot of different processes when making tracks, sometimes I will go to my old analogue machines which are great as they have the lovely tactile interaction which makes it easy to create a sound on the fly and get that nice warmth and a bit of wonk which I love from the old machines. Other times when I want a sharp crisp digital sound I will go for a software or digital synth depending on what style I am going for in a track, but most of the time I will use both, sometimes processing the digital stuff through a tape machine or the analogue stuff with digital plug-ins, and refine to what suits the song. I love working with hardware, I get lost for hours messing with it.

Conan, you have a background in art. How does it inform how you create music?
I did a degree in sculpture in NCAD and that thought me to think in a kind of abstract way, this fed into my music. I also started doing sound installations and using found sounds which made me think of texture in music a lot more. Composition in music and art is something i see as closely linked, there are processes that work well in both. I like to use natural geometry in my work and let the forces of chaos in nature lead my way!
You've worked closely with Chris Lynch for your music videos. Can you describe the process?
Chris has made all the videos for our upcoming EP and is a serious talent he has a great eve for a shot and a great imagination. He is also mad for the glitches and loves a bit of messing with hardware to get an unusual result – a man after my own heart.


Were yourself and Anna involved in other bands previously? How does Contour differ?
I was in Skuzzi Port and Anna was in Cold Comfort but with Contour we are able to focus our energy more clearly into the project.
Describe the emerging Irish electronic scene at the moment; how Contour fit in, any bands worth checking out etc.
The Irish electronic scene has always been strong with creators but I think its hard to get exposure. There are amazing artists like Boxcutter and Lakker who are getting recognised internationally but the whole country is full of amazing electronic musicians and like us they are all putting their heart and soul into it! Ireland is a good place to be for electronic music at the moment I just wish the licencing laws with club times would be adjusted to help the scene rather than hinder it as they are currently.
You've mentioned how you are working with Belfast based label Champion Sound?
Yes, Champion Sound are a lovely bunch who are going to put out our first EP Chaos Theories on their label. I am very excited to be working with them, great stuff going on there and we are happy to be on board.
Who are your biggest influences and why?
I'm influenced by everything! I suppose my really early influences that drove my style would have been early Prodigy and Radiohead, then got into the Warp end of things like AFX and Squarepusher then space rock like the Mars Volta and I have always had a mad love for grimey Jungle and breaks in general but I listen to and love a lot of music, currently loving the wonky electronica of Dattasette but tomorrow I may be listening to the Small Faces or some 'ol blues stuff – depends on my mood.
If you could collaborate with any artist on an upcoming release who would it be?
Tough one but I reckon Thom Yorke … maybe Prince? Nile Rodgers would get ya a hit for sure! There is loads of people I would love to work with. I love collaborating – gimme a shout, Thom!
You're set to release your Chaos Theories in August. Any plans for other releases this year?
We are going to get stuck into some serious music making after this EP comes out and our next gig is going to be at the Electric Picnic. Champion Sound are taking over a stage in the Body and Soul area on the Saturday night and we will be playing on that at half ten come find us there!
Follow Contour on Facebook, Soundcloud and Twitter. Get Chaos Theories via Amazon here.