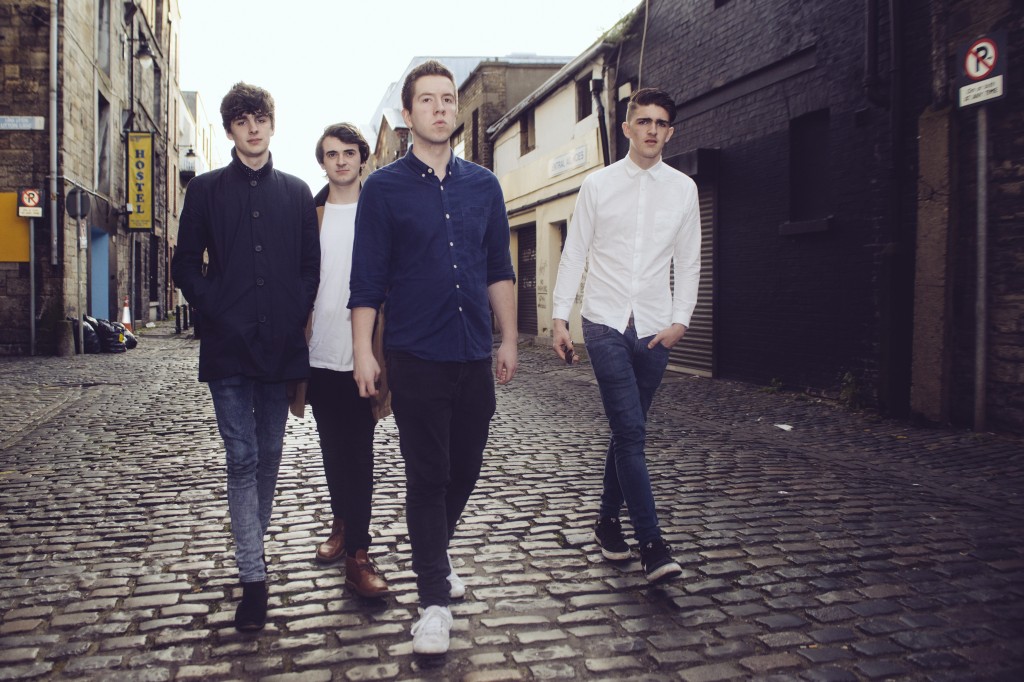 Currently in the studio recording their debut EP, Derry four-piece The Clameens have made a strong impression at home and further afield over the last twelve months, not least for the infectious pop-rock of singles 'Don't Judge' and 'Follow'. In the latest installment of Inbound, we talk to the band's frontman, Sean Breslin, about their formation in the Creggan area of Derry, abiding to a very particular songwriting mantra and the band's stance on living for the moment, whilst striving towards the future.
Hi Sean. You've had quite busy last few months playing shows and getting your music out there to new ears. How have you found things recently?
Yes, we have been pretty busy really for the last year and this year has been more busy behind the scenes. We've found things really exciting musically and personally. We have done a lot of profiled industry gigs and a lot of people are now catching on to our music. A lot of people have been keeping keen attention on us sometimes we feel pressure but we want to be very smart on how we move and where we move it sort of keeps things fresh for us as band.
I think for us as a band we've always wanted to be busy and pushing our music to everybody who's willing to listen. We are constantly keeping ourselves writing when we are away from the road, it sort of keeps it fresh for us as a band.
Going back to your formation, how did things come about in terms of forming, finding your initial sound and calling yourselves the Clameens?
The Clameens formed in St Peter's school in Creggan in Derry, where we're all from. It's where the Undertones formed too. Myself (Sean), the shouter of the band and Hayden (drummer) were both in the same class. It was us who got the band going – we could barely play a note on our instruments. We would listen to old school tunes like The Clash and the Undertones and more modern bands from the Kings Of Leon, Arctic Monkeys and The Libertines and would try and cover their tunes but we were so bad we decided to just write our own noise.
Ethan, who is Hayden's younger brother and the baby of the band at just sixteen, had just joined first year of the school and he could play a few chords on guitar so we got a practice room above an old bar in the town where our parents would drink and we practiced there. Ryan who played in another band in town then joined and we just started to gel really well. Ryan is a rock behind our music with his bass playing. His style very unique and marries well with Hayden's rhythms, Ethan's style and my own style. Then we got Mark (Holden), our manager, who we had known; he loves our music, he loves us, he's our worst critique but our biggest champion. After the jigsaw came together things all started to fall into place. We all work very hard at what we do, and find that hard work pays off.
Funnily enough, our name comes from a street in Derry, Clonmeen Drive. Ethan could not say the name Clonmeen Drive but he kept calling it Clameen so the name stuck for the name of the band.


Whilst firmly rooted in indie/garage-pop bands like Arctic Monkeys and Kings of Leon, your music. What other influences have seeped into your sound over the last while?
We all have a very broad taste in music. We literally listen to everything a wide range of music that will open our minds. When we started, as I said, we could barley play our instruments but we just went in and wrote how we felt but now as we have matured and actually have crafted how to play our instruments. We feel more of an excitement around writing, lyrically more so because there's a lot of honesty to our new material, with tracks like 'Gay', which is about a close friend. We felt like we needed to write about honest subjects and felt like we needed to tell people about our stories. So influence-wise I think we've developed it more than just listening to music.
As many bands discover, it's always important to have something that makes your band stand out from others that may sound in some ways like you. What do you think it is for yourselves?
We try to identify each others personality in our music and make that work. With Ethan being the baby of the group he adds a real freshness to the sound, and myself Hayden and Ryan being all Nineties kids we like playing old-school stuff which in contrast to the fresh sound which Ethan plays fits well with his modern influence and our older influences. We want people to see that and appreciate it and hear it come through in our music. We think there needs to be substance to the music and you need break down walls and connect with people. I think that alone makes us stand out from the bunch.
You've got quite a sizable fanbase in Derry. What's it been like trying to move from beyond the confines of the city, and playing elsewhere across the country?
We try not to focus to much on that and focus more on the writing and let Mark deal with that he said from day one: "Get the music right and the rest will follow". That was said at the start and then we wrote 'Follow'. From the early days of when we started to play we never wanted to be known as a local band playing in the local pub every week. We had big dreams but if it wasn't for our great city who opened its arms to us it would never have giving us the feet to grow and mature. We started this with big dreams and believed in ourselves that we would move it beyond Derry and we have started to – we always get excited knowing we're going to be in the van traveling to play our music to new people in a new city. I think when we were told our first ever UK show was going to be The Great Escape, we got taken back by it because we read about it in magazines and seen bands play it and stuff, but even though we believe and have these dreams, it does become a bit surreal. Even a few weeks ago we played Ruby Sessions and they have this wall painted with acts that have played there over the years. I'ts amazing for four local lads from Creggan.


You've been lucky to play some pretty impressive line-ups and showcases this year and last. Do any stand out, in particular?
We have played so many great line-ups and showcases that all have been so amazing – there is no one better than the other. But the things beyond the performances like meeting great people, meeting new bands and  seeing crazy things – it's all apart of the journey. We just enjoy it because who knows what's ever going to happen? Nothing might ever happen so we all just live for the present.  That said, one highlight in particular was opening up for the Undertones, a band who have been a big influence in our lives – it was an honor to play to them in front of a packed audience. But there was so many: Great Escape, a BBC 6Music showcase, supporting Professor Green, Other Voices in Dingle. But they've all been great experiences.
Collectively, you're quite a young band. Do you think this had worked to your advantage or detriment in getting heard and booking shows?
Yeah, we are all young. Cynically its good for industry with a young band but age doesn't come in to play as our selling point for us. Again we all believe that if we have good enough music then the rest will follow. We have a mantra: "All killer, no filler" so we write tunes that are killers that a broad range of people will dance to and enjoy. Confidence and good music have no age, so just do your best on your music and the rest will follow.
Finally, what does the remainder of 2014 hold in store for you guys in terms of shows, recordings and releases?
Well, we are writing for an album. We have tunes floating about that we are working on and we are determined to place them and release them according to our plan. We're aiming to release around November – our the first EP. We have some pretty cool shows lined up for summer and some really good festivals, so we have a pretty few busy months ahead of us. Keep your eyes peeled.
Photo by Sean Conroy