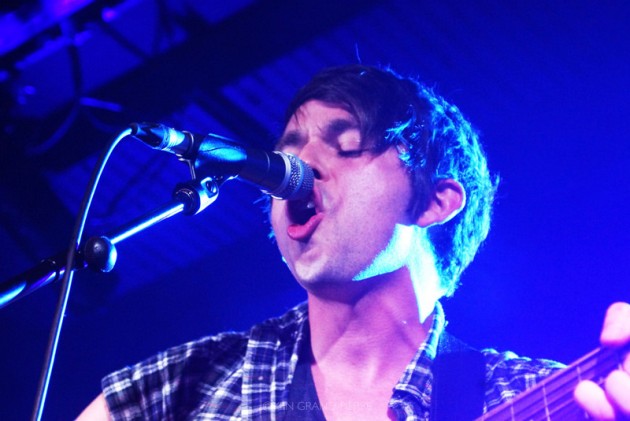 When a band with a firmly established sound and style decide to go on hiatus only to re-emerge under a different name and with a new creative direction, it's not just surprising – it is brave. There's not just the danger of potentially alienating their existing fan-base but the risk of their flirtations with experimentation failing miserably, leading to retreats with tails between legs.
It is with this thought in the back of our in mind that we approach the debut headline show of Oh Volcano, the highly anticipated new guise of ex-General Fiasco band members, Owen and Enda Strathern, in Voodoo, Belfast.
Aside from their supporting slots for the Malibu Shark Attack album launch, the band have remained thoroughly tight-lipped and mysterious about their new material. Rather than bombard us, they've chosen instead to tease us with the release of just two tracks (complete with beautifully edited videos directed by Edward F Butler) over a matter of months. From the release of their debut single, 'Oceans', it was evident that Oh Volcano would be a conscious and deliberate departure from the indie rock of General Fiasco and a full submersion into a more progressive, mature electronic sound.


By now, Owen and Enda Strathern are seasoned performers and on the Voodoo stage they deliver the sort of filler-free, straight-to-the-point set as you would expect of musicians with their experience. They clearly trust in the strength of their new material but nerves are evident; perhaps from uncertainty as to how this bold new direction will be received. In addition, minor technical issues temporarily interrupt the general flow of the show which momentarily allow us to see that their new arrangement is still something to which the band must still fully adapt.
By drip-feeding us with hints of their innovative chosen course over the last few months, this has only served to leave us, in equal parts, excited to see if the rest of their tracks were as strong and also intrigued to see if their new style could translate and be sustained across a live setting. Thankfully they do not disappoint. Oh Volcano manage to move smoothly from melancholic electro-rock to joyous melodies which are catchy enough to dance to. On more than one occasion we wish that we could stop them and politely ask them to play a song again. The resultant songs reveal an inventive and personal effort without straying so far as to be considered self-indulgent.
Debut single, 'Oceans' is an atmospheric, synth-heavy tune that is almost impossible to resist singing along to. The set-list is saturated with incredibly sharp, ethereal and exciting songs punctured by Owen Strathern's distinctive vocals. Second single, 'See No Evil', which was released a matter of days prior to their Voodoo show, is nothing short of hypnotic with a repetitive haunting chorus that immediately draws you in. It makes you wonder just how long the band have been busting to experiment with this tone and style of electronic sound and you become curious as to what else they could be patiently keeping back from us. This is a band who will no doubt grow more comfortable and confident in their new skin with every performance.
It's an enjoyable and engrossing set which marks a welcome return to music for the Strathern brothers who have been missed since putting General Fiasco 'on hold' in early 2013. Oh Volcano burst at the seams with potential and promise. This may not have been the post-General Fiasco route most were expecting them to take, however gambling with this inventive new sound is a risk that seems like it could pay off. Laura Carland