Live Reviews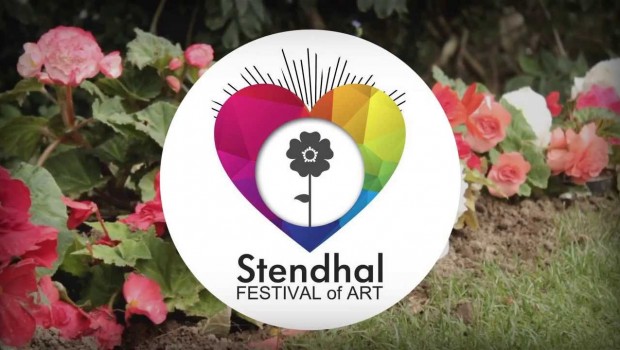 Published on August 10th, 2014 | by Brian Coney
0
Stendhal Festival of Art 2014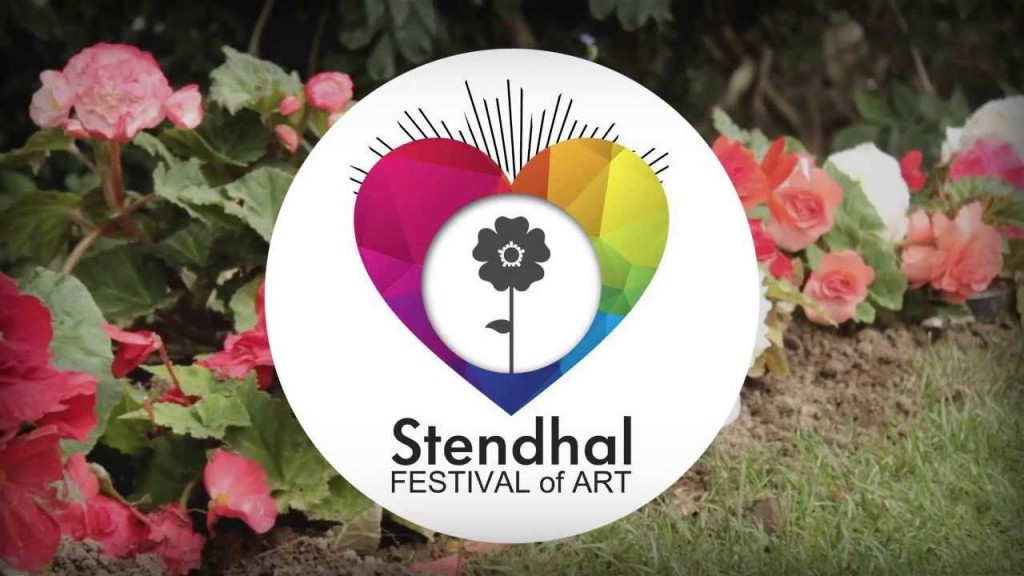 Make no bones about it: the Glasgowbury-shaped hole in the Northern Irish summer festival calendar is indeed a sizable one. But as is equally apparent to those of us in eager search of its successor, it's all very much a case of one door closes, another door opens. Teetering right on the precipice of ascending to the enviable rank of Northern Ireland's singular unmissable two-day music and arts festival, Stendhal Festival of Art, with its glorious rural expanse and wonderfully kaleidoscopic eclecticism, is set to do just that this weekend. Here's how things went down.
Held on the barley-bordered fields of Ballymully Farm – a heart-skippingly scenic hideaway on the outskirts of Limavady – Stendhal prides itself as much on its intimate setting as it does its family-friendly atmosphere. Idiosyncratic and inviting in equal measure, hidden corners of enchantment, devoid of affectation, hem two large areas of stages, stalls and art; no creative stone is left unturned, and the whole thing feels instantly cosy, cohesive and more than a little life-affirming. Kids in wellies and merry, mud-clad revellers totter by as the buoyant rhythms of a samba band soundtrack the grassy thoroughfare.
Friday
Serving as a precursor of sorts to Saturday's full-day schedule, Friday night boasts a very tidy introductory line-up. Whether you look to the meditative folk musings of Stevie Scullion and co. AKA Malojian or the impassioned thrash abolitions of Bakken – ricocheting down the scarecrow-lined lane as your writer makes his non-too-nimble arrival – it's a genre-spanning, midnight-marauding melange of music, film and pocketed happening. One highlight is the altogether inimitable Bronagh Gallagher, whose Main Stage set just after ten effortlessly thrills. Largely comprised of new material, the likes of 'Keep On Searching' feel immediately familiar, their ultra-infectious harmonic twists and turns, underlined by Gallagher's insatiable, soulful, commanding vocals, hit home. This new album could be a gamechanger.
Shortly afterwards, via a slumping, peopled hillside and a vast array of colourful alcoves, the dapper, almost insultingly gifted Tucan deliver a set of original material and some interesting, impressively-executed covers. With a suitably celebratory Streetwise Samba Band serving as a gyrating mass of approval up front, Donal Gunne excitably commands proceedings, charisma and flair bounding from every guitar lick and kick of the foot. Where new singles 'As It Was' and 'Riot Now' prove original peaks, covers and passing homages ranging from Kelly Charles' house classic 'You're No Good To Me' to Daft Punk's 'Da Funk' and 'Around The World' makes for an hour of gypsy-tinged, prog-informed flamenco folk (in spite of a few sound issues).
Bounding back up the hillside from the Air Stage, The Undertones are finishing up a breakneck set that sees the Main Stage tent transformed into a heaving mass of fist-clenched, generation-dissolving, sweat-soaked punk rock abandon. As with Bronagh Gallagher before them, the band are positively sprightly, two minute bursts of three-chorded exuberance and Paul McLoone's intent-drenched vocals reeling in the years, shunning the whims of needless nostalgia in the process. With McLoone pogoing around the stage, eyes blaring fervid zeal, the Derry band conclude their main set on the equally timeless 'Here Comes The Summer' and 'Jimmy Jimmy'. Ten minutes later, your writer is being towed out of the mud and the Undertones are blasting through a heady string of tracks for their encore. "Here, they're fifteen minutes over their curfew. Wait … they're playing 'Teenage Kicks' again – leave them to it." is heard over a walkie-talkie and – from some distance – shivers are sent straight down the spine. Still the intro of all intros.
Driving away from Ballymully farm, with a little help from a tractor and the festival's extraordinary assemblage of upstanding, ever-helpful volunteers, a real, all-too-rare sense of pride and perspective pays your writer a passing visit. Turning past the lane into the main road, flags line the derelict, mud-stained, moonlit road; billowing in the air, no eyes but those in passing to pay or care, vapid rectangles of fabric dancing in the wind. With the Undertones' stripped-back punk litanies ringing in the ear, and the backdrop of their initial stirrings reverberating in the back of the mind, cold manifestations of nationalism, tribalism and territorialism thaw into total nothingness, the flags fading to dots in the wing mirror. Music and fraternity, as if it was ever to be doubted, runs deeper than enmity. This road could be anywhere, the Undertones remain vital and Stendhal, in the space of two hours, brings this reality into sharp focus.
Saturday
A significantly busier, sun-kissed affair, Saturday begins with a flurry of acoustic-folk, Edwin Brooks and the Burning Glass and Conor Scott setting the scene on the Main Stage. A spiralling trail down into the woods reveals the perfectly cloistered Kid's Marquee, a growing assembly of wide-eyed children enjoying children's relaxation classes and a brilliantly-paced schedule of comedy, magic and everything in between. The Garden Shed Stage – located directly in the middle of nowhere, befitting its eccentric charm – proves a passing intrigue, literary and anecdotal performances granting some solitary, bookish reprieve. Humour entangles words, curious readings inveigle a small, smiling sit-in – and there isn't a care in the world.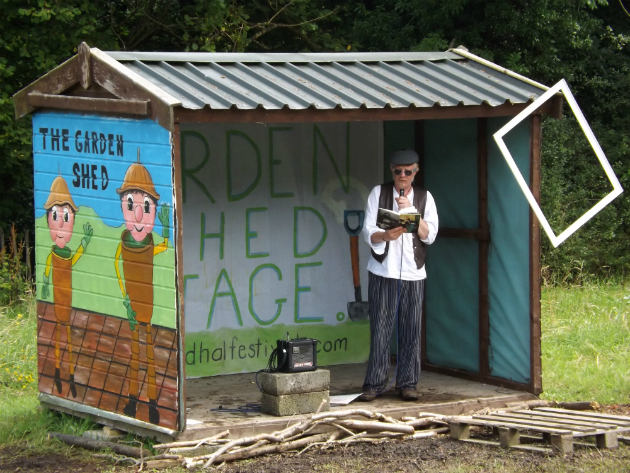 Back up at Main Stage, rock three-piece Troublesome Bucks deliver a strong, tight set. Thanks to a slew of a groove-laden riffs and well-rehearsed musicianship, their set banishes hangovers and cloudy heads with gusto. Down at the Air Stage, Belfast-based flamenco trio Los Dramaticos are encouraging all kinds of hip-shaking spontaneity with their feel-good brand of virtuoso Latin song. With the sun extending proud into the sky, you could close your eyes and feel transported to an Andalusian fair, such is the purity and skill of their guitar-work and ten-string charango playing. An enjoyable, contrasting interlude and then some. With the sprawling, sun-lit hillside speckled with beaming faces, stilt-walking and juggling lessons for kids, Saturday afternoon properly kicks into gear. Shortly afterwards, Derry trad-folk six-piece Ard Ri inspirit with their rallying tales, the occasional Gaelic repartee further instilling a strong sense of multi-cultural creative diversification, Spanish veering into Irish, Irish back into English and English with all kinds of everything, coherent, colourful, nonsensical, playful, meaningful and otherwise (and that's just in the Kid's Marquee).
Having established himself as one of the country's brightest young songwriters over the last six months, Conchúr White and his band AKA Silences meld sublime harmonies with a knack for straight-up, breezy alt-rock on the Main Stage just before four. Peaking on singles 'Santa Cruz' and 'There's a Wolf', the band feel very much like a unit – each playing their individual role in layering songs bursting with delicate passion and earworming sentiment. Immediately afterwards in Woodtown, just ahead of a full-band performance in the Main Stage tent, Aghagallon singer-songwriter Ciaran Lavery forges his exceptional acoustic folk reveries with some of the finest, crowd-pleasing banter you're ever likely to hear at a festival. Rather than recite any of his quips – you had to be there, frankly – it remains a fact: Lavery is very easily in the top three greatest songsmiths in the country, if not the most naturally-gifted Northern Irish voices of his generation. Shades donned, stood with an acoustic, he is an imposing and authoritative figure in the clandestine, arboreous alcove of Woodtown. With introspective folk masterstrokes 'Shame' and 'Left For America' seducing a sizable, engrossed audience, a spellbinding rendition of 'Into The Mystic' by Van Morrison seals the deal for a set that proves totally immersive and entrancing in equal proportion.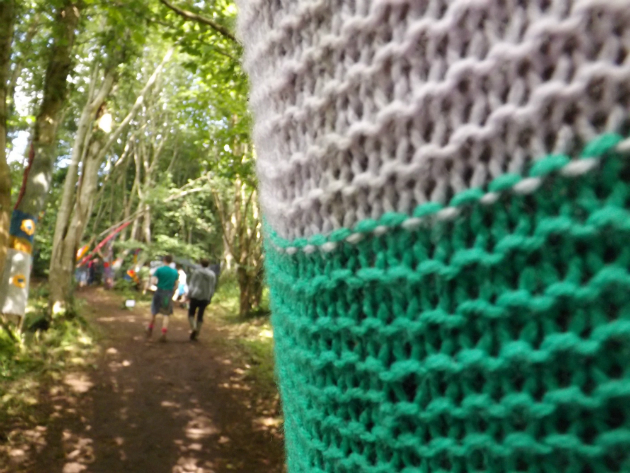 With the downright joyous Inishowen Gospel Choir finishing up on the Air Stage – comprehensively invigorating any lingering shyness or hesitation – Paddy Nash & The Happy Enchiladas maintain the jovial vibrations in their (at least regionally) famous way. Starting on the 'Laughter and Love', their set feels like a continuation of their performance at last year's Glasgowbury, their unconditionally upbeat craft coming at the perfect juncture in the afternoon. With a patchfork of carefree activity and goodwill fully settling in throughout the festival, claps erupt in the distance as children bellow excitement and a mud-clad couples trade smiles. "Stendhal, are you well?" Nash enquires. The answer is a firm and unwavering "yes".
A little later on, following a trip back to the car for the obligatory packed lunch, Exit Pursued By Bear fumble through an uncertain, unconvincing set in the Karma Valley Stage. Fortunately, though, Cavan songstress Lisa O'Neill is charming the psychic pants off the Main Stage, her casual tales about borders, red jumpers and more preceeding some of the finest songs played at any point during the entire festival. With the equally incredible 'Red Gheansaí' and 'No Train To Cavan', she silences a small crowd with her evocative and summoning song, every chord and syllable a privilege to behold. With the final chord of her closing song left hanging, O'Neill utters a single, self-effacing "slán", joining Ciaran Lavery in that aforementioned exclusive bracket – a truly unique talent, bound for huge things and no mistake.
Conjuring one of the biggest receptions of the festival, alt-folk maestros The Emerald Armada confidently plow through a set comprised of four-part harmonies, stellar musicianship and unbridled, impossibly contagious choruses. With frontman Neil Allen promising prizes for the best square-dancing, a typically Armada-esque hoedown forms and the band bestow upon grinning newcomers and aficiandos alike their anthemic, exhilarating music. With 'To Be Loved' proving a particular peak, the guitar-playing of Tony McHugh, specifically, resides fond in the memory; a true and inspiring master of his instrument. Meanwhile, down at the Air Stage, Derry pop-punk quartet the Wonder Villains, all smiles and major chords, play to a sizable, impressed crowd. Whilst there's no denying the likes of 'Zola' and 'Marshall' have burrowing hooks – and the band's success to date is completely justified – the fake American accents and formulaic pop-rock retroism proves just a little too insipid to encourage this aging writer to hang around for long.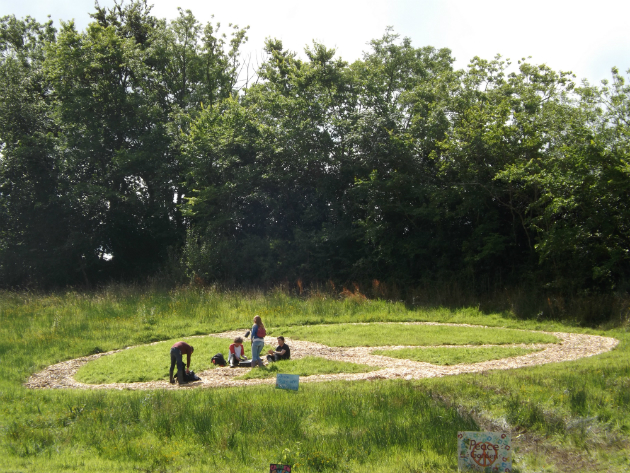 Besides, Arthur Smith, English comedian extraordinaire and honorary Grumpy Old Man, is completely killing it in the Karma Valley stage. Darting between the likes of Radio 4, diabetes and dogging with Anne Widdecombe, the veteran Londoner, brandishing a LED-light illuminated children's wand, weaves through poems, anecdotes and first-rate one-liners, castigating the likes of youthful enthusiasm and Jeremy Clarkson, all while wearing shorts, reading selected snippets from his autobiography, encouraging heckling, enquiring about "The Frightened Rabbits" and singing – along with his smitten audience – Leonard Cohen's 'Hallejuah'. In all, it's a mildly ecstatic, masterfully mirthful purge from another top-class performer this weekend who hasn't fallen victim to simply Abeing older than they once were. Would you imagine?
Back over at the Air Stage, Belfast indie-pop band Go Wolf go down a storm via a slick, balmy set. Unlike for some performers on the stage this weekend, the sound is perfect, warm synth lines melding bobbing bass and gentle vocals, not least from Hannah McPhillimy, a relatively recent, altogether exquisite addition to the Go Wolf camp. Whether it's the time of night, the general air of conviviality in the air, the sheer strength of their material or a combination of all three, the band are one of the highlights of this year's festival. One can only expect that if they return next year they will be right up the bill, if not headlining.
With things beginning to come to an end, Keady Corner – another wooded hideaway, hidden away from the main activity – delivers one of the more esoteric and downright enjoyable performances of the weekend. With a huddled, grooving mass before them, faces illuminated by snaking green lights hugging the trees, James McConville, Aodan Farren and Barry Lynn (AKA Boxcutter/The Host) wield grooves and shifting time signatures dacross an hour of majestic jazz-funk à la Herbie Hancock. Propelled by exceptional technicality, the sheer bombast of the tracks prove irresistible; the decidedly furtive nature of their performance, largely thanks to its size and location, really delivering the goods. Simply put: if you were there and weren't tapping your foot, at the very least, you should probably have a word with yourself.
At the end up, with Derry quartet The Wood Burning Savages and Donegal electronic artist Keith Mannion AKA Slowplacelikehome, in particular, enrapturing in their respective ways, Stendhal Festival of Art expires in a jubilant, heartwarming tone just after midnight. Tired feet make their way make to campsite as the last sounds ring out for the main festival area and the fraternal activity continues long into the night elsewhere.  "Stendhal – the successor to Glasgowbury?" people ask, already planning next year's escapade.
This writer's verdict? Undoubtedly, yes. Brian Coney
Disclaimer: Frightened Rabbit also played but the Thin Air missed that – for their sins.