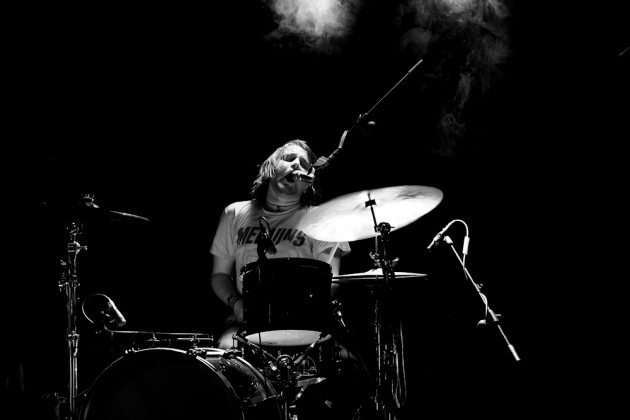 Whether you've encountered him or not – and chances are many of you have – self-professed "unprofessional photographer" Diarmuid Kennedy has been a veritable fly-on-the-wall of Belfast music over the last couple of years. A masterfully discreet operator, he is often one of a small handful at people to brave line-ups of all-but anonymous debutantes and furtive young musicians; his photography – just like his work capturing bigger, more established local bills – providing a priceless insight into an ever-evolving, somewhat maligned but, for the most part, consistently impressive music scene. Sitting outside the Pavilion Bar on Ormeau Road – a venue in which the photographer has shot innumerable up-and-coming bands – Kennedy and I discuss "We Are…", his first ever photo exhibition at Belfast't Linen Hall Library.
Wonderfully capturing the aforementioned period in Belfast live music in Kennedy's trademark stark, black-and-white style, the origins of the exhibition stem from some encouragement from an old friend and subject matter. "It all came about thanks to Paul Reid, whose band (The White Mansions) was one of the first bands I photographed," says Kennedy. "From day one he was really encouraging and kept on saying, 'You must do an exhibition'. So I decided to do an unofficial one at the launch of No Tomorrow, which was inspiring, and other events conspired afterwards, as friends of mine run exhibitions and asked me to do one. With one thing and another it proved too good an opportunity to turn down, really."
Perhaps the most telling reflection of how Kennedy's photography has penetrated local music can be found on social media. Search for the first active, gigging local artist that pops into your head on Facebook and there's a good chance they have shared or featured his photography. "I think a lot of photographers would say there's absolutely no originality with my photography at all and it's a completely throwback style – which it probably is – but I shoot black-and-white because the photography I loved growing up was always black-and-white. That would be Anton Corbjin, Pennie Smith and looking further back, people like Jim Marshall, so there was a whole tradition of music photography in black-and-white. I think it just looks better and, to be honest, it's the way I see gigs. I don't remember them in colour, I remember them in black-and-white. The other reason is technical, as it's actually hugely difficult to render colour lighting in the way that people remember it or anything like the way it looks naturally. But in a way it's all subjective – I guess my photography is definitely "colder" and almost like one person spying on another, for example Katie Vail (below) – private moments where a musician is lost in the moment. I like those pictures."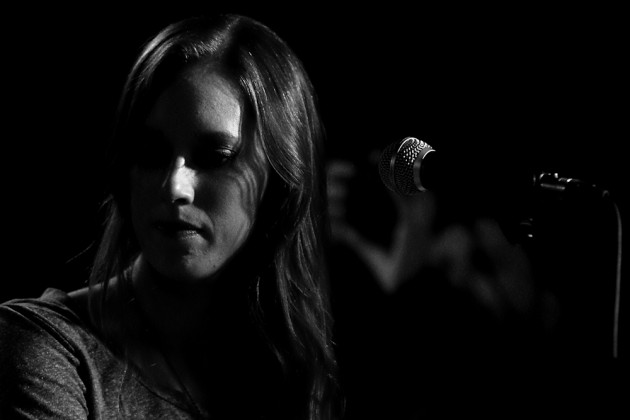 Kate Vail, one-half of Derry electronic act Ryan Vail
Having taken thousands of photographs at dozens of gigs – the working definition of throwing oneself headfirst into an avocation – Kennedy, a relative newcomer to his craft, found himself re-considering his approach to the exhibition when it finally came down to whittling down the images. "The problem with taking pictures of bands is – and this is why it goes back to why it's called 'We Are…' – bands obviously say "We are…" as a way of introducing themselves but I like the idea that it's a bit ambiguous – it's not just asserting an identity," he says. "They're actually saying, 'I'm not longer Michael Smith from Carryduff – I am…', so it was kind of playing around with that ambiguity. When Paul came to select the pictures, a lot of the photos I had laid out were of young, angry men, holding guitars and being very assertive, to which he quite rightly said, 'First of all, that's going to be very boring but also that's not what your best pictures are about. Your best pictures are about people finding themselves'. So if you look at the selection of images in the exhibition, I think only a couple of them are of that kind of classic rock 'n' roll thing. There's a lot more photos of people coming out of shadows and coming out of lights, so it's that kind of idea that being a musician is kind of reinventing yourself, really. So that's the big, boring philosophical angle there."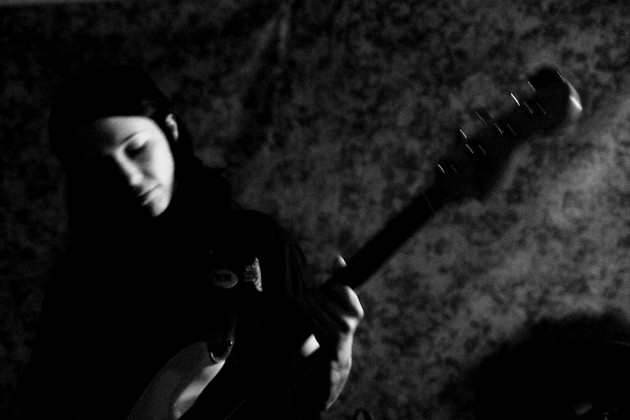 Claire Miskimmin, Girls Names
One defining aspect of Kennedy's approach to gig photography is how he actually shoots. Very unassuming, shooting in a decidedly voyeuristic way, he treads venue floors unlike many of his fellow music photographers, devoid of boastful braggadocio and disinterested in direct, overt involvement. "I like to be separate," says the photographer, originally from Ethiopia and raised in Dublin. "It's kind of nice lurking in the shadows. I think the difficulty is if you get too tight with the band what you tend to do is fulfill their expectations of what they want to appear like. I'm not knocking technically fantastic photographers – to each their own – but those kind of Kerrang!, up-your-nose photographs are not my thing. I'd much rather be much further back from the stage and maybe catch an image that is technically not is but maybe, to my eyes, reveal a little more about what the band are about. Images were people look a bit more uncertain are more intriguing than images where somebody is kinda of almost playing a part that's not really them."
Whilst interlinked by an almost ineffable quality of confidentiality – perfectly captured in each shot's framing and the "no mans land"-like contrast of darkness and light – each of the two dozen photographs that comprise 'We Are…' hold a special, singular quality. Does Kennedy himself have a stand-out favourite of the lot? "I like the one of Claire Miskimmin of Girls Names from The New Life album launch (above), partly because that was such a fantastic night. I don't think they came on until midnight, and they absolutely ripped it up to a crowd who played a big role in the sense of occasion. That's another reason why it's called "We Are…": you get those electric nights where it's a total collective thing. That was one of those nights. The picture of Claire is technically imperfect – it's just about in focus – which is why I never uploaded it online. That said, it's low-light and it has that nice feeling of intrigue about. "Who is it? What is it?", you know? In terms of the others, I like the one of Bellos (below), which is them in front of the drumkit, burning out or burning in – depending on what way you want to see it. I quite like the one of Ryan Burrowes from Abandcalledboy too (top) as it looks like the spaceship has arrived to collect him!"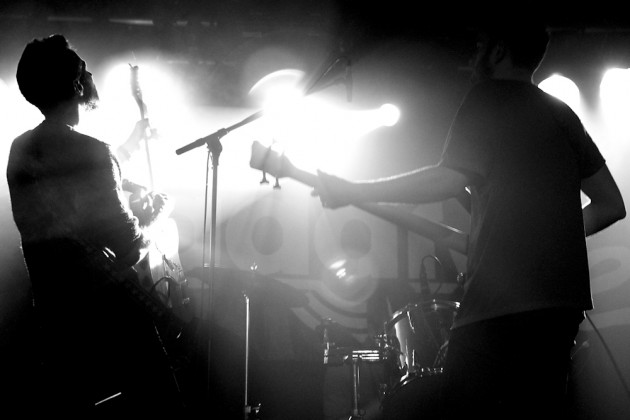 The recently-disbanded Bellos

Wholeheartedly committing to the cause, 2013 was the year in which Kennedy properly found himself in the thick of documenting Belfast's live music scene. Shooting every shade and description of band and solo artist in the likes of the Stiff Kitten, Voodoo, the Limelight and the Pavilion, he both bore witness to and selflessly documented some truly extraordinary nights, many of which suffered from quiet turn-outs. Looking back, what does he attribute that to?  "I think it is that thing that you almost have too many bands and not enough audience," says Kennedy. "I think the thing that I found because I hadn't been following and then I suddenly started following it – a good twenty years older than most of the people going to these things – I found it completely amazing and intriguing, and there was a properly positive quality about it. The whole thing was like stepping on to a trapdoor and you'd fallen into this entire world. I think I photographed 70 gigs throughout 2013; some nights I was going out three nights a week. But that was partly because I catching up. Every time I went out I saw something new and it was amazingly intriguing."
It was this intrigue that ensured Kennedy was hooked after a handful of shows, the lure of the intimate, under-attended spectacle an incomparable, totally virtuous proposition. "There's nothing that compares to that visceral feeling of going out to see a band, particularly one playing for the first or second time," says Kennedy, visibly enthusiastic. "Anything can happen and it's got a magic about it that polished performances don't have. You take your chance – you can have good nights, you can have bad nights but you're paying four quid in. How much of a risk is it, really? The truth of the matter is Talking Heads, Nirvana, U2 – God help us – they didn't evolve in stadiums. They evolved in small venues, as a result of people coming out and supporting them. You can hang around and wait for them to get signed but you can get a really, really different experience by just getting up, going out and going to see them, you know?"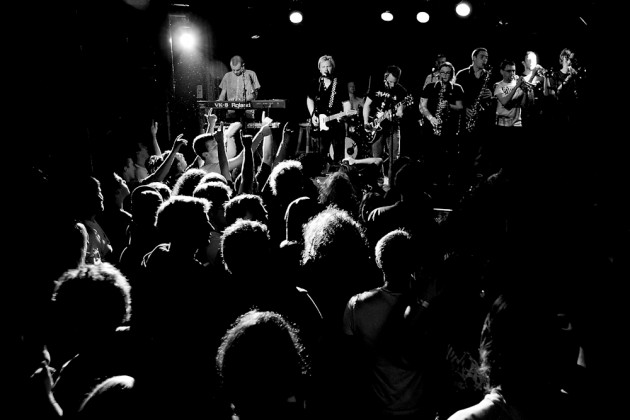 Legendary Belfast ska-punk troupe Pocket Billiards
Words by Brian Coney
"We Are" runs during library hours at Belfast's Linen Hall Library until August 28. Admission is free.