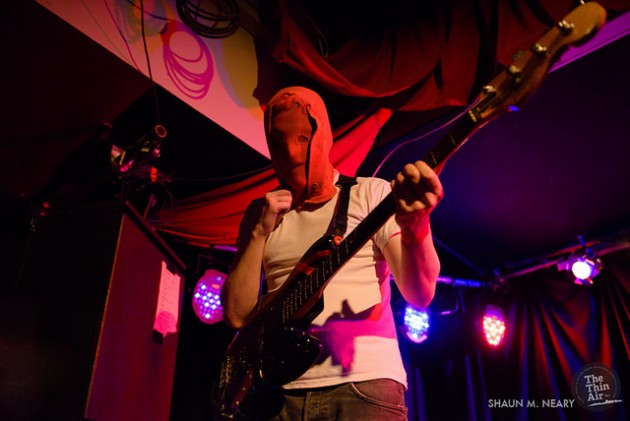 It was only this August that we finally saw the release of This Is The Third Album Of A Band Called Adebisi Shank, a whole four years after its predecessor, and it certainly didn't disappoint. But barely a month later, the band made the shock announcement that they were calling it a day and that their pair of album launch shows in Whelan's would in fact double up as farewell shows. The outpouring of love in the Irish music press since the announcement has highlighted just how much this band has meant to music fans in Ireland in the last few years (not to mention further afield), and tonight, at the first of those two farewell shows, Whelan's is packed to capacity with fans savouring the opportunity to see the finest live band in the country for one last time.
Adultrock takes to the stage first, filling the room with huge sounding electronic soundscapes from his array of samplers and keyboards. It's always refreshing to watch a solo electronic musician piece together their music live in such a way rather than simply standing stony-faced in front of a laptop, and though he jokes that we're all only here for one reason so "let's get this fucking over with!", his set is hugely entertaining and a suitable warm up for what's to come.
But so, to the main event. As Adebisi Shank arrive on stage to the inspired choice of Take That's 'Never Forget' before launching into 'International Dreambeat', the energy in the room is immediately turned up to eleven and never lets up throughout the set, from band and audience alike; aside from a brief respite with 'Thundertruth', Lar Kaye swapping his facemelting riffs for some more melodic noodling to accompany his robotic talkbox vocals. Each album is well represented with the new songs sitting seamlessly alongside the older ones. 'World In Harmony' provides a rare opportunity for a singalong at a Shank gig and 'Voodoo Vision' is such a perfect and triumphant set closer that it's difficult to comprehend that it's the last time we'll get to witness it in such a setting.
Later as the band return for an encore, several shouts from audience members for early favourite 'Horse' go unheeded, but we do instead get treated to 'Jump Cut' from the same EP, while bassist Vinny McCreith politely declines Kaye's chant to "take off the mask!" and sweaty topless men begin to crowdsurf. Finally an extended version of 'Mini Rockers' segues into '(Trio Always)' which loops round and round the venue as the band leave the stage for one of the very last times, having appeared genuinely overwhelmed at the reception they've received throughout the set. It's been a night to remember, and despite hopeful chants of "Ten more years!" at various points tonight, there's only one more night in Whelan's and a final overseas date to follow and then that's it. This is the end of a band called Adebisi Shank. We'll miss them. Cathal McBride
[soundcloud url="https://api.soundcloud.com/tracks/153836970″ params="auto_play=false&hide_related=false&show_comments=true&show_user=true&show_reposts=false&visual=true" width="100%" height="450″ iframe="true" /]