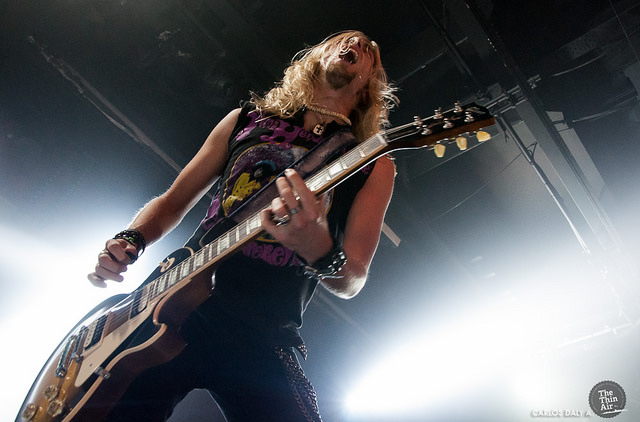 Who said Ireland wouldn't welcome the sound of American southern rock this side of the seas?  Hosting a roaring avalanche of sound from the Kentucky boys of Black Stone Cherry, Dublin's Academy exploded with an onslaught of American heavy metal Thursday evening, continuing record-label Roadrunner's long tradition of importing this genre of American rock into European audiences. Fresh off a tour warming up for Lynard Skynard, Black Stone Cherry's electrifying performance proved yet again that they too are a headlining bastion of hard rock.
Roused by a titillating set from Canadian rock group Theory of a Dead Man, the sold-out north-side house waited in eager anticipation to feast their eyes and ears on the main course. One noted observation was the rather wide array of audience members in attendance.  From hard-core dread-heads, to angsty teens and collegiates in hoodies, to couples in polos, and to post-gothic hipster die-hards, Black Stone Cherry's fiercely loyal fans were out in force, and not to mention the number of northern accents to be heard who drove down for the evening due to the two-hour sellout in Belfast. Not originally a stop on the tour, Dublin later made the list due to insistence on two Irish shows from the band, acutely aware of their loyal European fan base.
From the moment they hit the stage, Black Stone Cherry commanded unequivocal authority over its audience. Bulldozed by crashing waves of heavy metal and the sheer assault of lights, the house had no choice but to throw up rock salutes and roll unflinchingly with the beat. Led by the powerful vocals of lead singer Chris Robertson, who bore no struggle against three raging guitars and a storm of percussion, each band member brought an integral presence to the theatricality of the set.  Speaker-top acrobatics from bassist Jon Lawhon and rhythm guitarist Ben Wells did not yield once throughout the performance, and their head-thrashing and unkempt manes of hair evoked imagery of rock-and-roll patriarchs Guns N' Roses and Metallica.
Yet the true spectacle to behold was drummer John Fred Young (below) –  a "Southern" name if ever there was one. Caught in the frenzy of his own percussion show, Young's wild antics made him a force to be reckoned with, and the band crew was on high alert for this beast of beat throughout the show. Tightening cymbals and supplying new sticks mid-song while carefully avoiding the whip of his arms, the crew deftly allowed Young to leave nothing behind on the stage. The band even left this savage-looking percussionist to play alone for a bit to the house's delight. Young's performance captured the spirit of Black Stone Cherry, one that is so entirely pedal to the floor that their forward attack could not possibly be derailed by minor mishaps along the way.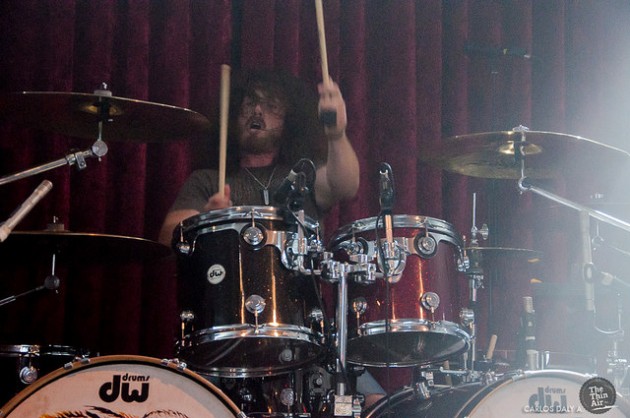 The band's biggest strengths were apparent in the down-tempo numbers which unsheathed Robertson's gloriously rugged vocals.  Taking influence from southern rock of old, American heavy metal tends to live in a universe between screamo and country. The songs where Black Stone Cherry moved further toward the spectrum of southern soul were their more distinguished assets.  Songs like 'Me and Mary Jane' with a cheeky southern backbone incinerated the house while other metal-heavy choruses tended to bleed together less remarkably. Another important highlight of the show was the band's skillful blend of older tunes which made them famous and freshly riveting numbers from their new album Magic Mountain. One might've thought that a sound like theirs would appeal primarily to American audiences, but Roadrunner's ability to market this brand of music abroad is, yet again, uncanny, and Black Stone Cherry's success on this tour grounds them firmly in that proud musical legacy. Joe Madsen
Check out Carlos Daly's full photo set from the show below.