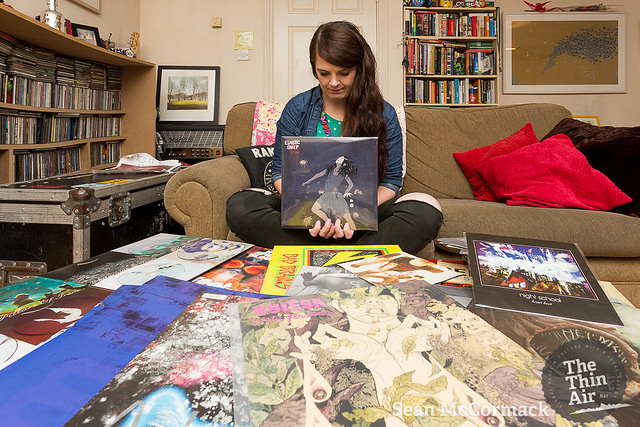 GO WEST! For this installment of Track Record we head to Galway to catch up with the delightful Anna McCarthy from garage pop quartet Dott. One things for certain, Anna sure likes her heft and she shares with us her ten favourite records, ranging from sludge metallers Kylesa to the classic riffage of our very own Thin Lizzy. Photos by Sean McCormack.
My Bloody Valentine – MBV
This was definitely worth the wait. Listening to My Bloody Valentine makes me feel like I'm wrapped in a fuzzy blanket and this came along just in time for when I really wanted a new fuzzy blanket to get wrapped up in. This record arrived rattling around in a box that was way too big with no padding. The sleeve was wrecked, but luckily the record was fine. The distro sent out a new sleeve, this time with added gate-fold, so now I have two sleeves and one record for this album. One thing I really love about My Bloody Valentine is their album artwork always represents their music so well. It looks like how it sounds.
Kylesa – Static Tensions
This album opens with such a belter with Scapegoat and continues relentlessly. I've seen Kylesa a few times over the years and they never disappoint. Staic Tensions is still their best album in my opinion though. I wish I could play guitar like Laura Pleasants. Favourite song? 'Running Red'.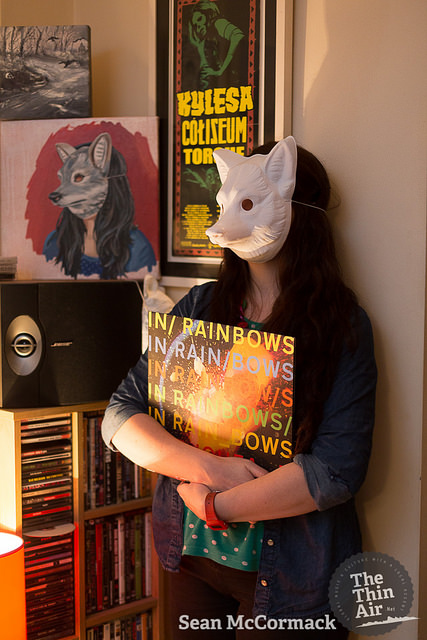 Radiohead – In Rainbows
The album that started the whole "pay what you want" concept. It's fun to have an album on record that was originally just a digital download. This is another album that was worth the wait after the also excellent Hail to the Thief. It's such a strong album with consistently great songs – well, it is Radiohead (although I do have a tendency to skip Faust Arp") Favourite song on the album? Easy – 'Bodysnatchers'.
Torche – Harmonicraft
I've been a huge fan of Torche for years. They write brilliantly heavy pop songs and absolutely kill it live. I've been lucky enough to see them live about five times and even supported them last year. I recorded a soft cover of my favourite song by them a couple years back.
Harmonicraft is so instantly lovable. The second I heard the first single, 'Kicking', and watched the superb accompanying video, I knew it was gonna be a good-un. They're coming to Ireland again next May when their new album Restarter comes out. Do yourself a favour and go see them!
Elastic Sleep – Leave You
These lovely people are destined for big things, and rightly so. They are such a good band and I'm delighted to have had them play a few shows with us before they explode. I would describe them as Sonic Youth meets My Bloody Valentine meets Broadcast. They're haunting and heavy and all really great musicians. They played their song 'Leave You' at a gig we put on in the Galway Arts Centre and it was stuck in my head for months. I'm looking forward to hearing their next release in a couple weeks.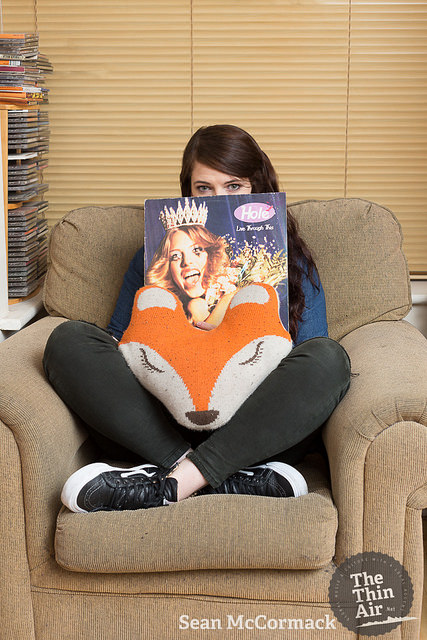 Hole – Live Through This
I don't care if you love or hate Courtney Love. I'm not even sure what I think about Courtney Love, but I love this album. It's brutal, tender, violent and gut-wrenching all at the same time. The guitars on this album have been a big influence on me and Love's vocals and lyrics chill to the bone. It's a brilliant album to blast in the car where you can wail along without anyone hearing you. I picked this up in Bell Book & Candle in Galway for something ridiculous like a fiver.
Beck – Morning Phase
I've been going through a bit of a Beck phase for a few years now. Sea Change still blows me away so I was really excited to hear its sister-album Morning Phase. The arrangements by Beck's dad are so beautiful and the vocal harmonies make the hairs on the back of my neck stand up. I didn't get to Electric Picnic this year so I don't want to hear about how amazing it was.
Helms Alee – Weatherhead
I discovered this band when they supported Torche and Big Business in the Williamsburg Music Hall in 2011. They were so good that I went to see them play a second show that night around the corner in another bar, The Charleston. Helms Alee don't sound like anyone else and their shared vocals and weird harmonies are unique. Plus they seem like they're having the best time doing what they're doing. I'd love to tour with these guys. Their drummer has a record label called Silent Queef. Their video for '8/16' is a hilarious.
Thin Lizzy – Black Rose
This is not only my favourite record I own by Thin Lizzy, it's also the only record I own by Thin Lizzy. It features my favourite Thin Lizzy song ever: 'Róisín Dubh'.
Circle Jerks – Group Sex
I love Keith Morris for his kick-ass melodies and voice. I think I've heard a million punk songs that wish they were 'Nervous Breakdown'. I found it hard to choose between Wonderful and Group Sex. Wonderful wins hands down for the cover art (tuxedos on the beach, with baby animals!) but Group Sex wins for 'Operation', 'World up my Ass' and 'Live Fast Die Young'.