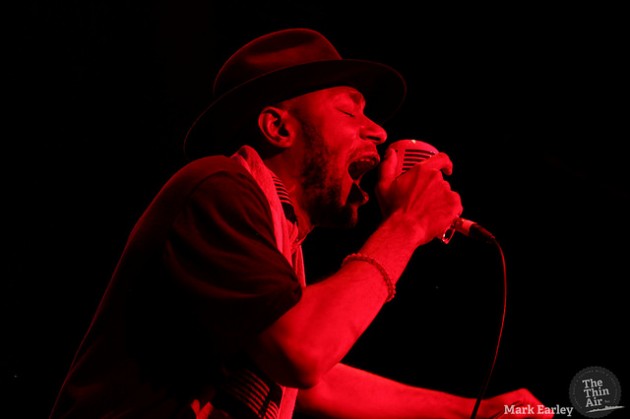 The man on stage would like you to call him Yasiin Bey. "Ali, not Clay," he says. That doesn't stop the gig's posters and tickets from bearing the name Mos Def in larger lettering than that of his name of choice, however. Coming on stage around 10pm in an oversized scarf and baggy tee, he opens with 'Cream of the Planet', an unreleased track from 2010. Though billed as a fifteenth anniversary celebration of 1999's breakthrough release Black On Both Sides, the night sees Bey jump from era to era, appropriately enough as 1982's seminal hip-hop flick Wild Style plays on screen behind him.
More than half the album is represented, with Bey joyful performances of 'Hip Hop', 'Love', 'Mathematics' and 'Fear Not of Man' to name but a few. The setlist might feel rote or rehearsed, but Bey still manages to convey genuine enthusiasm throughout, if not rapid spontaneity. His DJs (Bey has two) deftly slide between his tracks and the source of their original samples, while the sound of birdsong lilts in the air. Further to the tracks from …Sides and other 90s collaborations, he performs a wonderful jam called 'Marigolds', which he recorded during a recent trip to Addis Ababa in Ethiopia.
There's a strange disconnect between the performance of 'New World Water' (from …Sides), a prescient track about the growing scarcity and increasing price of H2O, and the Dublin crowd's response. Instead of evoking politically minded shouts, given the present situation in this State, it seems the loudest reaction is to the line "it's all about getting that cash money", a standard hip-hop trope that here is used sarcastically to rationalise water charges, yet from the crowd seems like just another example of CREAM.
Another bizarre moment comes as Bey completes a celebration of some of Brooklyn's "hometown heroes", rapping ODB's 'Shimmy Shimmy Ya' and The Notorious B.I.G.'s 'Juicy' in honour of these fallen stars. The latter's verse ends with the line "if you don't know, now you know" with the predominantly white crowd following this with the word "nigga" at top volume. Perhaps these fans missed the point of Bey's track 'Mr Nigga', in which he castigates "white folks" who use this word when they "sneak it in with they friends at the job, happy hour at the bar, while this song is in they car". I'm not going to agree with Piers Morgan here, but this is not our word, and there is never any call to use it, least of all so flippantly, especially when the very artist on stage has criticised people for its use and explained its negative and dangerous impact. But hey, if you're going to keep calling him Mos Def, why listen to his lyrics? This brutally honest track was left off the setlist, perhaps to keep the party atmosphere intact.
A moment of tension arises when a young man jumps up on stage and attempts either to embrace or speak to Bey. Quickly ushered off stage by security, he is called back out by the rapper who encourages him to look out at the assembled crowd. "It's one thing to have your needs met," Bey says, "but you can't have them at the expense of other people." Urging the young man to "be cool", he explains that the situation could easily have gone another way, but that there's already enough negativity in the world.
It's a marvel and a delight to see an artist remain so calm and collected in the face of such an interjection. But seeing Bey on stage tonight is a joy in itself, as he takes pause to dance around, to pray or simply just to stand in front of the speaker stack and let the music wash over him, as he does during an ebullient rendition of "Casa Bey, from his last album The Ecstatic". Reports of recent shows suggested tardiness and a lack of gusto, but Bey confounds these expectations and delivers a thrilling performance that transcends the often pedestrian nature of hip-hop shows. Aidan Hanratty
Check out Mark Earley's full photo set from the show here.