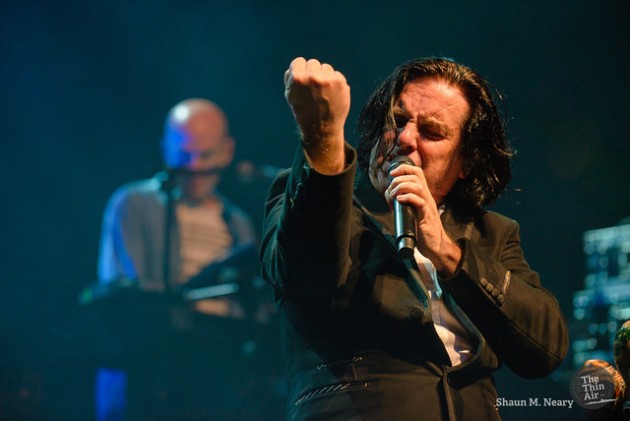 A lot can happen in a quarter of a century. 1989 saw the release of the debut releases of
The Stone Roses
,
Nirvana
amongst others. That same year also saw the debut release of
Marillion
with Steve Hogarth fronting them after the band had taken off to Mushroom Farm Studio near Brighton with a selection of music previously recorded in demo form with Fish. However, when Fish left the band in 1988, he took his lyrics with him, a lot of which ended up on his solo debut,
Vigil in a Wilderness of Mirrors
, while Steve Hogarth and John Helmer provided alternative lyrics to a finished product at Hook end Manor in Oxfordshire, that would end up becoming
Seasons End
, Marillion's fifth studio album.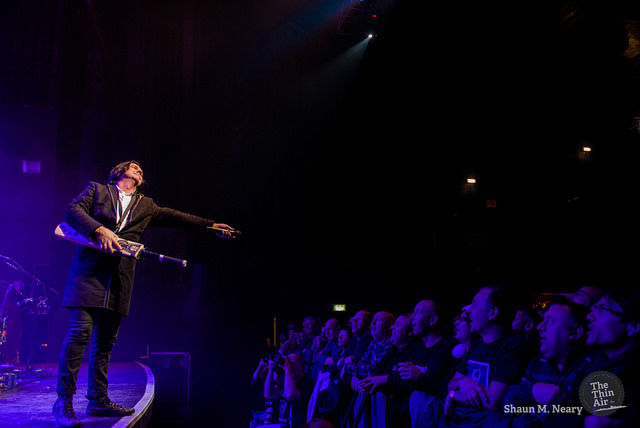 Over time one hears the following three responses whenever I mention Marillion: "Is Fish back with them?", "Are they still going?", and my not so personal favourite "Didn't they split up in 1988?"
It's been five years since Marillion graced Irish shores with their stripped down semi acoustic set at The Button Factory on their L=M tour in December 2009. You may recall our very own Steven Rainey's piece on Marillion '20 Years Of Being Brave'. Upon the bands announcement of a short Christmas tour, it seemed only natural to travel over to The Forum in Kentish Town, London with camera in tow. Having seeing them live on a number of occasions, I knew exactly the kind of show they put on. I wanted to visually document it to show people exactly what they're missing, and to show that it is indeed, a show worth travelling for.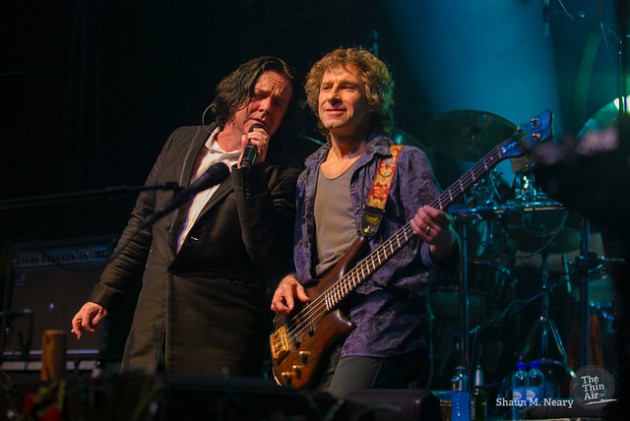 For those unaware, the usual rule for music photographers is three songs, no flash, but not tonight. As I pick up my pass from the Forum's box office, I'm informed that I can shoot throughout the entire show. A rare privilege granted by any band, especially one who has been long established. On the outside, I am a professional on another live shoot, on the inside I am the fifteen year old kid that first discovered the current incarnation of Marillion who's been give the keys to the proverbial candy shop finding it very difficult to keep that a secret although I have no doubt that I gave that away as I was singing away while I was capturing every detail that I could.
As the opening sample to 'Gazpacho' is played while the band make their way into the stage, life long fans yell, "It's Showtime!" immediately as the lights go down. Mr H, armed with his trusty cricket bat (actually a wireless MIDI controller) wastes no time uprooting himself from the mic stand for some exercise pacing side to side of the stage during 'The Uninvited Guest'. While only two songs into the set, the vibe is instantly there that this night, is indeed going to be a special one. H acknowledges and thanks his predecessor for his songwriting contributions before launching into 'Warm Wet Circles' which leads into 'That Time Of The Night'. Twenty five years on, there is no doubt that these are Marillion classics, regardless of who the voice behind them.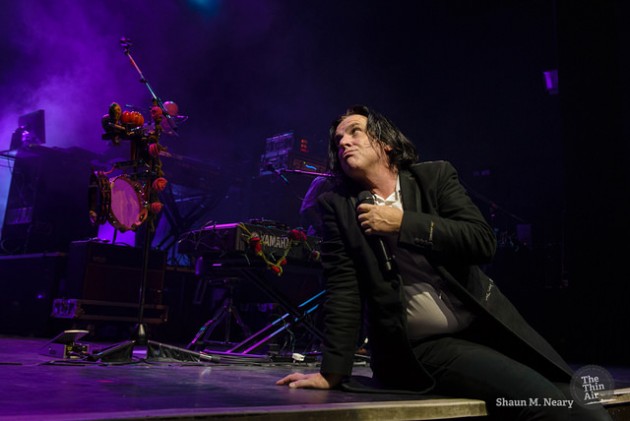 The Fish era fans have been kept at bay for a bit as the band return to post '89 material from 'Happiness/Seasons/Sounds' and 'This Strange Engine', before finishing the set, incidentally with the final song from 'Afraid Of Sunlight' (as 'Gazpacho' is the opening song from said album that also opened the set), 'King', which in itself, really needs to be seen and heard live to understand the songs true impact, one can't help but feel that the studio version doesn't do the song justice by comparison.
A couple of minutes later, the band return for their encore of Christmas songs – 'tis the season after all. The band have no qualms about confessing the cheesiness behind it, and that some of the audience may not appreciate it, but as they kick off the King Cole Trio's 'Christmas Song', it's hard not to start singing along with "Chestnuts roasting on an open fire". If we couldn't tell this was a date on the Christmas tour, the certainly can now between H's festive Christmas shirt, the tree lights around his keyboard, and if you still weren't convinced, the indoor snow that fell from the roof of the Forum during their cover of Lennon's 'Happy Xmas (War Is Over)' was certainly enough to put the exclamation point on the night, before finishing up with 'Slainte Mhath'.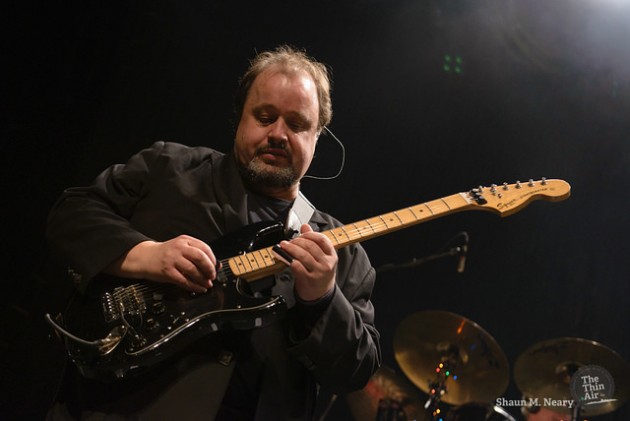 The fans are treated to a final encore, consisting of the rarity that is 'The Release' (A b-side to 1989's 'Easter' single, although not so rare on the live circuit), with 'Garden Party' to wrap up the set for the night, but not before H hands a beer out to a lucky fan.
If you still need me to explain why I made the trip over to London for this show after reading the above, then the photographic evidence below should seal the proverbial deal. There are very few bands left out there that put on a show quite like this one. Marillion have often come out and said that as a band, they'd probably be finished if it wasn't for their fans. One only has to go back in time to 1998 when their fans put together a tour fund together in order for them to get across the pond to North America as it was economically unfeasible at the time for the band to do so. Then there's the album pre-ordering long before Pledgemusic made it the thing to be in recent years. They put everything into their recordings, and clearly they're still doing it on their live shows too.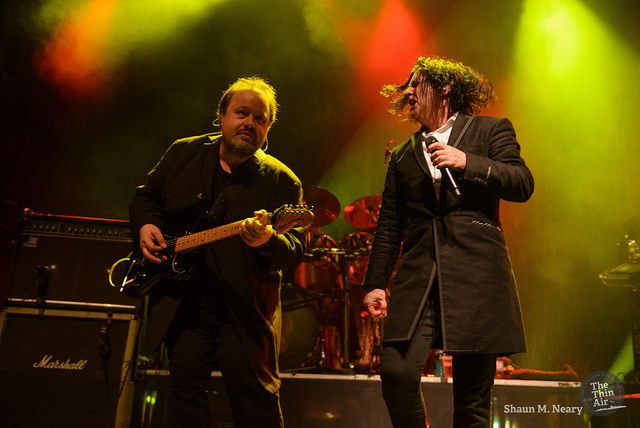 For a band that have been fighting misconceptions for decades, as well as the support of any major record label since 1996, which is pretty much the proverbial equivalent of being on life support in the music industry. They are showing absolutely no signs of slowing down. It's difficult not to respect that. It's why they still have a strong fan following, it's why people travel for miles to see them and pack out their Marillion Weekend yearly conventions. Over thirty five years and a few line-up changes, they have made music that have positively impacted the lives of a lot of people, the same people that are still following them to shows…… and I am just one of many who did, and will continue to do so. Shaun Neary