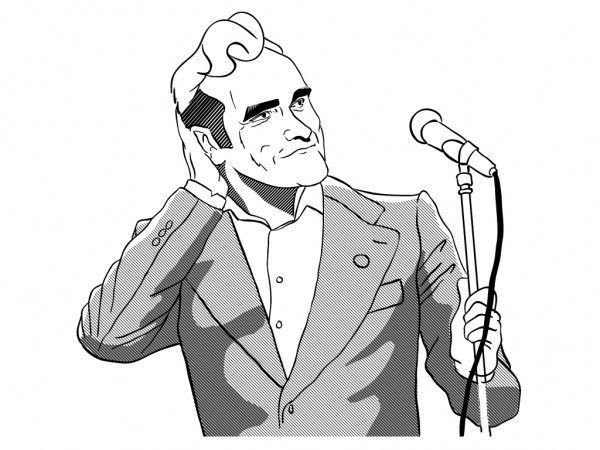 What an indulgence it must be to be able to gather your gripes together and air them on a grand scale via music, imagery and the written word. Morrissey's grievances are legion, his ire legendary, and the usual Morrissey-isms are cheerfully present and correct on his latest album World Peace Is None of Your Business. The rich get richer and the poor get poorer; four legs good, two legs bad; an unparalleled sense of self-righteousness – all of these things, already none too subtle on record, are bundled together for tonight's Dublin crowd into an audio-visual feast of disdain.
He can be a hard one to read, Morrissey, from his initial sardonic "I am your servant" to a seemingly more heartfelt "Thanks for all you have given me" as the band reappear at the encore. There's always the underlying feeling that he's incredibly disappointed in you for not giving the requisite amount of shits about his causes, though, and a certain amount of baggage inevitably surrounds him. A recent stage walk-off in Warsaw after being heckled has been the latest grist for the mill, and his much-publicised cancer treatment has given fans cause for concern, although tonight's performer doesn't bare the look of an ill man.
'Fuck Harvest Records' adorns the band's T-shirts, a reference to Morrissey's recent acrimonious parting of ways with his old label; the album has taken hold regardless of any administrative squabbles if the crowd's bellowing along to a set of predominantly new material is anything to go by.
A brief selection of musical clips projected onto a large backdrop bridges the gap between Anna Calvi's opening slot and the main act. Her set is one of carnal eruptions from her fretboard, slipped effortlessly into songs that veer from flamencoto Springsteen-redolent anthems, all conducted with brow-furrowed concentration. References to the Devil abound, the subject matter of her songs and flashing crimson lighting matching the dark intensity of her vocal.
A different mood is created with Morrissey's interim montage, as Margaret Thatcher is lambasted to the ditty of 'Ding Dong The Witch Is Dead', the royals come under fire ("United King-dumb"), a bullfighter is gored through the neck from multiple angles, and The Ramones and New York Dolls bookend the retrospective miscellany of music and socio-political sloganeering.
"It's a cruel, nasty, vicious world. And if you think otherwise… ha!" Morrissey tells us before 'Mountjoy', a song "about the worst hotel in Dublin". Throughout the set his lyrics are delivered with theatrical zeal to match the Latin character the new material displays, with Morrissey wandering around the stage with hands clasped, emphasising each carefully enunciated phrase.
'Meat Is Murder' stencils are on sale at the back and we are encouraged to decorate Dublin with the sentiment. 'The Bullfighter Dies', then, is accompanied by harrowing footage from the abattoir, and much slaughter fills the backdrop, lest anyone is undecided. As the band's rendition intensifies, Morrissey faces the carnage, hands locked behind his head, while a few in the crowd turn away from the final scene of garrotting.
A darkened stage and an enveloping 'Asleep' winds things down before the triumphant, final singalong of 'Every Day Is Like Sunday'; Morrissey whips off his tracksuit top, throws it into the crowd and bare-chestedly leaves the band to play it out. The visual of a peace sign from Bruce Lee looms behind them, a far cry from the two-finger salute from The Queen that welcomed us with The Smiths' classic diatribe. Morrissey's ire is undiminished, his crusade on-going. He even seems to be enjoying himself. Were you not entertained? Justin McDaid
Illustration: Ian Pearce