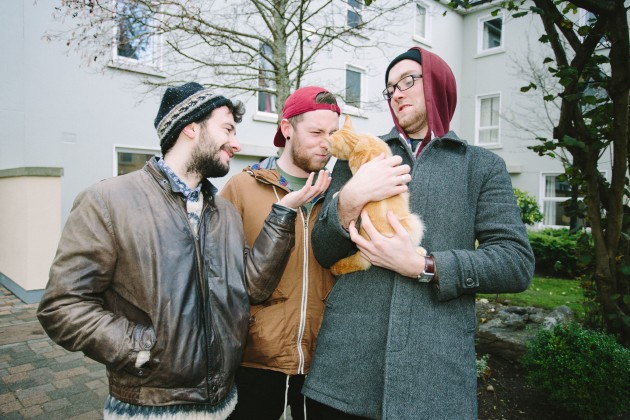 Set to feature in physical form in our forthcoming January magazine, we continue 15 for '15, a feature looking at fifteen Irish acts we're absolutely convinced are going places in 2015. Over the next couple of weeks, we'll going to be previewing each of those acts, accompanied by words from our writers and an original photograph by our wonderful team of photographers.
Next up is Galway garage-pop trio Oh Boland.
Photo by Sean McCormack.
What with 'garage rock/pop' being one of the three/four musical styles currently en vogue, Tuam's Oh Boland are likely to leap on most of these 'to watch' lists as a matter of course. However, theirs is a mix of influence and style that goes some way to escaping that genre's straight (leather) jacket. After two free-online EPs and a split LP with Me & My Dog, 2015 will see the release of their first album proper, a set from a band equally in love with the Can-nier moments of Thee Oh Sees and Yo La Tengo and the summer pop jangle of The Clean. Catching them live is wholly recommended, the musical joins visible in the best early-Pavement way. It's the kind of thoughtful-yet-careless thrash that makes people put pints down and crane their necks to see what the hell is going on. In a city near you soon, presumably. Brian Kelly