Articles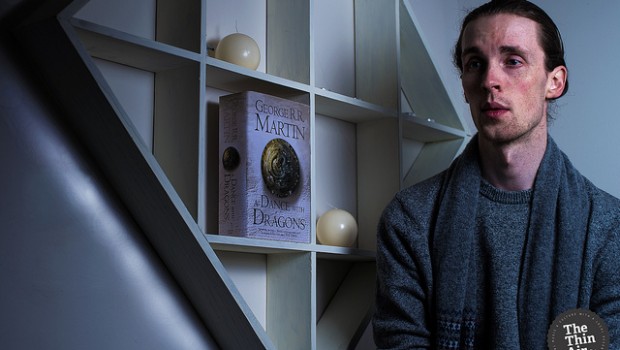 Published on February 23rd, 2015 | by Loreana
0
Bookmark: Colm Kenny-Vaughan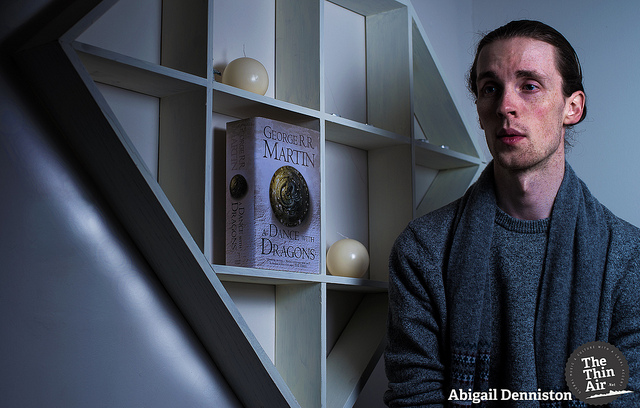 Bookmark is the first of a new series where we explore the collected books of those who entertain us in the world of arts and literature. We chat to Colm Kenny-Vaughan, a Dublin based theatre actor and choral singer about the books that have influenced and inspired him in his line of work. Photos by Abigail Denniston.
George R.R Martin – A Dance With Dragons

I know Game of Thrones is a very popular TV series at the moment, and it's not hard to see why based on the books (collectively entitled A Song of Ice and Fire). This latest installment was published in 2011, after a five year hiatus. Five years which nearly killed me with anticipation, and which in 2015 now, we're getting very close to again for the next in the series. I'd almost forgotten what it was like to be genuinely engrossed and surprised by a story. Given the shows popularity, I won't delve too much into specifics for spoiler purposes, but I will say the series reignited my passion for books, when I'd started to steer exclusively towards scripts and screenplays. With two more books supposedly to come, hopefully those of us who've been waiting over nearly 2 decades won't have to wait much longer. I'll be queueing up for the next one overnight!
Seamus Heaney – Beowulf
Ever since I first read the Greek tragedy Medea, back when I was probably about seven or eight, I've had a fascination with classical literature. The idea that I could read stories more than 2000 years old, and understand them was initially baffling – before I realised they were of course translations and adaptations. I was hugely disappointed that I didn't have some innate ability to read the original works, despite obvious limitations, and then I came across Beowulf. Written in Old English, I figured I'd actually have a chance for a change. I was wrong. Seamus Heaney's translation of this epic poem, did however, made me realise that it's never really been about reading the original. It's about stories that have stood the test of time. It's about finding your way into Ancient Greece, or 10th Century Scandinavia, and losing yourself there.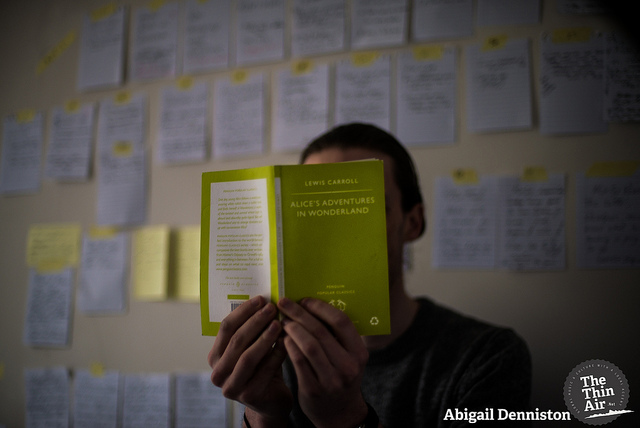 Lewis Carroll – Alice's Adventures in Wonderland
As a Disney film, Alice in Wonderland scared me. The Cheshire Cats disembodied head and smile, the Queen of Hearts ordering everyone's executions, and the giant Caterpillar (although admittedly Alice had shrunk at this point), all amounted to a story that I most certainly did not enjoy. It wasn't until much later, when I was in college, that I read the original story with the intention of adapting it for theatre, and really understood the wonder of Wonderland. There's a certain quality to Lewis Carroll's original work that was lost in adaptation, most notably in the animals who inhabit the world. A few of them made their way onto the big screen, but being immersed in caucus races and mock turtles makes Wonderland a real world, of sorts. Being able to recreate those unsung heroes has made this story a personal favourite of mine. The Disney version is still creepy though.
William Goulding – Lord Of The Flies
Ask anyone who played Hangman or Charades with me for about five years after first reading this story – this was my go-to answer. It's a work of literary genius. I can say very little else about it because I'd be afraid of spoiling it for anyone who hasn't read it. I can't honestly put words on the impact it made on me, but it was a long time before I read anything else that lived up to the standard of this novel. This should be on everyone's literary bucket list.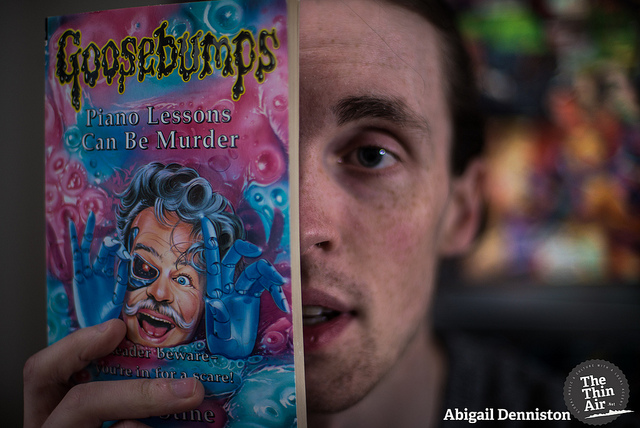 R.L Stine – Piano Lessons Can Be Murder
One year, for Christmas, I got my first ever Goosebumps book. It was both a present for me, as the avid reader I had become, and a jibe at my mum who is a piano teacher. The present was appreciated. The jibe was not. However, it sparked a love of the book series which are children's horror stories, and which kept me awake on many nights. I'd often find my way into the living room using my hands blindly because I refused to take my eyes off the pages, but I needed the company in case it got particularly scary. With over sixty books in the series, this one may not have been my favourite – shout out to 'No.16: One Day at Horrorland' – but it marked the beginning of an era.
James Joyce – Dubliners
As a Dubliner, I felt compelled to read these short stories. I was not expecting them to be so compelling. Dubliners is much more approachable than Ulysses, and really made me feel like I was surrounded by stories. I was living in amongst them. They gave the city an identity, beyond what I'd imagined. For me, a city didn't have a soul – how could it? It wasn't alive. Joyce gave it that life, and opened my eyes to my city.
William Shakespeare – Hamlet
As an actor, I read scripts constantly. It's kind of taken over as the medium of stories that I read now. And in my first introduction to Shakespeare, via Romeo and Juliet, I found one of my favourite playwrights. In fact, Bill shares the title of 'made me want to be an actor' along with Oscar Wilde. Where I struggled massively, and understandably, with the Old English of texts like Beowulf, Shakespearean language had a very lyrical appeal which I took to naturally. I've performed in many of his plays, some twice each, but Hamlet holds the record with three different productions, all in various roles, but not yet the Dane. Having analysed the text with three different companies, each with varying visions, I have an affinity for this piece above any of his other works.
Charlotte Bronte – Jane Eyre
Period dramas, both in books and TV, are a very guilty pleasure of mine, and Jane Austin and the Bronte sisters mark the trinity of writers at the top of that list with Jane Eyre, Pride & Prejudice, and Wuthering Heights. I studied one in school, another in college, and adapted the third for stage. They've been marked off my bucket list, but that hasn't stopped me reading them several times over. That's what guilty pleasures are for.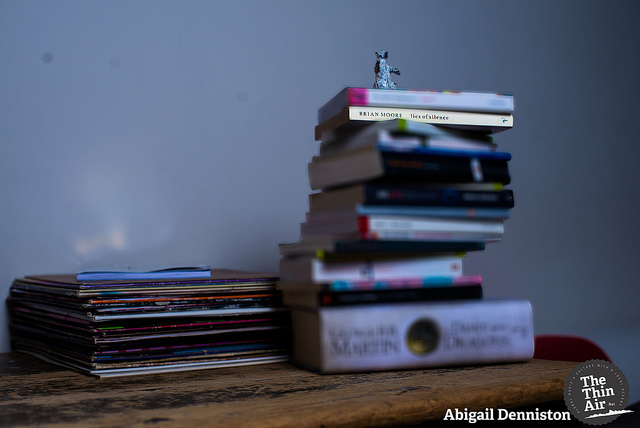 Brian Keenan – An Evil Cradling & Brian Moore – Lies of Silence 
I've paired these two books because I read them almost back to back, and I can't separate the impact one had over the other as a result. I picked up An Evil Cradling without knowing it was non-fiction. I hadn't ever really read something autobiographical before, as I had a notion that the real world could never compare to that of the imagination. I was unfortunately right. I felt a genuine despair for Brian Keenan, as I realised it was a genuine account of his captivity in Beirut because he was believed to be English. He's from Belfast. The fact that I was reading a story about an Irish man made it more affecting, because it made it even more real to me. Lies Of Silence caught me in a similar way. Set in Belfast, it's about an attempted IRA bombing. Hot on the heels of the Keenan's book, it brought that sense of terror home. It wasn't just Beirut anymore for me – Northern Ireland was just a few hours away in a car. They made me wish that stories could just be stories for a change. That I could close the book and that would be the end.