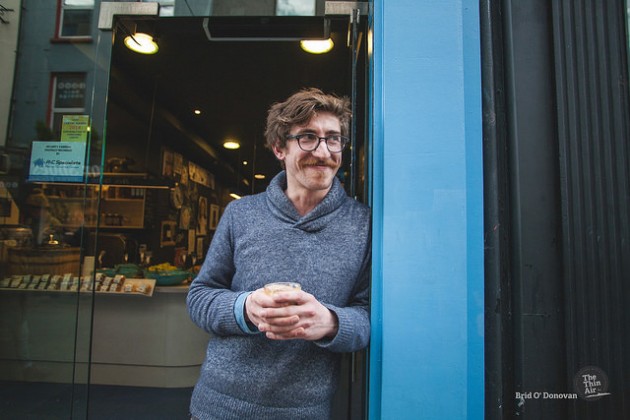 Jack Crotty is founder and owner of The Rocket Man, which is a salad and juice bar on Princes street in Cork city. He also trades at markets and organises events in Cork.
Food at Home
There are two different sides of my family, as there is with everyone's family. My mum's side of the family would be very into growing food and eating healthily and my Dad's side wouldn't be as much but they still would have a good respect for food. It certainly was from my Mum that all that came from. Sourcing properly and ethically. It's really hard to define because there are so many angles now that you can take on food. Are you an organic person or are you a local sourcer? If you choose to be organic, you are importing most of your vegetables so that's breaking another one's philosophy. With us it was source locally and eat preservative free. Non processed food was the main thing at home. There was never any known name anything. But then we weren't high and mighty about it either. Ben and Jerry's Phish Food would appear in the freezer every now and again and things like that, you know? There was never a sense of blanket, 100% whatever but everything was always made from scratch.
My mother is also my business partner. Mum works full time in the kitchen with me in the shop. It's great. It's really good support. At any moment there's money coming in from two or three places with my business. It's not just the shop, there's the markets, the events, different things like that so you really do need to have someone you can completely trust with something there.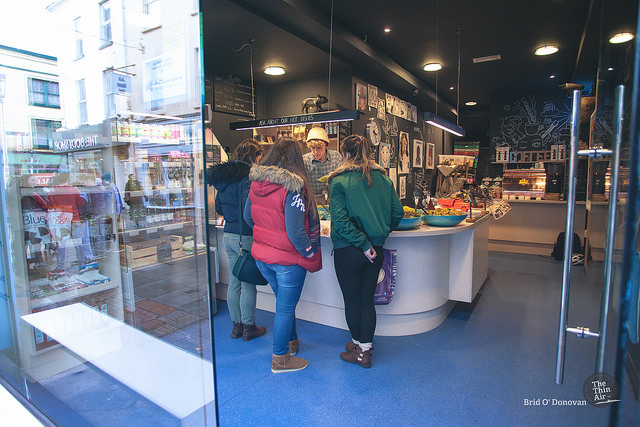 Figuring It Out.
I cooked a lot but I denied it to myself because I pretended that it wasn't for me because I thought that I wanted other things. I was studying English in UCC, I was going to be a writer. I kind of thought that maybe I'd write about food. That was what I was spending my time doing. As I was doing that, to make money I was working in kitchens in restaurants. Just as I went into third year of college I realised that I would rather be at work than be in class. And that's where it went to.
When I left college, I worked for a year in two different places in Cork. I don't remember if it was with the idea of going straight into the food business or if it was to try and see if I would enjoy it. I went away to South America for four or five months and it was when I came back from there that I said "Ok, I'm going to do this properly". So I did the Ballymaloe course then and I started Rocketman.
It was three months and really intensive. It was like 14-15 hours a day, six or seven days a week. You live down there, it's really a complete immersion. You come out of there a re-branded person. The course isn't so much a chefing course but more like a general food business, food lifestyle type course. I always think of it as like one of those video games where you choose one path and then it defines where you go in the game and there's loads of things that you could have done but you finished the game and you didn't do half of it. It's kind of like that because there's the growing side of it, there's the cooking side of it, there's the bread making, the cheese making, butchery and all this. There's no fixed on paper choice but at the start of each day one of the teachers will say that there is a bread making class at half five today with such and such if anyone has any interest then put your name down here. The classes clash but you can do all of it if you really dive head first into it but it means that without even realising it, as the course goes on you find yourself doing what you want. In a non guilty way you realise that you are not so much dosing from the things you don't like, you are just choosing the ones you do like. By week four or five you're not doing any of the classes that you don't want to do anymore. For example, I have quite an interest in growing and I do it myself at home a little bit but I didn't want to do it there. I wanted to get all I could from the food thing while I was there. By the third week I didn't go near the garden again in Ballymaloe, whereas some people might have left the kitchen by week 6 and were never in the kitchen and just spent all of their time in the garden. It is very much an all inclusive course.
People think you come out of there a Ballymaloe chef or whatever but it's really not so much that. It's about how to make money and not compromise. That's one of the main things that they instill in all of their students there. That you don't need to do crap and make money. You can run a business that serves good food and survive and probably make better money than if you were serving crap. That's a really hard to learn if you go up through working in other food businesses because that's something that gets lost along the way when people realise that they have to compromise here or there. They are very good at staying strong in that.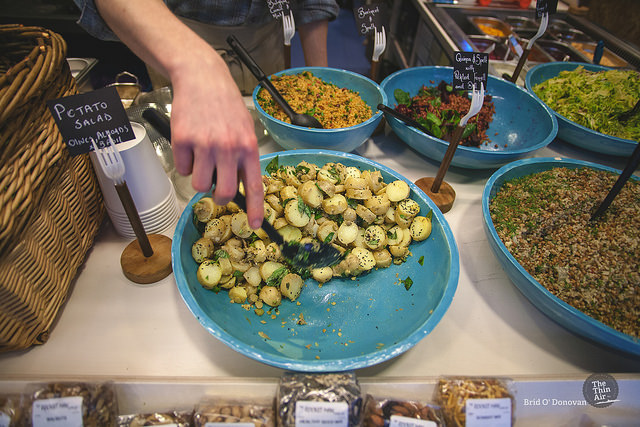 The Rocket Man – The Beginning.
I actually started The Rocket Man about two weeks before I went to Ballymaloe. As if I didn't have enough on my plate. The second last week of the course I did my first market. I met some people down there who run or do farmers markets or things like that. The energy was there and the ball was rolling so I said feck it I'll just go and see what happens. A lot of people go to Ballymaloe to go and try and see if it's for them and that works and it definitely shows you that. But I think a lot of them, a year after they have been there wish they could go back and go there now, know exactly what they wanted to do rather than frapping through it and realising that there was so much to learn from it. There's a lot of things in life like that as well where you really only appreciate it after you've left, you wish you knew it all going in to it.
I knew what I wanted as soon as I went there. I felt like I was a step ahead of the other students because I knew the basics. I was a chef for two years before I went there. I knew most leaves, vegetables, herbs, flowers, all of those things that I knew from growing up. There was no learning for me. The vocabulary was all there and what things tasted like was there. What I liked was there, I already knew what I liked. For a lot of people down there some foods were so new to them. That's also why I think everyone, if they had the opportunity, should go there. Even if you didn't want to work in the food business, I'd definitely recommend that they'd do it. You everyday of your life, three times a day for some people.
The Rocket Man – The Ethos.
I suppose on a basic level we are a salad a juice bar, with coffee as well. Our philosophies would be in sourcing local as much as possible and to make everything from scratch as best we can. It's a fresh food business so, not to try and make figures or anything, 60 or 70% of the food that would arrive in in the morning would be sold out by the evening. Very little food sits in the shop. There's a certain amount because we pickle goods and we have yogurts and things like that which we spend the rest of our time making.
In terms of salads there's a very fast rotation. The difference between us and other salad bars is that we make composite salads. All the salads are made up already. They are not raw or cooked goods individually, they are completed salads. One of our salads is very much designed to be eaten either on it's own or part of a mix. For people that wouldn't understand what I mean when I say composite salads, it's chickpea salads, grain salads, couscous, quinoa, bulgur and different things like that. To be honest, and I did a lot of travelling before this, there wasn't any other salad bar like this. These particular salads were served in very fine, lunch time locations. In London there's a chef Yotam Ottolenghi and he would have brought these to the mass populace. But there was no one doing it in a fast food type way. It made perfect sense to me. It seemed like this is something that is really, really tasty, good for you, very different and you can play with it a lot. You can change it every day. It served far faster than a burger, far faster than chips or southern fried chicken. This is real fast food. It is not only fast food but it is instant food but it's not a pot noodle. That is why it seemed like the perfect thing for us to do. I wanted to open a fast food place, not a healthy place. Health was never my consideration. It is a nice side that we have but I didn't sit at home and try to think of something healthy. I wanted to think of something fast.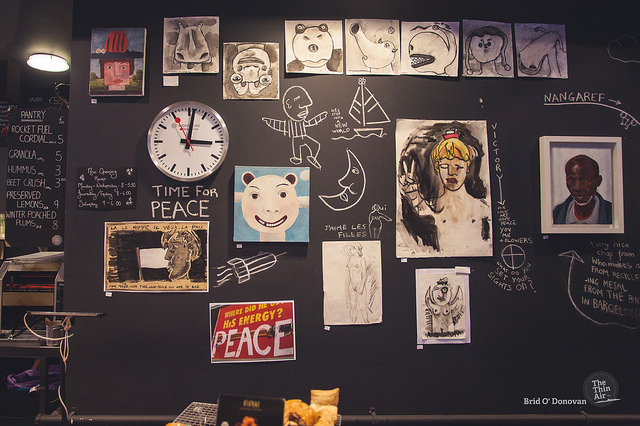 The Rocket Man – Events.
We are planning a lot of stuff. We have one in June which I can't particularly talk about yet but it's to do with the city council. There's another one in September which I definitely can't talk about yet. Those two events will be a step up, I think, from any events I've previously done. They are going to be like nothing that's been done here before and in a much more professional level than anything I've done. The things I've done before I've done completely haphazardly, on my own, toilets are an after thought kind of thing. Whereas now it's getting to a level where I am a food business. I can't afford to be the little boy anymore. I have to do things properly.
For an event someone has an idea somewhere along the line whether it's me or someone that I'm collaborating with. You have to identify, in the beginning, what are the selling points of this event. What is it that make this really special because inevitably over the months of building towards it everything chops and changes and it becomes something you really didn't visualise at all. A bit of experience that I've gotten with it is that you can lose sight of what it is you want from it. It changes and suddenly you're like wasting your time hammering out an event that really isn't going to be what you wanted it to be. With the 'Feast of the 29 Crops' we were only going to use food from Caroline and Eddie Robinson's farm and the polytunnel was going to be the dining area and we were going to get the band. We were lucky because that one didn't require a huge investment. It didn't have to change a huge amount. It came off the way we wanted it to which was great. Other events, like when they involve the council or when they involve insurance or things like that it can really start to become a very different event. But also, then, sometimes something gets good and the ball gets rolling and a new person comes on board and brings a whole new energy into it. That can really change the direction too which is fantastic.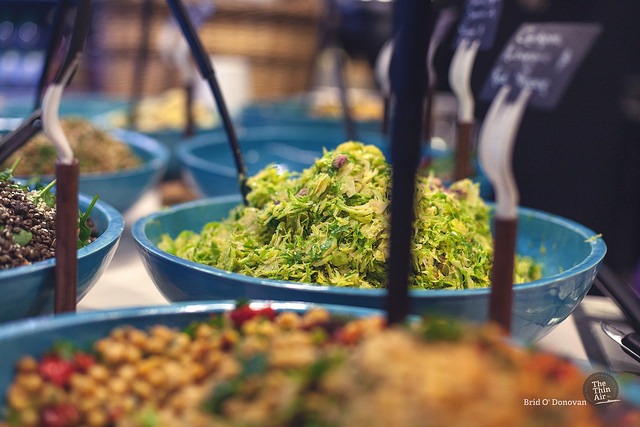 The Rocket Man – Market to Shop.
It definitely needed to happen. There's only so long you can continue doing what you do before it gets stale for you and for your customers. We like being niche. I don't want to become something for everyone. It probably seems ridiculous that I don't do sandwiches right in the centre of town and trying to survive on salads alone. It's just about trying to stay true to that one thing that you do.
That transition was supposed to happen before the summer and it ended up happening in the middle of summer which was a little bit of a nightmare! But that was just lease crap. Location was such a big thing for us. We knew we had to be right in the centre of town and I think we achieved that pretty well. We are right on one of the busiest streets, bang in the centre. The space is nice enough but it's awkward. It doesn't serve people very quickly. It's funny now because I'm coming into all these places that are very busy in town as well and their spaces can be atrocious to move around in but everyone has done such a great job with the space they have. All the places that we all know and love are a really good attempt at making something work in a place that is not right for it. That was a really big consideration for us with the shop. We put a lot of thought into the flow of it.
The biggest issue for me, when I opened the shop, was going from having zero staff to having seven staff and I'm obviously not very old. I've had management positions before but not in a really intensive way. In a short term sense for like events where I've had a team and that's different because everyone loves each other then. We've all been working together now for eight or nine months and you really go through the cycles. You're trying to keep everyone happy. Everyone gets complacent, including myself. That's just what happens in nature. You get bored and you don't give as much of an effort or you get involved in something outside of the place. It's about trying to balance that and let people have those moments where they get a little bit complacent and I try not to come down on them too hard because then they are going to hate their job. It's a constant thing where you're making sure everyone is giving their all to the job and that they are happy doing it and that you are getting the best out of everybody. That was my biggest challenge and I'm glad it's gone really good so far. We got really great people. We have people who have been there from the start, we have people that are coming in on short term with the intention of leaving in a couple of months for something else. It's great then, you get a little injection and then they are gone.
Trading in the shops and trading in the markets is completely different! On Valentines day I got a cutter and made hearts out of beetroot and I pickled it so I made little pickled beetroot hearts. The way our salads work is that it finishes with a pickle. So I was giving pickles and at the market people were loving it. It was the best thing they'd ever seen, they were laughing and joking. In the shop people just thought we were weird. That's taken us a while to get used to. Even when I come back from the market, I'm on a high and the day feels almost over for me because it starts earlier. I come into the shop and everyone is in a completely different zone. You come in on top of it and you have to pull up your tie a bit cos you're back in town. It is a little bit more polished in town. Quite a lot of businesses have failed when they've come from farmer's markets into the city. I'm not the first person to do it. The way you operate your city centre business is very very different to the way you operate your farmer's market business. If you went the other way it would be the same. If you had that uptightness and that polished appearance at the market, the customers wouldn't warm to you.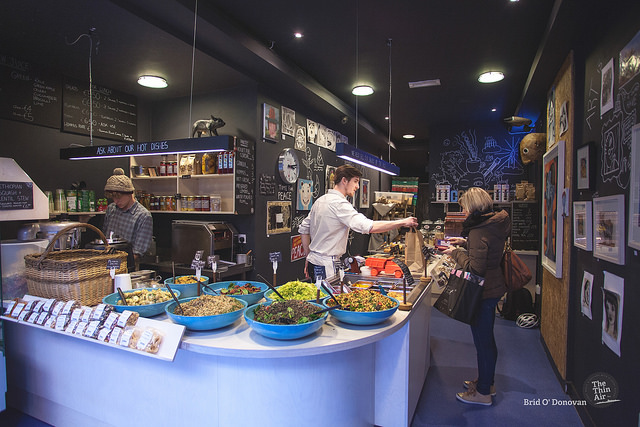 The Rocket Man and his Suppliers.
It was always our plan in the beginning to use as much artisans as possible. The logistical issues around artisans is a nightmare. They work by themselves producing and delivering everything so it's very inconsistent when things come in. Invoices are written on pieces of paper. You really have to love it to be able to put up with it. We are putting together little rules now to make it all smooth over a little bit more.  We are using over 60 artisans at this stage, when in truth we could probably get every ingredient we use from four places if we didn't use artisans. Those 60 people will call me whenever they like, text through invoices, they'll drop things to us at the market and say "Sorry, I can't make it to the shop, would you mind just bringing these in?". So there's all of that on top of actually trying to run the business as well. In saying all that, I'm really confident that we have the best yogurt from Ned McCarthy in town which I don't think too many other places are using. We have the best range of gluten free sweet things made by Michelle Mansuy.
All these people, you get to know them as well. I'm saying now that they are tricky in one way but in another way when you get to know them they are such a great support and they are willing to work with you. Volcano pizza make our flatbreads using our recipe. We get leaves from five different places. Horizon are our main supplier during the winter because they grow near the sea and leaves tend to grow better south facing near the sea. Caroline Robinson and Paddy Frankel and Anna Hogan all grow leaves for us throughout the summer months. Caroline and David give us beetroot and roots, Paddy gives us broccoli, chards, spinach, and rainbow chards. Caroline also takes away all of our juicing pulp to make compost. We have another guy on board who has pigs and he takes away the rest of our pulp and cuts for his pigs. A guy called Mani is doing cold pressed juices for us now using some of his vegetables. Mark Kingston from Golden Bean does our coffee. Ned does all our milk and our yogurt. There is a lot more to be honest. James from Mealagulla orchards supplies us with all our apples, our cider vinegar and our cider. La Cocina supply us with some Spanish style biscuits. The list is growing. We have a honey supplier coming on board now too.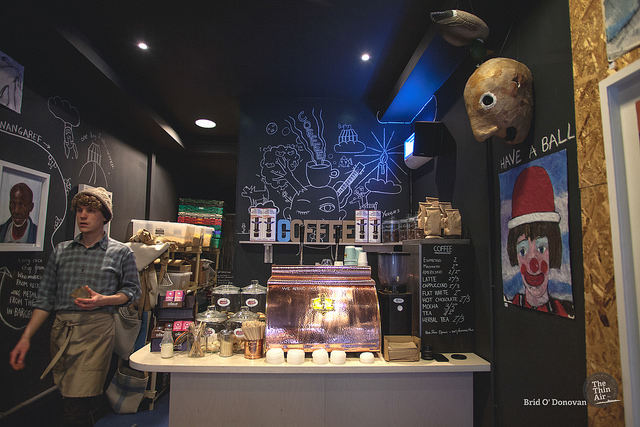 The Rocket Man and his City.
I'd be lying if I said that there weren't huge issues in Cork at the moment. One of the main ones being that everyone of my age bracket is leaving and anyone who isn't leaving is certainly planning on leaving and anyone who isn't planning on leaving is pretending that they are not planning on leaving to a certain extent. Times like this, we are all broken down. The city has become a simplistic version of itself, it's more like a small town with gaping holes in it than it is a flourishing, rammed city without access. It's times like this where people who are doing things for the right reasons are shining through. People who are making efforts to do amazing things for no real benefits of themselves or for any profit because it's also just not there. I think anything that happens now is for the right reasons and I think that anyone who is trying really hard to do something now there is a way to do it. You can literally do anything you want. I know that sounds ridiculous because people are saying there is no opportunity but there really, really is. Anyone that wants to do something, come and talk to me because I've seen it all. How to get finance and all that. That all is very much available now. It's quite a weird time because it seems like there's nothing out there for anybody but actually everyone is so 'backs to the walls' that yes is the only thing you are going to hear. I'm putting loads of stuff through with the council at the moment for this event in June and I could never have done this five years ago. It's ridiculous. It's going to be completely mad and it's going to happen right in the centre of the city and they are going to have to close off all the roads. There's going to be a huge budget for it and people are just going to wonder how on earth did it ever get pushed through. I didn't even have to ask twice. Every single person I asked was like "Brilliant, Sounds great." Cork needs the energy. I think it's a time of huge opportunity, you just need to go about it in a different way.
The Rocket Man and his Future.
It's funny. I probably would have been able to give you a much more comprehensive answer last year. I had a long term goal and I had a direction that I wanted to be with it. In a very weird way now I've realised that a small bit and I'm a small bit like "What was I planning on doing after this?". I didn't think I'd get to this level to a certain extent. I'm doing a lot of thinking and re-evaluating as to what direction I want to go with things but I'm very lucky in that I'm looking at something now that isn't disintegrating. It's very stable. I'm not at work today and I don't even need to ring in. I know it'll be fine. It's given me a nice platform to be able to say "Well, what do we want to do with this and what way do we want to go with this?" We'll see.