Features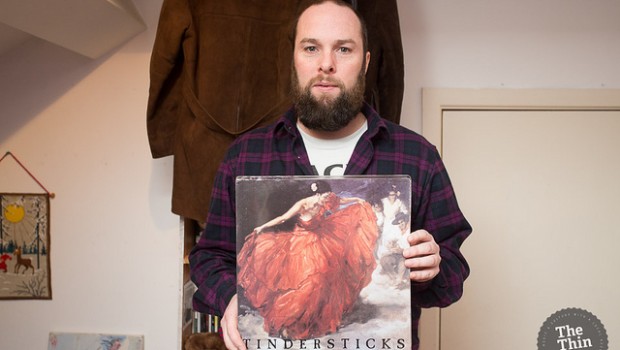 Published on February 25th, 2015 | by Loreana Rushe
0
Track Record: Keith Wallace (Rusted Rail Records)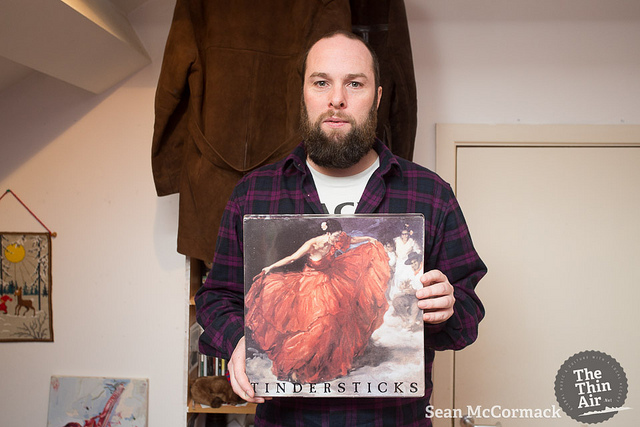 Keith Wallace operates his bespoke micro-independent label Rusted Rail from his base in Galway. Here, he discusses his favourite albums with us from the comfort of his own home including Vashti Bunyan, Planxty and Black Sabbath. Photos by Sean McCormack.
Tindersticks – Tindersticks 
I've had this album since it came out in 1993, but I just recently got it on vinyl, an original pressing which has one more extra song that didn't fit on the CD at the time. There's an entire life on this album. It's rain-drenched and wine stained, that's how I always think about it. It seems to be a story about some kind of love affair, told over four sides of vinyl. It's  late night, rainy music. You should listen to this one by yourself, I don't think you should ever listen to this album with another person, it's not an album to throw on casually in the background. For me, it's their best album, they've got twenty-odd years worth of albums behind them, but this is such a high watermark that they'd never achieve anything as amazing as this again. They say you have your entire life to do your first album and maybe they thought they'd never get to make another one so they put their entire life into this one.

Neil Young- After the Gold Rush 
Everyone always goes on about Harvest, but I think this is a much better album. The seeds of something he would go on to do over the next few years after Harvest were sown with this one, where he started to explore the hippie burnout thing – he's saying the Gold Rush of the late 60's is over: "Look at mother nature on the run in the 1970's" and "Don't let it bring you down". It's a theme he'd go on to explore with Tonight's The Night and On The Beach. It's got great songs in various styles but it all hangs together, and it was basically recorded in his house, which is something I always like in music, it's got an unhurried, home-spun feel to it. And the songs are just so strong – After the Gold Rush, Don't Let it Bring You Down and I Believe in You and Only Love Can Break Your Heart…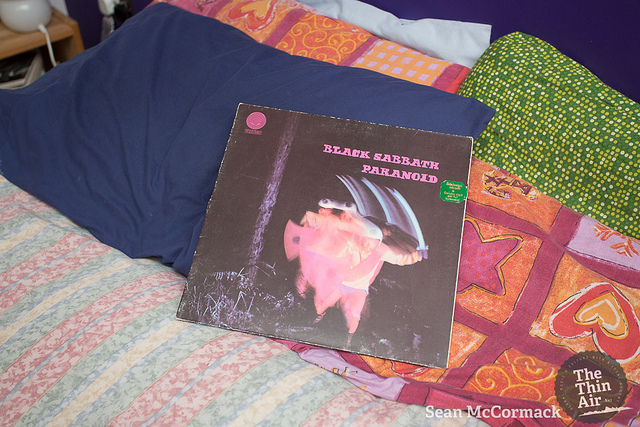 Black Sabbath-Paranoid
I have no idea why a man dressed in pink with a sword is meant to be a war pig! The album was meant to be called War Pigs until last minute the record company decided it should be called Paranoid, because they thought the single would be a hit – which it was. It's bizarre because Paranoid is their most well-known song and it's also their shortest song and fastest song, so it's a really bizarre song to be known well for because they're not the fastest band in the world in general. But this record, recorded in about two days…what can you say? Black Sabbath are the English Velvet Underground, in that they were incredibly influential. They basically invented heavy metal, I guess, but then there's a song on this like Planet Caravan, which is a complete cosmic hippie jazz ballad, which is great. It's probably got the best side A, I've ever heard in my life: War Pigs, Paranoid, Planet Caravan and Iron Man – beat that! It's very of its time, but it's also timeless, if that makes any sense.
Bruce Langhorne-The Hired Hand 
After Peter Fonda made a load of money off Easy Rider, he made this really kind of unusual, ambient cowboy movie.  An ambient western. He asked Bruce Langhorne – who is the Mr. Tambourine Man that Bob Dylan sang about because he used to play with Dylan and a lot of the folkies in the 60's – to do the soundtrack for it. The entire movie is quite dream-like in a way, and the soundtrack blends so well with the visuals. He recorded the score on his own onto reel-to-reel tape in his garage with a load of really old instruments, and its got a kind of Native American sound going on as well. Its eerie, rustic,  psychedelic folk – it's very haunting. It's one of the best soundtracks I've ever heard and it was reissued recently by this American label called Scissor Tail Records in an edition of 1000 numbered copies on 180g vinyl, and I got number 6, so I was happy. I highly recommend it and the movie isn't bad either.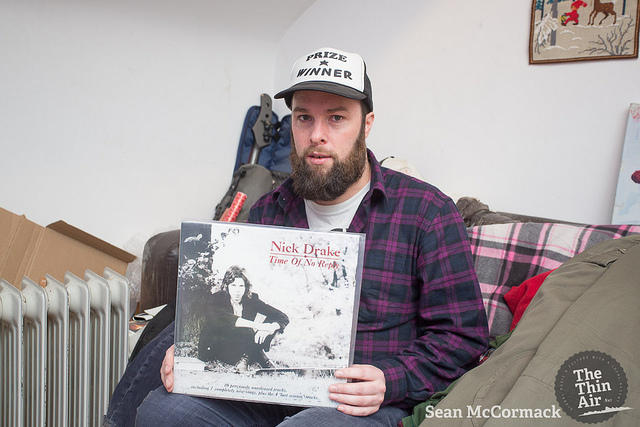 Nick Drake-Time of no Reply 
It's rare you would ever see a Nick Drake original pressing on vinyl from the 70's – rare as hen's teeth – but I found this compilation from 1986 at a flea market in Berlin so that's the next best thing to finding the true treasure. Ten previously unreleased tracks –  four songs which are from the last session he ever did, along with some home recordings that he did as demos for his first few albums. It's side two that is really insane. Been Smoking Too Long, which is a song he didn't even write himself, but I think that's a key there to one of Mr. Drake's downfalls. The last four songs: Rider on the Wheel, Black Eyed Dog, Hanging From a Star and Voice From the Mountain  are from when he was in a bad way, to the point when he wasn't recording vocals and playing guitar at the one time because he was so shook, but they're still very, very beautiful, engaging  songs. And I always think of this as autumnal kind of music, and it never gets old and there's always something new in there to hear.
Godspeed You! Black Emperor-F#A#∞ 
The vinyl came out on Constellation Records in 1997, it's shorter than the CD version which was reissued by Kranky – this LP is only about 40 minutes, the CD is about an hour – but this is probably the better album for being shorter, if that makes any sense. Constellation Records is a label they were very closely associated with, everything on this is hand-made, the packaging is hand-made – it's hand stamped, the photograph they glued onto the front of the sleeve, the coin inside the packaging that they crushed on the railway tracks that run by the back of their recording studio in Montreal – defacing currency is a crime so if you buy this record you break the law, which I always thought was quite amazing! Godspeed! I mean what can you say about them? Post-apocalyptic, droney, epic widescreen soundtracks, urban westerns, and its very uplifting – bizarrely! They've got really good crescendos… this was where it all started for them. It's good that they're back on the road now, but if you only heard one record by them this is the one. Again, there is an entire world view in these grooves and it's a beautiful artefact to have on vinyl.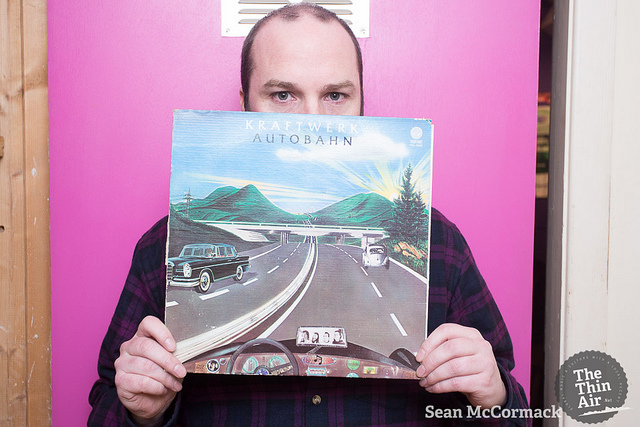 Kraftwerk-Autobahn
It's got a cool cover, this is the American pressing. Great Germanic grooves, this album was a blueprint in many ways, for everything they went on to do. There's a great sense of, I suppose now you'd call it Retro Futurism, but they had such hope for the future, I'm not sure how they feel about the future now that its arrived! I'm yet to be driven down an Autobahn while listening to this album, but I'd like that to happen sometime. Plus, it's got  two songs called Kometenmelodie, which is the music of the stars, so before they became robots I think Kraftwerk were quite in tune with the natural world even though the were using all synthesized instruments. I like the fact that a lot of sounds on this were completely their own – they tweaked their own equipment on it in order to make it so that nobody else could do what they were doing. It's possibly their most hopeful record.
Tim Buckley -Happy Sad 
Conventional wisdom holds that that the best folk-jazz singer/songwriter album came out in the late 60's was Astral Weeks, but it's not – this is! This is the moment when Tim was moving from his folk-rock phase into his folk-jazz era, and it's just a very magical album. It's very dreamlike – he even has a song called Dream Letter on – it it's jazzy, but in a west coast, very chilled out kind of blue way. The songs are so immerse, he really stretches out the vocals on it, but in a mellow way, there's not too many of the vocal gymnastics that he'd delve into on later albums. One song has ten minutes of sea surf and crashing waves recorded over it, to rub out some tape hiss they accidentally recorded, its it gives the whole  thing an oceanic vibe. It's just a very magical little album, and he was all of 22 when he made it, so that's fairly stunning also. I think it was when he started to stretch out, musically, with songs like Strange Feelin and Buzzin Fly, there's just such joy in them. Shouts out to the electric guitar player  Lee Underwood too – his guitar sounds like the glowing embers of a fire. It's just beautiful.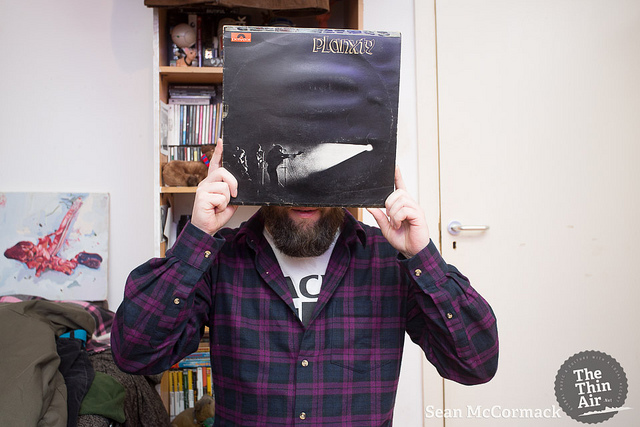 Planxty -Planxty 
Their first album. This is a blueprint, I would say this and Loveless by My Bloody Valentine are probably the two most influential Irish albums of all time. There's greatness from the very first song on side one – that part on Raggle Taggle Gypsy where it goes into Tabhair Dom do Lamh is one of the most thrilling pieces of music ever. The playing on this is insane, I'm not a fan of virtuoso musicianship – it's not the olympics, there's no medal for playing fast, but the intricateness, and the ways the instruments blend together on this album from just four people are really powerful and really amazing, and it's got some really rocking tunes for an acoustic group. Just the interplay between all of them, but mainly the musical telepathy between Andy Irvine and Donal Lunny. Mighty stuff. It's the original "black album", nevermind Metallica or Prince!
Vashti Bunyan-Just Another Diamond Day
Andrew Loog Oldham tried to mould her into a bit of a pop singer when she initially released singles on his Immediate label. That didn't really fit, so herself and her boyfriend took this trip from London by horse and covered wagon all the way to the outer Hebrides, because Donovan was meant to have set up a commune up there, but by the time they got there the hippie dream had faded. But she wrote these songs while she was on the road and then she brought them back down to London and Joe Boyd, who was running Witchseason at the time, produced it and he got some of The Incredible String Band and some of Fairport Convention to come in and play on it, along with Nick Drake's arranger Robert Kirby who did the strings on it. It's just a lovely, bucolic pastoral record. There's a real sense of nature coming through on this, and it's not upbeat in a cheesy or poppy kind of a way, but there seems to be a genuine innocence and sense of wonder about the whole thing and it's a very naturalistic sounding album, it's full of rivers and rains and swallows and glow worms. It's a lovely little world that she's invented on this album.