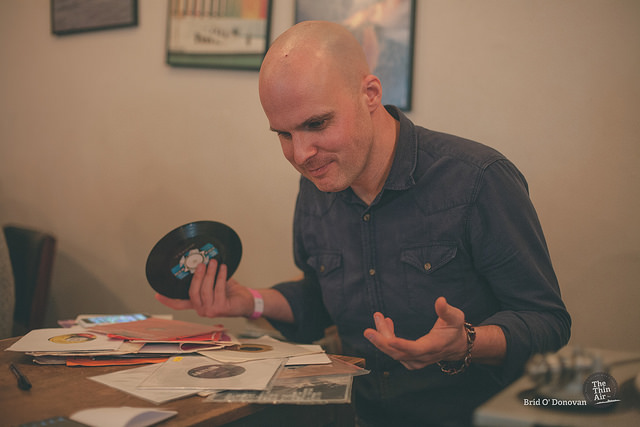 Brid O'Donovan chatted with Stevie on the Sunday of Quarter Block Party and he was hosting Vinyl Love in Gulpd Cafe.  They were about six hours into a ten hour set of twenty five DJs playing 7 7" records. A few hours earlier the wonderful Siobhan Kane of Young Hearts Run Free chaired a panel discussion titled Life Has Surface Noise. Daragh O Halloran, Peter Twomey, Justin Grounds and Stevie Grainger shared with us their memories of growing up with the records they hooked to their veins. Justin spoke beautifully about how music connects us to our time and Siobhan (hilariously) shared with us her story of interviewing Rakim on the phone while staring out the window at a goat in Leitrim. Daragh touched on a time when an AC/DC concert transported him from depths of grief. Justin and Stevie both spoke about how their separate work with youths has renewed their approach to music through feeding off of their energy. We left the room with one of Siobhan's comment ringing in our ears:  "Music is the best companion you're gonna have"?
Vinyl Love basically started off as Stevie's idea and I'll leave it up to him to introduce you to what it is all about.
"I've a massive record collection. I've ten of thousands of records. I started Vinyl Love a few years ago when I was working in The Pavilion. I started doing a few nights, well more like a few Sunday afternoons really, of bringing in some of my favourite records and some like minded people who were not necessarily DJs, just people who collect records. We decided to get them to showcase their collections and tastes. Some of the idea for Vinyl Love was to play the music, but also an equal part of it was showcasing the culture of it – the design, the aesthetic of it, of actual vinyl and the fascination with it. Rather than playing just a laptop or a CD, the extra visual side of it was very important part of it. We've done loads of different events. I did seven hours of 7" myself once which stressed me out a little bit (laughs).  As part of this cool festival Quarter Block Party, I decided to do it with different people and they each pick seven 7". I grabbed the first twenty people that I knew this time but we'll do another one another time. It wasn't that I picked the best people, some of these people aren't even DJs. There's a different cross section of people in there. The day has been amazing because obviously with seven records and twenty five people you get an amazing diversity. I'm trying to document the visual side of it myself.
It's a special thing, in itself, the 7" because that's how the original pop format was. Back in the day you had to release something that was three minutes long. What you can do in three minutes is incredible. Bruce Springsteen famously said that he learned more from three minute records than he ever did in school and I feel a bit like that as well. 7" records have a huge resonance for me and for all the other people involved here today. So, it's all a bit of fun really. As part of the festival, it's tied in really well. It's run by friends of ours who really do some good things in Cork. It also helps to cross paths with the different disciplines. We ended up doing an event here with like minded people who are based in Dublin – Young Hearts Run Free. The event was called Life has Surface Noise and we had a little panel discussion which was mainly about records, generally about music and what it meant to us growing up with music. I shared some of the tunes I grew up with with the others. I had a few heads from Cork and around the country with me today. It was cool having a few of those spinning records. Some of them played some mad 60s records. It was cool having them involved. It was great having Darragh, Siobhan and Peter down. We had a really great discussion. It was a bit of fun."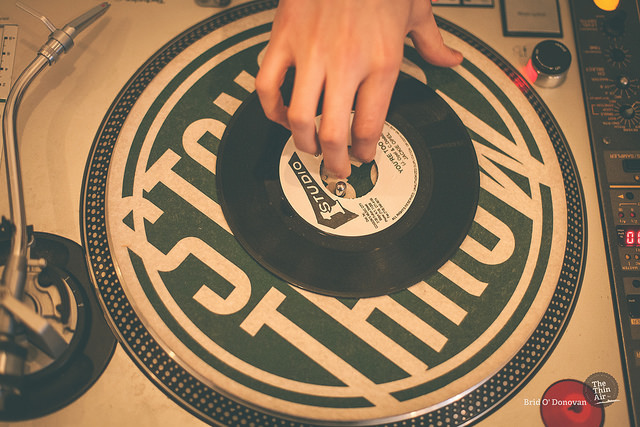 Darren Keane (Hags)
Paul Anka – 'You're Having My Baby'
Television – 'Foxhole'
Prince – '17 Days'
Hüsker Dü 'Eight Miles High'
Guided by Voices – 'The Official Ironmen Rally Song'
The Chalets – 'Theme from Chalets'
No Age – 'Inflorescence'
Deerhunter – 'Nosebleed'
Sean O Mahony
Marc Rapson – 'Mystery D'
Dot.Imatic – 'The City'
Miles Bonny – 'Fela'
Menahan Street Band – 'Lights Out'
Bacao Rhythm and Steel Band – 'P.I.M.P.'
Gene Dudley Group – 'The Fawcett Negotiation'
Penny & The Quarters – 'You and Me'
Jeremy Murphy
Hermeto Pascoal – 'Porco Na Festa'
Os Mutantes – 'A Minha Menina'
Traffic Sound – 'Meshkalina'
Can – 'Spoon'
Noel Kelehan Trio – 'Dublin Blues'
Black Horizon – 'Black Horizon'
JT Allen – 'Working Hard'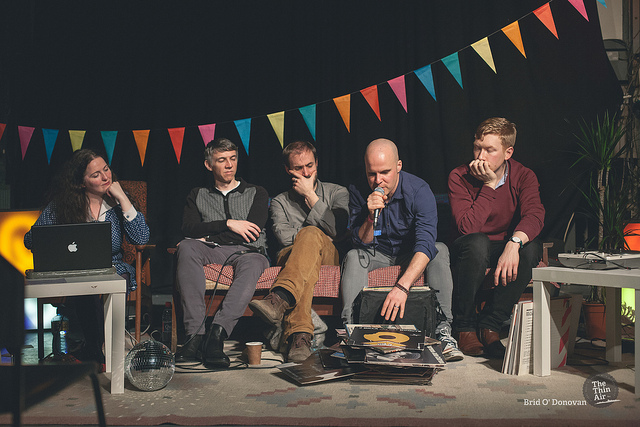 Siobhan Kane (Young Hearts Run Free/Life Has Surface Noise)
Kate Bush – 'Sat in Your Lap'
The Clancy Brothers and Tommy Makem – 'Bold O' Donahue'
Margret Cho and Neil Hamburger – 'I Drink'
Teenage Fanclub/Daniel Johnston – 'Happy Soul'
Randy Newman – 'Short People'
Wild Nothing – 'Shadow'
Candi Staton – 'Young Hearts Run Free'
Daragh O' Halloran (Young Hearts Run Free/Life Has Surface Noise)
Gene Clark – 'Echoes'
The Beatles – 'Rain'
The Small Faces – 'My Mind's Eye'
Granny's Intentions – 'Maybe'
Adam and the Ants – 'Prince Charming'
Soft Cell – 'Bedsitter'
J. Geils Band – 'Centrefold'
Peter Twomey (Life Has Surface Noise)
Triangle – 'Peut Etre Demain'
Tom Jones – 'Looking Out My Window'
EKseption – 'On Sunday They Will Kill The World'
Memphis Slim – 'Clap Your Hands'
Daisy Clan – 'Glory Be'
Millie – 'My Boy Lollipop'
Frankie Vaughan – 'Tower of Strength'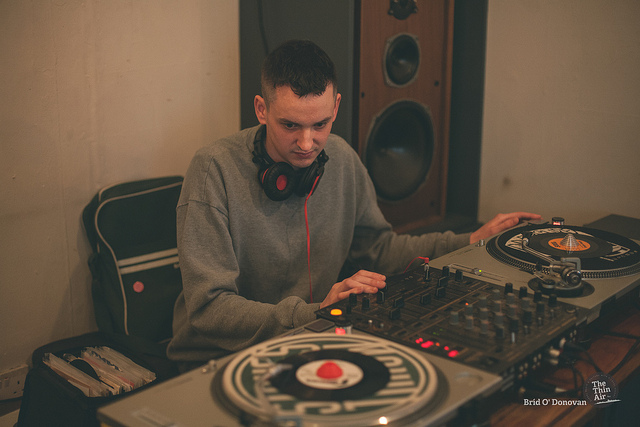 Nick Barry (DJ)
Barry Biggs – 'Love Come Down'
Barrington Levy – 'Murderer'
Bruce Ruffin – 'Long about Now'
George Dekker – 'Foey Man'
Jackie Opel – 'You're Too Bad'
Gladys Knight – 'No One Could Love You More'
Major Harris – 'Gimme Little Sugar'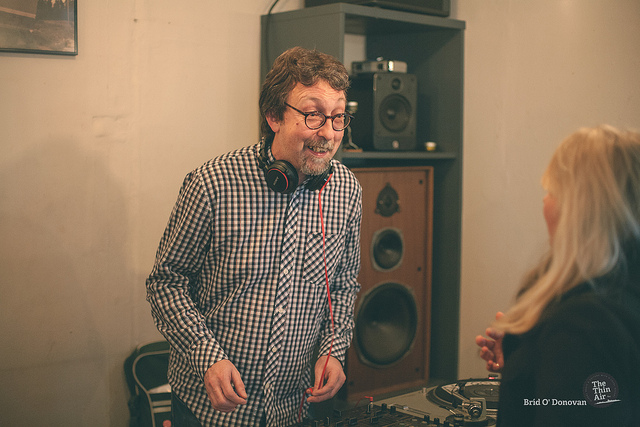 Ian Fiasco (DJ)
Quincy Jones – 'Soul Bossa Nova'
The Dynamics – 'Misery'
Massive Attack – 'Safe from Harm'
Junior Reid – 'One Blood'
The Beat – 'Jackpot'
Talking Heads – 'Slippery People'
The Buzzcocks – 'Ever Fallen In Love (With Someone You Shouldn't've)'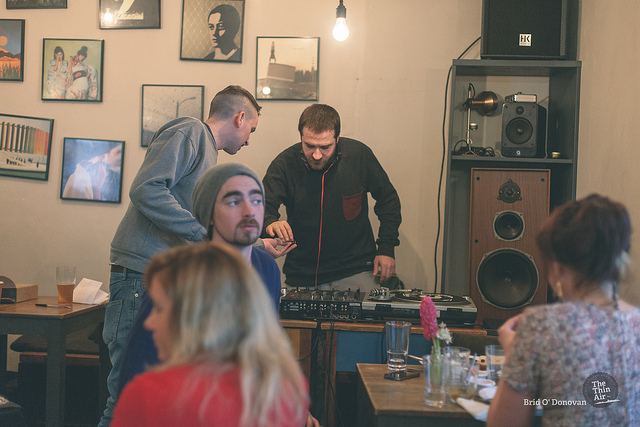 Justin (Hobo Convention)
Syl Johnson – 'Different Strokes'
Too Short – 'What's Rap?'
Johnny and the Expressions – 'Shy Girl'
Don Julian and The Larks – 'Shorty the Pimp'
Brothers of Soul – 'The Love I Found In You'
Freddy Scott – (You) Got What I Need'
Darren Kelly (DJ)
Delia Gartrell – 'See What You Done, Done'
Darondo – 'Didn't I'
Bennys Blues – 'Push'
Mixed Grill (Nik Wesfon) – Brand New Wayo
Paul Murphy – 'Soul Call'
Bileo – 'You Can Win'
Jelophone (Thoughts from Chicago Vol.3) – 'We Are All The Same'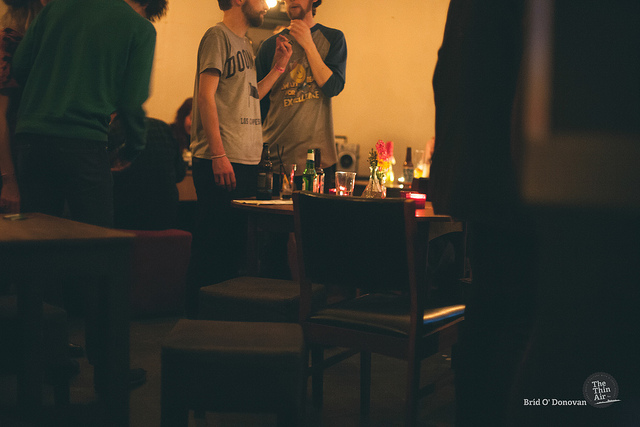 Ruairi Dale (Elastic Sleep)
Simon and Garfunkel – 'Mrs Robinson'
Grant Hart – 'So Far From Heaven'
USAISAMONSTER – 'Geronimo'
Karlophone – 'Desire'
Billy Joel – 'Sleeping with the Television On'
Simon and Garfunkel – 'The Sound of Silence'
Black Flag – 'Louie Louie'
Colm K (DJ/Producer)
The Defaulters – 'Gentle Man'
Anthony Watson – 'I Can't Stop this Feeling'
Melvin Sparks – 'Ain't No Woman Like The One I Got'
Donny Hathaway – 'Memory of Our Love'
Danny Hunt  – 'What's Happening To Our Love Affair'
Nina Simone – 'It Be's That Way Sometimes'
Rhetta Hughes – 'Your Doing it with Her…'
DR DREDD (DJ)
Curtis Mayfield – 'Right on for the Darkness'
Bobby Bland – 'Ain't No Love in the Heart of the City'
Menahan Street Band – 'Make the Road by Walking'
C.R.E.A.M. – 'El Michels Affair'
Greenwood Rhythm Coalition – 'Cumbia Kikuchi'
Little Milton – 'Friend of Mine'
The Parliaments – 'I Wanna Testify'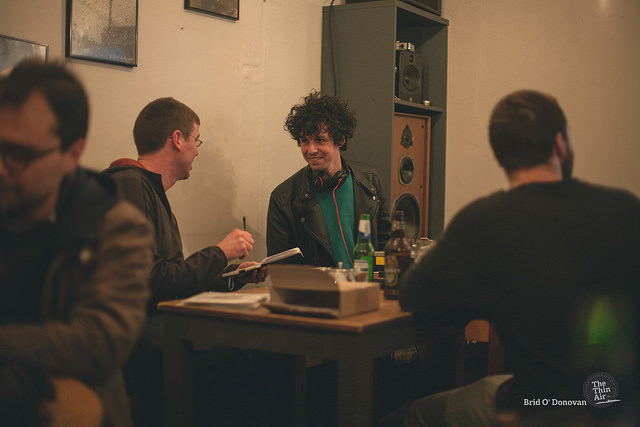 Cathal Mac Gabhann (The Altered Hours)
Jane Birkin and Serge Gainsbourg – 'Je T'aime'
Velvet Underground – 'Rock 'n' Roll'
The Zombies – 'She's Not There'
Quantic – 'Juanita Bonita'
Brian Jonestown Massacre – 'Viholliseni Maala'
Julian Cope – 'W.E. S.EX.Y.'
David Bowie/Bing Crosby – 'Little Drummer Boy'
Damien (Not How When)
Duran Duran – 'View to Kill'
JB CA – 'Um Desejo'
Brian Protheroe – 'Pinball' (Ashley Beedle Edit)
The Selecter – 'The Selecter'
Murray Heal – 'One Night in Bangkok'
Don Ray – 'My Desire'
The Beat – 'Monkey Murders'
Mister Fork (DJ)
Harold Melvin and The Blue Notes – 'Satisfaction Guaranteed'
First Choice – 'One Step Away'
Archie Bell and the Drells – 'Tighten Up'
R. Dean Taylor – 'Ghost in my House'
Billy Ocean – 'Red Light Spells Danger'
Gene Chandler – 'Does She Have A Friend?'
Eddie Holman – 'I Love You'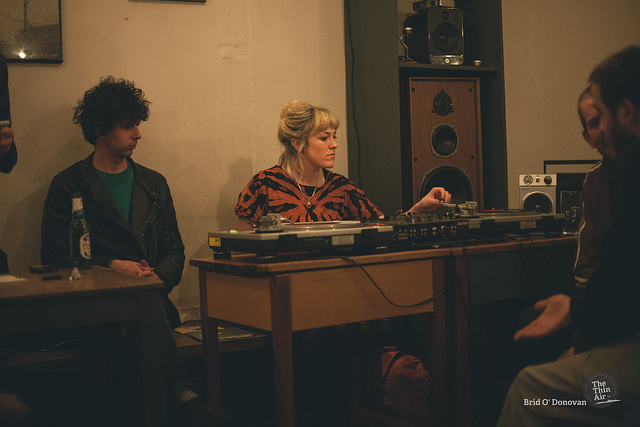 Elaine Howley (The Altered Hours)
Modern Lovers – 'Buzz Buzz Buzz'
Sandie Shaw – 'How Can You Tell?'
Arthur Lee – 'Love Fell Through My Window'
Sauna Youth – 'Bone Lawn'
ESG – 'Erase You'
Spandau Ballet – 'True'
Sinead O' Connor – 'Nothing Compares To You'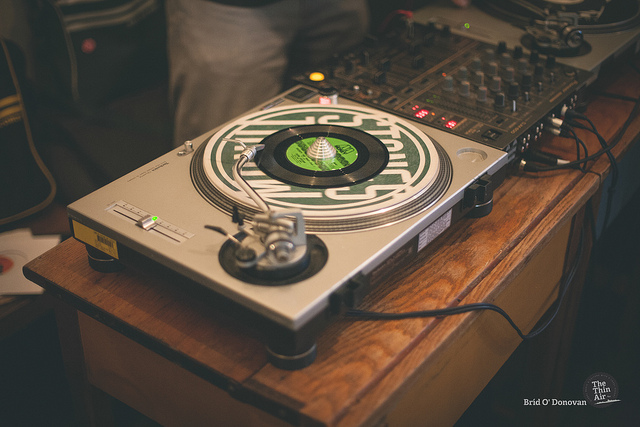 Lisa Lemur
Nat King Cole – 'Autumn Leaves'
Tony Britton – 'Talk To The Animals'
Roxy Music – 'To Turn You On'
Sally Oldfield – 'Night of the Hunter's Moon'
Saint Yorda – 'Disco'
Sparks with Gemma Ray – 'Eaten by the Monster of Love'
Goblin – 'Suspiria'
Eamon Hutton (DJ)
Brenton Wood – 'Gimme A Little Sign'
Mark Capanni – 'I Believe in Miracles'
Cooking on Three Burners – 'This Girl'
Tammi Tarrell – 'All I Do'
Dionne Warwick – 'Any Old Time'
Stevie Wonder – 'Uptight'
Saint Tropex – 'Hold on to Love'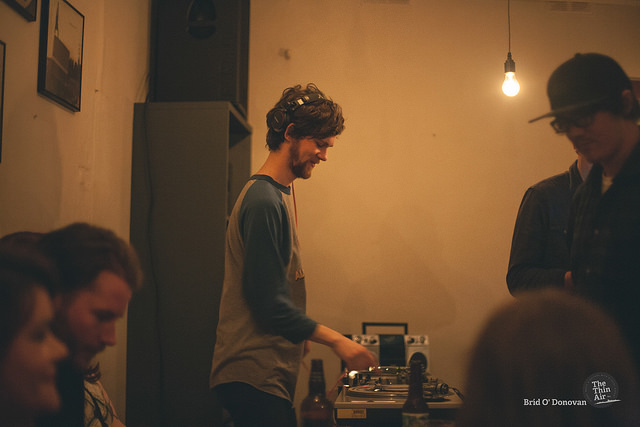 Caoilian Sherlock (The Shaker Hymn)
Aurra – 'You And Me Tonight'
Fatback Band – 'Lover Undercover'
Simply Red – Money Too Tight to Mention'
Quincy Jones – 'I'll Be Good for You'
Neville Brothers – 'With God on our Side'
King Curtis – 'Memphis Soul Stew'
Sam Cooke – 'Chain Gang'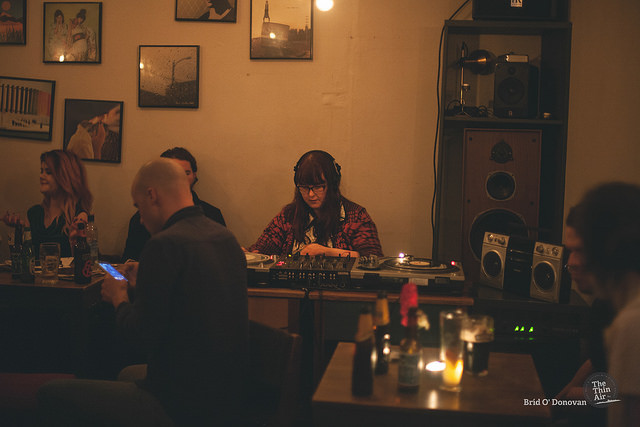 Aisling O' Riordan (Morning Veils)
Tandem Felix – 'Ryan Hoguet'
The Shaker Hymn – 'Hunter and the Headman'
Bouts – 'Turn Away'
Jet Setter – 'Not Yet'
Saint Yorda – 'Disco'
The Altered Hours – 'Dig Early'
Girl Band – 'Lawman'
Steve Ish (Sound Engineer)
Dead Kennedys – 'Holiday in Cambodia'
The Specials – 'Message to Rudy'
Dead Boys – 'Sonic Reducer'
The Stranglers – 'Peaches'
The Primitives – 'Thru the Flowers'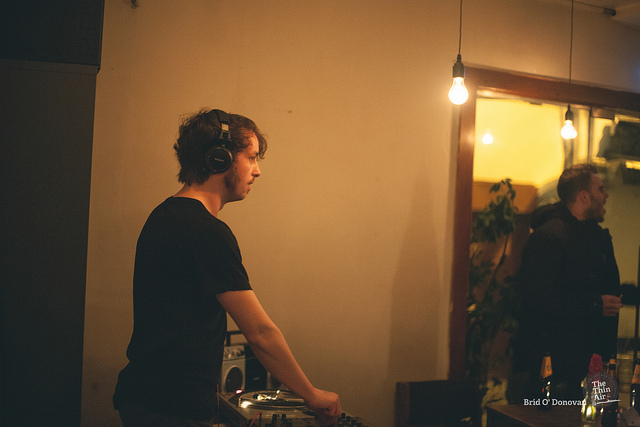 Dan Walsh (STINK!/Jazz, Jazz and more Jazz)
War – 'Low Rider'
Deodato – 'I Shot the Sheriff'
Hot Chocolate – 'Emotion Explosion'
Adam Ant – 'Ant Music'
Spencer Davis Group – 'Gimme Some Lovin'
Bernie Worrell – 'Insurance Man for the Funk'
Isaac Hayes – 'I Just Don't Know What To Do With Myself'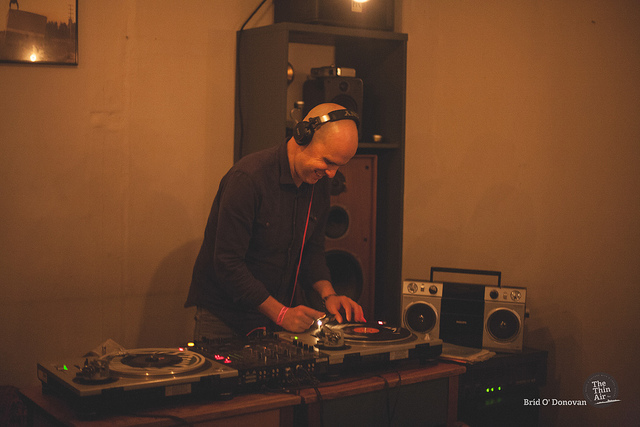 Stevie G (DJ/Radio Presenter/Soul Jamz Records)
Funkadelic – 'One Nation Under A Groove'
Joe Jackson – 'Steppin Out'
Inner City – 'Good Life'
Marvin Gaye – 'Trouble Man'
Sam Cooke – 'You Send Me'
Barrington Levy – 'Here I Come'
Pharcyde – 'Runnin'
Featuring photos by Brid O'Donovan, check out Mike McGrath Bryan's feature-length review of Quarter Block Party here.