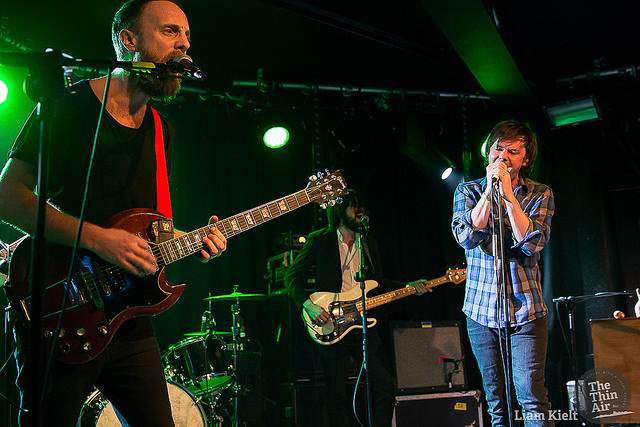 It was shortly after delivering a memorable, thrashy show in Stiff Kitten back in 2010 that Idlewild quietly disappeared from music. It is fair to say that we missed them. Now, with the itches for solo projects having been successfully scratched and the time taken to patiently develop new material, the band returned to Belfast touring on the back of their first album in five years.
The Limelight 2 was packed to absolute capacity. 'Everything Ever Written', despite being a good album, is unlikely to have brought such a crowd. This was clearly a loyal audience collected many years before and the band was quick to note their thanks for people sticking by them. The crowd warmly receive tracks like 'Roseability' and 'Little Discourage' already knowing which cues to take when it's their turn to sing and never requiring a single prompt. At times, it almost felt like both the band and the crowd were running on muscle memory.
We're treated to carefully selected songs that pleasantly summarise the wide range of the band from the mellow and folk drenched ballads to the jagged and noisy. The set-list is peppered with songs mined deeply from their back catalogue as far back as the late 90s with tracks such as 'Quiet Crown' or a frantic 'Film For The Future' which bleeds seamlessly into 'Captain'. Their more radio friendly songs like 'You Held The World In Your Arms', 'American English' and 'Love Steals Us From Loneliness' still shine brightly and serve to remind us of a band with the wonderful ability to create glorious, catchy choruses that are deep and rich in melody. Despite returning after a several year hiatus, we don't stray into territory where you feel any nostalgia is being exploited. They admirably maintain a fine balance of old and new material throughout when they could have taken the opportunity to churn out a checklist of favourites.
The addition of fiddler / guitarist Hannah Fisher and organist / guitarist Lucci Rossi help to make each song feel stretched beyond its original horizons and appear bigger in scale than we remember. It seems an obvious statement to make for a band that have been active for 20 years but this expansion seems to reinforce the sense of confidence in their own sound. Idlewild have always been able to deliver the gentle in partnership with the gritty. This is mimicked greatly in their Belfast set list as the differences in tone jump throughout the evening with ease –  a more tender song like 'Live In A Hiding Place' sits happily beside a boisterous extended rendition of 'Make Another World'.
Roddy Womble apologises to the crowd that touring has left his voice teetering on the edge of collapse. This fragility is not helped by the fact that in certain areas of the venue, the sound seems, for want of a better word, dull. As a result, vocals are often hard to distinguish and the indecipherable pleasantries exchanged in between songs must often be met with silence which impacts somewhat on the general atmosphere. Womble has retained his habit of calmly meandering between each side of the stage to hide in the shadows of the wings which appears as though he's trying to shift the focus onto the rest of the band during instrumental sections. Gone it seems is the band which you would see writhing and ambling across a stage with audience pits forming and vocal yelps and barks and it seems it has been directly replaced by a polished, more sedate version of what once was.
Be it a product of touring fatigue or a personal misinterpretation of a more composed performance style, we're struck with the sense that this is Idlewild on auto-pilot. It's harder to feel engaged when you feel like a band is simply going through the motions or even, regrettably, disinterested. With soaring guitars, textured lyrics littered with poetic references, gentle strength and an abundance of great choruses, we've often felt, and still maintain, that Idlewild are a desperately underrated band which makes this slightly detached performance frustrating and disappointing. We reinforce the point that this was an accomplished and very enjoyable gig but we hope that this was just a case of cogs returning to full working order after several years out of action.
The band decide to skip the usual encore 'scuttle off stage for a few minutes' song and dance – just as they did in 2010 – and remain onstage for a blistering rendition of 'A Modern Way of Letting Go'. No sooner has the scrappy, jagged side of Idlewild sparked to attention, the air settles immediately as they guide us softly to conclude with the always moving, 'In Remote Part / Scottish Fiction'. The familiar Scottish lilt of poet Edwin Morgan's dulcet tones which traditionally draws their performances to a close marks the end of what was a very welcome return to Belfast. Laura Carland
Photos by Liam Kielt